Best bird boxes to buy
Before going out to buy a bird box, decide if you want to attract a multitude of small or large birds, Robins or Tits, as the entrance holes and box size is vital.
Take care selecting a bird box as it will determine if small or large, hole or open fronted wild bird will nest. Go for a wooden bird box with a 15mm thickness, finished in a dark or natural wood with 32mm entrance hole, it should have a large interior so there's no restrictions for laying eggs.
While shop-bought or online bird boxes make it easy for you to get a bird box up and running in no time, you should take into consideration many important factors.
So to give you the best start when setting up a bird box, we've put this buyer's guide together to help you make the right choice.
We would always recommend a beautifully built, but practical bird box made from natural wood - cedar, oak or beech - well leaving the novelty boxes for another time.
Built quality should have 15mm thick walls and roof, and should be made accessible for you to inspect the interior, making it easy for you to clean the bird box out in October to September.
In due course, a painted or stained wooden bird box would start to loose its flashing coat, but you should allow that to happen as it blends in with its surroundings.
The best bird boxes to buy should come with the hardware to fix to the wall or fence post, and should be made to stop leaking through the roof - which is often the problem area.
And finally, make sure the bird box does not come with a perch, is colourful or made from a material that can turn the inside into a furnace.
Wooden bird boxes only
Make it a dark stained, handcrafted wooden bird box whenever you can; wood is made for all weather well giving that weathered look over time.
Customisation can only happen with wooden boxes, whether you're removing an unsightly feature or drilling extra ventilation holes.
Then you have the advantage of a dark stained wooden bird box helping you identify colourful birds at the nest box against the dark finish of the box.
Inferior but common wooden boxes are made of pine or whitewood, well these boxes will last all year round, they do start to crack and splinter sooner.
So make it a high end bird box made from quality cedar, oak or beach wood.
Plywood is a man made board and is never an acceptable choice due to the bond that forms the boards which is often not suitable for outdoor use.
In due course the boards will swell as the laminated panels become unstuck. And well we're on man made boards, under no circumstances an MDF made bird box.
Insulated with 15mm walls
Best bird boxes to buy must always be built with 15mm walls to keep the chill away and the appropriate temporary within.
That includes the roof panel and floor section, but it most always have vent holes - usually on the bottom - and that excludes the entrance hole.
If its doesn't have holes, be sure to drill three or four yourself.
Well most wooden bird boxes are cut from long, thin wooden panels of pine or whitewood, they mostly come 15mm thick.
So there's no cutting down for manufacturers at its at the thickness they need it.
And this is shown on the vast majority of bird boxes available to buy, so you should be in safe hands without worrying about thickness.
Finished in dark paint, stain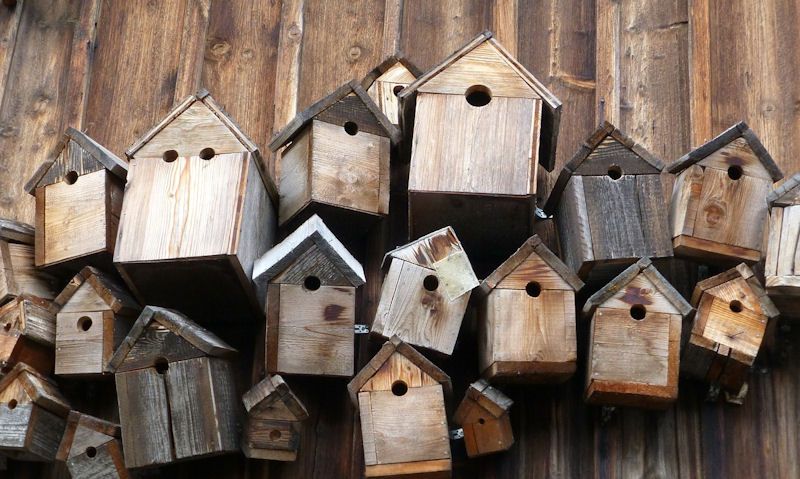 We think a dark brown finished bird box would have the greater chance of succeeding than less obvious, conspicuous nesting box.
Well decorated boxes have there place, its not an ideal first bird box.
Well an unfinished bird house does well to attract birds to a nest box as it weathers really nice, and if stained it will create a constrasting colour of the natural wood, dark stain.
Unfortunately, boxes finished in water based paints last less so.
Developed for outdoor use water based paints are not as effective as exterior paint as they're without hard wearing enamel - which happen to be toxic.
When finished with non-toxic dark brown stain, the colour will fade slowly throughout year before the natural wood grain shows through.
It then turns as natural as you can get in regards to a nesting box for birds, as it blends in with its surrounding by reducing the colour and flash.
32mm entrance hole for small birds only
If you want a guarantee of attracting small birds to your bird box only, then go for a bird box with an entrance hole 32mm.
Look out for multi-use wooden nesting boxes with a choice of hole sizes, as you can switch between both during the year.
If you want to deter all other birds by encourages only small Blue Tits or Coal Tits to nest, then go with a 28mm entrance hole.
As we've mentioned, the bright colours of Tits really standout against the dark grain of a brown box, so it should be easy for you to spot if a Tit has nested, or at least may be interested in moving in.
Large interior
Despite professional builds, once in a while the craftsperson building the box would get the bird box interior size all wrong.
Well to focused on exterior design and appearance, its easy to neglect the important part - the inside of the bird box.
Wild birds can lay up to a dozen eggs at a time, and well small they need a clearing to not only roost, but imagine how crowded it will become if all eggs hatch.
The British Trust for Ornithology recommend the internal floor area should be 130 square centimetres minimum, or 20 square inches.
Installed hardware to fix to wall or fence
You're ready to install the bird box to a fence post or brick wall, but one thing is missing - the fixing on the back to hang it up like a picture frame.
Thankfully, good quality bird boxes you buy online come with the fixing attached.
Manufacturers may pre-install bird boxes with a metal slotted plate on the rear of the box with screws.
Well the slotted plate is fixed to the back, a screw is then inserted, before locking it in place by resting the screw on the plate - just as you would a picture frame.
If the screw is not included then it should be easy to find one to fix to a brick wall - with use of a plug - or a wooden fence post.
Leakage-free
When researching a commercially available bird box to buy online, pay close attention to the parting roof sections especially.
It would be easier to inspect a box in the shop, which you can get up and personal. But often when you view the box at home, its the possibility of leakage you'll notice first.
Look out for bird boxes with a 45 degree roof section, a common but highly effective way to keep the rain out.
Supporting this cross section should have an additional triangle shaped wood piece to prevent rain entering the box via the joint - which is usually fixed with nails or glue.
Also sealing opening cracks on the roof section is a piece of felt which can be quite effective, and this piece of material will be glued or stapled down over on the hinged or gap part.
Easy access for cleaning out
Always make sure the bird box in question is made accessible to the interior.
Come October and September its time to clean the bird box, so you need access to the inside of the box.
You should take care before mopping out the bird box by carefully inspecting the inside to see that its clear of birds, eggs and chicks.
But once inside all that nesting material must be thrown away.
To do that access would be granted from either an hinged roof panel, a slide on front panel, a locked opening front, or a screwed down removable panel.
Its this access point where you'll remove all materials the bird has built up over the nesting season, well discarding it before you begin to wash it out.
Bird boxes should NOT include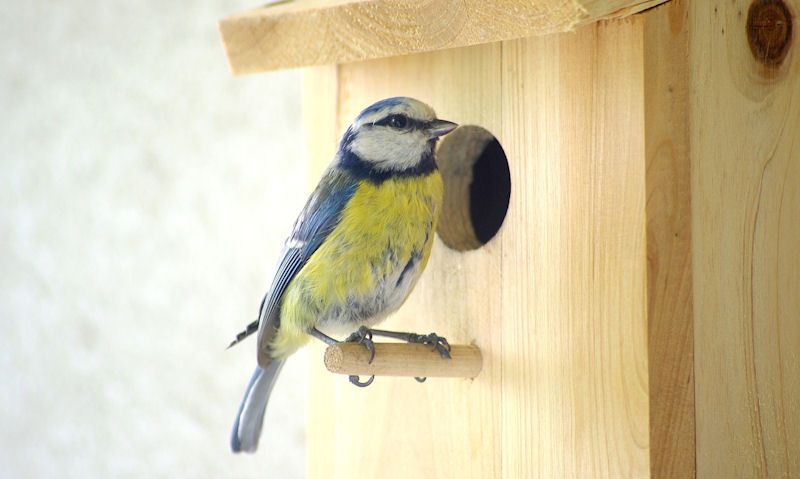 Now that you have a fair idea what would or should be included on a commercially available bird box, let's go over a few things bird boxes should not have.
If you're just starting out with your first bird box, then try to keep it to the minimum as you could get carried way with fancy bells and whistles.
Simple, heavy duty wooden bird box is all you need with a 15mm thick wall, ventilation holes and roof that does not leak.
But here are common features well sometimes suitable, they're not ideal for setting up your first ever box in the garden.
Perches help predators
Why give predators of birds and egg thieves a place to perch before they steal the eggs away from inside the box.
Well its a common feature of any modern built box, its not practical and doesn't serve the nesting bird at all.
Once the bird has made it home in the nesting box and built is nest within, there is not possible use of the perch.
All wild birds can cling to the side of a wooden box with ease without the use of perches or fancy platforms, so if your box has one, you should probably remove it.
Novelty bird boxes: metal, ceramics
Its all about setting up a bird box that blends in with its surroundings, so colourful, novelty bird boxes have there place in your garden if yours comes under this description.
However, for a common British garden with a lawn, fence and perhaps a few hedges and a tree, then a standard dark brown box applies to you.
Boxes built from wood are vital to maintain acceptable living quarters, so going with a metal or ceramic bird box, well a novel way to get birds to nest, they can become to hot during the spring, summer time.
If you must use a novelty bird house make sure you site the bird box in a shaded area, way back in the foliage, or behind a thick tree.
No bird box, bird feeder combo
Go for one or the other, never select a bird box that is also a feeder.
You'll find this design in fly-through type bird tables; well the birds feed on the surface beneath the roof, the roof section has a hole for birds to nest.
They're not that common so you shouldn't inadvertently make this mistake, but it wouldn't hurt to double check there's no nesting box on your wooden bird table.
Instead, always go for a purpose built, high quality bird box.
Nesting and feeding stations should always be far apart, and never in line of sight.
So the idea of a bird feeder where a family of birds of made a nest is just crazy, as the birds would never go for it anyway.
Nest box plates
Nesting boxes with a metal plate surrounding the entrance hole are vital for keeping predators at bay as they would attempt to dig there way through by making a bigger hole.
The metal plate is there to stop this happening as squirrels or predatory birds cannot get past the metal ring.
However, if your garden is not in an area that doesn't attract squirrels, then you don't need to buy a bird box with a metal plate.
Metal box plates can attract unwanted attention due to the reflective metal surface, so unless it absolutely necessary, do without.
Overtime you can judge for yourself if you do indeed get squirrels or other birds making there way through, then you'll know to get a metal plate bird box for next time.
Conclusion
That's that then, buying a bird box should not be hard and for the most part, its made easy due to manufacturers knowing what it takes to build a box that works.
Try not to over think your options and just go for a solid, made from cedar, beech or oak wooden box, well leaving the fancy nesting boxes for later.
Focus more on the things a bird box should not have; including boxes with perches or areas predators can lean on by the entrance hole.
Finally, setup your bird box out of direct sunlight and facing away from the westerly winds.
Share this article: