Best Lantern Style bird feeders
Feed the garden birds in a seed feeder that is designed to replicate a lantern, fixed with a number of perches for a fun to watch feeding frenzy.
To be the best Lantern Style bird feeders I consider those that are well-built, with up to three or four perches with seed capacity not effecting the overall style. Lantern bird feeders are hung up options and are only compatible with seed mixes. No need to replenish to the top, yet are easy to refill and clean.
What can be better than the usual, common to see seed clear tube bird feeder when a classier lantern style bird feeder is just what is needed.
Needed to class up the garden yet to hold a larger capacity with port holes to allow more wild birds to feed at one time.
Not possible with traditional long or short seed feeders but is so with lantern feeders.
In developing my list you will notice brands listed twice as they do make their range quite well, so do need to be added.
Seed capacity does not have to be reached to the maximum, but its useful if you have a busy garden of seed eating birds.
What else you will notice is lantern feeders have a hanging capability, so do make sure there's a suitable bracket or bird feeding station in your garden ready.
I believe all items listed to be the best lantern style bird feeders for sale in the UK, but other exist if one doesn't take to your fancy.
Listed lantern feeder seed capacity table
| Product Name: | Capacity: | RRP: |
| --- | --- | --- |
| Kingfisher: Mini Lantern Seed Feeder | 400g | £4 - £6 |
| Kingfisher: Deluxe Seed Lantern Feeder | 420g | £13 - £15 |
| Trixie: Bird Feeding Lantern, 1400g | 1400g | £13 - £14 |
| OurLeeme: Waterproof Lantern Bird Feeder | 1020g | £10 - £11 |
| Perky-Pet: Sparkle Lantern Wild Bird Feeder | 1360g | £25 - £26 |
| Happy Beaks: Carriage Lantern Feeder | 750g | £15 - £16 |
| Trixie: Bird Feeding Lantern, 900g | 900g | £16 - £17 |
| Perky-Pet: Birds & Berries Lantern Feeder | 1100g | £25 - £26 |
What first comes to mind when viewing your options of what I consider to be the best of the best lantern feeders, on my list.
That is Kingfisher are the best makers of these unique shaped seed feeders, as the company comes out twice, in first and second place
Thereafter Trixie and Perky-Pet are respectively listed twice with their own take on a imitation lantern bird feeder.
I like smaller capacity feeders as I tend to only fill up part of the way, on top of that a small lantern feeder is heck of a lot easier to hang up in a tight spot.
But don't allow that to discourage buying a large capacity feeder as space can be made on a bracket or feeding station.
Typically for SEEDS only
What you will get with most Lantern 'style' bird feeders is basically a bird seeder feeder, designed for use with bird seed mixes only.
Designed to take seeds so you will struggle to get other bird feed to pass through its simple, yet small port feeding holes.
Rule of thumb is, if its a clear plastic bird feeder, then you can expect it to only store bird seeds of any kind.
While wild bird peanuts or mixed nuts are small, you could get away with crumbling them up to insert into a lantern feeder.
So remember when you buy a bird feeder in the shape of a clear plastic lantern, its typically made for cheap bird seed mixes, rather than specialty nyger seeds.
Hanging bird feeder design
What else you'll soon notice with lantern bird feeders is that they're hanging feeders only, with the exception of perhaps one or two that can be pole mounted.
For ease of use, do buy a lantern feeder with the intent on hanging it, as pole mounting it comes with great difficulty, and extra expense.
Of the eight best lantern bird feeders, I've listed one major design you'll need to know is how it hangs up on a tree or bird feeding station with other feeders, for example.
You'll find the hanging up method is through a simple solid metal hoop or its attached to a long rope to give it some length as it hangs onto a solid tree, branch or bracket.
Unfortunately, if its only a rounded hoop that will require you to source a double-sided hoop and hook, as the small hook is often not wide enough or offers any length.
Easy to refill or clean
Where the part on the lantern bird feeder connects to its hanging device, this would normally be through the centre, on the lid top.
Perfect to centrally balance the weight of a heavy bird feeder that would otherwise lean.
Its this part that the lid will easily slide up and down as to allow you to replenish it with bird seed, while simply closing it up without any locking system in place.
Don't worry the lid top is too far big for even the largest birds to try and open it up.
However, if its a lantern style feeder that comes equipped with a hoop rather than a long rope or chain, the lid design may be different, for example it could be a screw top.
While its never necessary to remove the lid completely, its sure a lot easier to clean the bird feeder before refilling with more seed mix.
No need to replenish fully
Most of the lantern bird feeders I have listed, as with all options; they usually have a maximum bird seed capacity of 1kg... now that is a lot.
Fortunately for you, you will not have to replenish the bird feeder to the top.
In fact, you can fill up the bird feeder as high as you can afford too, but never use too little seeds as you need it to flow to the feeding ports. Too little bird seeds will have reduced pressure pushing the seeds outwards.
Use common sense when filling large lantern feeders by simply using a third, quarter or even a fifth of the capacity, its entirely up to you.
Over time you'll get used to the wild birds routine, thus understanding how much food they consume - you'll be surprised how little it is before its time to replace.
So to avoid waste, never refill your lantern bird feeder to its maximum capacity, birds won't be able to eat it all before its rots inside the clear plastic tube.
Multiple feeding ports
Lantern bird feeders come in all shapes and sizes, so you'll find the area where birds perch to feed are laid out differently.
Rounded plastic tube styles tend to have only the two feeding port, whereas if its a larger feeding area - the tray that also catches the seed - it will be positioned all around.
If you want to encourage more wild birds in your garden to feed at one time, then look to the hexagon or octagon shaped lanterns.
Therefore up to eight wild birds can feed on any given time with room for a few more.
Lantern feeders maintain their traditional style of the real thing by including a base that would otherwise be used to stand it up, but instead is used as a tray to catch seeds.
Now let's move onto the best Lantern 'style' bird feeders available to buy in the UK.
1. Kingfisher: Mini Lantern Seed Feeder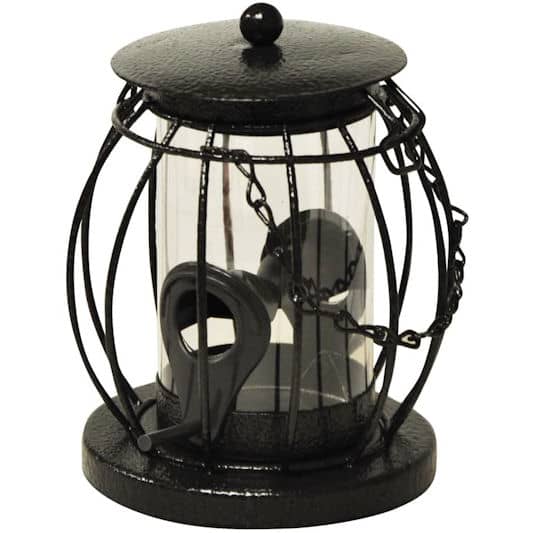 Amazon has it on sale for you and is a popular model: buy at Amazon for under five quid.
Subtle lantern design as you can get with this Kingfisher mini seed feeder, but its highly practical as its in keeping with a traditional seed feeder.
No overfilling with seed mixes as the capacity is little, but as long as you replenish it over the port holes, the seeds can be grabbed with ease.
Notice how its surrounded in a metal cage, its that what gives its lantern style with the benefit of the cage deterring larger birds, thus creating a bird feeder for small birds only, and that should be very much welcomed.
Connected to the two port-holes is a perch that extends through the cage surround, making life easier as wild birds feed.
It has a metal lid with a metal chain link that runs through it as to open it up with no need to remove anything to hang it up.
2. Kingfisher: Deluxe Seed Lantern Feeder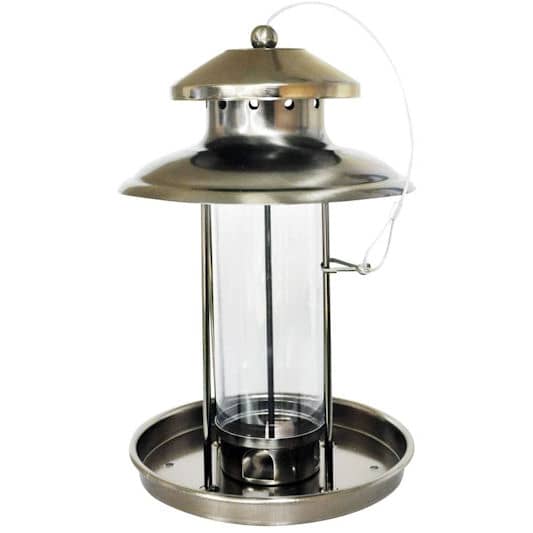 Upward of just over a thirteen pounds which is inline across the board: buy it on Amazon or why not try Waltons, a merchant supplier.
Holds the award for the most life-like lantern this model, but one that is incredibly easy to use, for refilling or cleaning.
No cheap plastic as its made in primarily hard wearing pewter effect steel which is supported on a metal wire with a hook for hanging up.
Access to the interior is through the simple open top lid as it threads through the wire to open and close, but with no lock or catch needed.
Large tray fixed to the bottom is used as seed spillage catcher and more importantly, a perch.
Up to four port holes so therefore, four small birds can feed at one time, or more as they scrabble for the seeds in the tray.
The wire to hang on tree or bird feeding station can be hooped over itself if needed.
3. Trixie: Bird Feeding Lantern, 1400g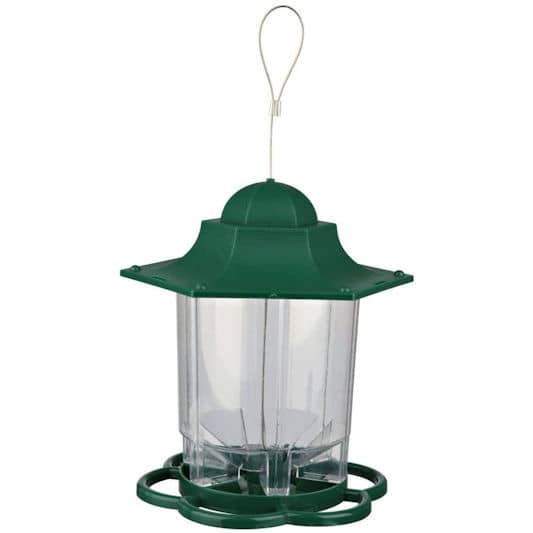 Order the largest capacity feeder on Amazon but only if you known it will be used up by lots of visiting birds.
Along with a very unique shape that is not quite a lantern, but still can be recognised as so by the unique Japanese style roof.
Largest capacity feeder on the list with the need to feed more birds than usually visit a garden.
Handle style perches are not short with wild birds able to pair up per perch as to feed near the port holes.
No traditional seed spillage tray but moreso the floor of lantern acts as a tray insert; perfect for keeping the seeds out of wet weather.
Use the rope hoop to hang off a spare bracket on the bird feeding station or hang on its own on a wall bracket.
To open up the feeder simply pull up the roof to access the inside of the tube, all while offering an open clearing to clean and replenish.
4. OurLeeme: Waterproof Lantern Bird Feeder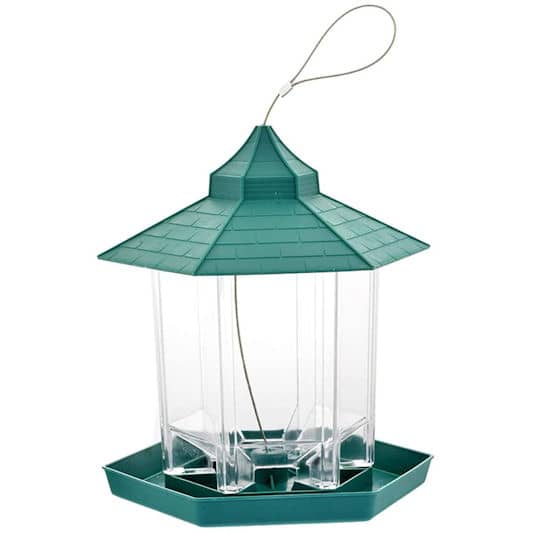 One of the cheapest feeders on my list if bought on Amazon along with free delivery if you buy while offer is still current.
Green theme seed feeder with five dimensional clear windows to view wild birds feed from any angle in the garden.
Now this could be one lantern feeder style you might come to recognise the best, only you can set it up in no time - and all under a tenner.
Made in a tough, durable plastic to withstand the outdoor elements, the feeder as a large seed capacity with a large spill tray.
Of all five sides, all have there own self-contained port hole, but any spilling will fall onto a complete surround - made for as many wild birds to feed at any one time.
To replenish with fresh seeds, you can simply lift up the roof that is attached to a rope, of which never comes loose.
When a thorough cleaning is required all plastic parts can be pulled apart.
5. Perky-Pet: Sparkle Lantern Wild Bird Feeder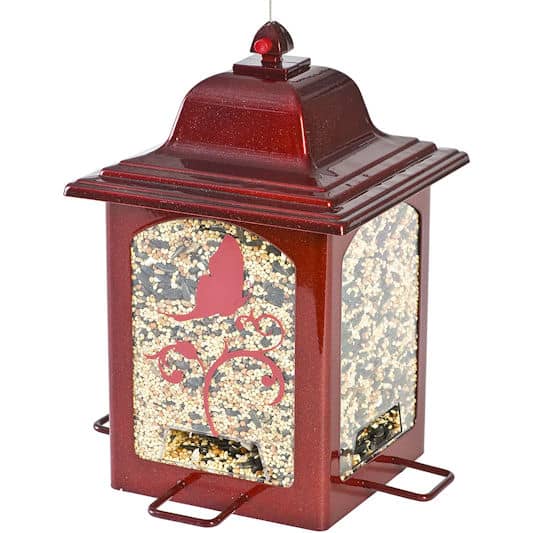 Hard to come by unless bought on Amazon, so make them your first port of call.
Go for something a little more brighter in the garden, or perhaps a red lantern bird feeder that will match bright exterior garden decor.
In setting up this Perky-Pet 'Sparkle' lantern bird feeder, the colour theme alone is sure to attract wild birds from a far.
Four sided lantern feeder has a thicker frame with windows for viewing seeds.
Each side of the feeder has a perch which can all be removed to clean; self-assembly is required so you should know how to from first setting it up.
No bird seed spill tray so the wild birds can peck at the feed that is secured through the large open port holes.
Two of the four windows have a decorative silhouette on the plastic clear window.
6. Happy Beaks: Carriage Style Lantern Feeder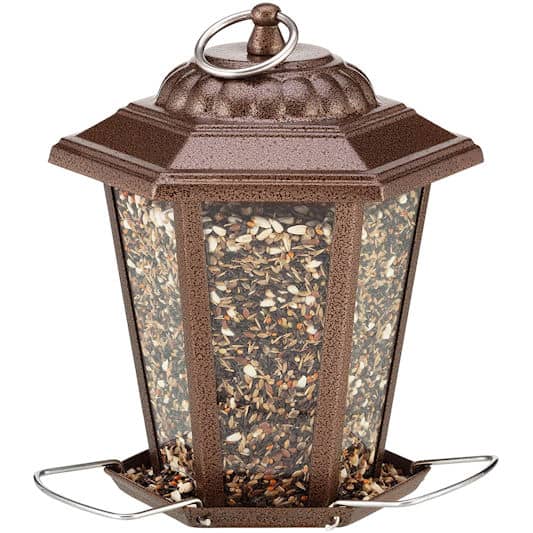 Rated high on Amazon so is sure to not let you down, along with free delivery if catching the offer on time.
Highly attractive Happy Beaks carriage style lantern feeder, designed the traditional way with five window sides.
Of the five windows there's only three metal perches with the corresponding port hole.
Tray at the bottom will capture seed spill so the small garden birds eat out of the holes, or use the spill tray as a dish.
Easy to replenish with seeds as you unscrew the top, single metal hoop on top of the lid; then screw back on by aligning long metal bar with hole on the inside of bottom of feeder.
Roof can be completely removed along with the three metal perches for cleaning out.
Trouble can occur while finding a suitable place to hang this carriage lantern feeder with the metal hoop.
Hang up on its own on a bird feeding station as to not bump into nearby feeders, or better still hang up on its own wall bracket.
7. Trixie: Bird Feeding Lantern, 900g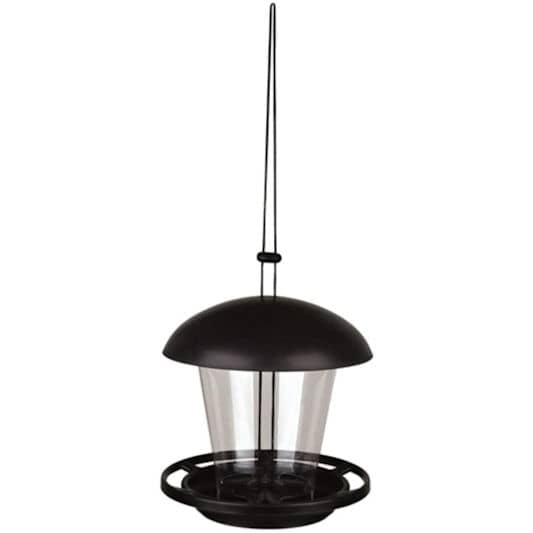 Make it the smaller 900g capacity feeder on Amazon, with similar options their if you need something larger.
OK I admit not quite the traditional hexagon or octagon shaped lantern feeder but moreso a stylish option - and that could be what you need.
Made in a durable plastic which is reflected in the pricing, but don't let that put you off as its a hard wearing feeder, designed to be out in the elements.
To replenish the Trixie Bird Feeding Lantern its made easy by simply pulling up lid that is always attached to the rope - fashioned tight with a cord.
Complete perch surround will not only allow wild birds to feed near hole ports, but the spill tray can see more smaller garden birds feed at one time.
Quite a deep spill tray that will eventually be easy to clean once in a while.
8. Perky-Pet: Birds & Berries Lantern Feeder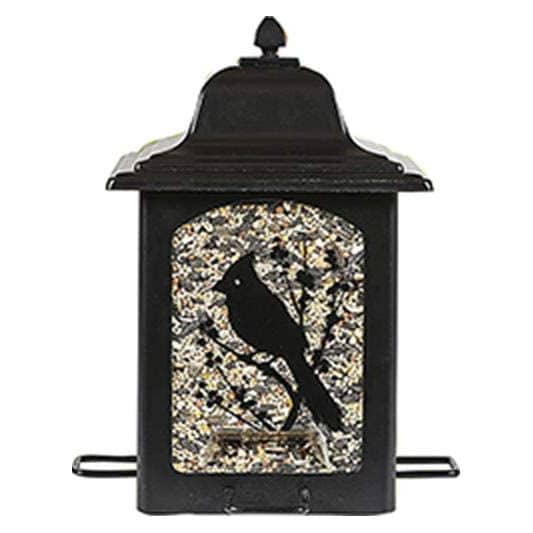 More a gothic, ghoulish lantern that you can buy at Amazon which has a high rating by what looks like many satisfied customers.
First square shaped lantern style bird feeder on my list and the last in my best of overall; so make it a heavy duty feeder in a large seed capacity.
Finished in a powder coating to withstand the elements in a rustic brown colour.
Perky-Pet are using a patented sure-lock device on this one which needs a press of a button to be able to pull up the locking system - thus allowing you to lift up the lid.
Purpose of this is to keep out clever squirrels or stop large birds tipping off the roof.
Up to four perch capacity with a corresponding feeding hole; designed with an internal seed spill to keep feed out of the way.
All four sides have a window compartment with a silhouette of a bird.
Share this article: