Bird Feeding Station with Feeders only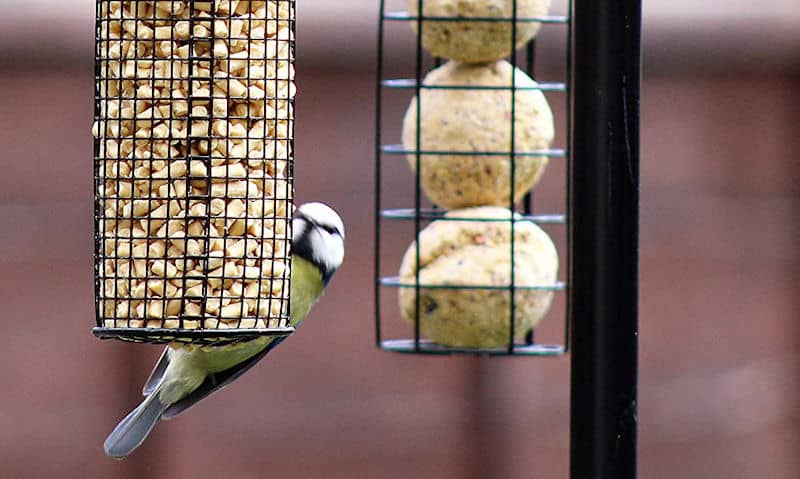 Bird Feeding Station with Feeders only
Allow me to select only the best bird feeding stations available to buy while prioritising those with only bird feeders that are included.
Across eight different brands are heavy-duty, weather resistant metal bird feeding stations equipped with either a peanut, seed, fat ball or a suet feeder - including a water dish and mesh tray. Corresponding to the feeder is a solid bracket to hang them, with a minimum three or up to an impressive ten brackets.
You asked for bird feeding station with feeders only, and that's what you've got. I gone through the hassle of picking only well built stations.
Rather than those unreliable feeding stations on a base, I picked out feeding stations with a spike, so will have to be inserted into the ground.
Bird feeding stations needn't be to much trouble when setting up, so this helps a lot.
However, bare in mind a little self-assembly is required as the pole will need to be screwed on, before picking a bracket to hang the feeders off.
I've not put together a sort of best quality bird feeding stations to buy in the UK list; but moreso a list of feeding stations that include feeders only.
So without further a do, go ahead and see what bird feeding stations are available.
Bird Feeding Stations Data
| Product Name: | Feeder No.: | RRP: |
| --- | --- | --- |
| Gardman Complete Bird Feeding Kit | 4 + 2 Trays | £44 - £46 |
| Selections Complete Bird Feeding Station | 3 + 2 Trays | £34 - £36 |
| Denny Wild Bird Feeding Station | 4 + 2 Trays | £14 - £16 |
| Ruddings Ultimate Wild Bird Feeding Station | 4 + 2 Trays | £36 - £38 |
| Honeyfield's Triple Feeding Station | 3 (NO Tray) | £22 - £25 |
| Redwood Wild Bird Feeding Station | 4 + 2 Trays | £18 - £21 |
| Kingfisher Premium Bird Feeding Station | 4 + 2 Trays | £29 - £33 |
| Elito Hammertone Bird Feeding Station | 4 + 2 Trays | £25 - £30 |
Notice how not one brand of bird feeding stations is included a second time; not on purpose mind you, it just happens to be that way.
In putting together this data its safe to say the average number of feeders included with a feeding station, is four only.
Not including a water dish that is always included, plus a mesh tray where applicable.
Then there's the price range which to be fair is a fair one, with prices based on little else than being in line with rival companies.
Gardman - Complete Bird Feeding Kit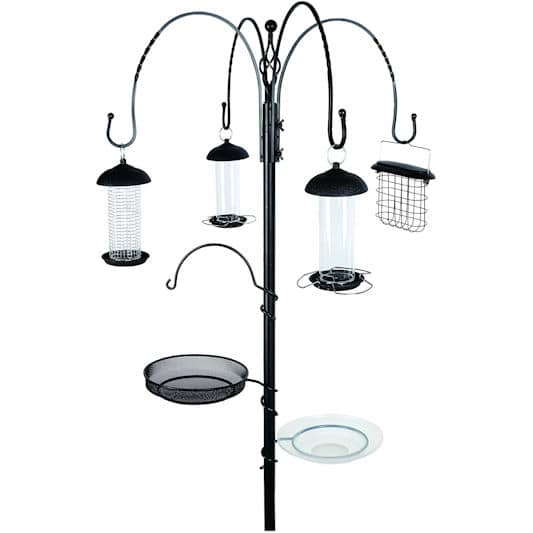 Highest price item on the list but from a brand you know best; to buy it on Amazon can save you on delivery.
One of the few, but very best Gardman bird feeding stations is this complete kit; includes four feeders with the essential water dish.
Connected to this heavy duty, metal pole is two clear tube seed feeders with three feeding port holes - perches included.
You get only the one, yet very popular caged peanut feeder with a suet feeder made to fit block shaped suet feed.
Then there's the water dish and a mesh tray fixed using a whirlwind of wrapped metal.
The feeding station is a five bracket fixture which means you will have one left over, which is great for adding your very own feeder.
Mesh tray and the water dish brackets are located on the half way point further down.
Selections - Complete Bird Feeding Station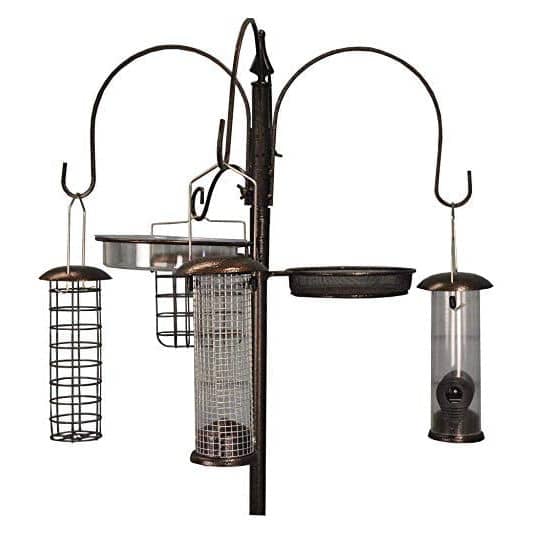 Third highest rated on my list thus far, buy it on Amazon for delivery included, yet a price that is one of the lowest.
Solid, hard wearing bronze complete feeding station that comes with three primarily bird feeders, including a mesh tray and water dish.
Selections have a very nice bird feeding kit in a design that is like anything else; and that is with the brackets all located near the top - that is if you want it their.
Great for keeping the muck out of the water dish or mesh tray if it was situated lower down, where birds droppings otherwise land.
Made up of four cross shaped brackets, there's a single peanut, seed and suet block feeder that is included.
Use the water dish for just that, but all feed that can be used in feeders can also be piled on the mesh tray - that also goes for dried mealworms.
Denny International - Wild Bird Feeding Station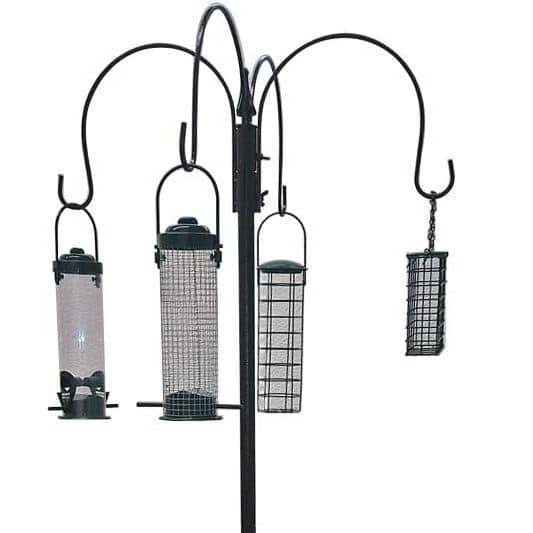 Less known brand but with the highest rating of all; turn to Amazon for the best price excluding delivery.
Not a brand people will recognise so much but its one that builds a very nice wild bird feeding station - in a heavy-duty metal.
Its a powder-coated pole with a hard wearing hammertone painted finish.
Its also worth noting this model is the cheapest bird feeding station of the lot; only its still complete with up to four bird feeders just as the more expensive options do.
Of those bird feeders to hang on this bird feeding station right out of the box: is a seed, peanut, suet block and fat ball feeder.
All of which correspond to four solid metal brackets, offering a generous divide to allow the feeders to be used without harm.
Spike design so the pole would need to be impaled into the lawn to stand up.
Ruddings Wood - Ultimate Bird Feeding Station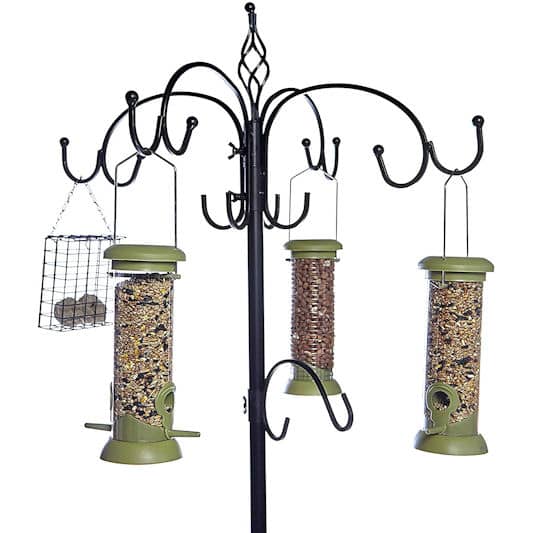 Only a 4 star rating this one but for the price you won't be disappointed, so visit Amazon to get the best offer.
Beautifully crafted, metal bird feeding station finished in a matt, powder coat finish to fight against rust.
Remarkably, this feeding station is complete with ten brackets and hooks; thus you can hang up additional feeders to the four included.
Of the four bird feeders, one is a peanut feeder, two are seed feeders, and then there's the one suet block feeder - hung up using a chain.
While overloaded with more brackets that are needed, remember you only have enough room on this feeding station for perhaps one more feeder without it being to congested.
Its recommend to fix the water dish and mesh tray lower on the pole as the feeders won't be able to freely hang if these open feeders were fixed to far up.
But at least there's a place for wild birds to drink with a mesh feeder to allow moisture to drain through.
Honeyfield's Marriages - Triple Feeding Station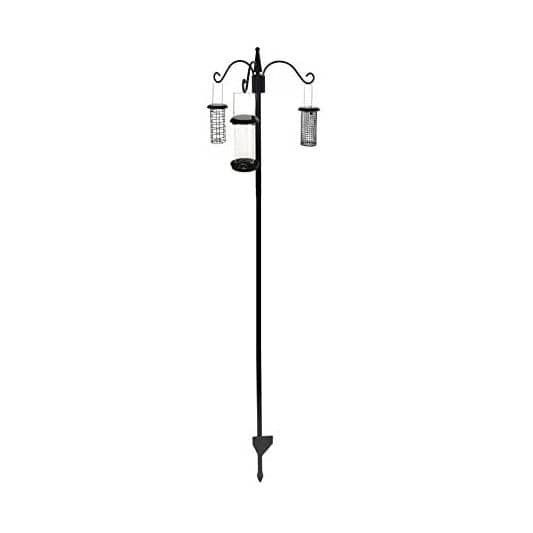 Most highly rated station of the lot, with a Amazon's Choice badge, so signs of a quality product.
Perhaps given the option to include another four bracket feeding station to the list, I would happily do so - only the options are not there, so here's Honeyfield's option.
This time its a three bracket and hook feeding station made in weather resistant coating, only there is an advantage to this design.
What with the three feeders included - seed, peanut and fat ball - to hang off the limited brackets - there's no overcrowding, thus leading to more expense on wild bird feed.
Self-assembly out of the box is needed with only the poles screwed together to make one tall pole to impale into the ground.
Three durable, hard-wearing bird feeders with a focus on popular bird food only.
Redwood - Wild Bird Feeding Station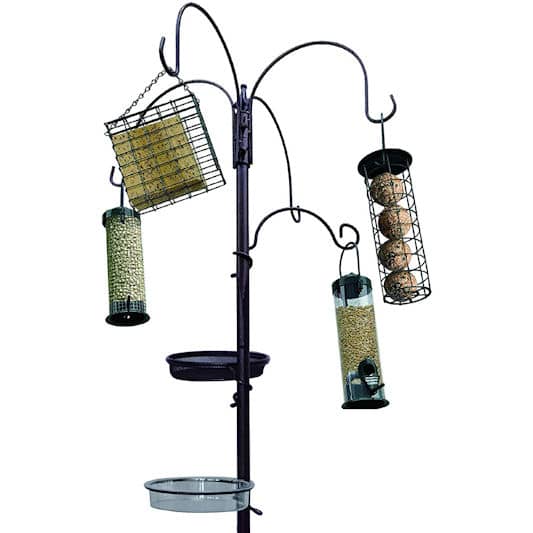 Combine value for money with a low price on Amazon, so you should get a bargain.
Redwood's take on a practical bird feeding station is this four bracket option with an additional three wrap around brackets to be fixed lower down.
Complete bird feeding station with four feeders, including: a fat ball feeder, suet block feeder, caged nut feeder and the all important seed tube feeder.
Pole is made with a sharp spike as to insert in the ground with no tripping hazard.
Four brackets will be situated near the top to allow lots of room for all feeders to hang, with a left over bracket if needed.
Below all them you can fix the water dish - preferably not directly below feeders - and a mesh tray to add bird feed out in the open.
Kingfisher - Premium Bird Feeding Station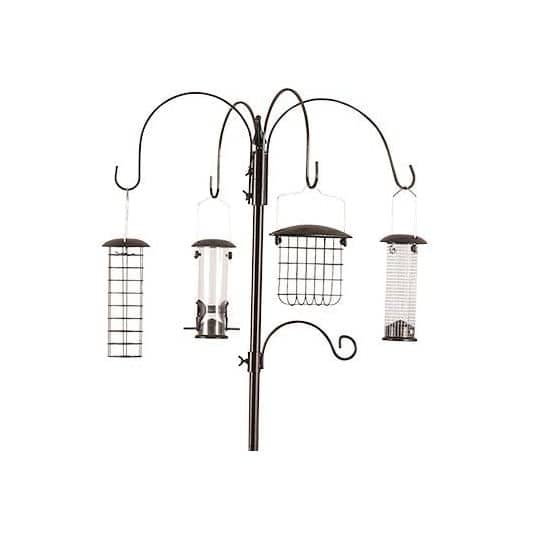 What seems to be a highly popular item on Amazon, of which is bought and rated by many customers.
If there's anything Kingfisher do well, that is building their wild bird products in a quality, yet beautiful design - much like this premium bird feeding station.
Made in a bronze hammertone finish with a heavy-duty, metal construction.
It comes complete with all four important bird feeders, including: a caged fat ball feeder, a suet block feeder, two port seed feeder and a cage peanut feeder.
All of which have their own bracket and hook with a wide separation.
There's also a leftover bracket with hook as to introduce your own feeder later.
Where you will probably locate below all them, as pictured - is a water dish and mesh open feeding tray.
Self-assembly is required so where the additional bracket plus the water and mesh tray is situated, is completely up to you.
Elito - Hammertone Bird Feeding Station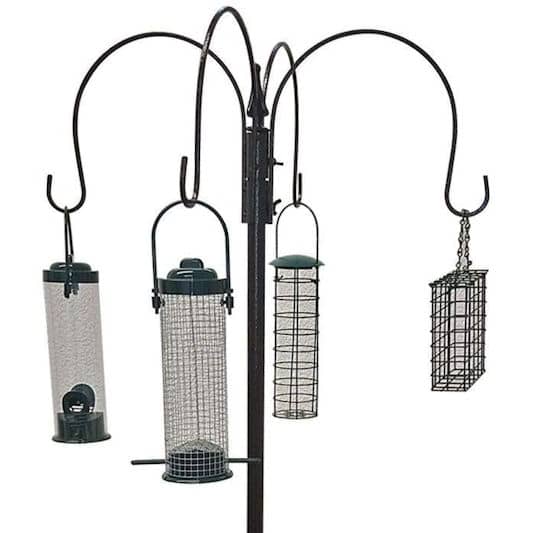 Available to buy on Amazon with a fair high rating overall.
If there's anything you need from a bird feeding station with feeders, is that its built in a solid construction that can last forever out in the elements, which it will.
Its painted in a grey, hard wearing hammertone coat finish which blends in nicely to the garden.
Of the four brackets with hooks, each one will be used to hang up the suet block feeder, fat ball feeder, peanut feeder - and a two port hole seed feeder with perches.
Fixed to the pole will also be the essential water dish for drinking or bathing, plus the mesh tray for adding any feed that doesn't belong in a enclosed feeder.
Spike base so will need to be impaled into the ground, well only doing so before you've setup the feeders on the brackets.
Share this article: