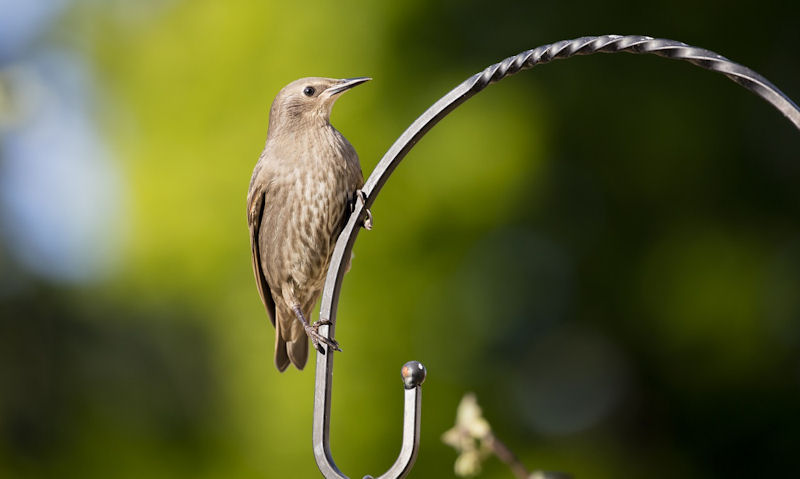 Bird Feeder Brackets
Life shouldn't be too hard hanging up a wild bird feeder of any kind as a reliable, yet solid metal bracket for flower baskets will do the trick.
Make use of a bird feeder bracket specially designed for corresponding feeders, ideal in the colour that matches the feeder in question. Not important though with a bracket always made in iron or steel in a protected coating to be weather resistant. Brackets listed offer a wide clearing to stop the feeder hitting the wall.
While all bird feeder wall brackets mentioned are for use for just that, to be fixed to a brick wall or alike - that needn't be if you have a different use for it.
Remember any metal bracket promoted for use for walls can be used on a fence post.
Solid, heavy-duty construction so will be better placed on the fence post, not the actual fence panel itself as they become quite flimsy over time.
If made in iron it will be painted in a protected finish, where steel brackets are usually coated in a plastic layer or use a powder coating.
I can't emphasis it enough, a bracket must be far reaching to be able to hang any bird feeder - so make it one with a 10 to 14 each clearing.
Fixing the bracket is the most difficult part but you will need to supply your own screws, thus a screwdriver or power drill will be needed, so to be supplied on your part.
Two to three point fixings on the metal bracket backing is common to see, so will keep it nice and secure.
Brackets advertised for bird feeders only doesn't have to be that way; its up to you what you use them for - as much as a flower basket bracket can be used as a bracket for bird feeders.
If you need inspiration where to fix a bracket for bird feeders, then look no further than my ideas for hanging bird feeders around the garden.
Bird Feeder Brackets Data
| Product Name: | Clearing: | Material: |
| --- | --- | --- |
| Gardman: 11-inch Blacksmith Round Hook | 11 inches | Steel |
| Gardman: Heavy-Duty Bird Feeder Bracket | 10 inches | Steel |
| Gardman: Blacksmith Square Hook | 14 inches | Steel |
| CJ Wildlife: Wall Bracket for Bird Feeders | 12 inches | Steel |
| Fallen Fruits: Cast Iron Wall Bracket | 12 inches | Iron |
| My Garden Green: Fence Panel Bracket | 10 inches | Steel |
| Jiayi: Wrought Iron 'Leaf Style' Bracket | 13 inches | Iron |
| Warmiehomy: Iron Basket Bracket | 13 inches | Iron |
I've only listed the eight bird feeder brackets with Gardman taking the top spots; now that is understandable as they're bird product specialists after all.
And while others on the list only make their bracket range for hanging up bird feeders only, thereafter the brackets are really designed for flower baskets.
Make no mistake though as any old bracket can be used to hang wild bird feeders.
While often overlooked, the distance between the wall to the end of the bracket where the hook is commonly located, must be taken into consideration.
You'd need a wide clearing as to allow any type of bird feeder to hang while avoiding the feeder bumping against the wall in any bit of wind.
Brackets listed are only made in metal, so all will have a solid construction in a heavy-duty build with no issues around poor design.
Gardman: 11-inch Blacksmith Round Hook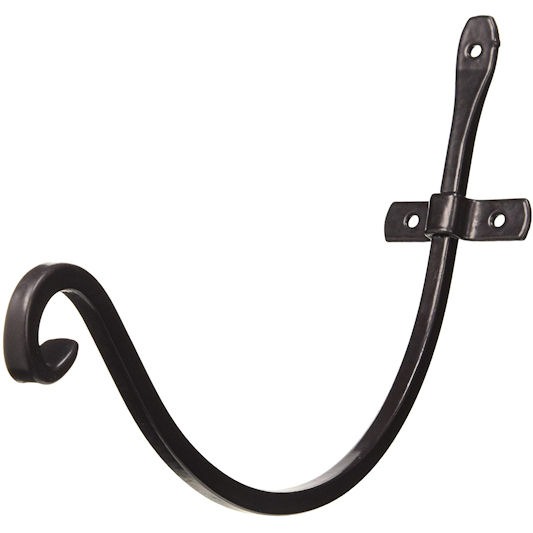 One of the best known, yet reliable metal brackets on Amazon for just over a tenner.
No going wrong with this attractive yet very effective metal Blacksmith wall bracket in a thick, plastic weather resistant coating.
Beautifully curved with a subtle but elegant hook on the end. Subtle it is but you can hook just about any bird feeder imaginable to this one.
Fix the bracket to a wall using a three-point fixing hole using screws (not supplied) but don't forget the wall plugs.
Its quite a heavy bird feeder bracket so can withstand all types of bird feeders, but more importantly the larger kind full to the rim with seed mixes.
Between the wall and the hook is a clearing up to 11 inches, so you will have no trouble say hanging up a lantern style bird feeder or even a hanging flower basket.
Gardman: Heavy-Duty Bird Feeder Bracket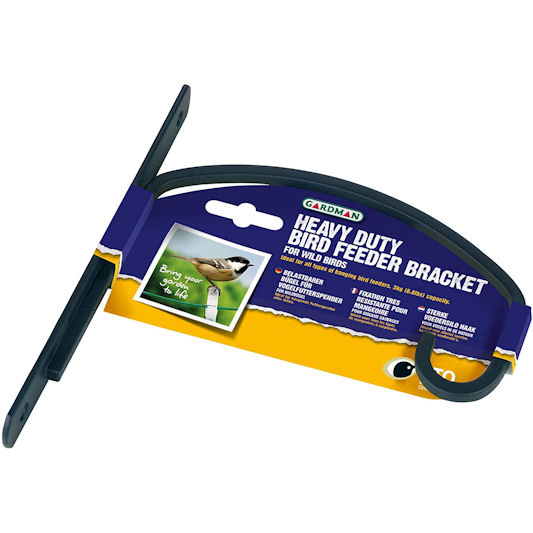 Quite possibly the cheapest bird feeder bracket on Amazon, and the most value for money on my list.
If the Gardman Blacksmith 'style' bracket mentioned thus far is not for your liking, then why not consider this also attractive heavy-duty bird feeder bracket.
This time its a wide reaching bracket in 10 inches this time, only it as an above subtle curve with a big, obvious hook.
This hook as it happens will cause no issues when hooping over a corresponding feeder, but avoid situating the bracket too far up the wall.
Finished in a green paint using a powder coating over a solid, heavy-duty steel. Backing steel bar is designed to take any weight that hangs off the end.
To fix the bracket to the wall it uses a two-point fixing this time which is all you'll need to prevent too much weight toppling it off the wall.
Gardman: Blacksmith Square Hook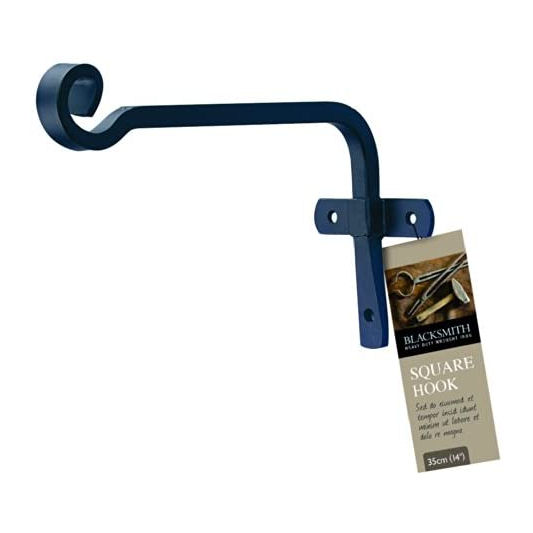 Tough, heavy duty bracket to buy on Amazon for under ten pounds, so not a bad investment for the price.
Last of the specialist Gardman bird feeder bracket range is this one, an attractive blue finish bracket using a horizontal wide bracket.
Widest clearing yet, with the longer bracket in the list of the lot; the 14 inch reaching out bracket will mean nothing cannot be hung on the end.
On the end is a bracket hook that curves up and around this time, but is sure to make it easy to hang anything from feeders to baskets.
Its weather resistant due to a coating surround that protects the metal underneath it.
Made with a three point fixing with no screws supplied. But once up on the wall it has such a high maximum weight limit that you don't need to ever think about it.
CJ Wildlife: Wall Bracket for Bird Feeders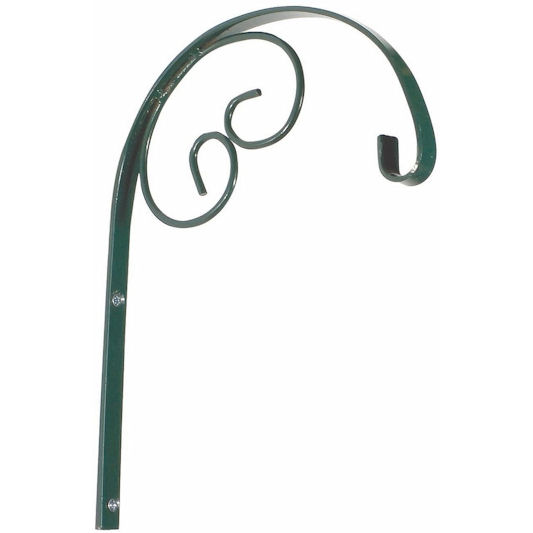 Less than a tenner to buy on Amazon to get setup quick and easy at an affordable price.
Nice bit of metalwork going on with this CJ Wildlife wall bracket for feeders as its shaped into a big, wide curved bracket.
Rather than a flat piece of metal curved over, its finished with a little internal decoration using additional rounded metal bars, curved around in the middle.
This CJ Wildlife bird feeder wall bracket is finished in a nice green coating to protect from corrosion and rust.
Generous clearing with 12 inches of space for the bird feeder to hang without ever coming into contact with the wall - and that applies when its a windy day.
Non restricting hook on the end will not cause trouble when hanging anything your heart desires - but it will need two screws to fix to wall.
Fallen Fruits: Cast Iron Wall Bracket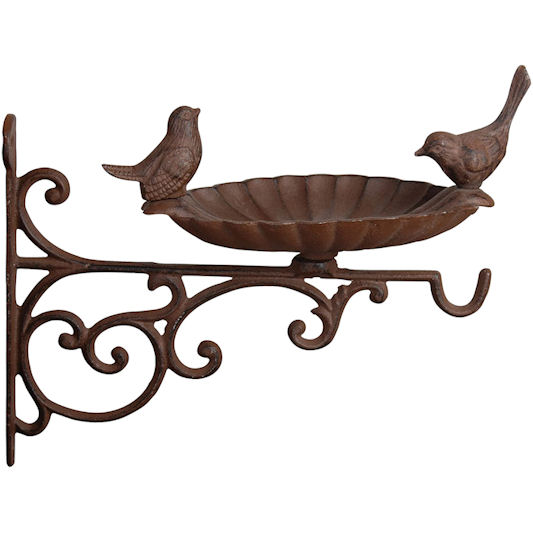 Right on the price point with Amazon so it can't be bought much cheaper elsewhere.
Depend on Fallen Fruits to supply a bird feeding bracket so useful, it even as a bird bath if the feed is not enough to attract wild birds.
Wall to hook on end of bracket as a 12 inch clearing, so little restrictions to the types of bird feeders you can hang.
Its a straight, horizontal bracket that sits a bird bath on top, but can substitute as an open bird feeding dish if need be.
Tough, heavy duty bracket made in real cast iron, with a brown, rust effect that is sure to blend in with the garden.
Remarkably, there's only one fixing point for such a large bracket, so will require a tough screw to drill into the wall, but the weight of the cast iron bracket will cause no movement.
My Garden Green: Fence Panel Bracket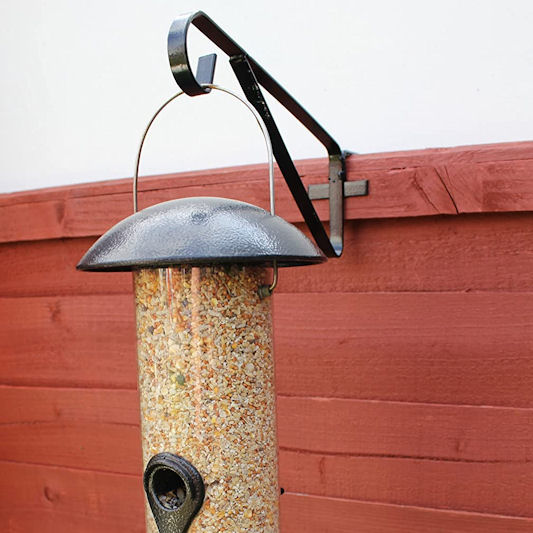 One of the most expensive options thus far, but prices change on Amazon so do check it out.
Not much difference between a wall vs bird feeder fence bracket, but it needn't be to hard to setup if you plan to attach it to a fence penal only.
If so make it this unique fence panel bracket that simply slots onto the top of the panel without the need of screws or other fixings.
Once tightly squeezed on top of the fence, the bracket will protrude out as it would, to allow a 10 inch clearing to hang up a feeder.
If you're not in the mood to drill or hammer away, then fix a bird feeder bracket arm to a fence rather than the hassle of a brick wall.
Finished in a gloss black coating using a weather resistant finish.
Jiayi: Wrought Iron 'Leaf Style' Bracket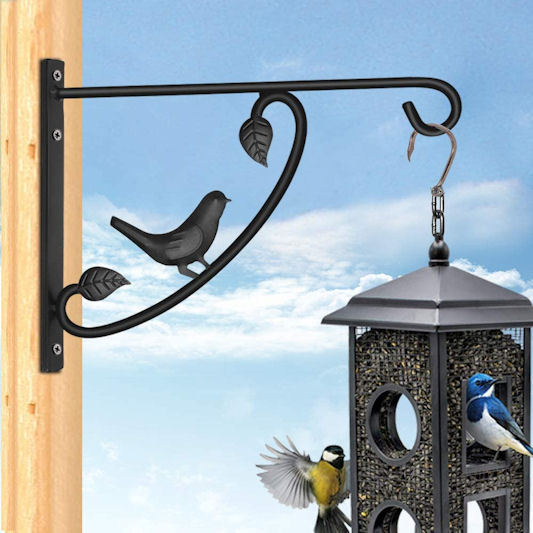 Upward of twenty quid on Amazon but you get two brackets for the price.
Admittedly the most expensive bird feeder wall bracket in the list, but that's only because you get identical brackets.
What appealing wall and fence brackets they are too, made in a heavy iron.
Not only will the black finish look nice on the wall, but the set can be fixed to a couple of fence posts, to hang up flower basket - or more importantly at least one feeder.
Designed in rounded iron bars with a flat wall backing, and a straight bracket arm with an easy to use hook on the end.
Wielded beneath this practical bracket set is a leafy design finished off with a bird.
Its a three-point fixing bracket with a wide 13 inch clearing. Promoted more as a flower basket bracket, but will do a wonderful job of hanging feeders.
Warmiehomy: Iron Basket Bracket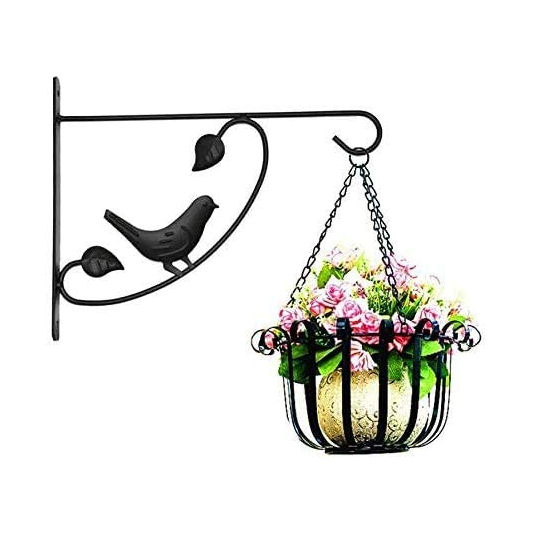 Cost more than most on Amazon while also one of the priciest on this list, but its worth the cost how attractive it is.
OK I admit it does really does look identical to the Jiayi Wrought Iron 'Leaf Style' Bracket option listed above, but it is a little different.
What else you'll get is a set of two also, so fix to wall or fence, or attach to both to see a better chance of wild birds arriving.
The Jiayi bracket is chunkier with more curve, whereas this option is using thinner iron bars, wielded to a larger leaf and bird decoration in the middle.
Warmiehomy's Iron Basket Bracket for baskets can be used for feeders.
It as a 13 inch clearing so there's no bumping of feeder on the wall in high winds, nor is there any possible chance of the bracket coming loose with its two-point fixing.
Share this article: