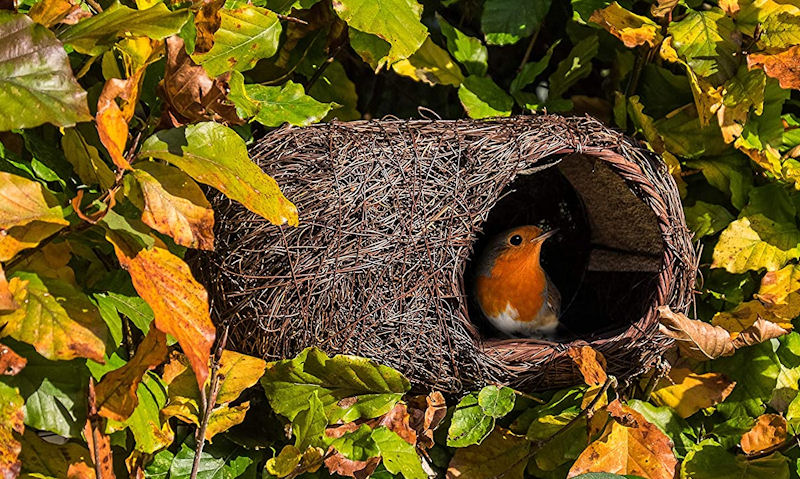 Robin Bird Nest Boxes
No need to make it difficult to attract wild Robins to nest in your garden as its only an open fronted bird box that is required.
Robin bird nest boxes are not only wooden bird boxes, but they can be a natural tree log or a nest threaded together using real Brushwood. Open fronted Robin bird box may also attract Wrens, Pied Wagtails and Spotted Flycatchers - so go for a wooden Robin box that has a large opening to entice them all.
I hope you trust me to present to you only the most practical Robin bird boxes on the Market within the UK - and you're in for a treat for sure.
No one size, shape or entrance hole design, Robin bird boxes for sale are designed by professionals so the result is a bird box that are used.
Robins do use bird boxes if made in wood or even ceramic, but you'll not only find the more natural boxes appealing to you, but so too are they to Robins.
One thing all Robin bird nest boxes have in common is the entrance hole; its large, open with a shallow box for wild birds to use their own material to build up their nest inside the bird box.
Robin bird boxes can vary in design, but either one can be used as its not one fit for all.
Instead, don't waste the opportunity for Robins to nest by fixing a Robin nest in the wrong place, as it must be very specific.
So while the bird box must be fixed up to 2 metres off the ground; bury the Robin nest box deep in growth or else you'll see little success with nesting Robins.
Bird Boxes for Robins table
| Product Name: | Material: | Finish: |
| --- | --- | --- |
| Simon King Wildlife: Robin Nester | Brushwood | Brushwood |
| Wildlife World: Robin Natural Log Nest | Birch | Natural |
| Wildlife World: Robin Teapot Nester | Ceramic | Fired |
| Supa: Multi-Purpose Nesting Box | Timber | Stain |
| Harrison's: Robin Nest Box | Fir | Preserve |
| Peckish: Open Fronted Nest Box | Timber | Painted |
| Herz: Robins Nesting Box | Fir | Untreated |
| Johnston & Jeff: Birchwood Robin Nest Box | Birch | Treated |
If you want to know how to attract Robins to nest in your garden then simply make use of one of these eight Robin bird boxes.
While it used to be all made in wood bird boxes, its not so anymore. Instead you'd find the more practical boxes, are not boxes at all - but a tree log or threaded Brushwood.
To assist you in making the correct decision, though baring in mind all options are a good one - I've listed what timber the bird box is made in.
Lastly I decided to list how the bird box is finished so you know if its ready for use, and while treated boxes last, there's an options to paint it if need be.
Don't be afraid of the assorted Robins nester in all shapes and sizes; all are highly practical for the use of Robins coming to nest in your garden.
Simon King: Robin Nester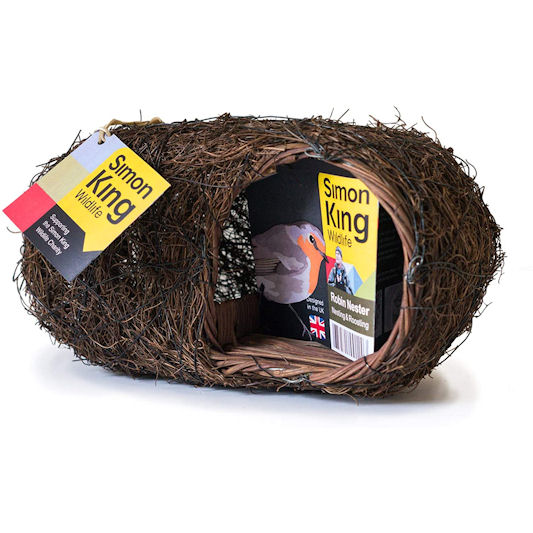 So much care and attention gone into building this Brushwood nester, but to buy it on Amazon will cost far less than a tenner.
Probably the most natural man-made, yet best Robin bird nest ever to be made available to buy, only this Simon King box by Wildlife World is designed specifically to attract Robins.
Robins are particularly hard to get to nest in a garden if the bird box is not situated deep in cover, such as foliage or thick ivy - while out of sunlight or direct wind.
But where you lack natural coverage - while it still applies always - its sure made a lot more easier with this made in Brushwood Robin Nester.
The frame of the nest is made in twisted plastic coated metal wiring, along with threaded Brushwood tied tightly together to make a safe and secure Robin bird house.
Unlike a traditional wooden Robin bird box, the design calls for a covered porch area to land on too... while the Robins step into the nest situated on the right.
To come to this final nest design Simon King researched how Robins nest while re-creating a nest that is more appealing to Robins.
Wildlife World: Robin Natural Log Nest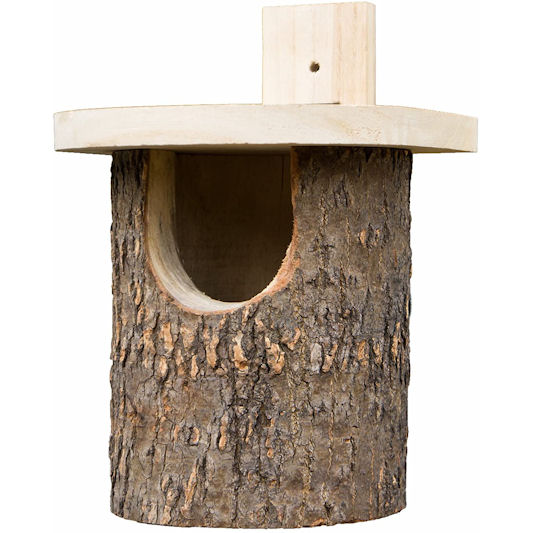 Not easy to build a nesting box in a real tree log, but you get what you pay for with a quality, yet fairly priced log nest on Amazon, with other quirks.
Natural bird boxes are not completely unheard of, as such the Robin Brushwood bird box as featured above.
But what is quite unique is a wild bird nesting box actually made using a tree log.
Don't despair this is not a young, healthy tree cut down in its prime; but moreso a re-purposed tree log that as far passed its life span.
So to create a Robin friendly bird box Wildlife World simply scooped out the middle while cutting out a large entrance hole which Robins prefer.
Result of that is a natural tree log that will blend into most background in cover.
While the floor of the Robin natural log nest is sealed up with a plank of wood, so is the roof with additional overhang to protect Robins from the elements.
Insulation is to its optimal performance with at least 15mm walls to keep Robins warm.
Wildlife World: Robin Teapot Nester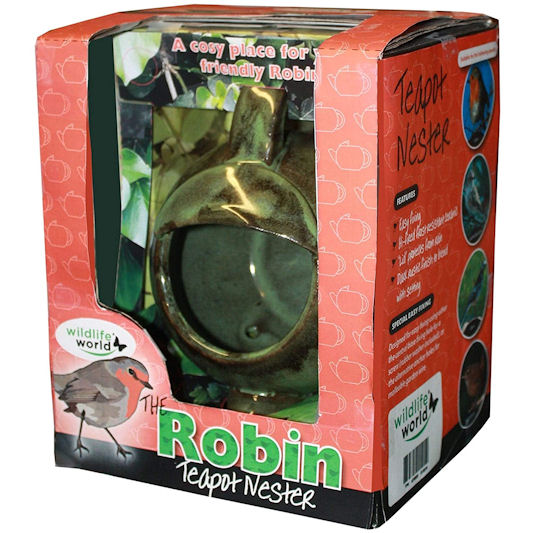 Little on the higher cost as its a ceramic Robin box, but to buy on Amazon it carries the Amazon Choice badge.
Now that we're going for a more novelty type bird box but still for practical use, this teapot nester must be hanged rather than mounted - so wiring will be needed.
Thread the wire through the teapot handle as short as possible to avoid swinging, as wild birds won't nest in a hanging bird box that moves, as it will be deemed unsafe.
To mimic a real teapot, only the opening doubles up as a Robin nest entrance.
Made for outdoors using real ceramic that is fired to create a smooth, green glaze that also happens to be frost resistant.
To site this Robin nester you will need to locate it in deep coverage such as ivy; out in the open will be too obvious while appearing to be more decorated garden decor - and it should never be disturbed.
If rain water were to enter the teapot it has all the odd-cons a wooden nesting box has, so its made with drainage holes.
While a little small in appearance, this Robin nester is a good size so won't be off putting for wild birds to nest.
Supa: Multi-Purpose Nesting Box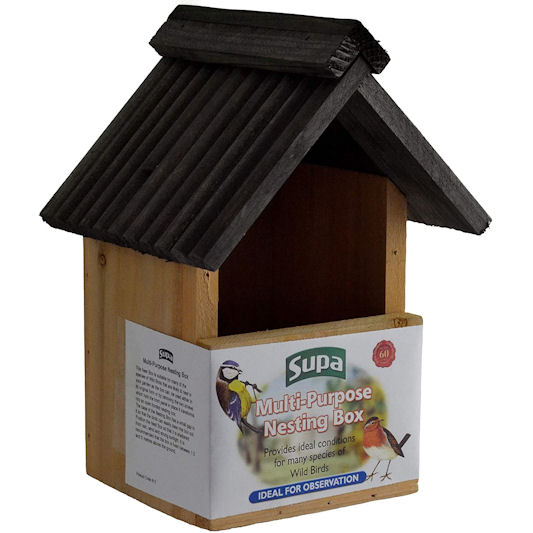 To buy on Amazon you'd end up with a fantastic offer; cheap yet well priced for a quality, solid bird box.
Finally, now I've listed a wooden bird box that you might come to recognise more than those mentioned thus far.
Multi-use wooden nesting box that begins much like a traditional bird box with a rounded entrance hole of 32mm - so can attract Tree Sparrows, Tits or Nuthatches.
But what is so unique about this nest box is its a two for the price of one option.
Simply unscrew the fixings on either side of the entrance hole to remove the whole wooden panel - resulting in an open fronted bird box for Robins.
Lovely routed corrugated effect roof for rain to drain away, along with a pointed top piece to stop damp entering where the roof panels connect.
While the floor of this multi-purpose nesting box as what appears to be a fault; in fact the gap is a drainage hole, but will do no harm to nesting Robins and their chicks.
Made in a treated timber with a painted roof for decoration, its built with 15mm walls for insulation while allowing the box to not get too hot.
Harrison's: Robin Nest Box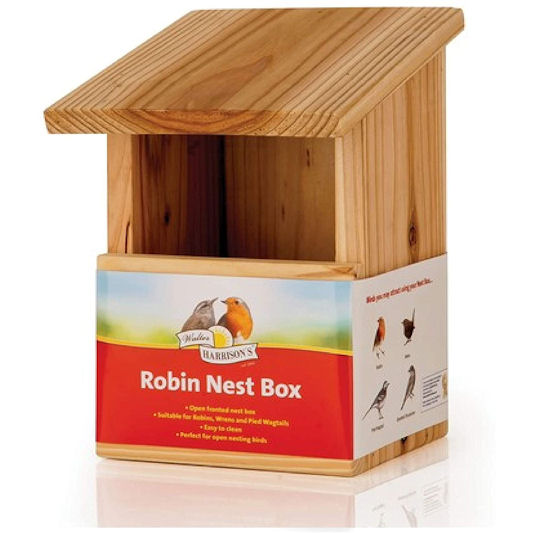 Made in quality Fir so that rises the price, but to buy on Amazon would be a safe option with other shopper benefits.
First time I've listed a traditional wooden Robin nest box with no unneeded extras, just a Robin nest box to mount to a wall or fence.
Robin nest boxes are usually made this way without extras, so simply fix screw to a wall or deep in cover on a fence, as to hook this box on using a pre-drilled hole with eye fixing.
The only thing unique about this Robin bird nest box is its made in fir, as appose to cheaper pine.
Its therefore a bird box that will last longer out in the elements, but you'd still need to treat it once a year when Robins have left.
Made using 15mm thick panels of fir, the insulation is to the maximum while a little cover from the roof overhang helps.
As normal drainage holes are applied to the floor of the box, the only way to access the bird box for maintenance is through the large open front.
Behind the bottom wooden panel on the front is where Robins nest, but its normal to see their own made nesting material protrude out of the entrance hole.
Peckish: Open Fronted Nest Box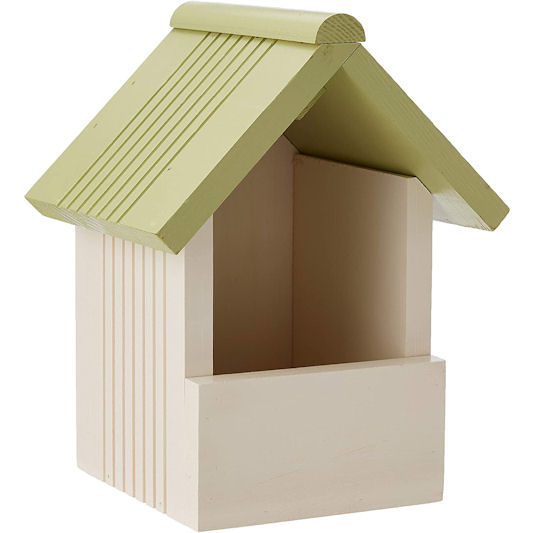 Can't go wrong buying this box on Amazon as FREE delivery is sure to be an option, keeping the price low.
Still a traditional open fronted Robin nest box, only the painted colour scheme will help it blend in with a fence or garden decor in a near colour match.
Fully assembled so no removing panels or the roof for cleaning; to do that you have access to the interior through the open front section.
Angled pointed roof allows for rain to drain away with a little overhang to stop water entering the box in the first place.
Any damp that enters the box will soon drain away through the drainage holes on the floor.
Open front is larger than normal so might be appealing to other wild bird species who prefer this design - such as Pied Wagtails or Wrens.
To fix this Robin box to a wall you'd first need to drill the pilot hole while inserting a wall plug - then insert a screw through the pre-drilled hole in the back.
Herz: Robins Nesting Box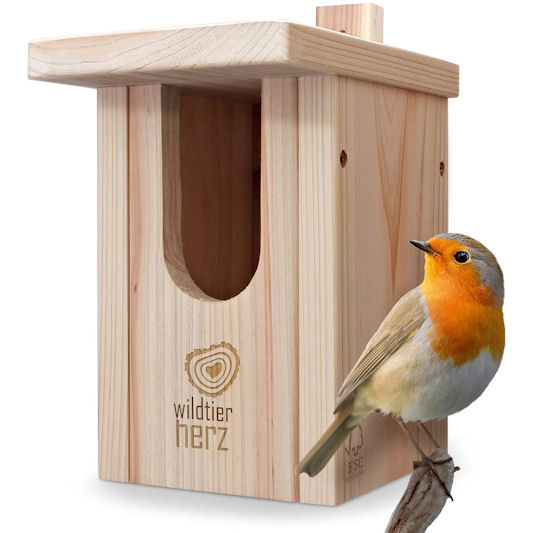 To buy on Amazon will cost you upward of thirty quid, but it is made in Germany so the price is higher.
Well, in terms of attractiveness, this German made Robin nesting box must be one of the best available to buy on the market.
Its made in the finest timber to use, Fir, so is sure to remain weatherproof over the long, wet months.
Unique open front design is like no other but very appealing to Robins, or other open front nesting birds - as it will always be the case.
Access to the bird box can be made through the entrance hole, but for complete access you can remove the floor of the box.
Assembled using brass screws, so simply use a Philips screw driver to remove panel.
While mounting any bird box to a wall, fence or even a tree can be difficult, it is made a little easier on the person with this bird box.
Its made using a complete back panel that presses flush against the wall, fence or tree, thus there's no need to screw inside the box as the screw pilot hole is on the outside.
Johnston & Jeff: Birchwood Robin Nest Box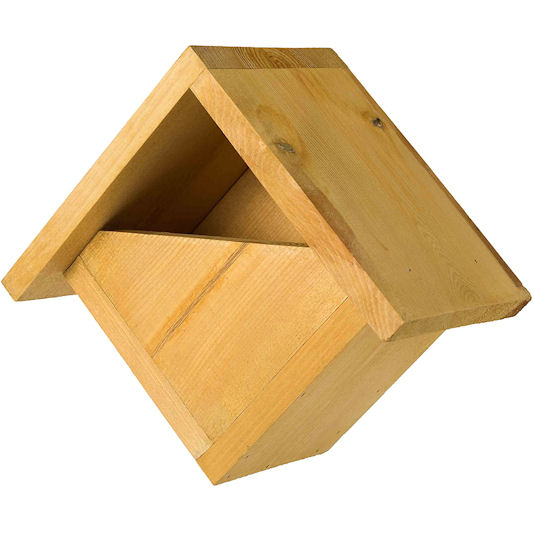 Buy it on Amazon for the price of just over a tenner, with a quality box that will last.
And I bring the Robin bird nest box selection to and end with this unique, diamond shaped Robin box - with the usual open front.
Not a shape that will be comfortable to settle on at the bottom for sure, but Robins use their own nesting material so it will be cushioned.
Made in Birch so there's little to no splinting or cracking of hardwood, thus expect this quality made, yet treated bird box to last longer.
No one said a Robin entrance hole has to be certain shape, so they will have no issues entering one in a triangle shape that's for sure.
Shape of bird box allows rain to drain with ease while a little overhang is sure to keep dampness from entering inside the wooden box.
On your part you'd need to drill the hole on the corresponding wall, tree or fence post before hooking this box on.
Share this article: