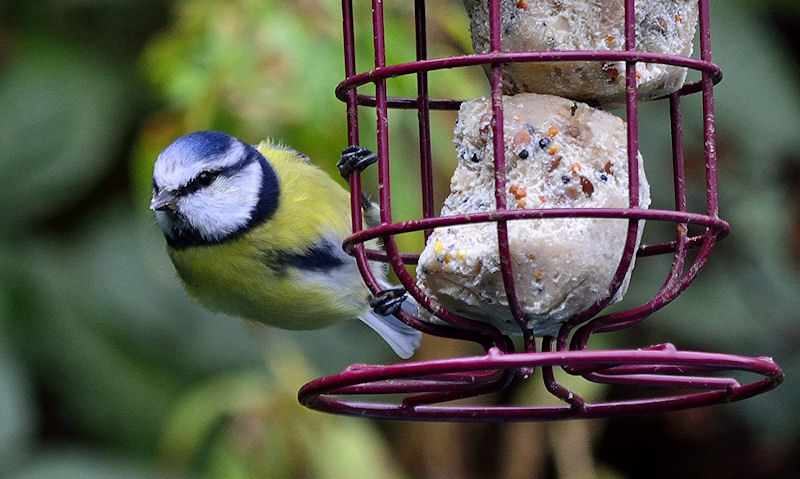 Suet Fat Balls for Birds
Species of all kinds will be willing to visit your garden to feed on fat balls; it all depends on the fat ball recipe in use what wild birds decide to feed on what part of the balls.
Suet is primarily made up in beef fat with ingredients consisting of fruits, berries, peanuts, insects - or two or three of the above. Shaped into balls, the suet fat balls for wild birds can then be slotted into a purpose made fat ball feeder. If you don't have this kind of feeder to hand, simply place fat balls on a dish or bowl.
What is the primary recipe of suet fat balls for wild birds is beef fat, also known as the suet - its a hard white fat used to mould the balls.
Suet balls can also be made into suet blocks or pellets for use in a corresponding suet block bird feeder or hanging mesh pellet feeder.
Beef fat is the most common composition to make up the balls but that is followed by the more popular recipes to entice a varied range of garden birds.
Birds will peck at the ingredients contained within the suet, but will consume the fat as they do so - so will consume lots of energy when its needed.
If suet fat balls are made with seeds only, then expect them to attract seed eating birds - so same will apply to peanut eating birds.
Other ingredients to produce the fat balls will be oats, maize, wheat flour and more.
Make it a big tub or box that uses plastic packaging to seal the fat balls so they will last up to three months or longer.
Tubs are re-sealable so the air tight container will keep the fat balls nice and fresh.
What you want to do with these standard size fat balls is insert them into a caged fat ball feeder to allow birds to cling on and feed - such as the Great Spotted Woodpecker.
Suet ball eating wild birds can include Blackbirds, Robins, Sparrows, Long Tailed Tits, Chaffinch, Song Thrush, Blue Tits and Great Tits, among others.
Make use of tub of suet fat balls to avoid the use of harmful to the environment, ugly netted fat balls.
Suet Fat Balls for Birds table
| Product Name: | Quantity: | Fat: |
| --- | --- | --- |
| Bucktons: Wild Bird Energy Balls | Box of 150 | Beef |
| Peckish: Natural Ingredients Energy Balls | Tub of 50 | Beef |
| Gardman: High Energy Fat Snax | Tub of 50 | Beef |
| Suet To Go: Premium Suet Balls | Box of 150 | Beef |
| Erdtmanns: No-Net Suet Balls | Tub of 50 | Beef |
| Peckish: Complete Energy Balls | Box of 24 | Beef |
| Jacobi Jayne: Premium Suet Balls | Box of 18 | Beef |
| Nature's Market: Wild Bird Suet Balls | Tube of 50 | Beef |
Really no point in investing in a dozen or so suet fat balls for wild birds as they will be consumed the most, and quite quickly too.
So it can only be tubs of 50 to 150 fat balls as to last for the month, rather than a few days - if you require less, then there is a 18 or 24 fat ball option.
Budget wise suet fat ball boxes or tubs listed are are price similarly.
However, there is no vegetarian option with the main ingredients using beef fat which is the suet - then it can be made up of seeds, nuts or insects - or all of the above.
Bucktons: Wild Bird Energy Balls, Box of 150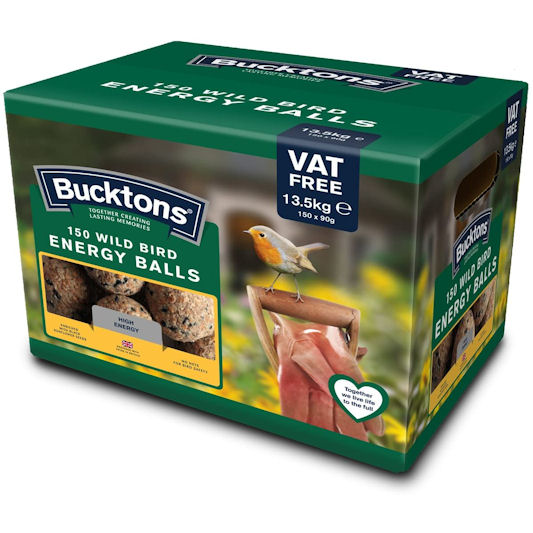 Of the other suet fat ball tubs I have listed, this one will turn out to be a fiver cheaper if bought on Amazon.
Nicely presented wild bird energy balls with a whopping 150 fat balls tucked away inside the box, stored until used.
Made with a beef tallow composition, meaning the balls are moulded using beef fat; plain wheat flour and maize grit make up the structure.
Bird suet fat balls use a seed mix to attract mostly seed eating wild birds, which includes Red Dari and Black Sunflower Seeds.
Calcium producing feed is ideal for assisting in egg production when in season.
Peckish: Natural Ingredients Energy Balls, Tub of 50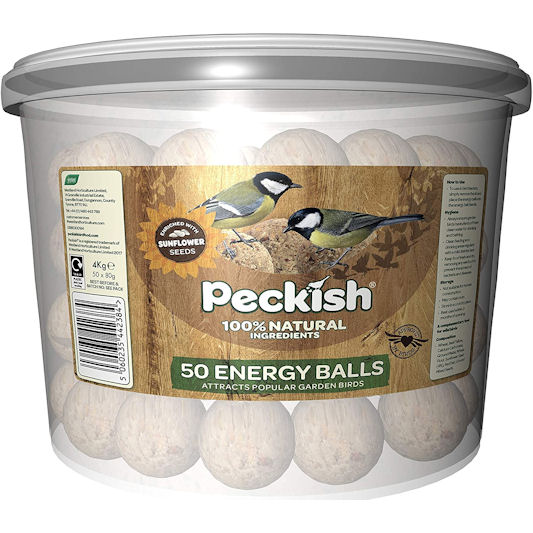 Of all tubs of 50 listed, Peckish are probably the cheapest on Amazon with a re-useable tub.
Peckish will take care of your high quality suet fat balls for wild birds with their blend of wholesome fat balls, in a sealable tub.
Up to 50 fat balls contained within the tub to last you as long as you keep the tub sealed.
Seed mix with a beef fat composition, the fat balls recipe consists of Sunflower Seeds, Red Dari and Ground Mixed Seeds.
Common ingredients for sure but the fat balls are also made up with inferior ingredients.
Likely contenders to feed on Peckish Energy Balls are: Blackbird, Robin, Sparrow, Long Tailed Tit, Chaffinch, Song Thrush, Blue Tit and Great Tit.
Gardman: High Energy Fat Snax, Tub of 50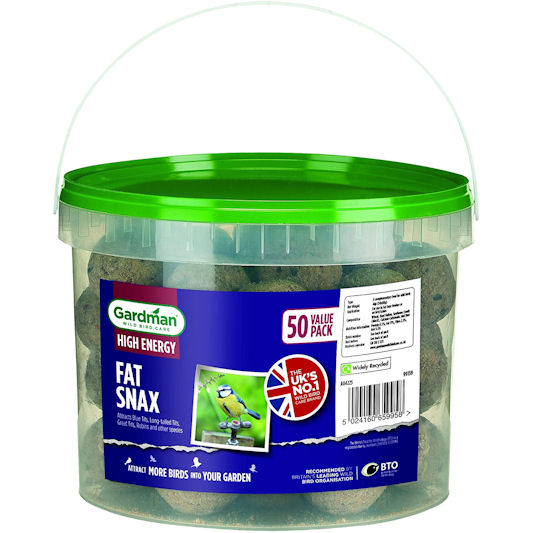 Safe, yet reasonably priced suet fat balls to buy on Amazon with a tub that can be used for other uses.
Top manufacturer of metal or plastic bird feeders and other wild bird feeding assisting equipment - so it only makes sense Gardman produce their own bird feed.
In this Gardman tub of 50 suet fat balls, wild birds who feed on seeds will be in for a treat - as it contains sunflower seeds.
Keep the fat balls fresh inside a sealable clear plastic tub with a useful handle.
Perfect for bringing outdoors to replenish the Gardman fat ball bird feeder, or if you have a feeder developed by other manufacturers.
Suet To Go: Premium Suet Balls, Box of 150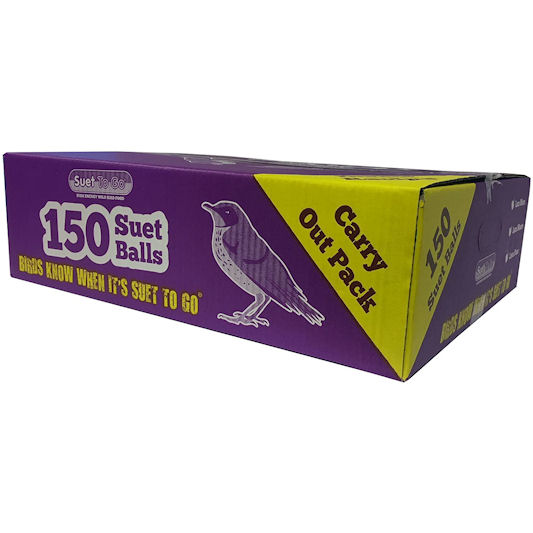 What I would say is the best bargain of the lot, to buy on Amazon would mean three times the fat balls, for only double the price.
Premium quality suet fat balls for all year round feeding; stored inside a useful box while sealed up in a plastic bag.
After use, insert back in box but wrap in plastic packaging to keep fresher for longer.
Of the 150 fat balls, the ingredients is sure to attract as many wild bird feeding birds as possible - as it contains seeds, peanuts and even dried insects, though mixing in dried mealworms can also be an option.
Now that is not to say this option will be favoured by all birds, but you do stand a higher chance of attracting varied garden birds.
Made up in beef fat that blends in with other ingredients including Wheat Flour, Linseed, Rapeseed and Millet Seed
Erdtmanns: No-Net Suet Balls, Tub of 50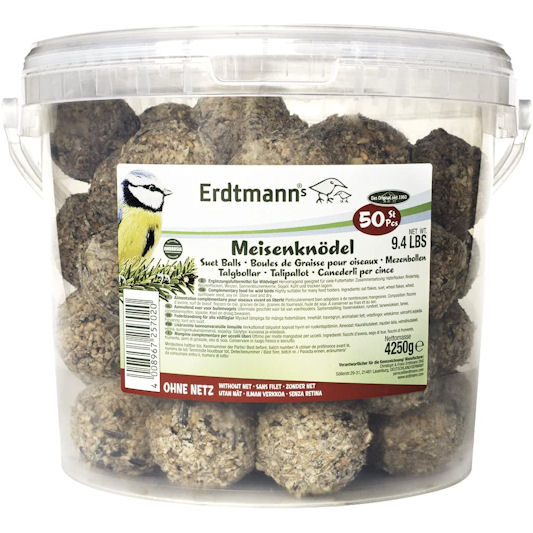 Little more than other tubs of 50 when bought on Amazon, but that re-sealable container is sure going to be useful.
When buying a big tub of fat balls all you should ask for is a re-sealable plastic container as to keep the suet balls fresher for longer.
And that is what you'll get with this tub of 50 fat balls with a no netting required. As it happens no fat ball feeder is required either.
Only remove the 'wild bird seed based' beef fat balls out of the tub you need, before putting back into storage.
Of the ingredients used, expect seed eating birds to peck out sunflower seeds plus other fine seed mixes.
In the meantime they will consume on the high energy balls also consisting of flakes of grains and oats.
Peckish: Complete Energy Balls, Box of 24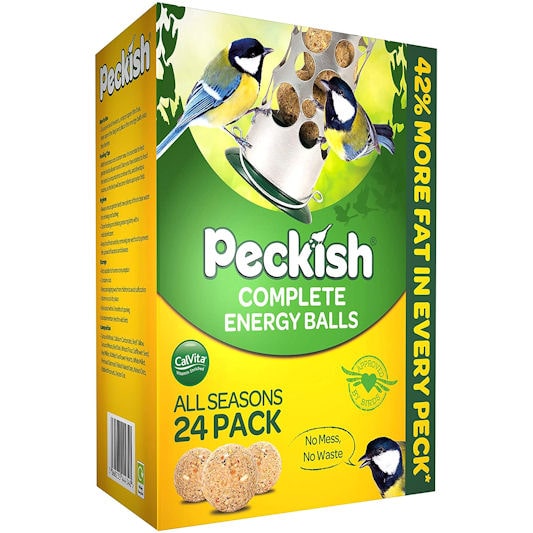 Less fat balls then the tub of 50 options but to buy on Amazon will result in a bargain, hopefully.
Now this is not such a big box of suet fat balls for your garden birds, but it could be all you need if not many wild birds stop by.
Instead, the box of 24 suet fat balls can be offered in the garden at the busiest of times only, to save on waste.
Peckish call it their 'complete energy balls' as it contains up to 12 ingredients.
So while they're primarily a seed and peanut based fat balls; suet seed consists of Safflower Seeds, Red Millet, Sunflower Hearts and other ingredients.
As this suet fat ball box is full of seeds, nuts and suet, its jam packed with vitamins and other important nutrients.
Jacobi Jayne: Chunky Dumplings Premium Suet Balls, Box of 18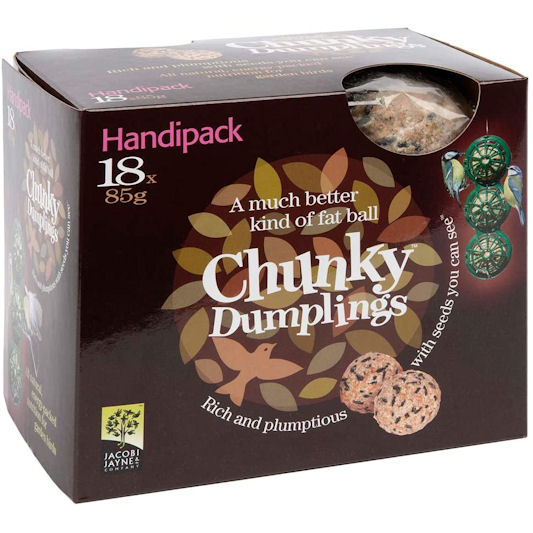 High quality product, high end brand can mean less fat balls for your money on Amazon, but save more with larger suet boxes.
OK so Jacobi Jayne have branded them dumplings, but they still are round fat balls like other listed thus far.
Only the producer have boxed them in a fancier package with a fat ball that as a more wholesome, plumptious appearance.
Ingredients molded in beef fat with a nutritional composition mostly consisting of seeds and peanuts. Other ingredients of note is cereal flakes and oyster shell grit.
Don't be tempted to use them up too quickly as they will last longer if you only add two or three to the fat ball feeder at a time, or add to mesh tray if that is an option.
Other, smaller suet fat ball boxes are available at a lower price if you're interested.
Nature's Market: Wild Bird Suet Balls, Tube of 50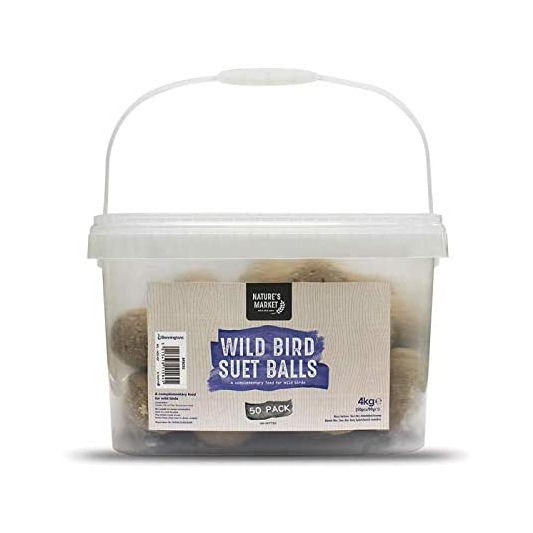 This option is on the lower price range selection on Amazon for a tub of 50
Seed based wild bird suet balls in a large tub of 50, no plastic or netting needed as the plastic tub is re-sealable, and therefore re-useable.
Nature's Market have produced a seed fat ball mix using a beef composition.
Other ingredients include oats and wheat but its only used to create the dry round mould.
If you feel the tub of 50 suet fat balls is too much for your visiting wild birds, you can go for a tub of 10 or if you need far more - a tub of 100 or 150 is available.
Once opened you'll get about 3 months worth of freshness before they need throwing, so make sure they can be eating on time.
Share this article: