Bird box hole size guide
Attracting common wild birds to nest in your bird nesting box would depend highly on not just where its sited, but the size and shape of the entrance hole .
Small common garden birds like Blue, Coal and Marsh Tits require a 25mm hole, well a Great Tit, Swift, House and Tree Sparrow need a 28mm hole. Rarer birds the House Martin and Woodpeckers need a large 45mm hole, with most other species needing a rectangular entrance hole starting with a 100mm opening.
CONTENTS:
Here we have a big bird box hole size guide that should be used to help determine what bird requires what size entrance whole.
And well twenty-one species we've listed here use bird boxes, know that they could use a box with a larger or smaller hole, and are not always dead set on the recommended size.
Our guide to what birds use nest boxes features twenty-two bird species; well our guide here focuses on boxes with holes only.
Well they may make do, its also possible for certain birds to alterate the entrance hole to there liking.
Either by pecking away around the edges, or sealing it up with materials from the inside.
If this behaviour ever happens with predatory birds, use a steel plate fixed to the hole to protect the nesting birds, eggs and chicks within - depending on the time of year.
Our entrance hole size targets might not always be comparable to more trusted sources, but you may also find those trusted sources offering conflicting information also.
What we do offer you is a nest box hole size chart that makes a referencing point when researching entrance holes for building your own or buying a bird box.
If its a box you're building or buying, never go for a box with a perch of any kind, bird boxes do not need a perch as it only helps predators access the box.
Nest box hole size chart:
| Bird: | Hole Size: | Hole Shape: |
| --- | --- | --- |
| Barn Owl | 120mm | square |
| Blackbird | 130mm high | rectangular |
| Blue Tit | 25mm | round |
| Coal Tit | 25mm | round |
| Great Tit | 28mm | round |
| House Martin | 45mm | half circle |
| House Sparrow | 28mm | round |
| Jackdaw | 120mm x 120mm | square |
| Kestrel | 120mm | square |
| Marsh Tits | 25mm | round |
| Nuthatch | 32mm | round |
| Pied Flycatchers | 28mm | round |
| Pied Wagtail | 100mm high | round |
| Robin | 100mm high | rectangular |
| Starling | 45mm | round |
| Spotted Flycatcher | 60mm high | rectangular |
| Stock Doves | 120mm | square |
| Swifts | 28mm x 65mm | rectangular |
| Tawny Owl | 270mm - 230mm | square |
| Tree Sparrow | 28mm | round |
| Woodpecker | 45mm | round |
| Wren | 140mm | rectangular |
Common rounded entrance hole
Demand for rounded entrance hole bird boxes extends to over twelve bird species, and mostly those that are common small garden birds.
Size varies from a miniscule 25mm all the way up to 45mm. Obviously the small hole size is there to attract smaller garden birds, well the bigger ones target larger species.
And its not always a certainty, if you're targeting a bird species to nest in your box, know that larger or smaller birds might be happy to set up home, or steel the box from others, so box hole size doesn't always function how it should.
Tit Family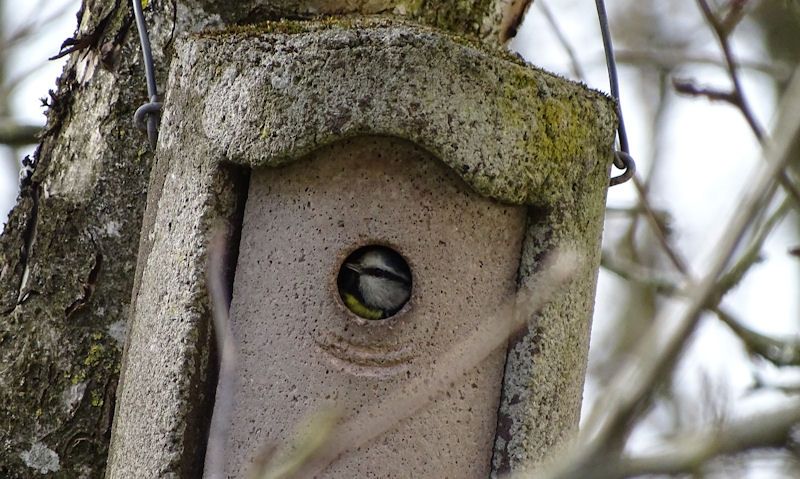 Biggest use of bird boxes with 25mm to 30mm entrance hole is the Tit family; Blue, Coal and Marsh Tits all prefer identical hole sizes.
And well this size hole attracts these common small garden birds; the Great Tit prefers a 28mm hole.
Look to multi-use wooden bird boxes with a 25mm and 28mm entrance hole with removable front panel - as these would be best to use if its Tits you only wish to attract.
Sparrows
Attracting House and Tree Sparrows comes in the maximum 28mm size hole, with the need to site a colony box or position multiple boxes side by side.
Well it may only refer to House Sparrows if its a bird box for your garden you require, then the wooden box with three rounded holes is a common choice.
Hole shape is mostly round, with a slightly longer hole design available.
House Martin
If you're lucking enough to attract a House Martin to your bird box, then it would be one with an entrance hole that measures 45mm.
But its not the usual square or rectangular shaped opening, nope; its more a half circle with the box made in a rounded, ceramic nesting box, which would be sited up high in the house eaves.
With the panel that supports the back for the fixings, the adjoining piece of wood that covers that top side is the side that stops the entrance hole becoming a whole circle.
Nuthatch
Nuthatches just might take to any wooden bird box with a hole measuring 32mm.
Though its quite possible the Nuthatch would take over a Tits nesting box that has a entrance hole size of 25mm to 28mm, but it very rare.
As a Nuthatch would take to bird boxes with the most common hole size, it would be a good idea to steer away from a multi-use wooden bird box for Nuthatches altogether.
You could then attract them to a woodcrete design bird box to stop them taking over.
Woodpecker, Starling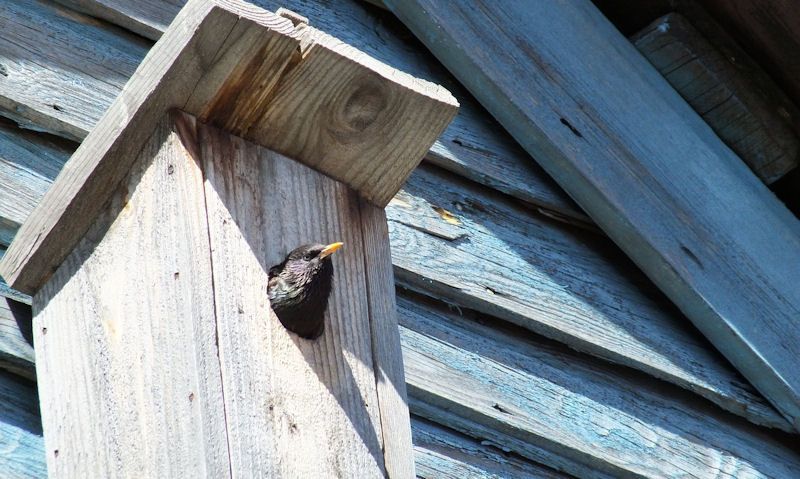 Well usually causing havoc by invading bird boxes belonging to other common woodland birds, the Great Spotted Woodpecker also uses bird boxes themselves.
This bird box has a rounded entrance hole of 45mm, with a shape of the box inheriting that one of a owl, without the open fronted design.
Starlings entrance hole is also that of 45mm in a rounded shape.
The box design is similar to that of common garden bird box, only its far larger with a spacious interior.
Birds using open-fronted boxes
Certain species of wild birds will only nest in boxes where the bird box hole size is not the usual round, but more a rectangular shape.
Smaller, common garden bird such as Robins and in rarer cases the Wren will take to open front boxes with identical opening in width and height.
And although most commercially available boxes are made from wood with a triangular opening, more inventive boxes with curved, rounded corners are acceptable.
Robins
Minimum requirement for a Robin to nest in a wooden box has a 100mm height and a width that varies from 200mm to 300mm - or would be simply squared.
Well the opening front gap would take up half of the front space above, the lower half is fixed with a panel with the eggs secured behind.
Its also possible to buy Robin nest boxes with a deeper box and a smaller open front.
Robin bird boxes also extend to natural log and ceramic boxes, with the entrance hole varying in size and shape; though the wooden boxes are more popular.
Wrens
When the Wrens are not taking over the Robins boxes, they to require an open fronted box that's 140mm high, so a little bigger than the Robins.
If a rounded entrance hole is of a larger size, say 45mm, then the Wren will also take to a more traditional nesting box with a round shape entrance.
And as Wrens are of a small size, they could also take to boxes made for Tits.
Swifts
Location of the entrance hole for a Swift bird box should be positioned to the lower corner of a large rectangular box - sited high up under the eaves.
Squared or rounded off corners are fine, but should measure 28mm by 65mm.
Boxes that face out would normally have the entrance hole located in the bottom corner, well a box that faces down but still on an angle should have the hole on the highest point.
This will prevent the eggs or chicks from dropping out of the hole.
Owls
Barn Owl nesting box entrance holes should measure 120mm by 120mm in a triangular box or a rectangular box sat up on its side.
Regardless of Owl bird box hole size, the positioning should be higher up on the box and should always, always have a standing out porch or ledge - and not a common perch.
This ledge will act to stop the young falling when venturing outside the box to explore, so would be even better with a sort of surround to prevent them dropping off the side.
Tawny Owl take to smaller nesting boxes with the design of entrance hole measuring 270mm by 230mm.
The 270mm width and 230mm height reflects the shape of the long, rectangular wooden box. So whatever measurements the entrance hole are, its also the interior dimensions.
Jackdaw, Stock Doves
Rather larger common bird that needs a large entrance hole to pass through, and so it does with it measuring 120mm by 120mm, so a perfect square shape.
Jackdaw bird boxes should have a square shape cut out of the front wooden panel, as oppose to the design narrowing to accommodate the opening width.
If that would to be then the box would squeeze to just 120mm in the inside, when it should be at least 18cm.
All that is said is also true for a Stock Dove bird box.
Pied Wagtail
Anything that's good for the Robin is good for the Pied Wagtail, as it needs an open fronted box with a 100mm high hole size, with a width measuring 140mm or more.
Well the Pied Wagtail requires the 100mm hole size, its quite possible it would take to the Robins box; likewise, the Robin could take to a 100mm high box for the Pied Wagtail.
Commercially available nesting boxes intended for use by the Pied Wagtail are not available, so it would be wise to buy a Robin box that has a smaller entrance hole.
Spotted Flycatcher
Spotted Flycatchers need an open fronted box that measures just 60mm high, so well it reflects previously mentioned bird boxes, we're talking about a much smaller one here.
If its designed for Robins, Wrens or even Pied Wagtails, all these boxes have to larger entrance hole with a to big interior.
The Spotted Flycatcher would take more to a small, square shaped box with still a rectangular opening at 60mm high.
Very rare to buy a bird box for the Flycatcher needs, so would need to make it yourself.
Kestrel
Kestrel nesting boxes have an open fronted design with a 120mm high squared entrance hole opening with a width measuring up to 350mm.
Small falcons require larger openings with cover over the entrance which helps keep the interior dry.
Often a large perch would protrude across the length of the entrance and stick out on the side - and not straight out like common perched nest boxes.
This perch can be a dowel or tough, hard tree branch fixed to the box.
Conclusion
Follow our chart but always refer to reliable resources such as the RSPB and BTO to get a better understanding of bird box entrance holes.
Well we've done our best to research bird box hole sizes, know they could differentiate depending on the source you're referencing.
Final note; its important where you site a bird box to attract all kinds of wild birds, and not just the size of the entrance hole being a guarantee of success.
Share this article: