Does Tesco sell wild bird food
Make life easy by replenishing your bird feeders while stocking up in the Tesco pet isle, with all their wild bird food favourites included.
Tesco do sell wild bird food, and in quite a larger numbers too. Favourites in-stock include the popular seeds, peanuts and suet in block or fat ball form; while more unique suet pellets, mealworms or sunflower hearts can be bought in-store. Tesco also supply two bird feeder types in the seed and fat ball kind.
Why bother buying your wild bird food online when a quick shop over Tesco can bring you within reach of all the top wild bird food you need in less than an hour.
Rely on Tesco then to be your one-stop shop for replenishing the popular wild bird feeders, or use more unique bird food mixes for the bird table or to throw over the ground.
My local Tesco have a three-shelf supply of wild bird food [pictured above] but as you can see - supply can run out quite quickly.
Tesco branded wild bird food can be bought with an option of the Peckish brand.
Up to two types of wild bird seed mixes can be bought as as three kinds of suet - in pellet, block or fat balls.
To buy their two bird feeders they have in stock, know that they come supplied with seeds or fat balls respectively - so additional feed may not be needed at first.
Price list table
| Product Name: | Type: | Weight: | Price: |
| --- | --- | --- | --- |
| Harvest: Wild Bird Sunflower Hearts | Seeds | 12.55Kg | £24.00 |
| Harvest: Super High Energy Suet Berry | Suet | 500g - 2.5Kg | £8.00 |
| Peckish: Natural Balance Energy Balls | Suet | 25 Pack | £4.50 |
| Peckish: Complete Suet Bites | Suet | 1Kg | £3.50 |
| Field Fayre: All Seasons Wild Bird Food | Seeds | 1.5Kg - 4Kg | £5.00 |
| Peckish Daily Goodness Nuggets | Suet | 1Kg | £3.50 |
| Peckish No Grow Seed Mix | Seeds | 1.7Kg | £3.50 |
| Tesco Bird Food Meal Worm | Mealworms | 100g | £2.50 |
| Tesco Wild Bird Mix | Seeds | 1Kg - 3.5Kg | £3.00 |
| Wild Bird Treats: 50 Fat Balls | Suet | 50 Pack | £5.00 |
| Peckish Complete 5 In 1 Seed & Nut Mix | Seeds/Nuts | 1Kg | £2.00 |
| Tesco Wild Bird Food Suet Block | Suet | 300g | £1.25 |
| Tesco Bird Food Sunflower Hearts | Seeds | 700g | £1.75 |
| Peckish 6 Energy Balls | Suet | 6 Pack | £1.25 |
| Tesco Wild Bird No Grow Seed Mix | Seeds | 800g | £1.50 |
| Tesco Wild Bird Food Peanuts | Peanuts | 700g | £1.75 |
| Tesco Wild Bird Coconut Feeder | Coconut | 1 Half | £1.00 |
| Tesco Bird Food Sunflower Seeds | Seeds | 600g | £1.25 |
Sell wild bird food favourites
Tesco are on top of only supplying the most popular wild bird feed commonly used in the UK, design to attract as many birds as possible which are used bird feeders.
Its therefore wild bird seeds that dominates the Tesco selection, including regular, cheaper to buy seed mixes - including sunflower hearts or plain sunflower seeds.
Remarkably, Tesco have bothered to include the no grow seed mix in their range because they know, its what people really need at this time as things can get messy.
Of course you can't feed small common garden birds without the use of peanuts either.
Tesco don't supply a massive range of peanuts, but of the one big bulk bag of wild bird peanuts they do sell - its really all you need.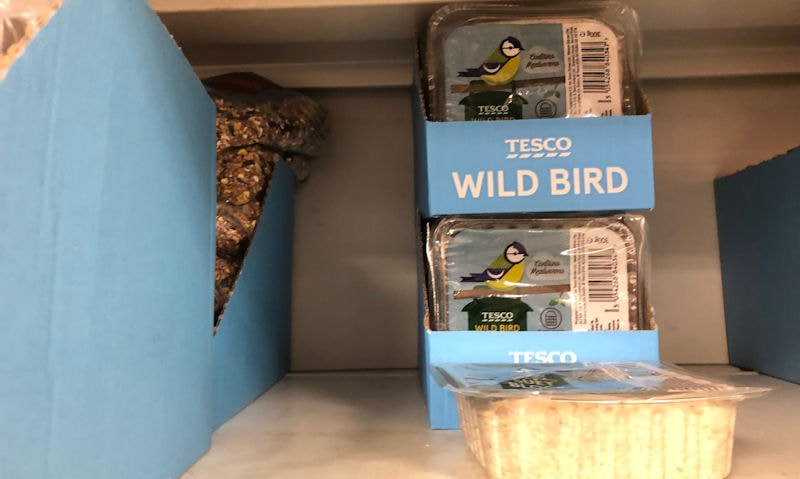 Now let's talk about suet, its what you may know as fat balls, suet blocks or pellets, but its pretty much all the same.
Cheap to buy suet blocks, fat balls or reasonably priced pellets too with a larger range than any other wild bird food types on the bird food shelf.
Mostly bulk buys again with fat balls in packs of 6 or 50; or why not pick up smaller bags of pellets or a single suet block only.
What else Tesco sell is half coconut bird feeders which is a nice addition from them.
Bulk wild bird food only
When visiting Tesco to purchase wild bird food you may notice that those that are available to buy, are much like bulk bags only.
It applies mostly to all their wild bird seed mixes along with their only big peanut bag.
Having said that, know that whether it be seeds, nuts or suet you wish to acquire, there is a possibility of buying smaller sachets if need be.
Big bulk bags are widely available on their shelves but just because its a big supply of bird feed, its not to say it cost more to buy.
In fact, you'd be hard pressed to find their bulk buys costing that much at all.
And while focus of bulk wild bird feed is available on their shelves in the supermarket itself - bulk options may be restricted to online only once in a while.
Pop into Tesco to re-supply
What better way to replenish a running low bird feeder or to setup a new hanging bird feeder or bird feeding station - by popping over Tesco while doing your usual shop.
Once in while it can be difficult to stay on top of making sure a bird feeder is always in a healthy supply, so waiting until a 2-3 delivery time for your order to come just may not be quick enough.
What can be better then to quickly run over to Tesco to grab all the wild bird food you could possibly need - with a few wonderful additions you wouldn't of thought of.
That can include a half coconut stuffed shell that can be used as is, so no special bird feeder required for it.
To continue to re-stock with Tesco, do expect to buy Tesco branded bird food at a low price - or the branded range from Peckish which can cost you a little more.
More unique options
Tesco are not short of all the top wild bird feed you will need to stay on top of feeding as many wild birds in your garden as possible.
But Tesco go above and beyond their range to keep things interesting for you, while giving you the opportunity to feed more unique bird food in stock.
Coconut half shells is certainly something people won't know about unless it wasn't on Tesco's shelves - but as it is, on my last visit their supply was running low.
To offer wild bird suet in fat balls or suet form though is a more common food type to offer birds, so there's more in stock.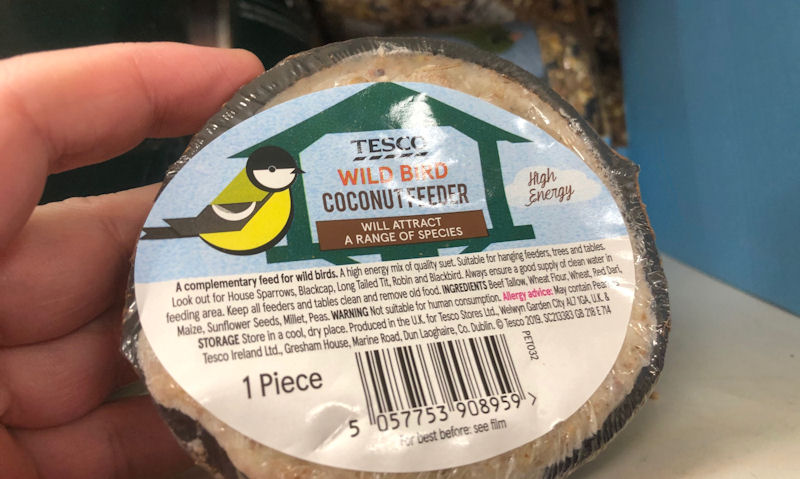 But with use of a suet pellet bird feeder hanging up in the garden, you can now try these pellets Tesco have in-stock - though bare in mind a feeder is not always required.
Of course basic, cheaper seed mixes are available to buy from everywhere, but again Tesco have mixed things up themselves by offering Sunflower Hearts. Its a kind of black seed that is favourited by Blackbirds, Tits, Chaffinches, Robins and many more.
And while not so unique, you can try mealworms Tesco supply a bag of themselves.
Feeder if you need it
What can be more annoying then not being able to supply wild birds all types of bird feed out in the garden, when you haven't got the bird feeder type in use.
If you do need to buy a bird feeder that is in the fat ball or seed mix style, Tesco have you covered with their two Peckish options.
No hanging bird feeders are needed to supply birds food mind, as you can simply pile it up on a high point in the garden or throw food over the lawn - but use of a feeder can be more tidier while offering a centrepiece on the garden for you to watch.
Use the sold by Tesco Peckish Complete Seed Feeder then which is ready to go; that means you don't need to buy additional seed mixes as it comes full of seeds already.
To hang up a wild bird fat ball feeder than you can buy at Tesco again, their Peckish Complete Fat Ball Feeder - again supplied with 4 suet fat balls already inserted.
Only the two options then but that's OK if you need more seed or fat ball feeders, or wish to get started at a low price, courtesy of Tesco.
To summarise
Tesco do sell wild bird feed in their pet department, but do know even though there's up to eighteen products available, some are online exclusives only.
More than you need in-store mind as they supply a large number of wild bird seed mixes, but less so peanuts - in bulk buys for a better offer.
Buy them in smaller sachets but Tesco do sell at a low price regardless.
What you can buy over Tesco - when in-stock that is - are seed mixes, peanuts, suet in pellet, block or fat ball form - and so to an half coconut and mealworms for wild birds.
When in short supply in the bird feeders or bird table what better way to stock up regularly then when doing your regular shop over Tesco.
But if you find yourself needing a new seed or fat ball feeder, Tesco have you covered.
Share this article: