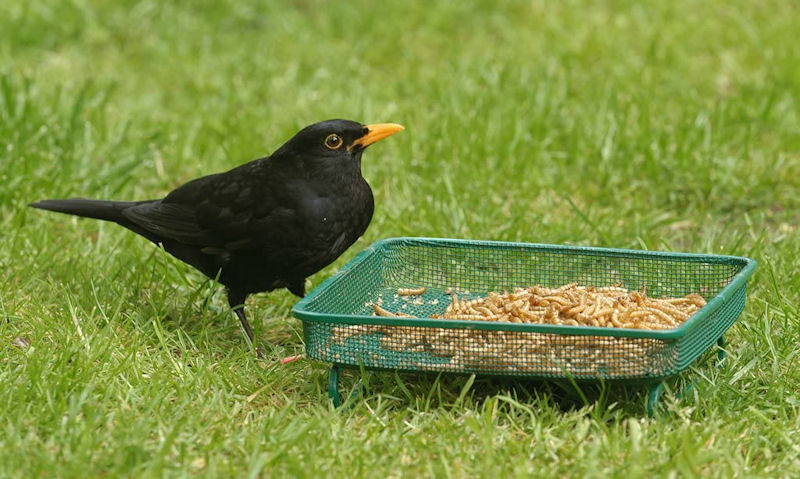 Ground Bird Feeders
The safest way to feed birds without fear of a collapsing feeder; the ground bird feeder can be temporary as they will be prone to predators in certain areas.
Ground bird feeders use a wide cage or micro-mesh tray to allow all types of wild bird feed to sit on top, all while allowing water or moisture to drain away. Ground feeders are built in metal but can be wooden. Wild birds will use the surround to perch but can be seen hopping over the feed to eat.
Up to eleven common wild bird species feed exclusively off the ground, so to offer up wild bird feed near to the ground can only open up your garden to more visitors.
If you are currently throwing bird feed over the lawn, you can do it in a tidier manner by sitting a ground bird feeder tray to hold their favourite food.
While more common garden birds can be seen using the ground feeder, most others cannot - or should are say are not capable of using a hanging bird feeder of any kind.
Example of that is Tits, Robins and Sparrows can use a ground or hanging feeder; whereas other common species are only interested in feeding on the ground.
Common ground feeding garden birds who can use a ground feeder are: Blackbird, Chaffinch, Collard Dove, Dunnock, House Sparrow, Mistle Thrush, Robin, Song Thrush, Starling, Woodpigeon or the more agile Wren.
To lay out a metal ground feeding tray on the lawn or perhaps sited on the open patio, can welcome all these species to your garden.
With caution I grant you as food laid on the ground can bring predators or unwelcome guests - such as crows or birds that are a nuisance to smaller, friendly species.
Ground Bird Feeder data
| Product Name: | Dimensions: | Base: | Material: |
| --- | --- | --- | --- |
| Gardman: Compact Ground Feeder Tray | 18 x 18 x 6 cm | Mesh | Metal |
| Riverside Woodcraft: Ground Bird Table | 34 x 34 x 20cm | Timber | Wood |
| Ruddings Wood: Wooden Ground Feeder | 42 x 33 x 12 cm | Mesh | Wood |
| Selections: Ground Feeder Haven Cage | 50 x 50 x 30 cm | Mesh | Metal |
| Honeyfields: Ground Feeder | 15 x 15 x 7 cm | Mesh | Metal |
| Tom Chambers: Ground Feeder | 24 x 23.4 x 7.4 cm | Mesh | Metal |
| Peckish: Ground Bird Feeder | 25 x 25 x 8 cm | Mesh | Metal |
| RSPB: Mesh Ground Feeder | 20 x 19.81 x 6.6 cm | Mesh | Metal |
| Peckish: Mesh Ground Feeder | 16.5 x 16.5x 7 cm | Mesh | Metal |
| Petface: French Style Ground Feeder | 30.5 x 30.5 x 11.5 cm | Mesh | Metal |
With the ten ground feeding trays to glance over, each one is guaranteed to bring wild birds to you garden - that is ground feeding birds only.
To blend in with your garden's natural green landscape, the options are not short of green feeders, but so to does black do a nice job.
Its therefore possible to see these ground feeding trays used on the lawn.
If you want something a a little more modern or perhaps a feeding tray that will compliment the patio, then there's options for you there to.
Pay close attention to the measurements because while the picture makes the feeder appear bigger, generally all mesh trays are smaller than they look.
Its safe to say all ground bird feeders use a metal mesh tray with one wooden exception.
Gardman: Compact Ground Feeder Tray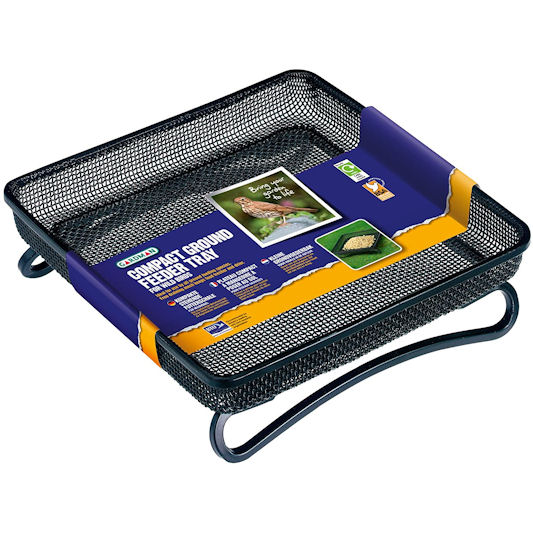 Get off to a solid start by offering up feed to ground feeding birds in this small, but cheap to buy on Amazon metal tray.
Simplicity at its best with this compact ground feeding tray brought to you by Gardman; square shaped mesh tray for holding different types of bird food.
Structure of this simple ground feeder is a metal square bar tied in with the rim of the metal mesh lining.
Beneath that is a secondary metal rim with a stylish curved twin-leg fixed below that.
Ground feeding wild bird species are sure not to have too much trouble feeding of this low baring, metal bird feeder that offers a good balance on the lawn or patio.
Riverside Woodcraft: Ground Feeding Bird Table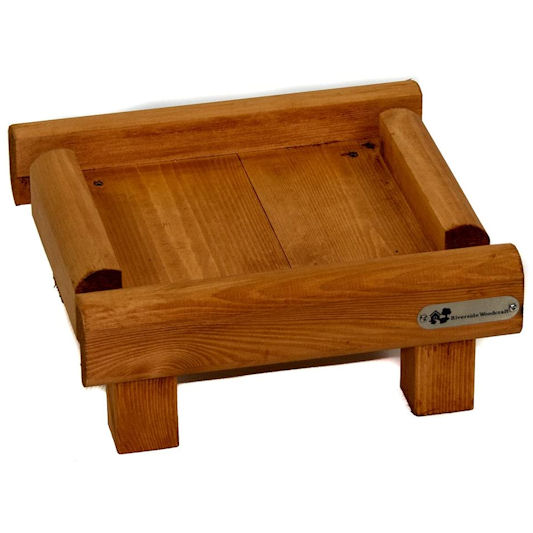 Most expensive ground feeder to buy on Amazon due to its all wooden construction, but what an attractive feeder it is.
If you are not familiar with Riverside Woodcraft, they are craftspeople who produce amazing wooden, yet heavy0duty creations for wild birds or other wildlife in the UK.
In their ground feeding bird table, its made in thick, chunky slabs of timber while cut into a lovely, but highly practical bird table for use on the ground.
Its held up with four chunky legs that provides this ground feeder more height than other options on my list.
No mesh tray this time so the wild bird feed is piled on the flat wooden platform; OK harder to keep clean but its possible to use more types of finer bird food.
Gaps in the corners are on purpose to create natural drainage where it lacks a mesh tray - so hopefully no build up of water will occur.
Ruddings Wood: Wooden Ground Feeder with Mesh Tray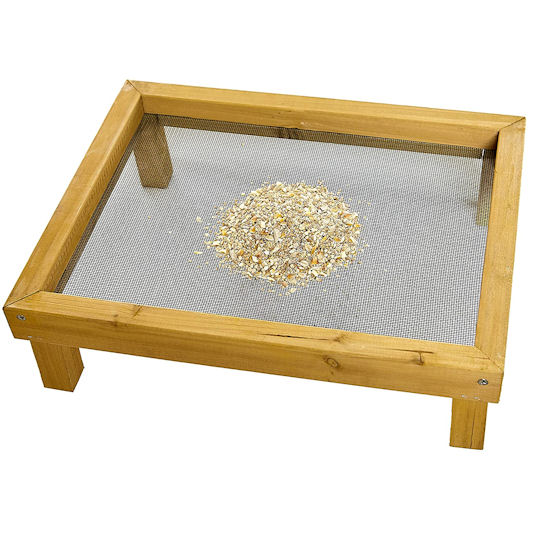 Offered up at a higher price on Amazon as it does use a metal tray with a wooden frame.
Lightweight wooden construction ground feeder that sits on a set of four legs with a decent height off the ground.
It is made with what is called a micro-mesh tray that uses tinier holes, but has a little bounce to it due to its flimsiness, but is still hard wearing for use outdoors.
What the micro-mesh means is finer bird seeds can be used while less mess can pass through the fine mesh gaps.
Timber surround is where wild birds will find a place to perch, while walking on the mesh tray if need be.
Selections: Ground Bird Feeder with Haven Cage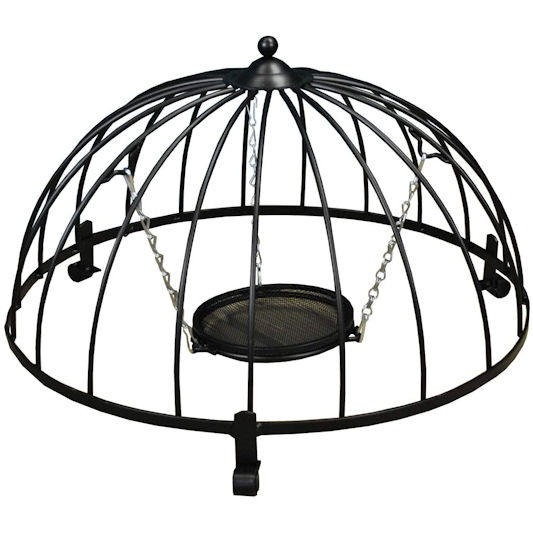 Extra cost is associated with the metal cage surround, but to buy it on Amazon the extra cost can be offset with FREE delivery.
If you find yourself having to deal with troublesome pigeons or crows gobbling up the bird feed intended for the smaller common garden birds, this feeder could be the answer.
Cage surround is promoted as a haven cage but in fact is intended to only allow smaller birds to pass through the gaps - including medium size Starlings or Blackbirds
It therefore rejects nuisance wild birds that cause trouble for more friendly wildlife.
Once wild birds are inside the cage they can feed off a hanging mesh tray that is held up off the ground to keep bird feed fresher, for longer.
Little weight can keep this metal caged ground feeder in place but it is set off the ground still with three additional legs - it may also be wise to use pegs to keep it secure.
Honeyfields: Ground Feeder for Wild Birds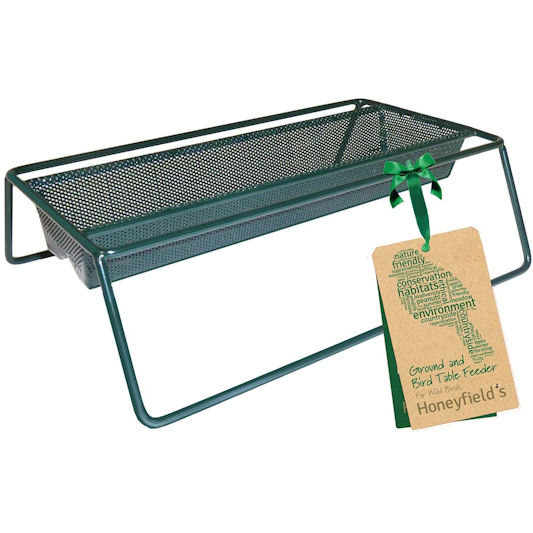 Big in appearance but small in real life, cost well under a tenner on Amazon for what is a practical metal bird feeder.
Large in appearance but please note this 'Trough Style' ground feeding tray is quite small, smaller than others on this list I might add.
Still, the compact design is perfect for only offering a small amount of wild bird feed at a time - only to avoid waste which is easily done as you get carried away.
Sitting far off the ground with a set of full length legs that is sure to prevent it being tipped over by wild birds, or if high winds happen to cause issues.
Wild birds are sure to use the surrounding powder coated metal bars to perch, all while avoiding the need to dip into the deep mesh tray.
Framework that makes up the metal construction is both attractive yet highly practical.
Tom Chambers: Ground Feeder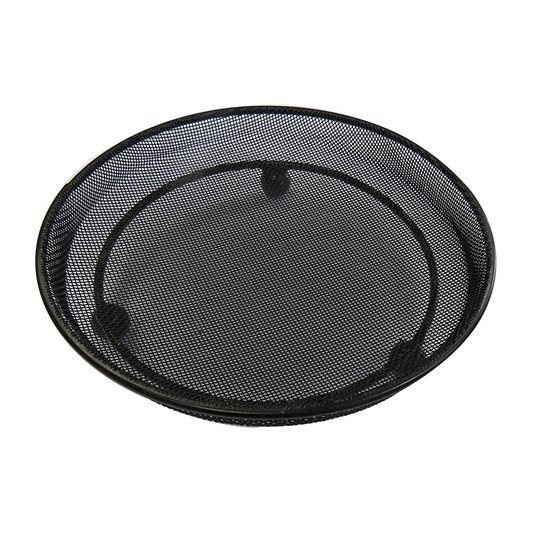 Simplified rounded metal ground feeder tray that is cheap to buy on Amazon while highly rated by their customer base.
Rounded ground bird feeder tray that is offered by Tom Chamber as a basic but useful tray for feeding all types of garden wildlife.
To use it for wild birds the very fine mesh tray can hold seeds to peanuts, but all while holding any type of wild bird feed or scraps.
Metal rim supports the mesh tray while a second metal rim holds the shape. Note the three rounded legs - or knobs - that prevents the feed touching the ground.
Birds that will be sure to make use of this bird feeder are those that are happy to perch on a flimsy rim, but dare they walk over the feed if need be.
Peckish: Ground Bird Feeder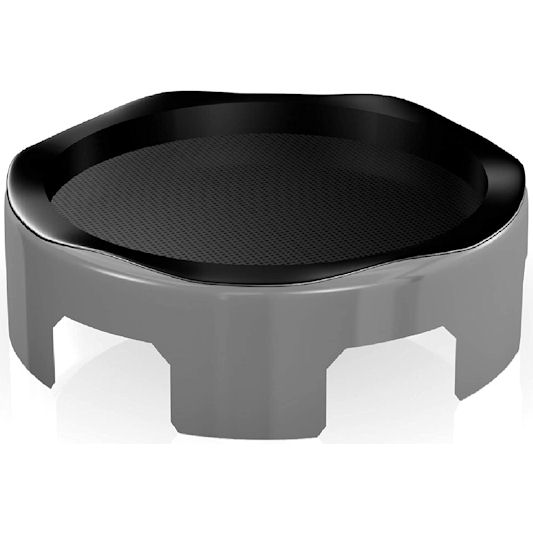 No going wrong with this more modern take on a ground feeder, but to buy on Amazon will cost around a tenner.
First glance this modern wild bird ground feeding tray can actually be mistaken for a dog bowl - much as I did at one point.
So while the light gray outer shell is used as a frame for not only holding the inner mesh tray, but offers the much needed height while using a sturdy leg construction.
To clean out this ground bird feeder the black mesh tray can be pulled out from the grey bowl, thus making it more easy to clean.
What you end up with is a very modern wild bird feeding tray that is easy to clean with a solid build - so can be used for all wild bird species.
But it is indeed an ultra modern ground bird feed with an all metal construction.
RSPB: Mesh Ground Feeder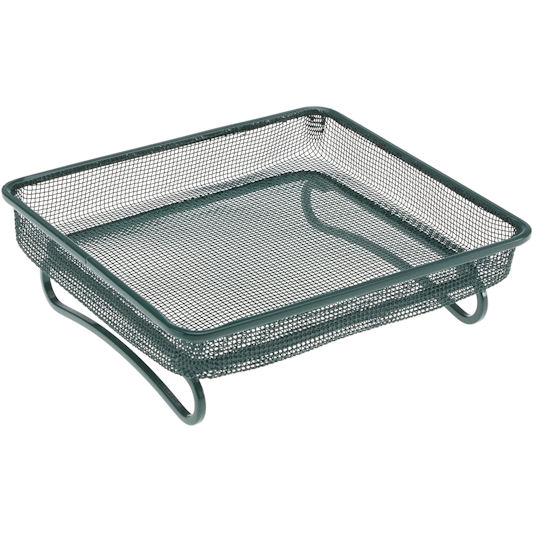 Bit more expensive for what is a smaller ground feeder, but is designed by the Royal Society for the Protection of Birds after all, while possible to buy on Amazon.
Hold up, if you feel you've seen this mesh ground feed before, you might not be wrong as this is a similar design used by Gardman, as featured above, listed first on the list.
RSPB certified ground bird feeder so it must be one that you can rely on right?
Its small, lightweight but made for the outdoor elements all year round; hard wearing, metal construction is sure to see little in the way of discolouring or wear and take over the coming years.
Birds who attempt to use this small metal bird feeder will do so using the square metal rim as a perch - while the Blackbirds or larger birds can eat while standing on the outside of the ground feeder.
Low baring metal surround with an equally shallow tray, but can hold many different types of ground feeding, wild bird favourites.
Peckish: Mesh Ground Feeder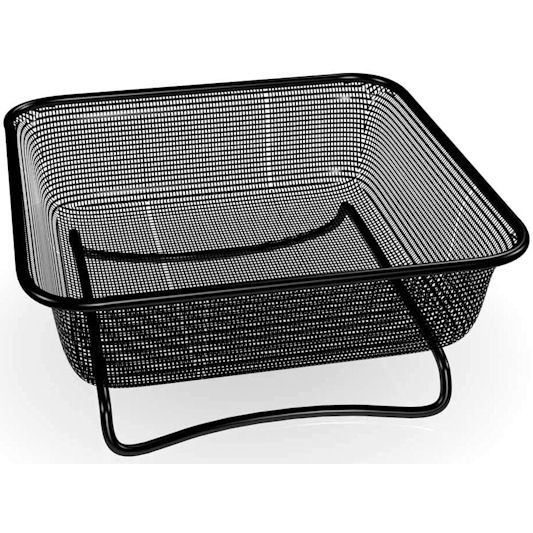 No-nonsense metal ground feeder that will cost just over a tenner on Amazon, but can hold more feed securely.
Serious for holding a whole load of wild bird feed which uses a deep mesh tray with a gap design that won't let much get through.
Solid metal construction so can allow smaller to medium size wild birds to perch on the rim, but if they decide to sit on the feed as they eat, the leg support won't likely see the ground bird feeder tray tip over so easy.
Still a small tray in comparison to the other options, but the deeper feeding tray can offer up household scraps without to much of a mess being made.
Stability is the key to this bird feeder but so to is the elegant design, finished in black.
Petface: French Style Ground Feeder Tray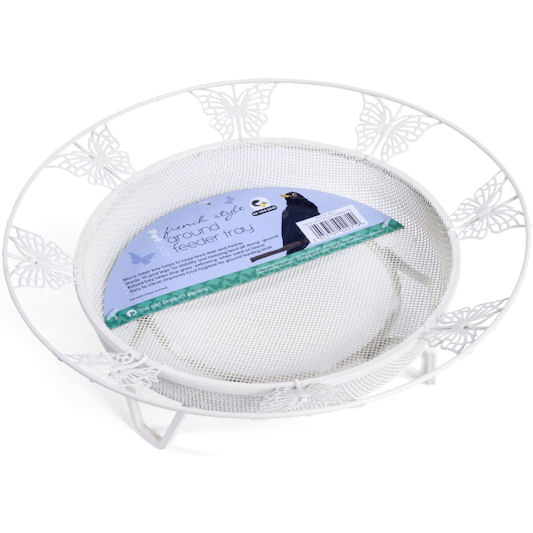 Stylish as it is beautiful but is still reasonably priced on Amazon for a ground feeder sure to brighten up the garden.
What is promoted as a 'French Style' ground feeder tray is quite accurate, as it replicates a classic metal design while finished in a bright white coating.
Mesh tray uses the micro-mesh design to allow all types of bird feed to be used.
Nice deep mesh dish that will be held in the centre as wild birds choose to use the inner or outer metal rim to perch while they feed.
Tall three-leg support to keep the feed far off the ground as possible, but not enough to discourage ground feeding birds all together.
Share this article: