Plastic Pedestal Bird Baths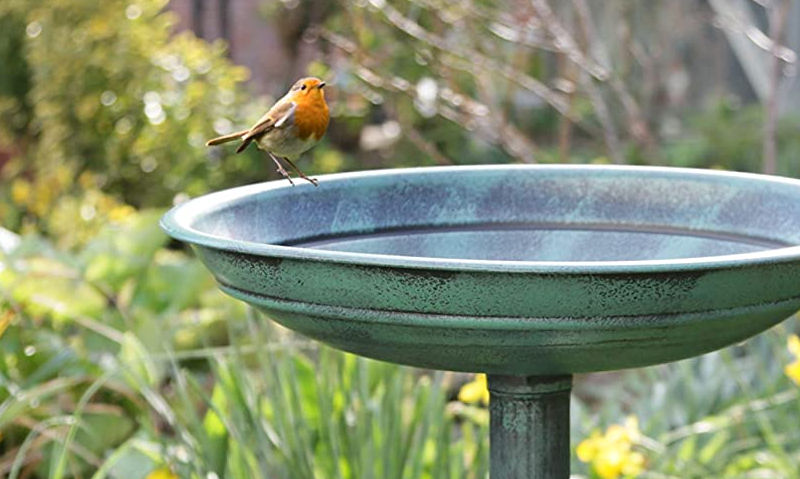 Plastic Pedestal Bird Baths
Get off to setting up a self-assembly bird bath in no time; all that's needed is pebbles, a rock or two and of course, fresh water to fill up the bird bath.
To site a plastic pedestal bird bath in the garden would mean getting up and running on a budget, though it can be costly. Bird baths in the pedestal style are designed for wild birds to drink or bathe off the ground, while you can position the bath where you desire, but anchoring the bird bath will be a priority in wind.
Benefits to a taller bird bath in the pedestal style is that its far off the ground, so its sure to help towards keeping wild birds safe.
Positioning is important but its harder for cats to attack while also deterring rodents if the water source was on the ground.
Birds won't use your bird bath if the setup is all wrong, so do site your bird bath in an open area, near to natural coverage to allow birds to take cover.
What you may be fully aware of is cheaper, plastic pedestal bird baths are prone to tipping in wind, so do consider buying bird bath anchoring pegs if they're not sold with the bird bath.
To attract wild birds to a bird bath in the garden is a art; you'd need to add pebbles to the bottom along with a rock or a stone to make an artificial perch.
What material a bird bath is made in does not matter as much, but the plastic options are usually painted in an hard-wearing exterior paint, in a weather effect metal finish.
Plastic Pedestal Bird Bath table
| Product Name: | Height: | Colour: |
| --- | --- | --- |
| Nature's Market: Traditional Bird Bath | 63cm | Green |
| Garden Studio: Bronze Effect Bird Bath | 79cm | Bronze |
| RSPB: Bronze Bird Bath | 71cm | Bronze |
| GardenKraft: Clam Shell Bird Bath | 80cm | Bronze |
| GardenKraft: Clam Shell Bird Bath with Planter | 66cm | Bronze |
| Garden Products: Antique Brass Effect Bird Bath | 71cm | Brass |
| BNT: Bronze Sunflower Bird Bath | 76cm | Bronze |
In my quest to bring you only the top plastic pedestal bird baths on the market, I could only come up with seven bird baths for you.
With that its made a little more complicated because as you can see, the product names are quite similar across the board.
But the most important data for a customer to know when buying a bird bath is its height.
Height is the base of the bird bath to the top of the bird bath dish; to know this can be vital as to avoid bending over too much if medical reasons prevent you.
And while I have only the one green bird bath for you, most are finished in metal effect.
Its not any metal as manufacturer's believe its a bronze effect bird bath that is wanted, so the list is dominated in this colour scheme.
Nature's Market: Traditional Bird Bath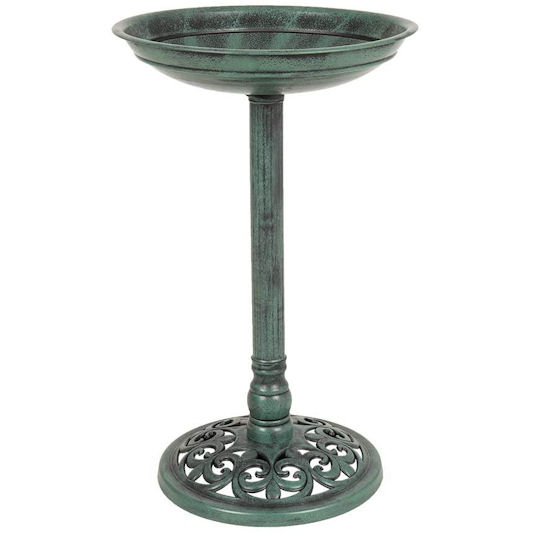 Free delivery is expected if buying on Amazon but will depend on seller.
Not much time is needed to get this Nature's Market traditional looking pedestal bird bath up and running in no time.
In three parts, there's the rounded base with the long pedestal, and finally the deep dish that sits on the top.
Not quite a dish is it, while its really the bird bath that would require pebbles or rocks to prevent wild birds drowning if the rain fills it up too high with water.
Its sure to blend into a garden of all landscape themes with its subtle green finish along with a darker, weathered effect finish throughout.
Assembly is required but the no weight will sure make it easy in doing so.
Garden Studio: Bronze Effect Bird Bath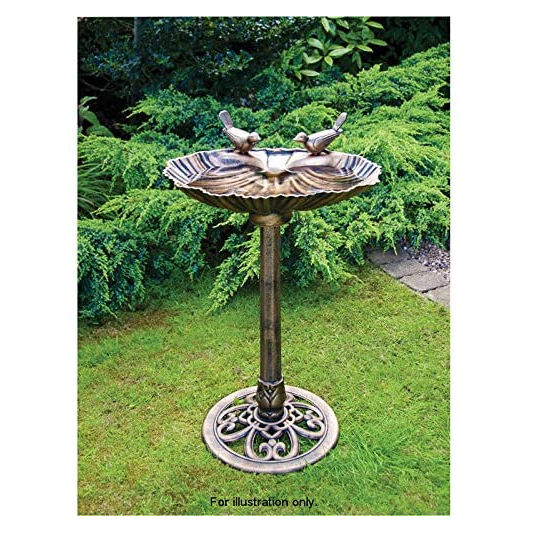 Price you'd expect to pay on Amazon for a mid-range bird bath.
All that you need in a cheap but effective bird bath for the garden is this bronze effect, pedestal bird bath.
Lightweight but easy to move around the garden if in need of finding a better spot, while the rounded base will fit on a small flat surface.
Decorated pedestal stand that leads up to a beautiful clam shaped bird bath dish, which happens to be quite deep in the centre.
In its washed, bronze effect finish there sits a pair of wild bird ornaments, and while they won't do much to attract real life birds - they sure enhanced the attractiveness of the bath.
Little assembly required with perhaps peg legs or stones needed to weigh it down.
RSPB: Bronze Bird Bath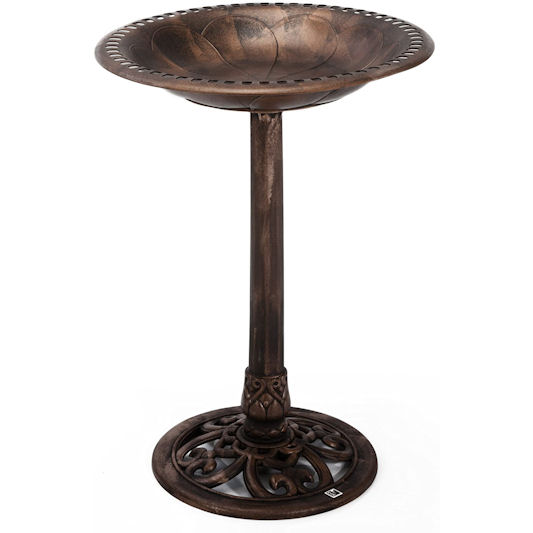 Much more to pay for a RSPB branded bird bath on Amazon but is sure to last the test of time.
You are sure to be in good hands with a RSPB made bird bath as the charity have thought of everything, thus supplying extra to get you off the ground right away.
And while its highly likely the light, plastic bird bath will tip in the littlest of wind; RSPB have supplied ground pegs - which is a lovely touch.
Bronze effect bird bath is sure to not only blend in with the decor of the garden, but in many respects brighten up an otherwise dull garden.
Decorated rounded bird bath connects to the stand before connecting to the bird bath dish, surrounded with little holes - and this also helps with wild birds perching.
Simple, quick self-assembly is required in a four-part assembly with no tools needed.
GardenKraft: Clam Shell Bird Bath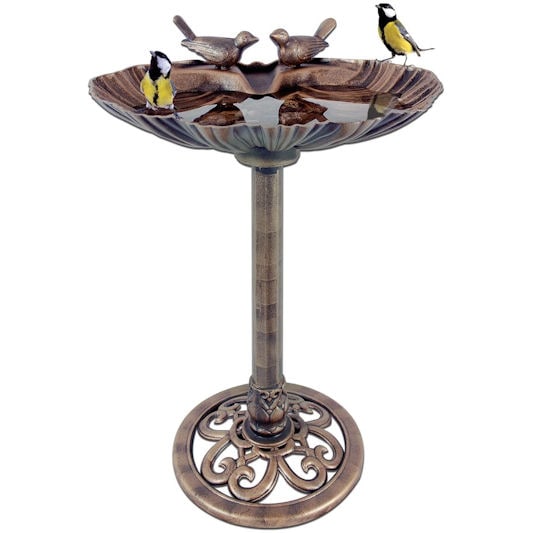 Little extra to pay for on Amazon but it does get you the all important rocks.
Bit of a pattern emerging now you might of noticed with yet another bronze effect bird bath that will fit in with most gardens.
If its a practical plastic pedestal bird bath you need at a fair price, then this is the one in a design that is very appealing.
Self-assembly is a requirement but it can be stored away easy when not in use.
To make the most of this 'clam shell' shaped bird bath dish you can make the most of the stones supplied, to help the wild birds drink or bathe in safety.
The tallest bird bath on the list thus far, so will in a way be more top-heavy; so use bird bath stabilising pegs for windy days.
While finished in bronze it as a realistic metal effect, but in reality its a very light bird bath.
GardenKraft: Clam Shell Bird Bath with Planter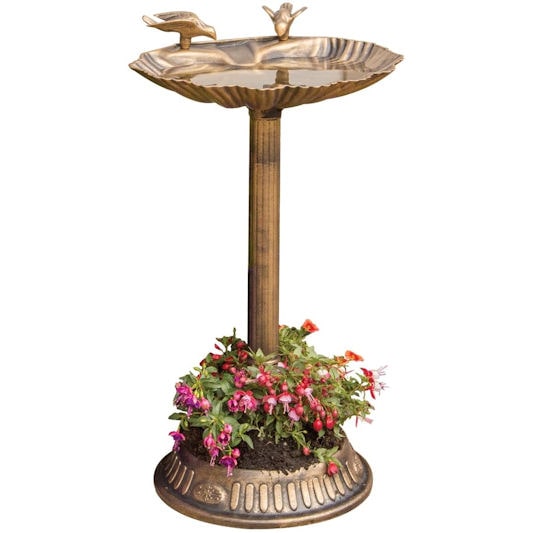 No paying extra when buying on Amazon when picking the planter base.
Its yet another clam shell design bird bath but what this one as on offer over all others in the list, is a beautiful but practical planter.
So while its coated in a bronze effect finish it could be mistaken for a heavy bird bath, when in fact its a light one that can topple over with ease.
Thankfully by making use of the planter by topping up with top soil and additional rocks, there's no need for stabilising pegs as the dirty or soil weight should keep it standing.
Once assembled you'd have yourself a beautiful but practical bird bath that holds enough water for drinking or bathing.
This clam shell bird bath should maintain its brand new appearance as its made in a plastic, weather resistant resin.
MyGarden Garden Products: Antique Brass Effect Bird Bath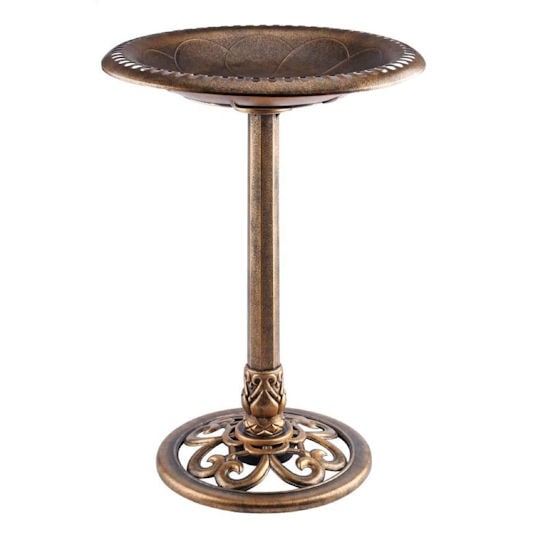 Beautifully packed bird bath to buy on Amazon at a reasonably price.
Once again its a metal effect bird bath but this time in a antique brass finish, using the attractive yet practical design.
All that is needed with a plastic pedestal bird bath as its easy to assemble with a nice bath top - and that is what you'll get.
Brass effect will blend in well to any garden decor but while the rounded, decorative base lays flat on a patio, stabilising pegs will be needed when positioning on the lawn.
No ornaments around the edge but holes that will allow rain water to flow away, thus allowing birds to continue to drink while perched without overflowing water.
Made in a lightweight plastic resin that is resistant to harsh weather all year round.
BNT: Bronze Sunflower Bird Bath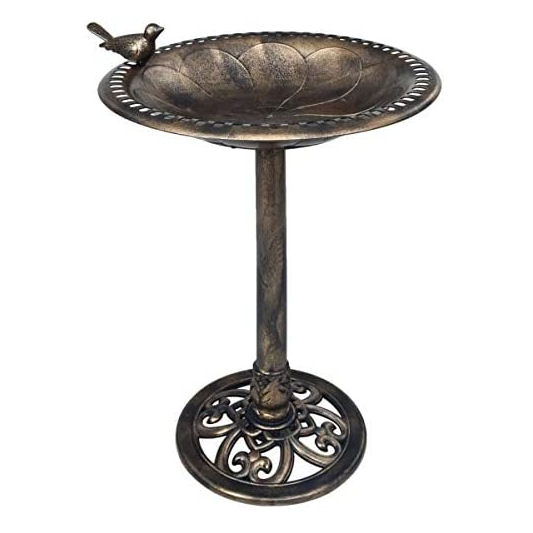 What is one of the most expensive bird baths to buy on Amazon, and so happens to be on my list.
Finally, but not surprising, here's a metal, weathered bronze effect pedestal bird bath with all the features of the options above.
Only this bird bath as a single perched wild bird ornament on the edge.
Holes around the edging is for allowing rain water to drain away before reaching the perch area - thus allowing birds to land and drink without too many issues with running water.
Its a hollow bird bath so will feel lightweight, but the base will allow for pegs to be inserted to keep it standing.
Self-assembly in minutes with instructions not really needed, but are there if needed.
In terms of making use of a practical bird bath this would be the one, but make sure to fill the water dish with pebbles and perhaps a rock to perch.
Share this article: