Stone Bird Bath Bowl only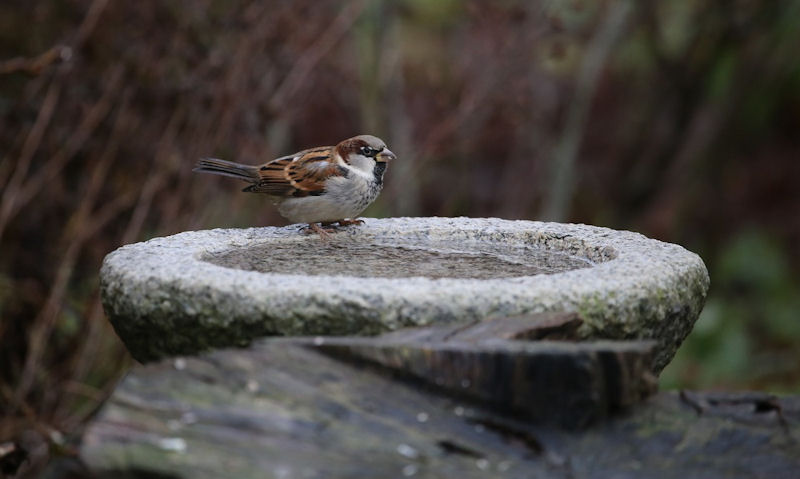 Stone Bird Bath Bowl only
Offer a source of water for hydrating or cleaning feathers with an authentic stone bird bath only, so no need for a stand or chain for hanging.
Listed stone bird baths are primarily made in a concrete mix, using a solid mould for a heavy, all stone ornamental bird bath rather than a fragile hollow one. Bird bath bowls made in stone are deep or shallow, with an option to use pebbles for better footing. Use as bird bath, bird feeder or garden ornament.
In buying a bird bath bowl, you'd may have realised its just that only, a bird bath bow; so no unnecessary bird baths on a pedestal or made to hang.
Fantastic because it means you do not have to anchor the bird bath bowl in high winds.
Simply situate the stone bird bath in the garden where wild birds can find it, but where you can enjoy the bird bath in use, or if its used as a garden ornament only.
No stone bird bath bowl listed is made in pure, handcrafted stone; so expect all options to be cast stone only - so will be made in a mix of concrete.
Situate the bird bath where wild birds can access it in complete safety as to avoid cats or the family's pet dog.
Birds won't use a bird bath of any kind if location in a busy, noisy place; so do take care in placing it in a practical spot in the garden.
While brand new bird baths can be ornamental only, so can be used indoors or out, though I hope you offer a source of water for wild birds by placing outdoors.
Often, its not possible for wild birds to make the most of it for drinking or bathing wise; so get your monies worth by using it as a posh bird feeder only.
Stone bird bath bowls can be used as just that, a bird feeder or as a garden ornament.
Stone Bird Bath Bowls data
| Product Name: | Width: | Depth: |
| --- | --- | --- |
| Tiefes Handicraft: Stone Bird Bath Bowl | 34cm | 30cm |
| Esschert Design: Cement Bird Bath with Ornaments | 30cm | 30cm |
| Tiefes Handicraft: Stone Frog Bird Bath Bowl | 34cm | 30cm |
| east2eden: Concrete Wild Bird Bath | 25.5cm | 24cm |
| Dobar: Ceramic Bird Bath with Wild Birds | 24.5cm | 24.5cm |
| Neils Stonecraft: Stone Bird Bath with Frog | 25cm | 25cm |
| Darthome: Stone Bird Bath Bowl with Wild Birds | 24cm | 18cm |
| Stone & Style: Heart Shaped Stone Bird Bath | 26cm | 26cm |
| Home & Garden: Stone Bird on Hand Bath Bird | 22cm | 22cm |
| HH Home Hut: Stone Sunflower Bird Bath with Birds | 30cm | 28cm |
Up to ten high quality stone bird bath bowls only for you, so they're not made to hang or fixed to a pedestal of some kind.
Bird bath bowls are easier to move around the garden, can be inserted into tighter gaps, while still practical as any other bird bath style.
Of the bird bath bowls I have listed, the price range hovers around the twenty quid mark.
Handful of bird bath bowls cost double that, but its possible to buy a bird bath bowl that is indeed cheaper - so view my options I have outlined for you below.
I've taken the courtesy of listing the bird bath bowl width in centimetres, and so to the depth of the bowl to get an idea how big it will be.
Tiefes Handicraft: Stone Bird Bath Bowl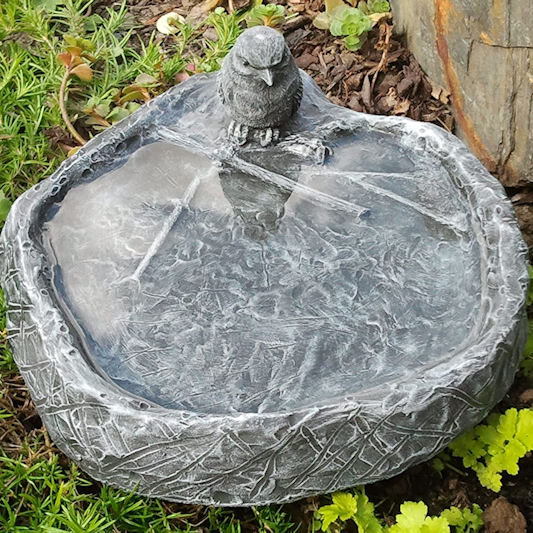 No surprise to find the most attractive bird bath is the most expensive to buy on Amazon.
What has to be one of the most elegant stone bird bath bowls for sale in the UK, this one really sets itself apart from the competition.
And if its something to fill an otherwise void in the garden, this decorative bird bath is sure to do that - with a little playful feel to it.
In spite that, its still a practical wild bird bath that offers a nice big water source for birds to congregate, while the bird ornament is just for you to admire.
Full depth of water is up to 2.5cm if filled up or flooded to the top with rain water.
Rugged yet attractive ripple effect bird bath bowl base, but that can also double up as footing for birds as they drink or bathe.
Esschert Design: Cement Bird Bath with Ornaments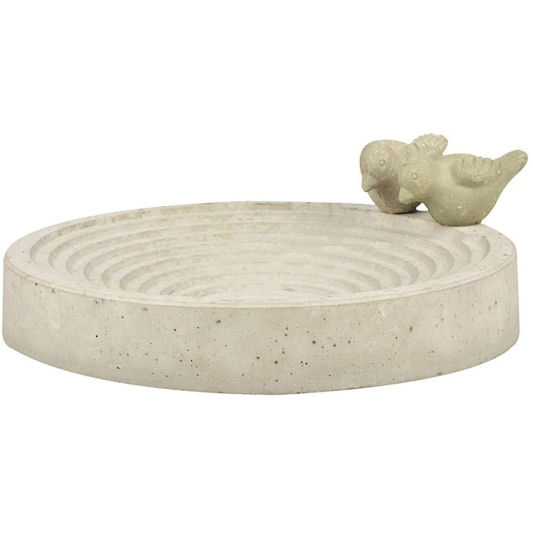 Hovering around twenty quid on Amazon is a simplified yet practical bird bath.
Wait until the aging process begins so this otherwise bright white cement bird bath bowl blends in more with the garden decor.
Of course you can maintain this bird bath bowl regularly to prevent that, but there's nothing wrong with a little weathering.
In its prime, you have a cement bird bath that as a sort of swirling effect to it, which is like steps that lead into the base of the bowl.
Perfect for making sure wild birds have plenty of ways to escape if in danger of drowning - but that will be an unlikely occurrence.
While wild birds frolic in the water at various heights, a set of wild bird ornaments watch on, but they're just for decoration.
Tiefes Handicraft: Stone Frog Ornament Bird Bath Bowl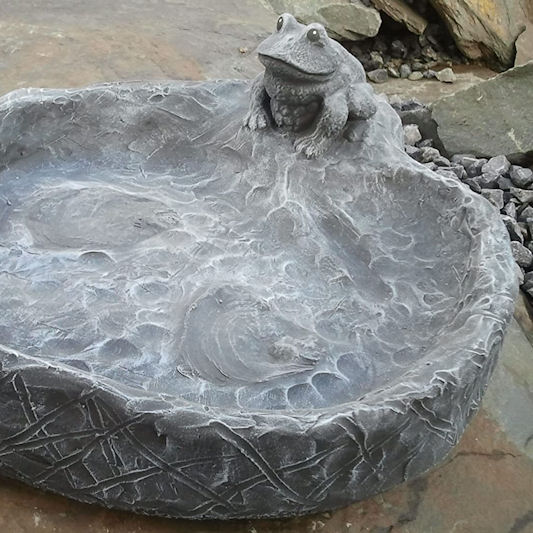 Most luxury stone bird bath to buy on Amazon, so comes at a higher price.
What I would call the second most appealing ornamental stone bird bath, only just coming in behind Teifes wild bird version, as featured first on the list.
Once again you have a cast stone bird bath that is then finished off with a ripple effect both inside and outside the rim of the bath.
Rather than a wild bird, this time there's an ornamental frog happily sitting on the edge, so to situate this bird bath near a pond would really make his day.
Large bird bath bowl where many birds can bathe or drink at any one time, but still a fairly shallow water depth of 2.5cm should keep them safe.
Low edging in places to allow wild birds to hop into the water or walk down the slope.
east2eden: Concrete Wild Bird Bath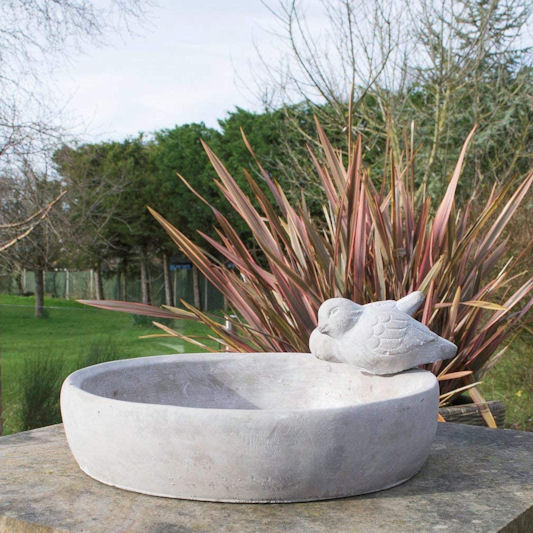 No-nonsense option so cheap to buy on Amazon where its rated higher than most.
Cement bird bath bowl with what I would call a design as a no-nonsense dish to offer a source of water or a place to quickly bathe.
East2Eden offer a bright white bird bath bowl that it not only simple as can be, but highly practical.
In dryer times you have complete control over how deep the water can be, but in wetter weather, it would be safer to keep the water bowl shallow as possible.
High rise cement bird bath bowl for wild birds to perch, but make it easy for them to enter the water below them by lining the base with footing.
Concrete wild bird bath bowl that is crying out for pebbles sitting on the base of the bowl, but so to will they benefit with a rock for a better positioned perch.
Lovely pair of ornamental wild birds serve to be decorative only.
Dobar: Ceramic Bird Bath with Ornamental Birds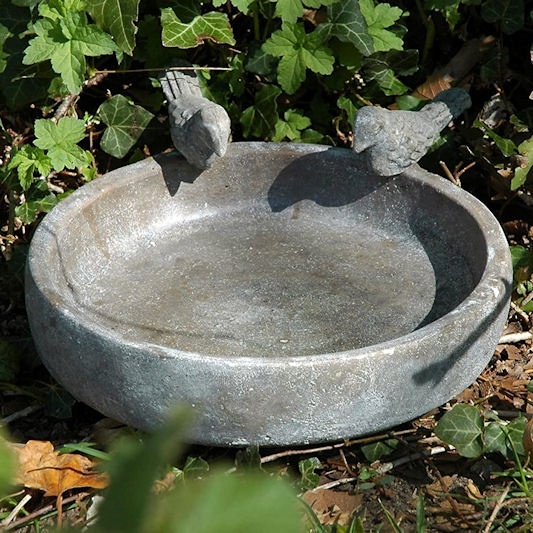 Twenty quid is about right to buy on Amazon with FREE delivery possible.
Made to be weather resistant, ceramic rounded bird bath that serves as a wild bird bath or a garden ornament when not in use.
Thick, heavy cast in stone bird bath that will see wild birds share the rim of the bath with the ornamental birds sitting on the rim.
As wild birds land around the rim, they have an option to bend over to take a sip of water, if within reach - or hop into the bird bath bowl to drink or bathe.
This rounded bird bath needs a little more decoration other than the bird ornaments.
So I say add a helping of pebbles to the base with a rock to act as a perch.
Grey effect ceramic bird bath bowl that appears to be aged from the get go, so will blend into the garden landscape in a peaceful location.
Neils Stonecraft: Stone Bird Bath with Ornamental Frog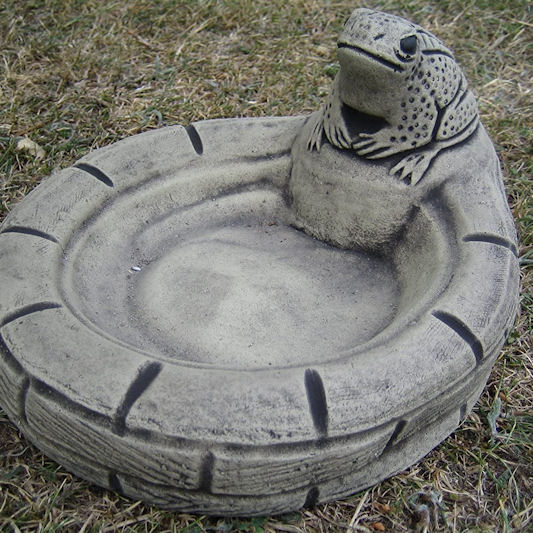 Third most costly bird bath to buy on my list, but expect to pay an extra tenner for delivery if bought on Amazon.
So much so is this hard wearing stone bird bath sure to last a lifetime, the manufacturer offers a 15 year money back guarantee.
Solid, chunky feeling to this bird bath along with a smooth surface and rounded curves.
Highlight of this stone bird bath of course is the life-like frog sat on its perch, surrounding on a brick effect rounded bowl.
Made in a frost proof stone cast, the bird bath is decorated in what appears to imitate bricks, with a darker colour separating the joints to make it stand out.
Will sit firmly on a flat surface or why not position this bird bath within a shrub, hedgerow or why no near a water's edge - the frog ornament would really appreciate that.
Depth of water can be controlled by you but keep it shallow to allow birds to drink or bathe in complete safety.
Darthome: Stone Bird Bath Bowl with Ornamental Birds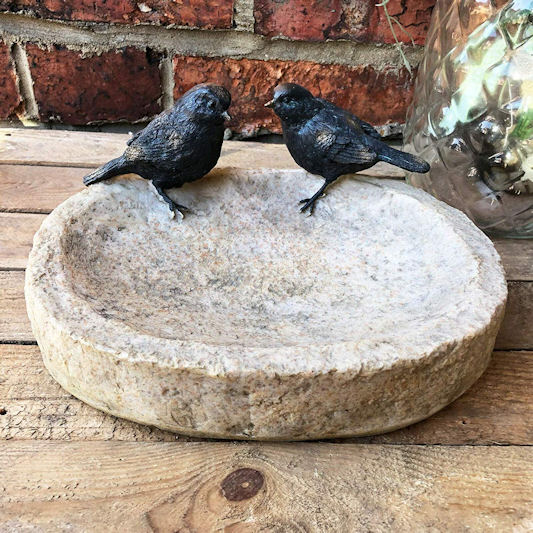 Nicely priced on Amazon for what is a bird bath made with care.
Contrasting colours between the natural effect stone bird bath bowl and the ornamental twin wild birds sitting on the rim, this really is an attractive combination.
Once the stone bird bath was released from its mould, the manufacturer set about finishing the bird bath bowl in a natural colour, while colouring the birds in a black while highlight certain areas.
Result of that is a natural stone bird bath with a pair of wild birds sitting on the rim, unbeknown to many, as one cast stone bath.
Rugged, uneven surface of the bird bath is not only made to appear as natural as possible, but it offers grip for the birds while they frolic around in the water.
Where you position this ornamental bowl is up to you, but remember its an outdoor stone bird bath rather than one that sits indoors.
Stone & Style: Heart Shaped Stone Bird Bath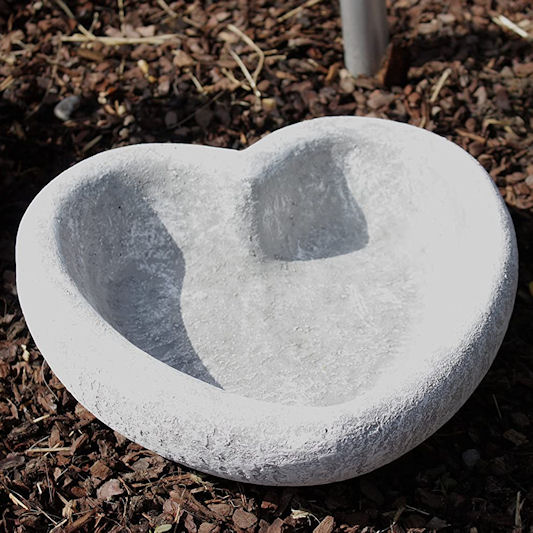 Expensive for a shaped bird bath only, but to buy on Amazon, delivery is included.
Made in Germany, heart shaped outdoor stone bird bath bowl dish that is designed with a light-hearted take on what is still a practical source of water for wild birds.
Position in a bed of chipping's, on soil - though it can stain the base - on a wall, near a pond or on the patio.
Colour of this bird bath is bright as brand new, but in time when the aging begins, it will blend into any location - so will be more appealing to birds.
Rounded, comfortable rim to hold as you find its new location, but its also a lovely area for wild birds to perch - as they level up their options for taking a drink or bathe.
To bathe a gentle slope will allow them to access the water in safety, but it won't hurt to add pebbles to offer a little grip.
Heart shape stone bird bath it might be, but its practical as any source of water in the garden.
Home & Garden: Stone Bird on Hand Basin Bath Bird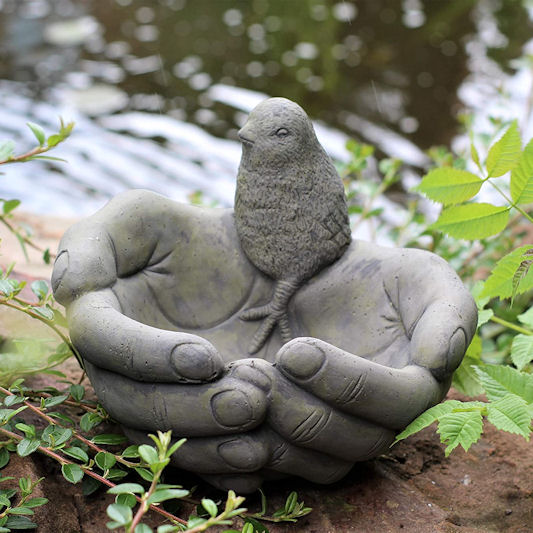 One of the most impressive to buy on Amazon, yet is the cheapest option.
Wow, quite an impressive stone resin bird bath this one that imitates a cradled pair of hands as a decorative wild birds sits in-between the wrists.
Ornamental garden decoration, but in time wild birds will get to know it as a bowl that holds waters.
Set it up upon a corresponding stone wall or patio slab, but keep it off the ground as to prevent staining on its bottom.
Stone bird bath bowl only but one that is made in a solid cast, so is not hollow at all so can be quite an heavy ornament.
To use this hand basin bird bath as just that, I recommend you make use of a clean pebbles to add to the base to make it more shallow to add less water.
If its too deep the wild birds will find it hard to use, thus avoiding it all together; so add pebbles to only make sure its never too deep.
HH Home Hut: Stone Sunflower Bird Bath with Wild Bird Statues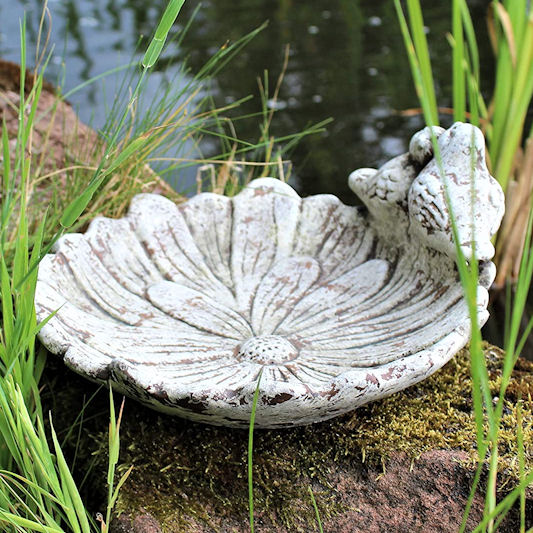 Safe, practical bird bath to buy on Amazon that is backed up with high ratings.
Made in stone cast in a sunflower shaped mould with a set of wild bird ornaments to bring this rustic, rugged bird bath bowl to life.
Colouring is added to it as to blend in with the garden, rather than appearing to be brand new, thus discouraging wild birds.
Position this still bright shallow sunflower bird bath in a corresponding bright spot, or situate on a wall or within a flower bed or hedgerow.
Due to the decoration of the sunflower petals, this can in turn act as a sort of safe footing for any wild birds that enter the water.
Solid, heavy construction made in all stone cast, so not an hollow bird bath so will be quite heavy to hold - perfect for making sure it doesn't tip over in high wind.
Share this article: