Top 10 Bird Tables with Slate Roof
Natural slate roofing turns a drab looking wooden bird table into a bird feeding station of real beauty, setup in your garden on a stand with a support base.
No one size fits all here, bird tables with slate roofs are all available in wood with table platforms on stands with base, but with a decorated but real slate roof. Our top ten includes all that is available, with a few unique tables thrown in, which all have authentic or slate effect roof cover.
Not only these wooden bird tables designed to look beautiful in the garden, but they're practical as well, as the slate stops the rain getting through.
Directly screwed on with a felt or sealant underneath, this will help towards making your bird table last longer without needing repairs or maintenance later.
When fitted correctly, slate roofing tiles serve a purpose, they drain away rain, well protecting your wooden roof from the hardest conditions all year round.
They're not fixed to the roof to be decoration only, but protect feed from getting wet. Rest assured if rain leaks through the tiles, bird table roofs are made to be water proof.
To help keep the rain away, options are multiple smaller slate panels used or a single big slate on either side, its then fortified with a top/side wood piece to stop rain entering from all angles and openings.
Well bird tables with slate roof come in all styles and sizes; with available bird tables for small birds only, to the larger tables for attracting all birds to feed in your garden.
All are usually treated in preserve to make them last long before weathering, well the top coat is in shades of brown only, making them fit in all surrounds.
To protect the slate roof its often treated to stop the slate discolouring overtime, and if things do go wrong, there are options to repair the effected slate.
How are slate tiles secured to roof
Slates are fitted onto the angled bird table roof like house tiles; overlapping to allow the rain to run down to the bottom and fall off the edge.
Well a house or shed has guttering, there's no need for it with a much smaller bird table.
This method should protect the timber underneath the slates to keep it dry, but if its does leak through, the timber would normally be treated in preserve and painted.
Where the angled roof joins at the top, a sort of decorated wood piece would be used to prevent wet getting through that way, as tiles are not available in angles.
Single slate panel
One thing you'll notice glancing at your options are most bird tables have slate roofs made from a single slate panel on either side.
Cut to fit both sides of the angled roof or cut into a narrow triangle as to slot them into the hexagon or square roof design.
Single slates are usually fixed on using matching rust-proof nails or screws in black or grey, with a sealant that prevents the wet getting through the hole that was created.
Well the single slate roof would allow extra length as to allow the water to just run off, the side might be sealed using an extra decorated wood piece.
Textured natural slate
When you think of bird tables with slate roofs, natural slate shingles with a textured edging is the one to go far rather than the flat, smooth surface option.
Observe the available bird tables below and get an up close view of the slate design.
You'll notice they could have anything from a grain look, to a rough surface, to a very noticeable textured edge.
Using a textured edge for the lower side that is out there exposed to the element, the flatter, less attractive sides are usually hidden.
Where there's texture there's multi-colouring which goes towards making the slate roof bird table stand out as the best.
Decorative slate roofing
Often craftsman and women use a host of slate designs, options are; Brazilian, Canadian and Spanish.
And well they can be used as a single shingle, they can be cut down into manageable slate pieces, which might be an option on a few bird tables below.
Shingles are usually rectangular, so therefore they line up side by side of each other.
It is possible decorated slate roofs will also have curved slates or really rugged shingles as to create a natural look.
Stand or Hanging
With the exception of one bird table, you'll notice all of our picks include wooden bird tables on a stand, or a wooden post to be more precise.
Its these bird tables that are preferred over the mounted on a wall or fence post kind, or the hanging bird table designs.
Bird tables on stands allow for appropriate height as to keep the food far off the ground, well the bird tables' slate roof keep the bird feed covered at all times.
Balancing all bird table are the use of out-reaching legs that counter-balance the weight of the top platform.
Well most are designed to keep standing in all weathers, fierce wind conditions could topple bird tables, so its possible to use pegs or stabilisers that impale into the ground.
My top 10 pick's
My list is focused on wooden bird tables on stand (with one hanging option), with popularity and top ratings taken into consideration well compiling our top ten list.
1. The Hutch Company: Ballycastle Bird Table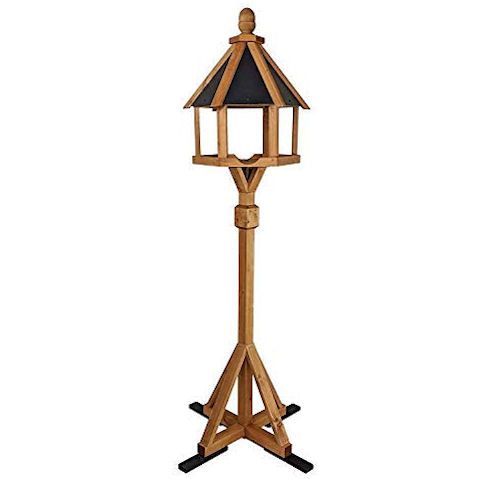 Probably a people's favourite as well has ours, and you can see why due to the time and effort put into the beautiful build of the bird table.
Though we have to say this is siga slate effect only and is not real slate. That's only because the company realises the imitation kind last longer with no marking.
Don't let this discourage you as it looks as authentic has the real thing.
No assembly required which is a bonus and a rare thing come to think of it, but there're additional, extending wooden pegs to be inserted if the wind picks up.
The 6-sided hexagonal roof has a dimensions of approximately 460mm in depth, and 580mm in height; along with the whole thing standing at 5.8 feet.
Between each slate is a wooden panel to cover up any openings, this leads up to the top where there's a flat section with a hand-turned knob for decoration.
Corresponding to the shape of the roof is the hexagon platform underneath it, with 6 panels for birds to feed in between, along with a wooden surround making up a perch.
Curves are cut out of these sections in two areas as to let any water build up run off.
Rather then the usual straight wooden stand the bird table platform is sited on, it has a little decorated section before reaching the wooden base with support brackets.
Highly popular bird table with slate effect roof is widely available, with Amazon.co.uk offering a large number of reviews, with questions and answers if you have any.
2. Riverside Woodcraft: Sheringham Bird Table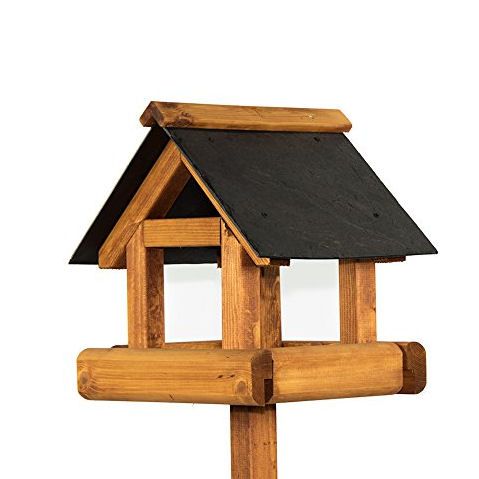 What makes this wooden bird table a favourite with us is the quality and craftsmanship that has obviously gone into the build.
That's further supported with the thick, chunky wooden sections that make up the entire build; where thin, smaller wooden sections are usually built on cheaper tables.
Entire slates are fixed to the angled roof on both sides with the use of screws that blend in with the colouring of the slate.
Keeping the rain from getting to the platform underneath, Riverside Woodcraft have made sure the slates hang over enough to stop water dripping onto the table.
The single wooden section that lines across the top is there to stop water entering where the two slate roof sections meet.
Well the roof is constructed with two triangle wood panels making up the point, which is then fixed to the four wooden stands that connect the roof to the platform beneath it.
And additional smaller wooden panel is then used to help support the cross section.
Routed wooden panels surround the platform; well they offer enough height to keep large amounts of feed contained on the platform, with spacing for water to run out off the sides.
Standing tall bird table allows for refilling the platform at eye level or little kneeling required, well the wooden base far out stretches the base on the top for perfect balance.
Not painted but rather the colour comes from the anti-fungal, anti-bacterial coating which is like a shade of brown. Be sure to check on Amazon.co.uk as your first port of call.
3. Rowlinson: Windrush Bird Table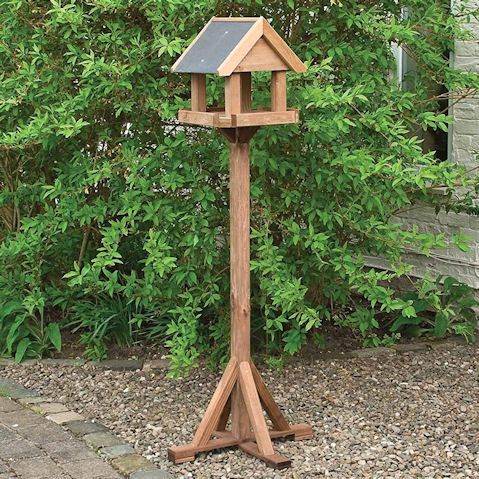 Tough, chunky wooden bird table with slate roof panels on either side of the angled roof section with wooden mouldings around the edges.
To keep the ugliness - if you like - out of sight the wooden sections on the triangular front and back areas, as well has the panel across the pointed top are covered.
It also serves to prevent water entering those gaps if they weren't otherwise covered.
Height from roof eave to platform base allows for all size birds to feed, well all four sides can be used to allow lots of visiting birds to feed in one go.
Well the platform holds all types of bird feed, its the wooden sections around the edges of the platform that allows them to perch.
The surround doesn't reach the corners as to let the water run off if swept under the table, so this will prevent damp from resting on the flat platform.
Standing at 5.7 feet - or 69 inches - in total, this will keep the feed far off the ground as possible so birds can eat in complete safety.
Small brackets support the wide platform underneath well the long stand it rests on is fixed to a base that should be wide enough to keep it standing in high winds.
The colour is inherited from the preservative colouring, which is preferred over painting.
Little assembly is required well much of it comes complete. Buy it from Amazon.co.uk at a reasonably price.
4. Rowlinson: Laverton Bird Table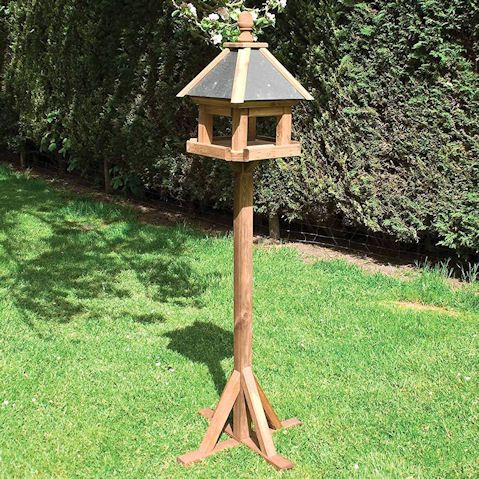 Four-sided bird table made from genuine slate roof panels, well four overlaying wooden panels help stop rain seeping through the corner openings.
Following the four wooden panels to the top point again is a wooden flat panel with a hand-turned decorative knob sitting on top.
The whole roof section is square which corresponds to the square shaped platform.
Well the slate roof overhangs to allow rain to roll off away from the platform, its supported with thick cut wooden panels beneath it.
There're four thick wooden stands that site inside each platform corner with a gap to allow water or moisture to run off.
The surrounding panels will help keep the bird food contained somewhat, but they also act as perches for the birds well they feed on seeds, peanuts or fat balls.
A wide thick wooden stand makes up the length of the Rowlinson bird table with smaller wooden bracket laying extra support.
Crisscross wooden panels make up the base, well four wooden sections make up a sturdier bracket to reduce strain on the bottom base.
Assembly is required on this one but its left to the minimum but the table top is complete.
Widely available bird table that can be bought online or in-store, though Amazon.co.uk are sure to offer the best returns if it doesn't work out for you.
5. Home & Roost: Kinloch Bird Table with Slate Roof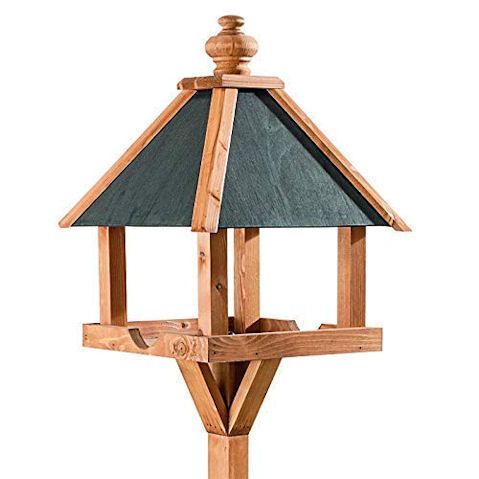 Highly detailed wooden square bird table with covered roof platform. All four sides are covered with 'slate effect' well the the edges are filled with decorated wooden panels.
Joining these panels on the top is a flat routed wooden piece which then has a hand-turned finial top - which is like a wooden door handle.
All four sides to the slate roofs wooden panel section is fixed to corresponding stands beneath it which in turn is screwed to the bird table platform.
Well this platform has a complete surround to help keep the bird feed in well also offering a perch well they feed, there're nice curves cut out from two sides to allow drainage.
Beneath the wooden platform is the 4 feet or so wooden stand that is supported by small wooden brackets.
This stand runs all the way down to the ground well sitting on a wooden cross-over base, which is again supported with longer wooden brackets this time.
The four panels that rest on the ground on not sitting directly as it is, instead all four ends have a panel that raises the bird table a little.
Well the slate roof is only imitation only, the wood is genuine but it is a fairly light table.
Treated with an anti-bacterial marcide coating to help protect the wood from spreading disease. Currently available to buy from Amazon.co.uk.
6. Tom Chambers: Garsdale Bird Table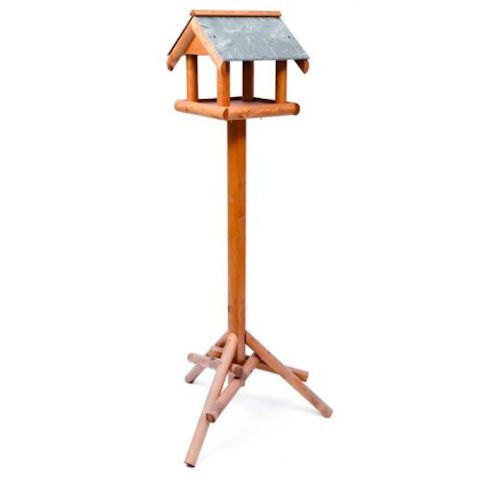 Unique style of this slate roof bird table is focused on the rounded off wooden panels that largely make up the build of this handcrafted table.
Slate roof panels are slightly marbled well fixed to the wooden post using screws.
The post makes up the angled shape of the roof well resting on 4 larger wooden posts positioned on all corners.
It this spacing that allows for four areas for the birds to perch and feed from, well a shallow surround making it easy to feed well keeping the bird food contained.
Sitting beneath the roofed platform is a square wooden stand that stretches up to 47 inches, or 3.9 feet in total.
It then stops short of the ground before a crisscross base helps keep it standing up right.
Four support legs make up the balancing of the table above, well a multitude of rounded off wooden posts create a pattern, only unique to this table.
Overall its a solid wooden table that is coloured in the preserve used to treat the wood.
This helps stop the wood from rotting where the bird feed is placed, well stopping it weathering so soon on all exposed areas.
The genuine slate roof panels are long and wide enough to overhang a bit to stop the rain spilling onto the protected feeding platform.
Its a 5 year old bird table with newer models released into the range, so therefore is becoming hard to find. Available to buy from Amazon.co.uk or online garden centres.
7. Tom Chambers: Dovesdale Bird Table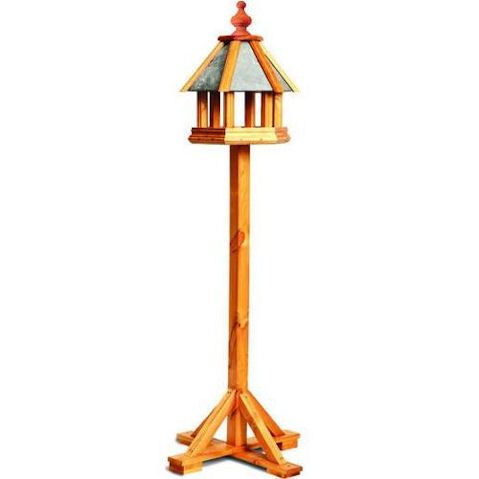 Unique hexagon shaped roof with slate tiles separated with decorative, moulded wooden panels to keep out the wet.
Where these decorative wood dividers are positioned on the roof they're then fixed to 6 wooden posts beneath the roof, which also happens to create six openings.
Well its certainly possible larger birds could pass through, this obstruction might be left to the smaller garden birds only that feed off bird tables.
There is one large flat wooden panel that acts as the top to stop water from entering under the slate panels, but fixed above this is a decorative hand-turned bulb.
So well its only there for show, it just might keep the nuisance larger birds from perching.
Standing as high as 5.9 feet in total, this should give you enough height to leave out food on the platform without being out of reach or to low for the birds to feed under.
This wooden square stand then connects with the heavy-duty cross-base structure with 4 angled support brackets connecting to the ground support legs.
Between the dimensions of the covered bird table platform and the support leg base there' little difference, so additional pegs or stabilisers might be needed for windy conditions.
Stained in a natural wood stain and made from an hard-wearing Swedish Redwood. Buy it from Amazon.co.uk or try all good online garden centres or nurseries.
8. Tom Chambers: Bishopdale Bird Table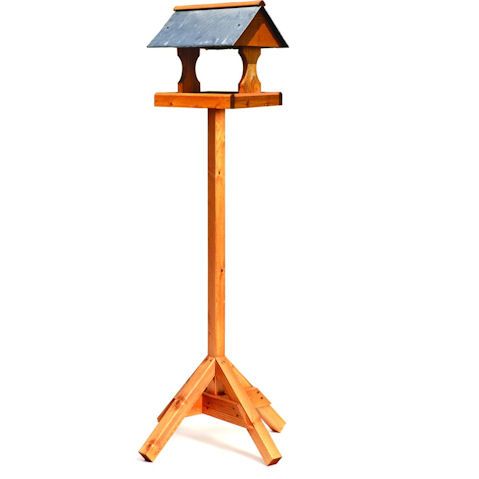 Simple but very effective Tom Chambers bird table with single slate roof design. Where the slate panels join the gap it creates, its then covered with a single wooden strip.
Well the platform measures approximately 30cm wide by 35cm long, the platform to the tile roof eave stands at 33cm high.
Well the slate roof allows for plenty of overhang to help stop the rain from ever reaching the platform beneath it, the two stands that join the roof to the platform offers a little protection, as do the pointed sides.
The platform is surrounded in 4 wooden panels that should help keep much of the bird feed on the shallow platform, well the birds can perch all around it.
Connected beneath the platform is a screwed on chunky wooden stand that has a height of about 46 inches to the ground, so 3.83 feet.
The stand then reaches the pointed four arm support legs, supported with extra panels to create a tough stand overall.
Only the inner angles of these legs touch the ground so you'll less likely to see as much erosion; with similar bird tables the whole support leg touches the damp, dirty ground.
This table is not available directly from Tom Chambers so we can only recommend first and foremost, Amazon.co.uk, or buy from local to nationwide garden centres.
9. Riverside Woodcraft: Premium Bird Feeding Station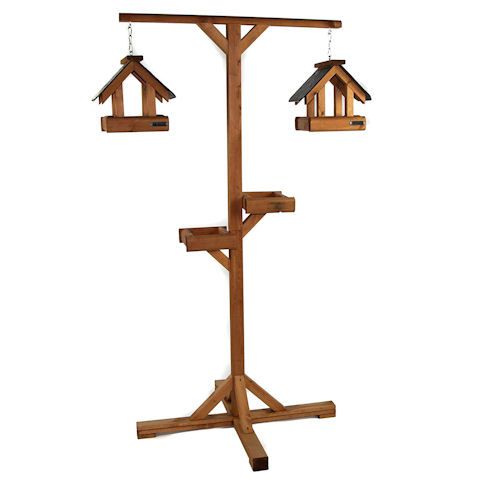 What is there not to like with this magnificent wooden bird feeding station; you get 2 for the price of 1 with a set of 2 hanging bird feeders - plus bird feeding trays.
Single slate roof bird table with wooden beam support underneath, that's then joined to four stands before connecting to the bird feeding platform.
Joining the slate roof panels is a single flat piece of wood that not only prevents the rain entering at the pointed joint, but is used to connect the chains to the post above.
This post is positioned horizontally and acts as the brackets for the two bird tables.
Over 6 feet tall this table stands at with a set of 2 bird feeding trays in the middle which can be used for additional bird food, but best left alone when it rains.
As we reach the bottom the base it made up of four far reaching support arms to help keep this Riverside Woodcraft bird table standing in high winds.
Areas where bird feed is piled are coated in an anti-fungal, bacterial colour rich coating.
Available from Amazon.co.uk with free delivery as it stands, though same applies if you were to buy it directly from Riverside Woodcrafts online.
10. Riverside Woodcraft: Bird Table with Rustic Slate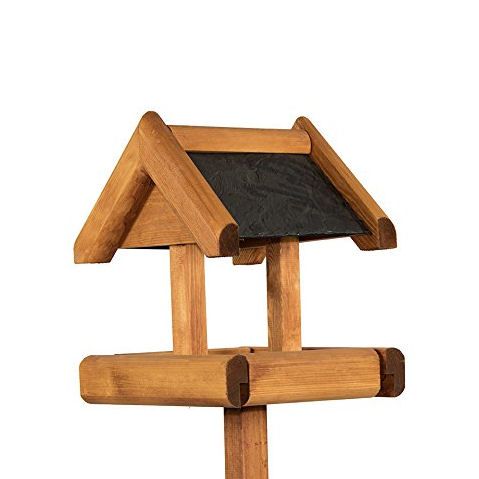 Designed with rounded off wooden posts to create a structure that looks and feels like a bird table, with that all important single slate roof tile making up the roof section.
No wooden panel underneath this one, in fact its only the 'Ardesia roof tile' panel that separates the rain from the platform underneath.
Only 2 panels make up the foundation for the roof, which is then supported with side pieces and a panel that runs across the top, protecting the gap wherethe tiles join.
Space from the platform to the roof eave is fairly wide, allowing for a multitude of wild birds to feed with little obstruction.
This is supported with a deep setting platform with a high surround, as to keep all types of bird feed in place, well allowing any settled water to run through the gaps.
Its lifted 5 feet off the ground with a 4 support arm base stretching up to 27 inches.
Its a long serving bird table that has been left behind in the current range, so only stands to be available from Amazon.co.uk only well could still be available from Riverside Woodcraft directly.
Share this article: