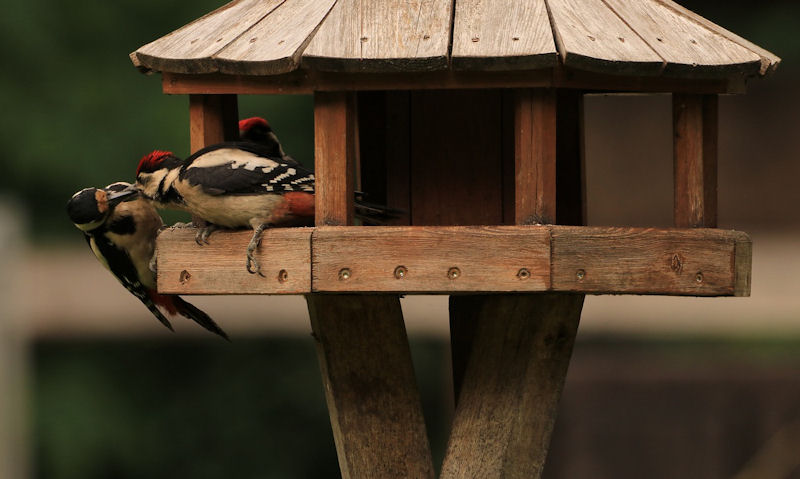 Bird Table on Stand
When you think about traditional wooden bird table stands you would say they look just like this; slanted roof, large platform on a post with a base to keep it standing up.
Here are only quality bird tables you can buy with a focus on bird tables on a stand, with a solid, chunky post balanced on four wide reaching legs. Fixed on top of the bird table is a large, covered bird table top with a roof in slate, felt or layered wooden panels - along with a flat feeding platform for birds to enter.
Not necessary the best wooden bird table to buy in the UK but are sure up there as the very best you can buy overall.
One positive of all wooden bird tables featured is all stand approximately 6 feet tall - so will keep wild birds safer while feeding.
Ground to platform clearing is important as bird feel safer, thus are more willing to use the feeder with bird seed mixes, peanuts and suet balls awaiting their arrival.
Occasional fixed half way up the stand are a number open trays fixed on the wooden posts - which allow larger bird species to feed if the covered bird table is restricted.
Bird tables are all covered roof options in all medium; including slate, felt or nicely built using layered wooden panels, to give the appearance of roof tiles.
Little to no assembly required for the bird table platform, but the post or legs will need be.
Expect bird tables to be finished in a wood stain or be treated in a preserve or anti-bacteria treatment.
No impaling into the ground as you would with wild bird feeding stations so a four-leg system is sure to keep the tables standing up in high wind.
Remember if the bird table tips over at all, it can collapse on its on weight, thus the need to avoid this ever happening should be a top priority.
Bird Table on Stand data
| Product Name: | Assembly: | Roof: |
| --- | --- | --- |
| Riverside Woodcraft: Triple Platform Bird Table | Required | Timber |
| Riverside Woodcraft: Rustic Timber Roof Bird Table | Required | Timber |
| Skojig: Sheltered Bird Table for Small Birds | Required | Felt |
| Maypole: Heavy-Duty Bird Table | Required | Timber |
| Petsfit: Bird Table with Bird Feeding Tray | Required | Felt |
| Riverside Woodcraft: Gothic Slate Roof Bird Table | Required | Slate |
| Riverside Woodcraft: Ripon Bird Table | Required | Timber |
| Rowlinson: Laverton Bird Table | Required | Slate |
| Nature's Market: Slate Roof Bird Table | Required | Slate |
| The Hutch Company: Feather Edge Bird Table | Required | Timber |
With a focus on a wooden bird table on a stand, it would also need a good cover as to keep the rain off the bird feed.
So rest assured all options have a roof in all mediums: so they can include felt, real or slate effect - or more than likely in a wooden roof design.
However, while no assembly is usually required on the feeding platform, any additional trays, plus the four legs - will require self-assembly with fixings included.
You will need to supply the screwdriver or power drill to be able to construct the table.
Riverside Woodcraft: Triple Platform Bird Table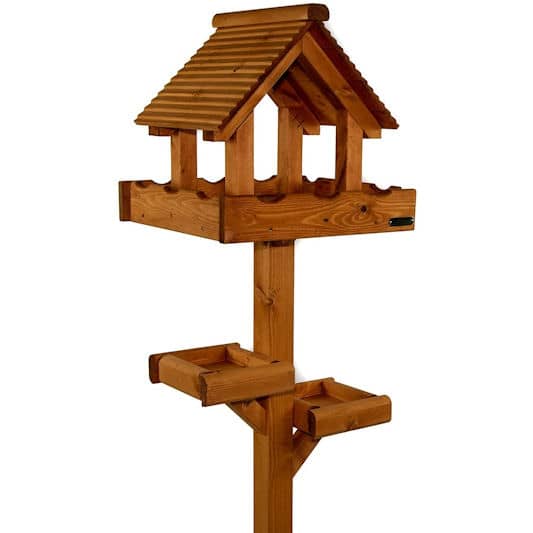 Most expensive buy on Amazon and my list overall, but one that is sure not to disappoint.
Wow, what an amazing wooden bird table on stand, one that is sure to last the test of time, due to the solid, heavy construction.
In fact I consider this to be the best Riverside Woodcraft bird table you can buy in the UK.
Made in thick, chunky timber, Riverside Woodcraft spared no expense when making this table; only making it in the timber needed, so there's no reductions to save costs.
Why I consider this wooden bird table to be the very best one to buy in the UK, is its huge table top for adding bird feed.
Protection by the elements is helped using a high eave wooden roof, fixed in place with four equally solid pillars on each corner.
Whilst its an already assembled table top, the bird table stand legs will need assembly.
What else you'll get with this quality built table is a two mid-way up open feeding tables to apply additional feed on the stand.
Riverside Woodcraft: Rustic Timber Roof Bird Table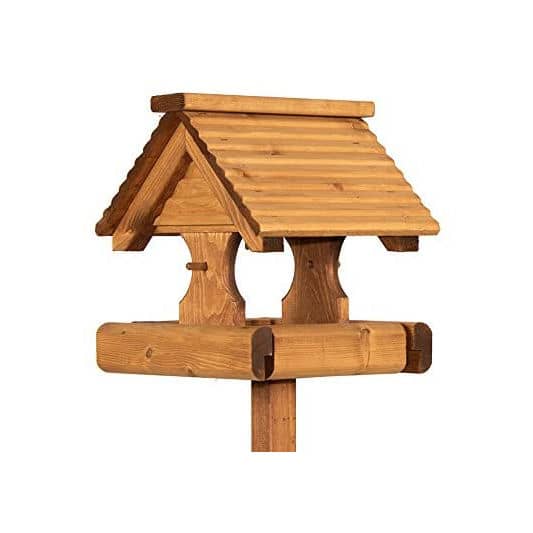 Not at all badly priced on Amazon so its possible to get up and going at an affordable price.
What you might of realised by now is Riverside Woodcraft make the best bird tables in the UK - and I am not just saying that - they really do.
Here is their smaller, yet amazingly built more rustic built bird table with a shingled effect angled roof.
Lower eave to help keep rain away but with no horizontal wind with rain, you are sure to keep all bird feed nice and dry all day.
Up to 6 feet in total with the already assembled table top already built; you only need to construct the legs.
Opportunities can arise when adding feed to the covered platform, but if you like there's room to hang a series of hanging bird feeding off around the platform edge.
Beautifully construction with a bacteria coating with curved edging and incredible detail.
Skojig: Sheltered Bird Table for Small Birds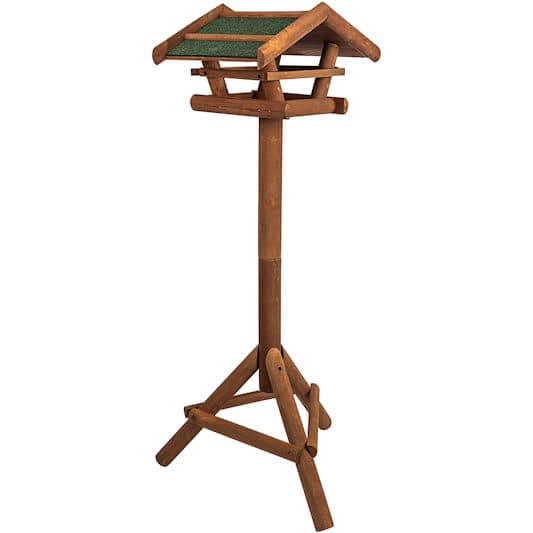 Rated high among past customers on Amazon, but at a price that is classed as cheaper than most.
What I would call a anti-large bird, bird table is this more affordable yet very sturdy table with a far reaching roof.
This roof is further protected as you place feed underneath it with a layer of waterproof felt - so the bare wood will last longer.
One feature you'd come to notice most on this bird table is what seems to be a layer nuisance timber stopping birds entering the feeding platform.
Make no mistake its only there as to be more of a wooden bird table for small birds only, thus Blackbirds, Crows and certainly Pigeons will find it almost impossible to pass.
Theme of the bird table is rounded log or timber planks; thus the whole table has a comfortable, yet attractive look to it.
What is different to other bird tables on the list is its far reaching legs; attractive they're but will sure make it hard for the table to tumble over in high winds.
Maypole: Heavy-Duty Bird Table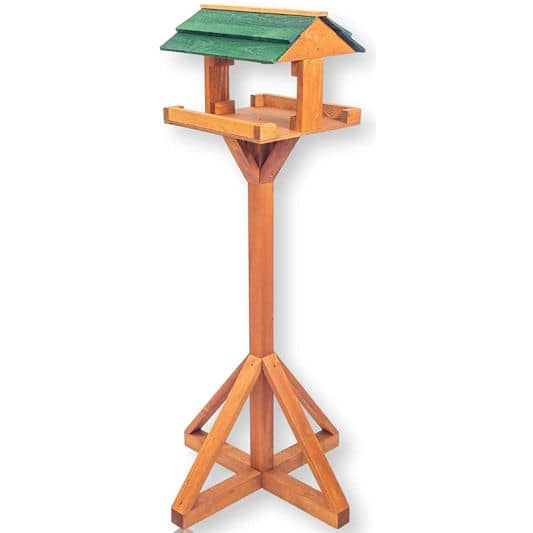 One of the cheapest bird tables on Amazon in this range with positive customer reviews to support it.
What I would call a getting started bird table this time, as with practice at little cost you'll be setup with an attractive bird table in no time at all.
Lots of assembly to be had with this wooden bird table as the table top, legs and stand all need to be put together before use - all screws needed are included.
Once up and running you'll have yourself quite a flimsy bird table, but certainly one that will last even if it was damaged by falling over in wind.
Its not so much a wide reaching angled bird table - and one that is double overlapped which is a nice touch - but a roof that won't quite keep the rain off feed.
And while that isn't true for most bird feeding tables, at least any rain can drain away.
Sure to stand up with little wind though as it as a flat, wide reaching leg assembly, and equally a solid build for keeping the table top upright.
Petsfit: Bird Table with Bird Feeding Tray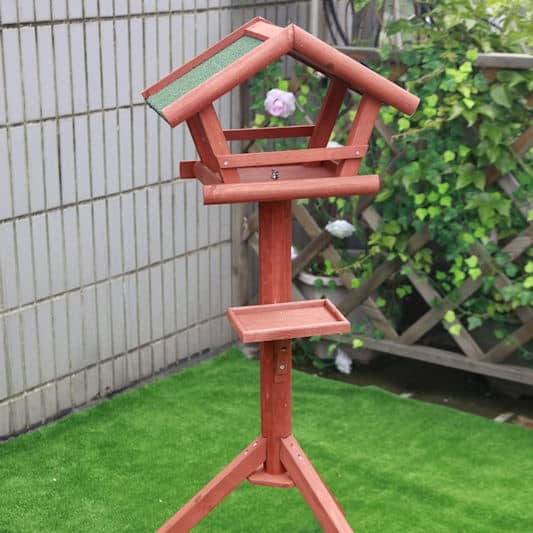 Mid range pricing, rated positively and available to buy on Amazon with free delivery a possibility.
More self-assembly friendly build this one with all fixings supplied, plus a twist screw on the underside of the table with no screwdriver required their.
Quite an interesting bird table design this one with a large table top, and an equally large wide legs spread to help balance it all.
The bird table with roof is a high eave design so rain can penetrate, but wild birds of all sizes should not have too much trouble entering the platform to feed.
And as the roof is covered in green felt for extra protection, its a table sure to last.
Fixed to the bird table stand is an additional open bird feeding tray which will come in useful for wild birds who find it difficult to enter the covered bird table.
While it can be a genuine tripping hazard, the legs not only counter the large table top, but is sure to prevent the whole thing from tipping over in the wind to easy.
Riverside Woodcraft: Gothic Slate Roof Bird Table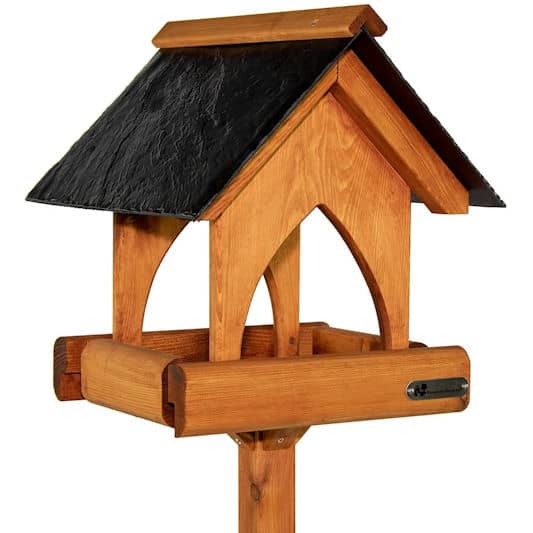 Get up and running in no time under 70 quid on Amazon, with a bird table made with a slate roof.
What is slated as a 'gothic style' bird table truly lives up to is name, because that's precisely what this Riverside Woodcraft bird table is.
Gothic in name comes in the arch shape under the roof on what can be classed as the front and back - while the high eaves design surely finishes off the gothic feel.
Truly unique in design, the standing bird table is made with an actual slate roof which is sure to keep the feed nice and dry beneath the cover.
Open area on the point of the roof is finished with a shaped plank of wood.
Bit of a tighter feeding platform but one that can be accessed by most species, but any build up of water can drain away with ease.
The bird table stands on a long, square post with a leg placement that matches the bird table box width above it - or perhaps a little wider.
Riverside Woodcraft: Ripon Bird Table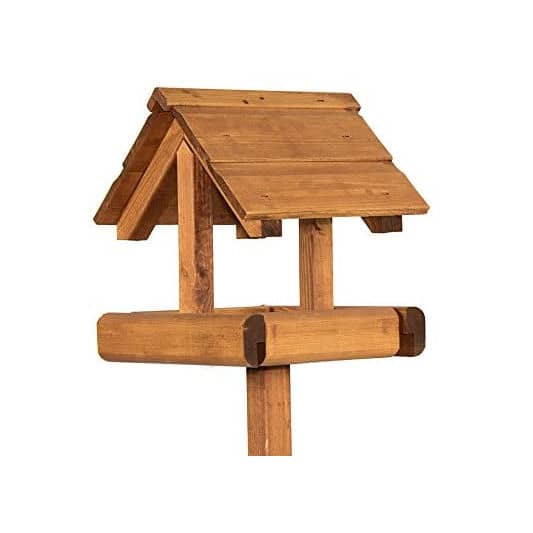 Reasonably priced on Amazon considering its an handcrafted table by a reputable brand.
Unique Riverside Woodcraft bird table that uses twin pillars holding up the overlapping wooden roof - as appose to the standard four pillars commonly in use.
Chunky, solid construction is noticeable throughout but a build that is sure to last forever.
Surrounding the bird feeding platform are chunky shaped panels that act as perches or to stop feed falling off.
Actually, all edges on this beautifully crafted wooden bird table are all rounded off so will feel more comfortable as you replenish with feed or maintain the table.
Bird table top is fixed to a solid wooden stand that is in turn built on a leg assembly that will see no trouble keeping the table standing in the wind.
In fact, how heavy this table is will sure help keep it standing whatever the weather brings.
Rowlinson: Laverton Bird Table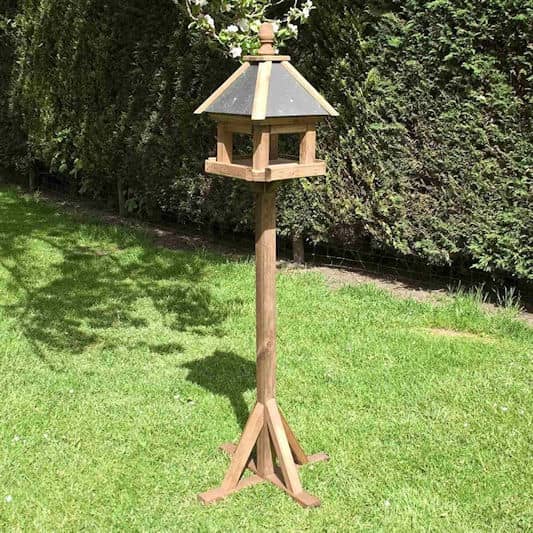 Costly bird table to buy on Amazon but built to last the test of time.
Beautiful Laverton 'style' wooden bird table that is constructed with a four-sided slate roof with an attractive carved point on top.
Built in a chunky wooden construction with access to the feeding area a little more restricting - thus it may deter more larger, nuisance birds.
Overhanging roof placement is sure to see rain fall away from the feeding platform, but any sitting rain will drain away.
Minimal construction needed but the what is a heavy top platform doesn't need assembly.
Supporting this big, heavy bird table top is a chunky stand that sits on four-legs; narrow it is, but less so a tripping hazard.
All fixing are included but a screwdriver or drill will be needed to complete the build.
Nature's Market: Slate Roof Bird Table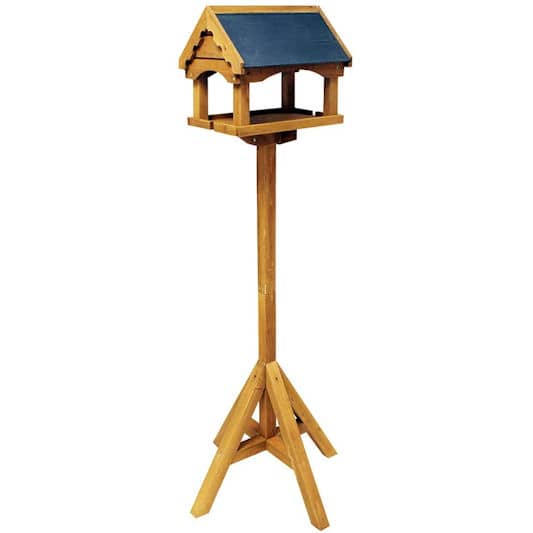 Rated high by enthusiastic Amazon customers who adore feeding birds, but at an affordable price.
Bird table to get you up and running in no time is a design that is sure to blend in with any garden, stained in an attractive yet natural colour.
Rectangular shaped bird table top is a design we've all come to expect, but its one that is protected with a slate effect angled roof.
Large feeding platform with low surround for perching or assisting wild birds to make it easier to enter or exit.
Lots of detail in the trim with an overhanging roof to allow rain to drain away.
All this stands on a solid wooden stand that is fixed to a series of four-legs. Design in the legs is easier to position on the lawn or patio than a flat leg system that causes the bird table to wobble.
So get off the ground with a more affordable bird table that is sure to attract a series of wild bird species, as the high and wide eave design allows it to.
The Hutch Company: Feather Edge Bird Table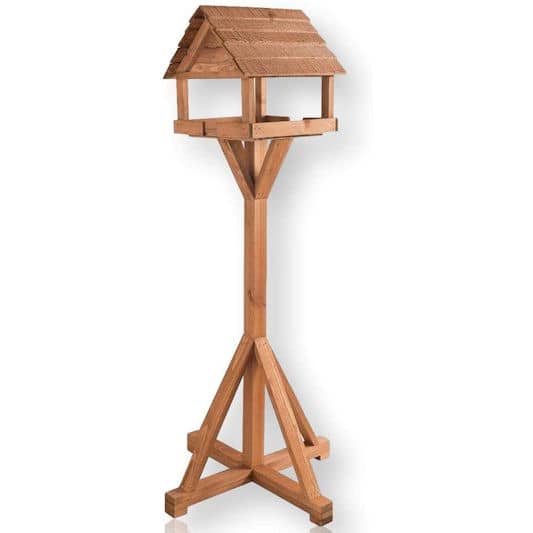 Mid range pricing on Amazon is all you need to get setup with a solid bird table.
Finishing off with The Hutch Company Feather Edge Bird table, needn't be a downer as the table is still one of the best on the market.
Large, heavy and chunky design with a very big table tope that has no restrictions at all.
Four pillar posts positioned in each corner allows a more far reaching underpass that will attract Robins to Tits, Blackbirds to Pigeons with more difficulty - so focus should be on small garden birds only.
Beautifully crafted angled roof to keep the rain away is layered in wooden tile style planks.
Its as an opening on two sides to allow rain to drain but the wooden surround can be doubled up as a useful perch.
Its supported with four wooden brackets under the table top which are all fixed to the solid post.
To keep it all standing upright the wooden bird table is supported using a cross section leg system - which is needed to support the heavy build.
Share this article: