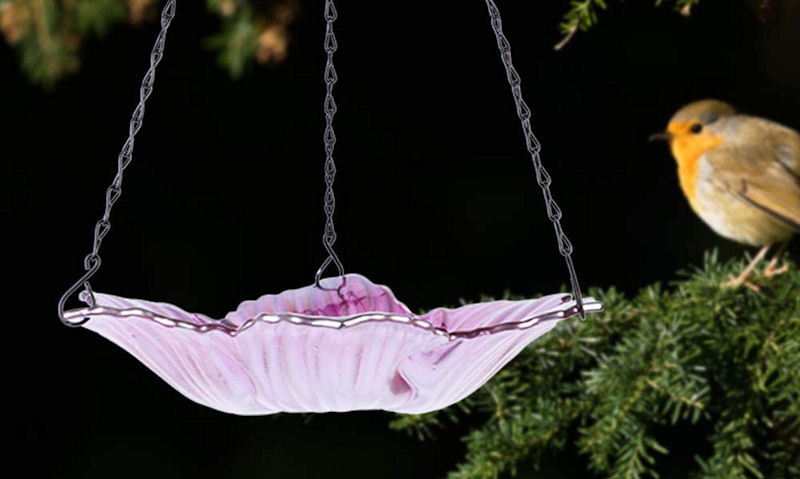 Hanging Bird Bath Bowls
Site a water source safely off the ground using a hanging bird water dish with a hook and chain link - used to dangle off a corresponding wall bracket or strong tree branch.
Hang up a hanging bird bath bowl connected to a chain link to hook over a wall bracket, tree branch or feeding station. Bird bath bowls usually have a theme, so are made into a flower or a simple yet practical dish shape. Make the bird bath safer by using pebbles, but if birds don't take to it, revert to using it as a feeder.
Where you hang a bird bath bowl is up to you, as you may have a location earmarked already - but think of practicality over anything else.
Hanging up a bird bath bowl will need to be accessible to wild birds while not causing issues with obstacles or not offering a clear flight path.
The bird bath must also be seen, so make it prominent while not setting up the bird bath that is not within reach of predators on the ground.
Best place to hang a bird bath is on a corresponding metal wall bracket, or a tree branch if that is available to you in your garden.
Go one better by making sure to add pebbles to the base of the bird bath, submerged under water while offering a smaller rock to offer a perch.
Hanging bird bath dishes are made in all types of material; metal, ceramic, glass or even acrylic. So are not very practical for perching wild birds, so they will need assistance with pebbles for better footing.
Insert pebbles in a shallow or deep bird bath bowl to always make sure the bird bath water can never be too deep - for example as rain water continues to fill it up to the top.
If you fail to bring wild birds to your bird bath to drink or bathe, know it can always double up as a bird feeder - so it won't be wasted money or an opportunity to bring wild birds.
Stone Bird Bath Bowls Data
| Product Name: | Hang Type: | Material: |
| --- | --- | --- |
| Esschert Design: Hanging Bird Bath | Chain Link | Metal |
| Monarch Abode: Hanging Copper Bird Bath | Chain Link | Copper |
| Mumtop: Glass Hanging Bird Bath | Chain Link | Glass |
| CasaJame: Umbrella Bird Bath | Hook | Cast Iron |
| Lifetime Garden: Ceramic Hanging Bird Bath | Chain Link | Ceramic |
| Birds Choice: Acrylic Hanging Bird Bath | Chain Link | Acrylic |
| Excellent Housewares: Lady Bird Hanging Bath | Chain Link | Metal |
| east2eden: Umbrella Cricket Bird Bath | Chain Link | Metal |
As hard as it was to compile a hanging water bowl for birds list for sale in the UK, I have come to appreciate how beautifully made each one is.
Its not a case of seen one, seen them all either, as each hanging bird bath is made in an often authentic material - though the hanging up feature is well too similar.
Expect an option to buy a hanging bird bath bowl made in copper, aged steel, acrylic, cast iron, ceramic or even glass.
Design of each hanging bowl requires a three point fixings as to attach the chain link for hanging.
To go for a cast iron bird bath or a rustic, aged metal bird bath bowl it can help skip months or years of aging while allowing the bird bath to blend in with a more rugged landscape.
However, to brighten up a garden or to match a bright bird bath, there's a couple of options for you, along with a cheerful, animal character theme.
If you feel the length of the chain link would make it difficult to hang off a wall bracket for tree branch, options are there to extend the length with a special bird feeder hanger.
Esschert Design: Hanging Bird Bath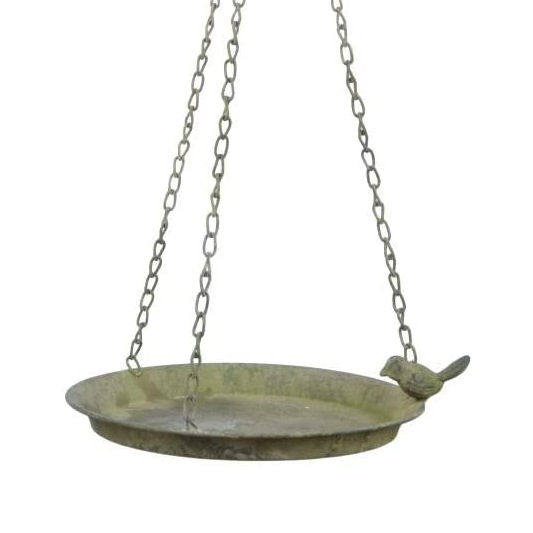 Well rated, positive reviews and FREE delivery possible if bought on Amazon.
No better option than with a hanging bird bath then one that is made in a metal, so able to withstand the outdoor elements with ease.
Lovely shallow dish that can only be filled up with a little water, but this hanging bird bath can also double up as a seed feeder.
Sitting on the rim of the bird bath is an ornamental wild bird watching over the bath.
Wielded to the bird bath bowl is three hook points designed for the chain link to connect to - all while offering a substantial length to hang.
Made with a vintage, rustic feel to it so will blend into the garden decor without standing out too much.
Monarch Abode: Hanging Hammered Copper Bird Bath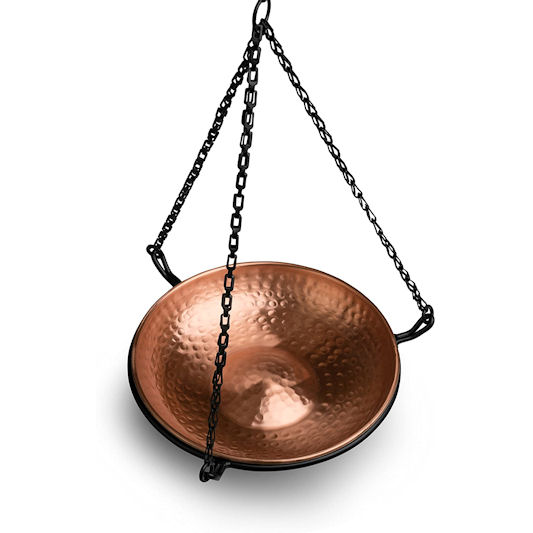 Copper bird bath will cost a hand and foot when bought on Amazon, but what a beautiful bird bath it really is.
Not cheap, but its not any metal bird bath, instead its higher in price for the genuine reason of being made in real copper.
Not cast or copper effect either, its a real copper bird bath with what I would call a hammered effect only - rather than a genuine hammer used to create the bowl shape.
Copper bird bath sits on a metal hanging apparatus designed with a rim to sit the bowl which in turn, connects to three hang points.
Contrast between the copper bowl and the black hanging frame is an attractive one.
Deep bird bath bowl for up to 2 inches so it would be advisable to add pebbles to the bird bath to make it safer for wild birds to drink or bathe.
Mumtop: Glass Hanging Bird Bath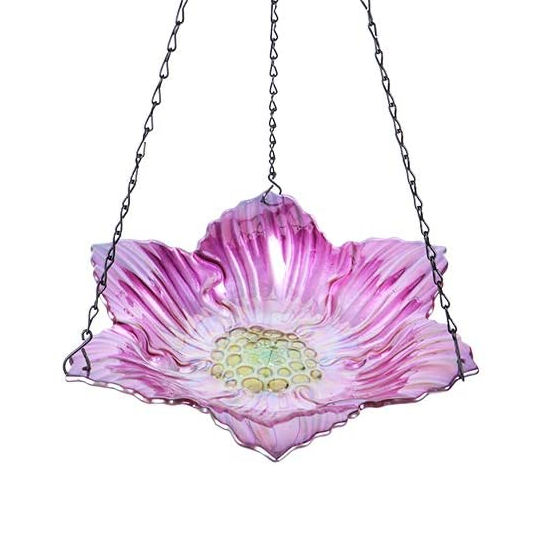 Higher priced if buying on Amazon but that is attributed to the import fees, plus delivery this bird bath will incur.
Right from the get go you'd have to be very careful with this hanging bird bath because it is made in real glass.
Elegant as it is practical despite the glass construction, but it sure does blend in with a colourful garden, or designed to brighten one up.
Bowl imitates a blossoming purple flower which is where you fill up with water.
Connected to three petals are the chain link hooks that are fitted to an extended chain that then fits to a hoop for hanging on a wall bracket or bird feeding station.
Made in glass it might be but its still a tough, durable outdoor hanging bird bath.
CasaJame: Umbrella Bird Bath with Ornaments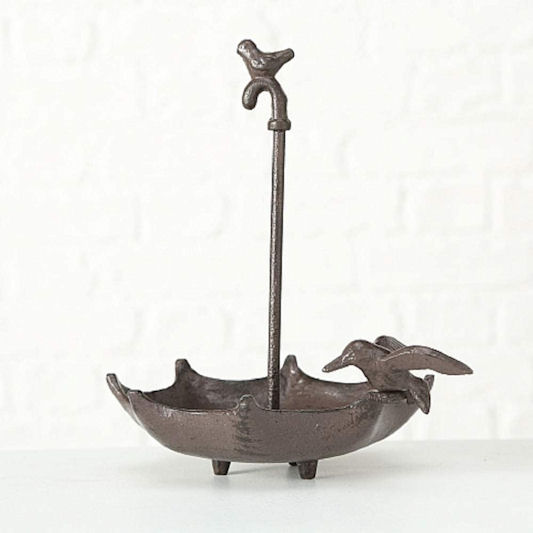 To buy this little hanging bird bath on Amazon would cost you a bit, but it is made in real iron after all.
Proper authentic hanging cast iron bird bath this one, with an option to add bird feed if birds don't take to bathing or drinking.
Not the traditional hanging bird bath on a chain but the hole bowl acts as the hanging feature - so as its an upside down umbrella, the handle acts as the hook for hanging.
To hang this cast iron bird bath you'd need to hook it off a wall bracket or a feeding station, but be warned the hook is not at all large, so can risk falling off.
Sitting around the umbrella rim is an ornamental wild bird with a chick sitting on top of the handle, which is also the hook.
If you don't feel safe hanging this small hanging bird bath, than make use of the three stumps on the bottom so it can be used to sit on a flat surface, rather than hang.
Lifetime Garden: Ceramic Hanging Bird Bath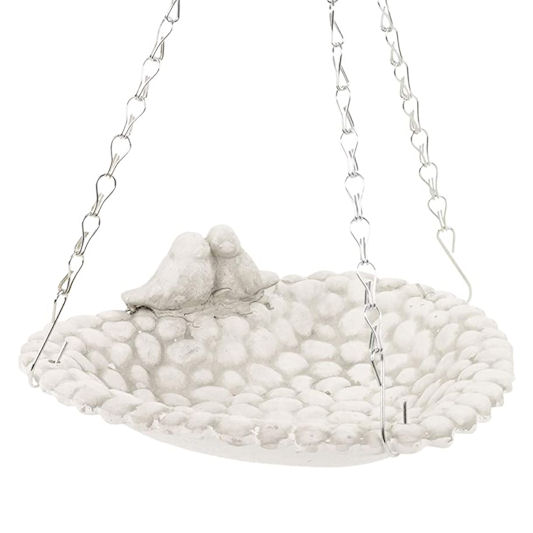 Nicely priced on Amazon for about a tenner, with a fair rating and positive reviews.
In terms of practicality, this made in ceramic hanging bird bath beats them all, as the rugged finished can help wild birds bathe or drink rather than hinder their needs.
Rugged, pebble effect on the bird bath base so no need to add rocks or pebbles of your own - which is usually needed for safety concerns is many designs.
Simple, chrome chain links for hanging where it hooks onto three holes around the rim.
This hanging bird bath is easy to clean as the chain links can be removed from its fixings, but in doing so its a clean that will be thorough if need be.
While all three chain link lengths eventually connect to a hook for hanging, there's a pair of wild birds happily sitting on the edge.
Birds Choice: Acrylic Hanging Bird Bath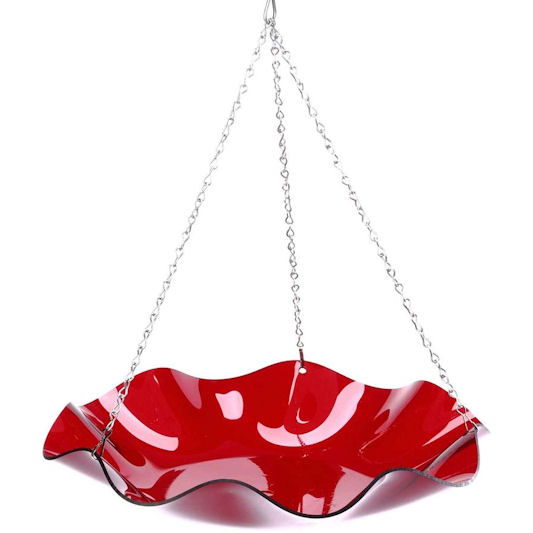 Second most expensive hanging bird bath featured, but to buy on Amazon it will be imported.
If its a lightweight hanging bird bath you need this one really fits the bill; made in acrylic so while appearing to be glass, it is indeed a clear plastic.
Acrylic bowl is blended with a bright red pigmentation as to create the red finish, so its not painted but moreso part of the dish.
Appearing to be an open flower, there's three holes in the dish that don't compromise the ability to keep water where it belongs, in the bowl.
Threaded through each hole is a galvanized hanging chain with plenty of length and a hook on the end for easy hanging.
Slippery surface might benefit with use of pebbles in the bowl base while a larger rock or two can double up as a perch.
Excellent Housewares: Lady Bird Leaf Hanging Bird Bath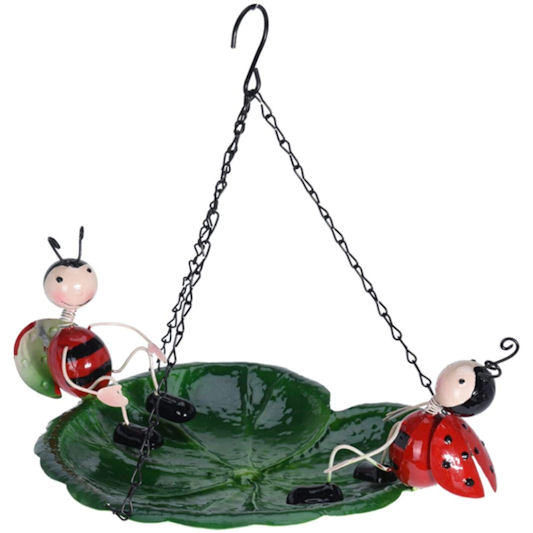 Buy on Amazon as it hovers around the ten pound mark with other animal themes optional.
To appeal to children for parents to grandparents to maintain interest in gardening, or why not simply use it to brighten up an otherwise dull landscape.
To hang this made in metal hanging bird bath would appear more at home on a tree branch than on its own, off a wall bracket - but its completely up to you.
Lady Bug theme with a pair of playful bugs cheerfully sitting on the rim of the leaf shaped hanging bird bath bowl.
Quite a short chain link length I might say so an additional bird feeder hanger for too short hooks - much like this one - should be considered.
Brighten up a garden or get the toddlers or kids interested in wild birds bathing, visiting the garden to drink or feed.
east2eden: Umbrella Cricket Bird Bath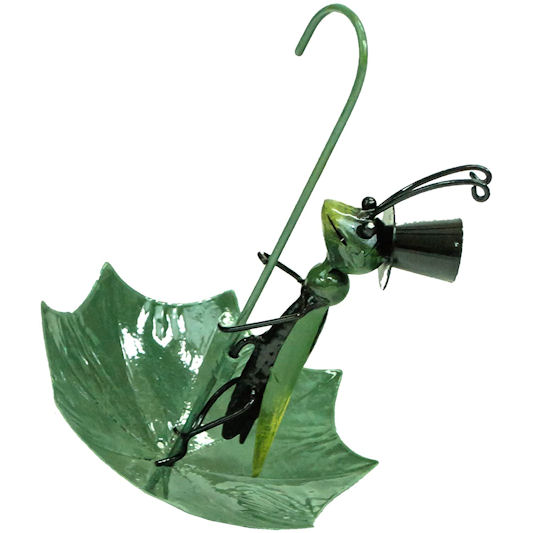 Cheapest hanging bird bath bowl on my list if bought on Amazon, but it is highly rated.
Much the same as the Lady Bug Leaf small hanging bird bath featured above, only the theme of this one is a cricket wearing a top hat.
Hat wearing cricket is hanging off the hook that is connected to the centre of the leaf for hanging up.
Bright, colourful theme where it can be hung near a flower bed or why not hook it off a tree branch.
Not heck of a lot of space for bathing but wild birds can make the most of it for taking a drink - with an option to add all types of wild bird feed to get the most out of it.
No additional fixings for hanging but it can be hooked onto a wall bracket or the bird feeding station, if only to brighten it up.
Share this article: