Solar Powered Bird Bath Fountains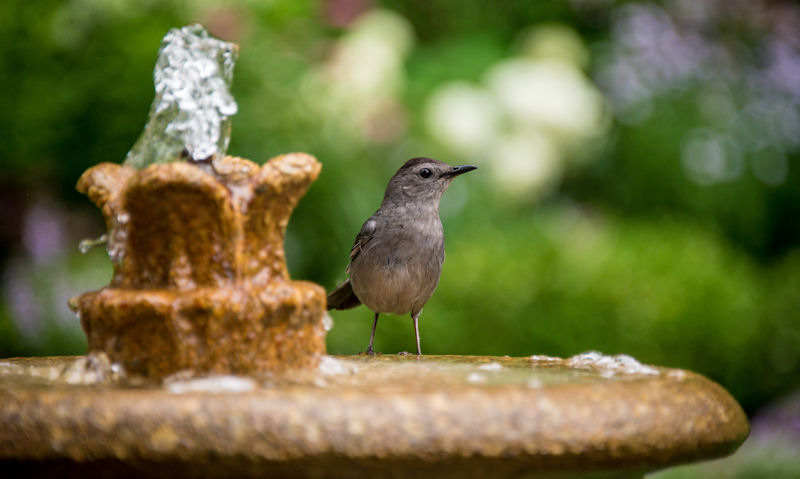 Solar Powered Bird Bath Fountains
What you want to get out of a solar powered bird bath can vary, but it must have a gentle water fountain with a slow, trickle of water to relax too.
Solar powered bird bath fountains can be setup as no-wire or cabled; to be no-wire, no cable runs along the ground - whereas a cabled option as to be setup with ugly wires seen outside the bird bath. Buy a wireless solar bird bath with an in-built solar panel, made with a gentle water flow with a tiered bird bath.
Options are a plenty with solar powered bird baths in the fountain style, but only options for what are more quality solar bird baths are listed.
What they do have in common is the need to all operate while sat in direct sunlight, for the solar power to operate.
However, there is a chance to buy a solar powered bird bath with a battery to not only operate the fountain at night or in overcast weather - but it can light up the LED lights.
Imagine the LED lights illuminating the gentle fountain at night, it really is a calming experience.
Bird bath styles are no different to any type of wild bird bath you can buy without the solar feature - as all options sit on a pedestal with a base of varying sizes.
So therefore balancing the bird bath applies for lighter bird baths, whereas the stone bird baths with the solar feature will stay standing under their own weight.
No water is wasted as you top it up once while the bird bath fountain mechanism recycles the water over and over again.
I hate wires seen out of any type of garden feature so my personal preference is a wireless solar powered bird bath with a built-in solar panel.
Cabled bird baths operate with an independent solar panel so the wire must connect to it via the bird bath - and believe me when I say its unsightly.
If garden birds never used your static bird bath previously, you just may be able to tempt them to disturbed water with an attractive fountain bird bath.
Solar Powered Bird Bath Fountains Data
| Product Name: | Wired: | Height: |
| --- | --- | --- |
| Garden Mile: Duck Family Solar Fountain Bird Bath | No | 84cm |
| Smart Garden: Kingsbury 3-Tier Solar Fountain Bird Bath | Yes | 98cm |
| Smart Garden: Pagoda Solar Fountain Bird Bath | Yes | 72cm |
| Amur: The Lovers Solar Fountain Bird Bath | Yes | 107cm |
| Scotts Of Stow: Tree Trunk Solar Fountain Bird Bath | No | 60cm |
| Primrose: Castille Solar Fountain Bird Bath | No | 75cm |
| Primrose: Windsor Solar Fountain Bird Bath | No | 65cm |
Buy one of the seven solar powered bird baths as listed for sale in the UK, but should only by considered according to keeping the garden landscape well kept.
And who really wants a nasty cable threaded over the lawn or patio when wireless is a much better option - setup on an internal wire system that is never seen.
So with that in mind I have listed all bird bath options if they're wireless or not.
To list 'YES' confirms a cable is needed to be plugged into the independent solar panel from the bird bath itself - as setup near the bird bath on the ground.
Then to list 'NO' to you will mean a better option, as the wire or length of cable is tucked into the bird bath, and so is the solar powered panel built-in.
Finally, I've listed the height of the bird bath as that applies always, for your convenience of cleaning or for more height needed to see wild birds drinking over garden decor.
Garden Mile: Duck Family Solar Fountain Bird Bath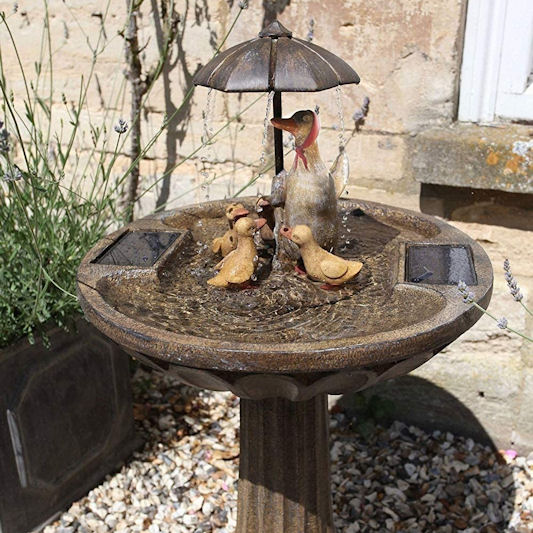 To buy this quirky solar fountain bird bath on Amazon would cost you over £100.00, with the guarantee of FREE delivery.
To get off to a positive start is this pedestal stone bird bath that sits a duck family on top, while taking shelter underneath an umbrella.
Its a joyful take on a solar powered bird bath that as a real family feel to it, so therefore can be a favourite to the young ones.
Duck family are joined to the inner bowl of the bird bath without needing to move or re-position them - so no tipping over.
To make this fountain bird bath operate without cutting off, it will need to be constantly in direct sunlight, or else the water will die down, before stopping.
So its best to setup this solar powered bird bath in the direct sunshine only.
Making sure the sunshine is hitting the solar panels is helped with two panels built-in to the bird bath on either side of the Duck Family.
How fun this bird bath really is, still is one that is very practical, as it offers a shallow bird bath bowl that is easy accessibly for wild birds, including a perch on the edge.
While the bird bath bowl is quite wide, its supported with a narrower base so you may need to keep an eye on it in high winds.
Smart Garden: Kingsbury 3-Tier Solar Fountain Bird Bath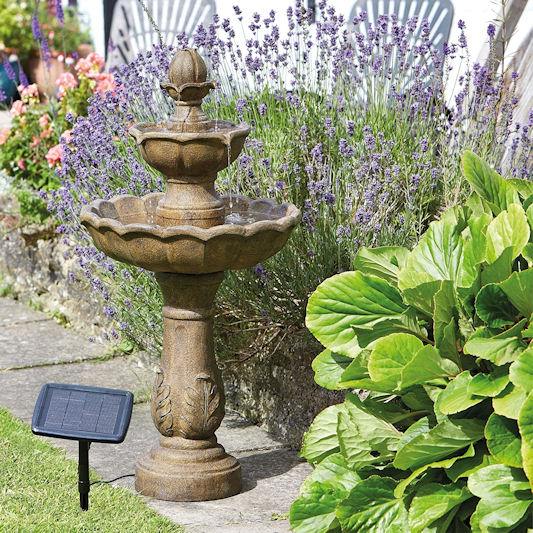 Reasonable price to pay if you buy on Amazon at a cost of £146.00, with delivery to be FREE.
Realistic, but stone resin 3-tier solar powered bird bath is bound to blend in with most garden decor, as it as a weather effect finish.
Replenish the bottom water bowl with the recommend water amount, before the pumps fill and the water creates a gentle water fountain.
Not reflected on the picture but something you may not of realised is this is a wired solar powered bird bath.
So while the water fountain will absolutely operate in sunshine, the solar panel is plugged into the bird bath via a short cable.
Its therefore a guarantee this ugly cable will be visible unless you cover it or bury it under gravel or stones, or perhaps peg it into the lawn.
Trip hazard it is but any wired garden ornament is not for most tastes; so if its no cables you want refer to the first option above or those below.
Overall, you still get what is an authentic water fountain helped to stay standing on a flat surface as its quite heavy.
While the top water bowl is not really going to be used as a water source for wild birds or a place to drink, the middle and bottom bowls will be used more often.
And while they're quite deep, causing a little bit of an hazard with the risk of birds drowning - so be sure to top the bottom of the water bowl with pebbles for more footing.
Smart Garden: Pagoda Solar Fountain Bird Bath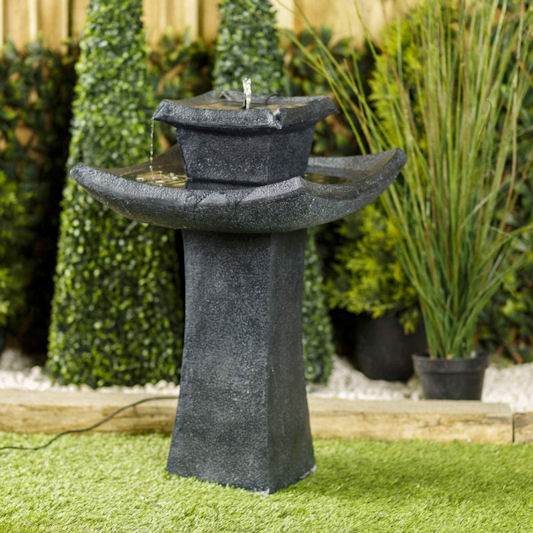 Well priced, highly rated on Amazon but a cost that is within reason, with a bonus FREE delivery if it applies.
Stone effect pagoda 'style' solar powered bird bath has a little Japanese feel to it, so will be an inviting prospect setup near a tight, blooming hedgerow or plant pots.
Its a 2-tier solar fountain bird bird so the water is filtered through the pump to the top tier, then the process is repeated for this water fountain feature to work
However, it won't work at all if you don't position this bird bath in direct sunshine, as it requires full on UV to operate.
Gentle trickle on the top tier will spill over the gaps on all four corners to create sensual, calming waterfall.
Little tidying up of cable on your part is needed as to keep it out of sight to not ruin the effect.
You will also need to position a independent solar panel on the ground nearby or the solar feature won't operate without it.
Built in a heavy stone resin before being painted in a UV and frost resistant, aged effect finish.
Wild birds who will attempt to take a drink can do so in the lower or upper tier, but for the bottom bowl, stones will need to be added for safety.
Amur: The Lovers Solar Fountain Bird Bath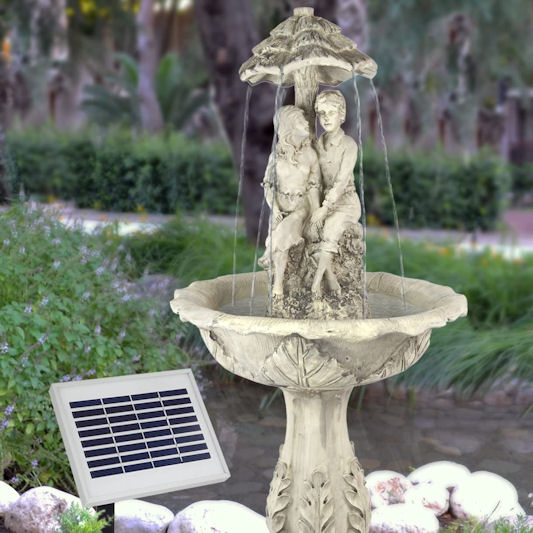 Upward cost of £200.00 if bought on Amazon, so its an investment that with last forever as a solar bird bath.
Wow, lots going on with this 'The Lovers' theme solar powered bird bath so let's begin with just that, the solar feature.
Designed as a hard wearing plastic resin, the bird bath as a pedestal bird bath style with an ornamental couple sitting in the middle of the water bowl, taking cover under a leafy tree.
Theme of the bird bath is a leafy one as leafs are encrusted on the bird bath stand and so too under the water bowl.
Fill up the water bowl once as the feature will recycle the water over and over again until it need replenishing as the sun soaks up much of the water.
Bird bath bowl is quite a deep one on this bath so to make it safe, its recommend you top up the bird bath bowl with stones or pebbles to create a footing for bathing birds.
Top heavy it will be so its not helped with the narrower foot of the bird bath, so a little stabilisation may be needed on a windy day.
What you do get with this solar powered bird bath fountain is a back-up LED battery, its therefore going to kick-in at night to continue to use the fountain feature with no sunlight - allowing you to hear the trickle of water as you lay in bed.
Much of this is hidden within the pedestal of the bird bath but you will need to setup with the wired solar panel near the bird bath.
Scotts Of Stow: Tree Trunk Solar Fountain Bird Bath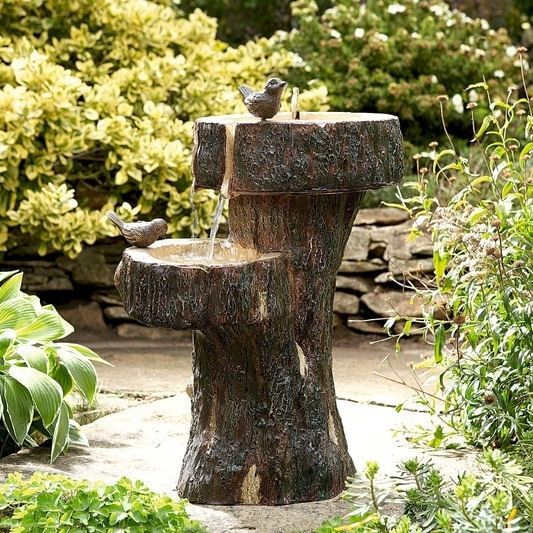 Well worth the cost of £130.00 or so via Scotts Of Stow with FREE delivery.
Not only can you really appreciate the gentle waterfall this 'tree trunk' style bird bath can offer you, but visually, its a beautiful creation.
Don't hide this piece on the top of the garden where it can't be seen, so position it where it can be enjoyed - and heard - by you while it blends into a natural environment.
No need to setup cables or a solar panel pack nearby either, ruining this little masterpiece - so no wires are needed.
Miniature fountain on the top water bowl will allow the water to pass through two openings where the water cascades onto an additional water bowl beneath it, both water bowls imitate a tree stump.
Made in weather-resistant polyresin with a little self-assembly required, but its a bird bath that is short but stands up well against wind.
Finished in a tree bark effect with the inner water bowls using the colouring of an inner tree trunk - just when the trunk is freshly cut.
On top of the upper tier fountain is an ornamental wild bird perched on the rim, so at least you can enjoy him until real wild birds stop by.
For this solar powered bird bath fountain to operate you need to position it in direct sunlight.
Solaray: Castille Solar Fountain Bird Bath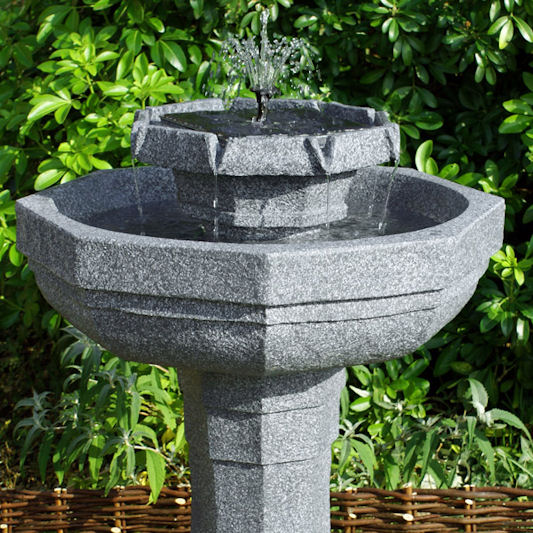 Simplified option but at a cost of £150.00 if bought on Primrose, with a delivery charge less than a tenner.
Simple yet highly effective solar fountain bird bath that is in the pedestal bird bath style with a non tripping hazard base.
Little setup needed to get started but as soon as its plugged in, the water fountain feature will begin.
Runs daily as soon as the battery is charged but will continue into the night for the four LED lights to illuminate the bird bath bowl.
The fountain is fixed to the solar panel where the LED lights happen to sit, so this solar panel will always be submerged underwater.
Solid, polyresin construction that is UV and frost resistant so will be able to withstand the elements all year round.
No wires to be seen on the outside of the bird bath nor is there a solar panel that as to be setup away from the bird bath - its all tucked up and out of the way inside the pedestal.
Bird bath fountain water is recycled so no filling up required, though it won't hurt to add pebbles to allow birds to enter the water with ease.
Solaray: Windsor Solar Fountain Bird Bath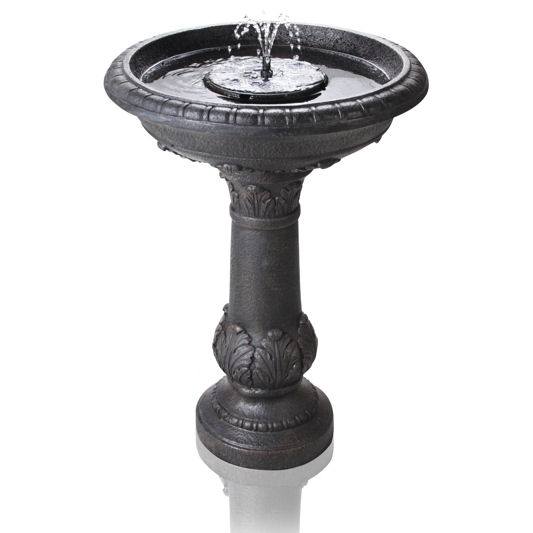 To buy this one on Primrose will cost in the region of £100.00, with a £7.00 delivery per order.
No cables needed so its a genuine solar powered fountain bird bath that makes use of the sun's ray, while avoiding the need to plug it in at the mains.
What a beautiful stone effect bird bath it is which is complete with fountain, LED lights and a battery pack to allow the fountain feature to operate on an overcast.
That's useful mind as this battery is needed to operate the four submerged LED lights that surround the gentle fountain - creating an amazing effect.
As it happens, you can select up to three fountain heads; so you choose one, six or eight fountain jets.
Its a 2-tier solar powered bird bath so the water jet is set on the very top, allowing the water to spill over eight gaps on the surround to allow it to cascade into the bottom, but much larger bird bath bowl.
Quite a deep one too so can be hazardous to wild birds who wish to bathe, so be sure to add a heap of pebbles to not only make it more shallow, but to offer a safe footing.
Enjoy this bird bath throughout the day as it operates while also charging; but enjoy it at night time with both fountain and lights operating at the same time.
And if you're wondering where the solar panel is, its positioned under the water line and is fixed to the fountain jet on the top tier bird bath bowl.
Share this article: