Squirrel Proof Fat Ball Feeders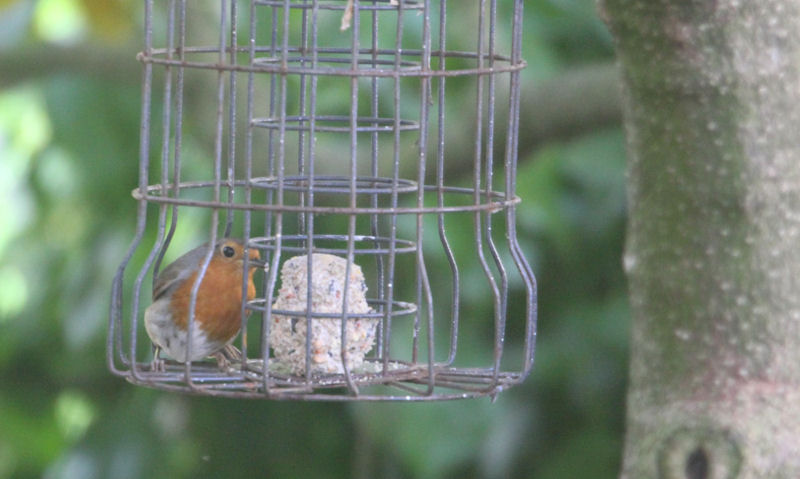 Squirrel Proof Fat Ball Feeders
Cut off the fat ball bird feeder to squirrels by using a blocking cage that will only allow small garden birds to feed, but keep squirrels out of reach of the tasty fat balls inside.
Buy only squirrel proof fat ball feeder made in metal or using a plastic protection coating, wired up to create a cage surrounded in what is a standard fat ball feeder. Make it an easy to open feeder with a pull up or off heavy lid, along with a large hanger that is used as a hoop to hang over a wall bracket or tree branch.
What you have to know with squirrels is that they're cunning little creators who are quite persistent on the feeder as they try to reach the feed contained within.
So be warned not all squirrel proof feeders work, as smaller, more cunning squirrels can get on the other side of the cage surround.
However, what you can do is buy a squirrel proof fat ball bird feeder that as a wide metal cage surround, to keep the beggars out of reach of the centre positioned fat ball feeder.
What else you need is smaller gaps between the metal wiring because as mentioned, they can often find a way in.
To keep squirrels out of a bird feeder you cannot rely on the design of the feeder alone.
Its therefore imperative you hang up the fat ball feeder out of reach of squirrels who can use an adjacent wall or fence as a bridge to access the feeder, using momentum.
Standard size suet fat ball for wild birds have a capacity of up to 4 balls only, with five at a push - but don't use too many at a time to avoid waste.
Squirrel Proof Fat Ball Feeders data
| Product Name: | Cap: | Length: |
| --- | --- | --- |
| Gardman: Squirrel Proof Fat Snax Bird Feeder | 5 | 26cm |
| Nature's Market: Wild Bird Fat Ball Feeder | 4 | 28cm |
| Home & Garden: Squirrel Proof Fat Ball Feeder | 4 | 27cm |
| Rosewood: Antique Lantern Fat Ball Feeder | 4 | 26cm |
| Petface: Squirrel Proof Fat Ball Feeder | 4 | 29cm |
| Rosewood: Classic Butterfly Fat Ball Feeder | 5 | 29cm |
| Supa: Caged Fat Ball Bird Feeder | 4 | 26cm |
| Tom Chambers: Proof Cage Fat Ball Feeder | 4 | 26cm |
I've been sure to only list what I consider to be the best squirrel proof 'fat ball' bird feeders on the market, within the UK.
In doing more due-diligence I've come to realise that while not always squirrel proof, the style is sure to keep larger wild birds at bay while only allowing small common garden birds to feed on this type of feeder.
Standard suet fat ball capacity is four balls only that can be inserted into any one feeder at a time, but make it five at a push.
Smaller fat balls in use can make it a six fat ball capacity but that is not to say you should use that many at a time - or else you risk wasting balls that go moldy before consumed.
Pay close attention to the measurements as its vital to know to allow room for it to hang; as to avoid bumping into nearby feeders, or a brick wall if hanging off a wall bracket.
Gardman: Squirrel Proof Fat Snax Bird Feeder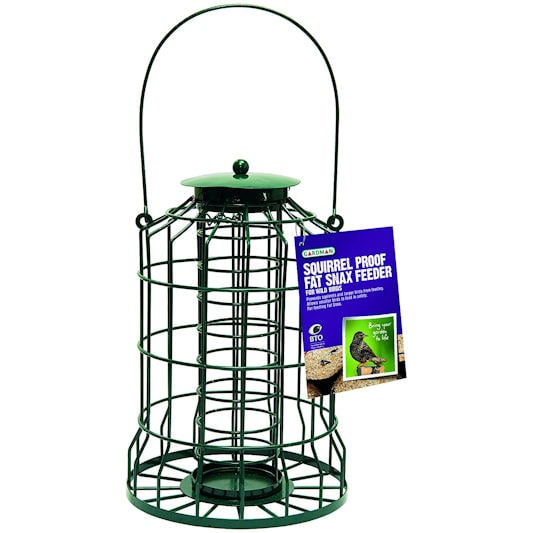 Get off to a good start with a practical but very popular fat ball bird feeder between ten to twenty quid when purchased off Amazon.
Rely on Gardman to offer a solid, tough Squirrel Proof feeder that is branded as a 'Fat Snax' feeder - rather than the fat ball equivalent.
What you get with this feeder is a reliable yet top rated squirrel proof feeder with a wide cage surround along with a practical 5-fat ball capacity feeder.
Small wild birds can enter the cage while deterring squirrels and larger, nuisance birds.
Made in metal wiring which is protected in a plastic coating to protect you and the wild birds who enter in-between the narrow cage gaps.
Easy to replenish with fat balls using an easy pull off lid on the top... so no hassle at all.
Standard hanging feature with a big large hoop for hanging off a corresponding metal wall bracket, or hang it on the bird feeding station.
Nature's Market: Wild Bird Fat Ball Feeder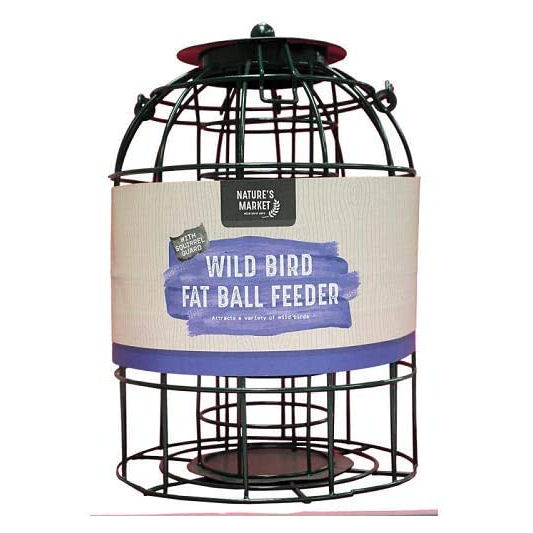 Cheapest squirrel proof feeder for fat balls to buy on Amazon with what is a very practical, but easy to manage feeder.
What is different to this Nature's Market wild bird fat ball feeder to what is a similar item above, is its made with a curve.
Its made in a solid metal wiring to create the cage effect, finished in a plastic coating to prevent rusting or corrosion.
Capacity of four fat balls can be inserted in what is an easy to open lid.
Simply pull up the lid to lift off the lid to insert fat balls, though it is a little heavy so won't be forced off by larger birds or squirrels.
Easy to hang off a wall bracket, feeding station or a tree branch with a large hoop. Hoop is on a hinge so can be pulled to one side to access the lid with knob.
Home & Garden: Squirrel Proof Fat Ball Feeder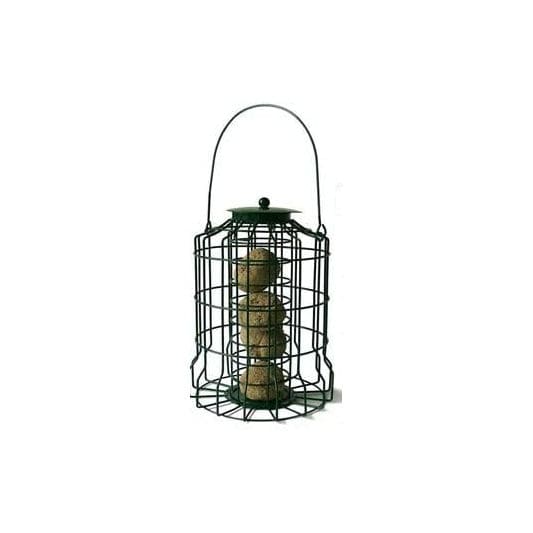 Still under a tenner fat ball feeder when buying on Amazon for what is a no-nonsense option.
Heavy-duty squirrel proof fat ball feeder in a green plastic coating with hard wearing metal wiring - which is used to construct the cage.
Once again its a simple pull-off lid with an additional knob for easy handling; weight of lid will sure to keep it firmly shut.
Fat ball feeder positioned in the centre is a fair distance to the outer cage so will make it hard for squirrels to come within reach, and so too large birds.
Can be hung up with the nice large hoop that is hinged but is removable for cleaning.
Quite a large, hefty fat ball bird feeder that will need space around it, so hang it up on its own off a bracket or only use a double bracket bird feeding station.
Rosewood: Antique Lantern Fat Ball Feeder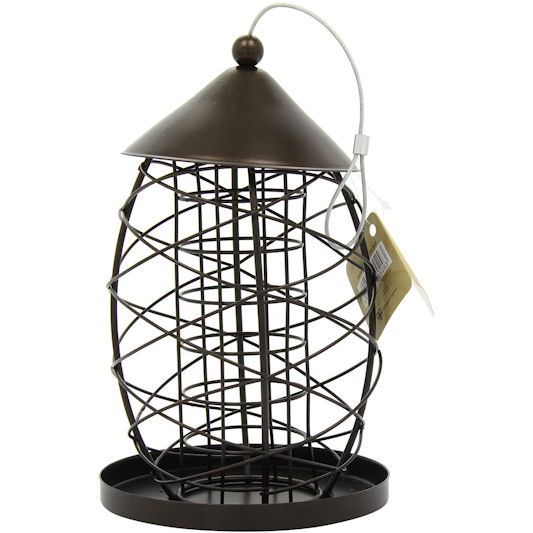 What I feel should be a more expensive feeder is actually a well priced one on Amazon, around the ten quid mark.
Beautiful bronze - or what is branded as antique - lantern style bird feeder with a lovely lid with an additional tray.
How you hang this fat ball feeder while replenishing it with suet balls is a little different.
What you do to refill with fat balls is simply pull up the lid that slides up on the rope, which happens to also be the hanging rope.
This rope has a nice little hoop on the end that is used to hook over a branch, bracket or feeding station - with plenty of length to do so.
Pointed, metal lid can offer some shelter to the fat balls beneath it, but only if there's no horizontal rain fall.
What is unique to this fat ball feeder to others listed is its feeding tray. It can be used to catch fat ball crumbs or why not fill it with additional seeds or nuts.
Petface: Squirrel Proof Fat Ball Feeder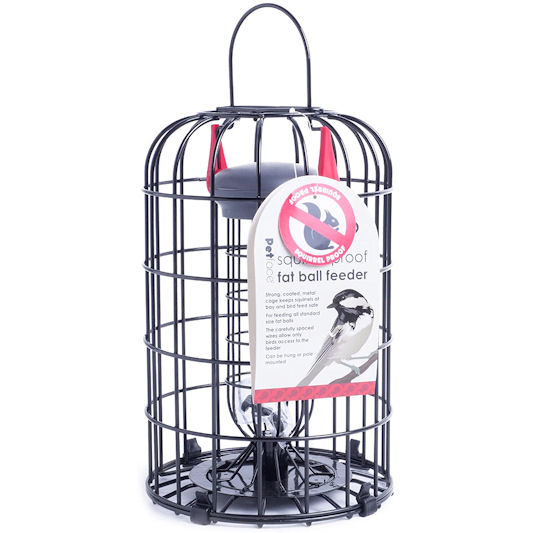 Most priciest fat ball feeder to buy on Amazon as it is a more stylish, yet a little more advanced options than most others.
Two fat ball feeders for the price of one here as this Petface bird feeder can be used as a fat ball feeder only - or why not slot on the cage surround if or when squirrels arrive.
Unique in design as it is very stylish, so pop open the lid with two hatches that also act as the hinge of the hoop for hanging.
Quite a short hanging hoop but you will have no issues of using a wall bracket or feeding station.
At its bare bones with no cage surround fixed on it will have a wide bottom cage that can double up as a perch for all wild birds to feed.
However, its also a support base for the cage once fixed on; so simply use the latches that come with the feeder to fix the cage on nice and tight.
Up to four fat ball capacity with a much wider cage to isolate the main fat ball feeder set dead in the centre.
Rosewood: Classic Butterfly Fat Ball Feeder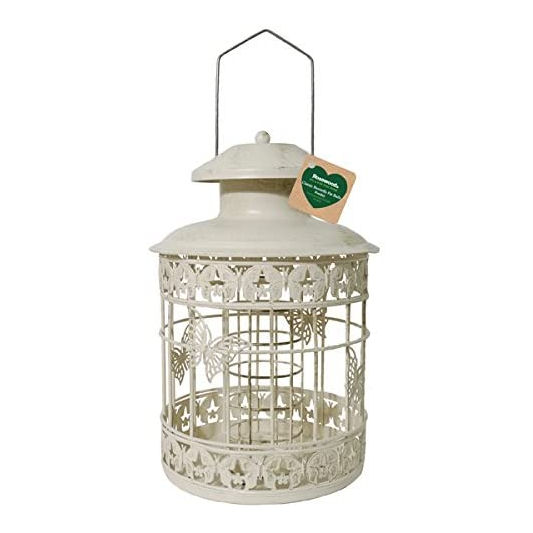 What fat ball feeder uses more metal than most so is a little costly on Amazon, but still way under £20.00
Now we're going upper class with this what is a posh classic butterfly fat ball feeder made in steel, but finished in a cream weather proof coating.
Unlike the squirrel proof fat ball feeders listed thus far, this particular feeder is a little harder to enter for squirrels and larger birds.
And while harder for small, agile wild birds they are able to enter in-between the tight gaps - which is supported with a decorative setting.
Can be replenished with ease by pulling up the lid on what is the handle and hoop for hanging - but the lid can not be completely removed.
Instead, once the lid and hoop are over to once side the inner fat ball feeder can be removed from its squirrel proof cage surround for easy cleaning and maintenance.
Supa: Caged Fat Ball Bird Feeder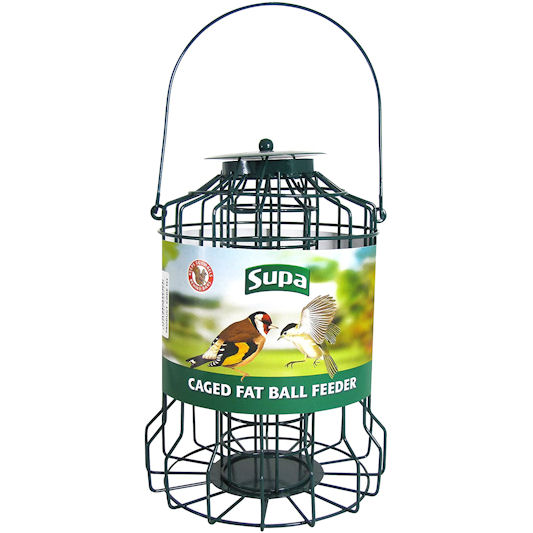 Right on price point to buy on Amazon as a tenner is about right for what is only metal wiring.
What will blend in with most people's garden decor is this heavy duty, tough metal caged fat ball feeder with one big loop for hanging up.
Supa have made a fat ball feeder that as a four suet ball capacity with an easy to open lid - and is supported with a wider metal cage for balance and extra weight.
Hang up this squirrel proof fat ball bird feeder using a large but removable hinged hanger that is the hoop for hanging off a bracket, for example.
Nice bit of distance from centre feeder to outer cage so won't be easily accessible to most large, nuisance birds or squirrels.
Hard wearing fat ball feeder that is sure to last the test of time out in the elements.
Tom Chambers: Proof Cage Fat Ball Feeder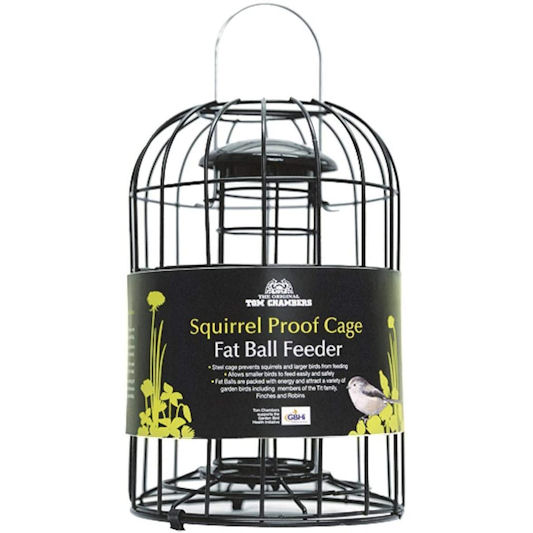 Upper end price range when buy on Amazon, but its one that will compliment any garden landscape.
And that finally brings me to highlighting this robust Tom Chambers go at a solid proof cage fat ball bird feeder.
Little more awkward to replenish with up to four fat balls I grant you, but it is a design that is more difficult for squirrels to open or larger birds to accidentally knock off the lid.
To refill with fat balls you will need to first remove the metal cage surround, to allow you better access to the fat ball feeder with a simple pull up on its attached metal hanger for hanging.
Once replenished, insert cage surround over bird feeder while using the secure clips around the bottom joint for a secure connection.
All that is to benefit you, the user, so being able to pull the whole feeder apart this way is sure to make it much easier to clean.
Share this article: