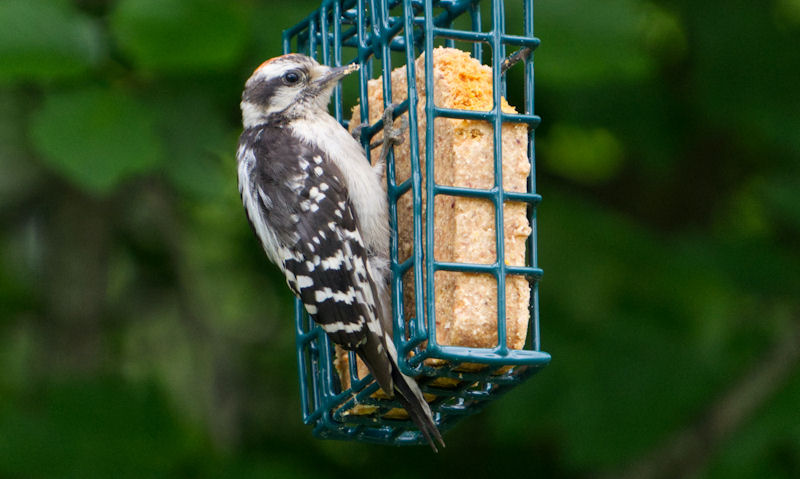 Suet BLOCK Bird Feeders
Made to hold all sorts of scraps, suet block bird feeders are hanging metal square cages with wide openings to allow wild birds to feed on suet blocks.
Hang up a suet cake enclosed in a caged suet block feeder for wild birds to perch from on all angles to feed. Made in a metal wiring with a plastic coating, hang it using a chain or use a solid hanger. Easy to open with full side-opening panel where you can not only use suet blocks, but kitchen scraps can be used.
Not easy on the eye at all suet block feeders are they, but for practicality purposes, they really do work for wild birds to feed off.
Made to insert one standard square shaped flat suet block for wild birds at a time, as it uses a simple pull open side panel.
Opening up to replenish with suet blocks needn't be to hard so it really is that easy.
Once opened up place a suet block in as the shutting mechanism is a simple hatch, so wait until you hear the click to lock.
However, you are not limited to use of square flat suet blocks for wild birds, in fact you can insert rounded suet fat balls, any household scraps or even your own homemade suet cake recipe - providing you made it to fit.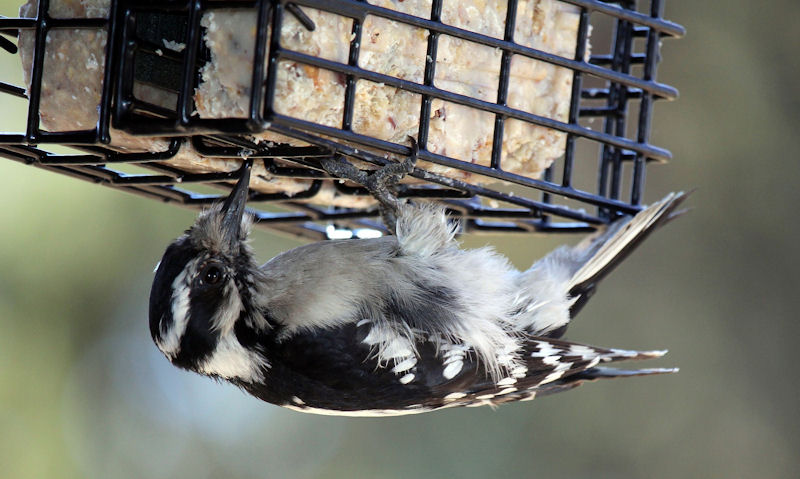 Where to hang the suet block feeder is up to you, but there's no harm in making use of a hook on a wall bracket or a spare hook on a wild bird feeding station.
I would recommend you hang a suet block feeder off a tree branch in natural cover, but any object around the garden can be used to secure a hanging suet feeder.
Made in an all metal construction, suet feeders can withstand all weather while a plastic coating can be used - including an all durable plastic build option on my list.
To hang up a suet block bird feeder you have an option of a metal chain or solid hanger.
Hang up a suet feeder using a chain for simplicity, as it can hoop over any object you see sit - whereas a solid hanger can cause the feeder to not stay level, where its hard to hang off any item that doesn't have a narrow open end - such as a branch.
Suet Block Feeder data
| Product Name: | Opening: | Hang-Type: |
| --- | --- | --- |
| Peckish: Suet Cake Feeder with 8 Suet Cakes | Side | Chain |
| Gardman: Flip Top Suet Feast Feeder | Flip-Top | Hanger |
| Nature's Market: Wild Bird Suet Cake Feeder | Top | Chain |
| Kingfisher: Premium Suet Cake Feeder | Lift Up Lid | Hanger |
| Green Jem: Suet & Scraps Feeder | Side | Hanger |
| Jacobi Jayne: Suet Cake Feeder | Side | Hanger |
| Fallen Fruits: Suet Cake Holder | Side | Chain |
| Johnston & Jeff: Suet Block Feeder with Tray | Side | Chain |
| Green Jem: Suet Bird Feeder | Side | Chain |
| Supa: Quality Suet Scrap Feeder with Tray | Side | Chain |
Of the ten suet block bird feeders I have for you, know that all are made for the use of square suet blocks only.
But in listing them all, I've made sure to offer you up all types of suet block feeders, while being practical as they are easy to use.
To open them up to insert a square suet block, the feeders use a simple pull opening side panel or top lid - but you only need to push it shut to secure.
Hanging method is important in wild bird suet block feeders as the wrong feature can see the suet feeder hang lopsided.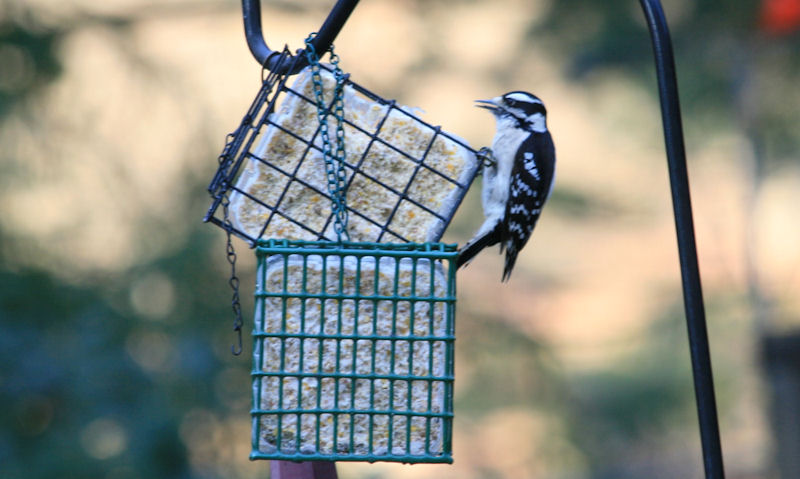 So while a chain can prevent this, so to can a metal hanger providing it uses a point of some kind so the suet feeder remains level.
Common garden birds that eat suet so more likely to feed off your suet feeder are: Dunnock, Robin, House Sparrow, Long Tailed Tit, Goldfinch, Bullfinch, Blue Tit, Great Tit, Chaffinch, Greenfinch, Coal Tit or Song Thrush.
Special shoutout to a Great Spotted Woodpecker who adores hanging off a suet feeder.
Peckish: Suet Cake Feeder with 8 Suet Cakes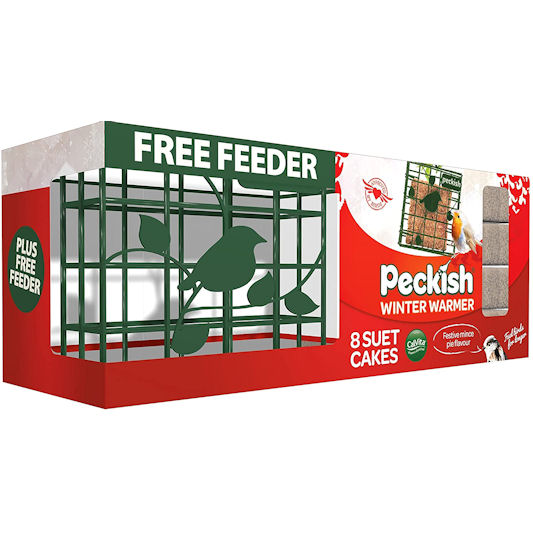 To buy it on Amazon it costs a little more because you do get the eight suet cakes with the feeder after all.
Get off to the best possible start by setting up a suet block bird feeder that includes eight suet cakes, plus the suet cake feeder.
In anticipation in buying this Peckish suet cake feeder you will want to avoid buying suet blocks for now, as this set should keep you going for up to a week or so.
Only then once its nearly gobbled up by your garden birds you can buy more.
Standard size metal caged suet block feeder that uses a chain for hanging, while using a hook on the end to wrap it around an object, before locking it in.
To replenish this caged suet feeder, you'll need to simply pull up the side hinge door, before planting in the flat suet cake - then finally close it up tight.
Gardman: Flip Top Suet Feast Feeder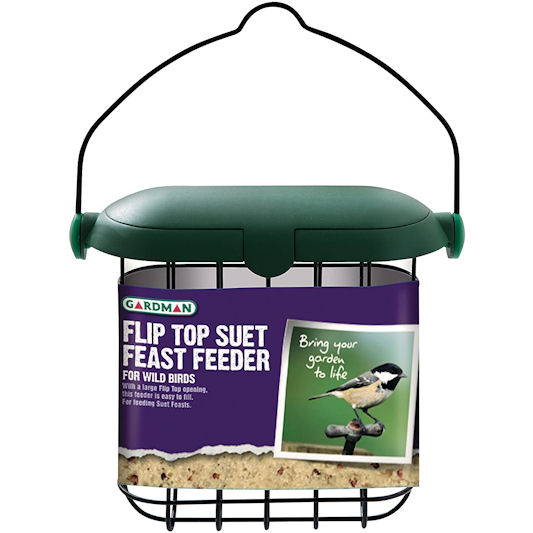 Low price on Amazon despite the useful flip top mechanism with solid construction.
If there's anything Gardman do well, that is making sure their product line is accessible to all, so is easy for anybody to use.
Made in a plastic coated wiring to make up the cage design, which I might add is more curved yet more attracted.
To hang it up simply use the hinged hanger to loop onto a corresponding bracket or hook of some kind, like a branch or washing line.
On top of the hanger is an additional hoop that is used to level off the suet block feeder as it hangs - without it could see the feeder continuously being lopsided.
Magic of this suet block bird feeder is the simple, yet what is promoted as a 'flip top' lid.
Simply pop open the lid with its hatch for opening, then insert suet cake one at a time - then close it up tight to hear a click.
Nature's Market: Wild Bird Suet Cake Feeder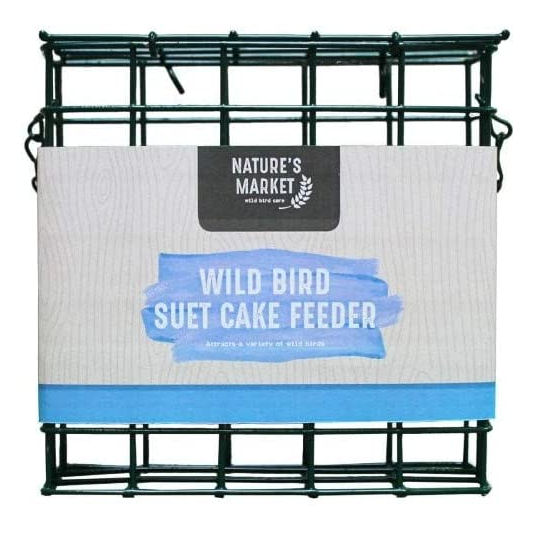 One of the cheapest suet block feeders on Amazon with delivery thrown in.
Garden suet eating wild birds will have little in the way of trouble feeding off this cheaper suet cake feeder, as it will see all angles possibly used.
More square shaped but effective as it is practical, with a simple chain for hanging up on a bracket, branch or even a washing line.
Replenish suet feeder using its opening top side to pop in a suet cake before closing.
Comes in green so will help blend in with a garden landscape with natural coverage nearby - but in fact that is a weather resistant plastic coating with a steel wire insert.
Suet cakes of all types can be used in this bird feeder but so to can household scraps if you are short of suet cakes.
Kingfisher: Premium Suet Cake Feeder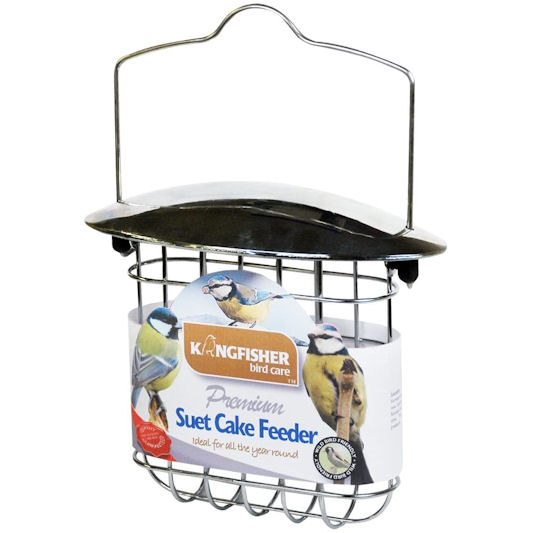 Most expensive suet feeder on the list when bought on Amazon, but that is only because of its all metal build.
If a reflection or glistening lights are to attract wild birds to them, you can be sure this all chrome, made in metal suet cake feeder might do the trick.
Suet block feeder is made in shiny steel so not cheap, or inferior material used on this one.
Metal cage is formed into a suet block cage with wielded sections to keep it together.
What you end up with is what must be the most attractive suet feeder of the lot, so make a statement by using a bird feeder that is sure to last the test of time.
While the lid, also made in steel, offers a little coverage but its not to say it actually works. But that's OK because suet blocks can be left out in all weather.
To open up the suet block feeder for replenishing with new suet cakes; simply make sure the hanger is standing up straight before pulling up the lid.
To hang this suet feeder, it makes use of a square shaped hanger with a little lump centred on top to keep the suet feeder carefully balanced.
Green Jem: Suet & Scraps Feeder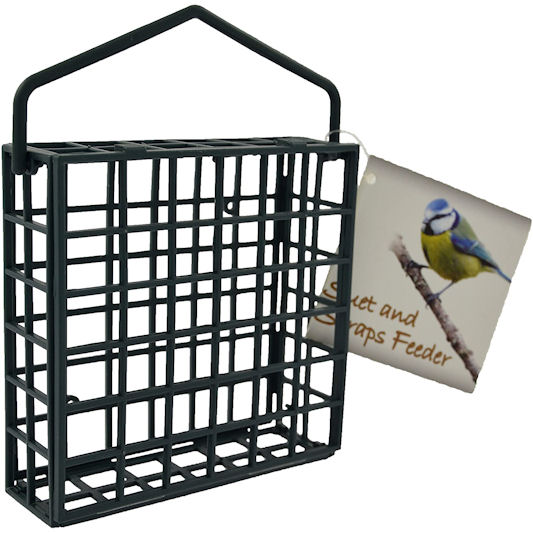 Made in durable plastic but at a cost of its metal counterparts, to buy on Amazon will see FREE delivery.
Never thought I've see an all plastic suet block feeder, but you can at a reduced price over its metal counterparts, if only just cheaper that is.
Easy to use still as it uses a whole side opening, or pull down hinged door so you can simply plant the square suet cake with no trouble at all.
I must point out, what with the all plastic construction of this suet feeder; if suet cakes or scraps are a little too big for it, know that the plastic allows a little bend - whereas there's no room for extras in all metal cage feeders.
So if not using suet blocks, you will have no trouble inserting in up to five rounded suet ball - assisted using the full opening side panel.
Hanging feature is what I would say is more practical than on premium suet block feeders, due to the pointed hanger allowing better balance - whereas other options only use an additional lump in the hanger that doesn't do well in high winds.
Jacobi Jayne: Suet Cake Feeder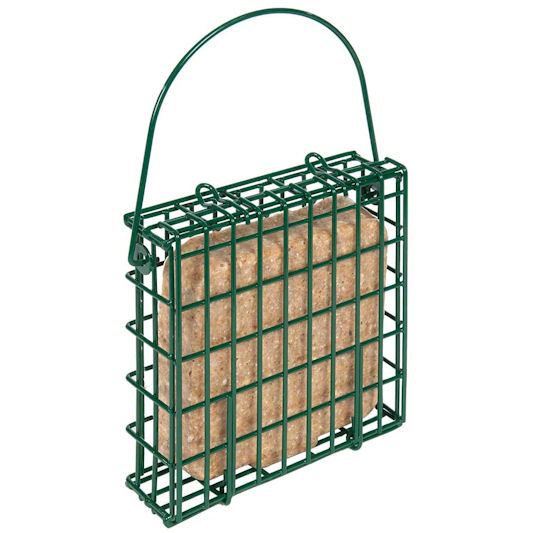 Simple as can be so is one of the cheapest suet block feeders to buy on Amazon, along with the 'Choice badge' of honour.
While Jacobi Jayne do make beautiful creations in their wild bird supply line; so to do they build simple yet practical feeders.
This all cage suet block feeder uses internal steel wiring which is then protected in a soft, more user-friendly plastic coating.
Result of that is a suet block bird feeder made to be accessible from all angles.
Opening up the suet block feeder to insert suet cakes is made easy at it allows one whole side to be pulled down to pop in suet.
Hinge is located on the bottom while the feed is secured inside using a clip on gizmo.
Where it can go wrong in terms of hanging ease of use is keeping it still on the hanger or chain feature.
You have a highly practical hanging up feature with a hanger that is more rounded, so any weight displacement will only see the suet feeder level off.
Fallen Fruits: Suet Cake Holder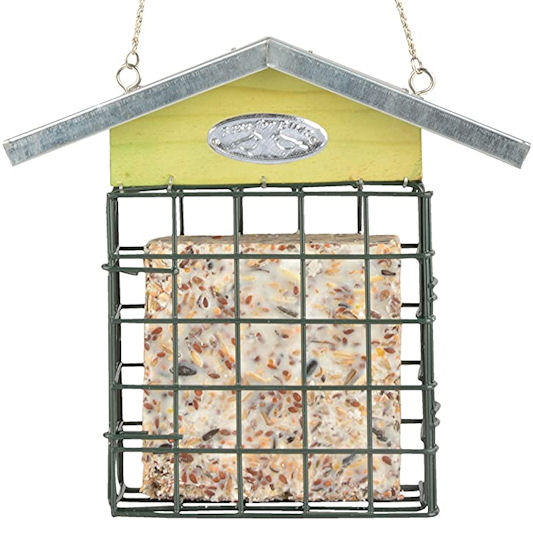 Metal cage, wooden top section plus steel roof offers top ratings on Amazon with no change in price.
Fallen Fruits don't often follow the rules of wild bird products, as they decide to go one better by releasing their own style.
So here is the companies take on a still practical suet cake holder, that is designed with a metal, angled roof for holding the hanging chain mechanism.
For sure, the caged suet block feeder imitates other, more common designs, but what makes it different to the competition is the roof section.
Not so much for keeping rain water off the feed but more for style only. Having said that, the roof is where the hanging chain is securely fixed to.
So to then will wild birds concentrate their suet feeding time on the suet block cage below it the roof rather than from above.
Access to the interior is made using a pull up and shut side panel for placing in a suet block. It uses smaller gaps than usual but so too thinner wiring makes up the construction of the caged section.
Johnston & Jeff: Suet Block Feeder with Tray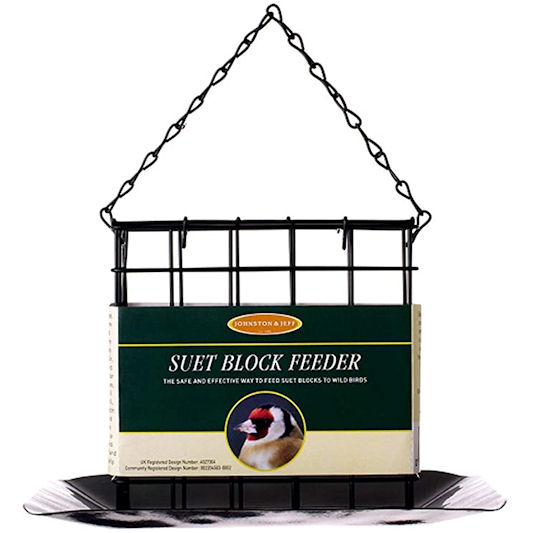 No extra cost to buy on Amazon despite the additional tray bonus.
First of only two suet block feeders that uses a tray, now I will say wild birds make a mess with or without a tray, but it can prevent a little mess that's for sure.
Not only will wild birds cling onto the cage they use to poke their heads through to feed, but they may also use the tray as a sort of perch while they eat.
Leftover suet is bound to be gobbled up on the tray so it serves a practical purpose.
Fixed to the suet block bird feeder is of course the caged surround, used to hold only flat suet cakes with scraps optional.
Open up the side panel to replenish with suet or scraps but it secures tight as the clip shut over the bar on top.
Hang this suet feeder using a lovely chain feature with an option to hang off a wall bracket, hang it off a bird feeding station or why not simply hook it over a tree branch.
Green Jem: Suet Bird Feeder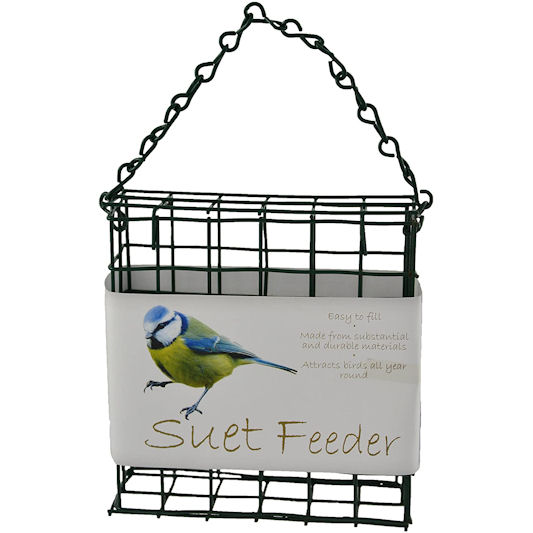 Short of a full ratings on Amazon but it comes at a reasonable price.
If you'd bothered to read through my suet block bird feeder best buy's list thus far, you may come to notice Green Jem have been listed above once before.
Only that one was a plastic suet block feeder made in an all durable plastic construction.
But Green Jem now have a all metal suet cake holder for you that uses a metal chain rather than a solid hanger for hanging.
To be a chain this suet feeder stands to benefit with more with no signs of it being lopsided - but that is helped with a metal build that adds a little weight.
Pull down the side panel to insert a suet cake, one at a time; so no locking mechanism needed as its secured tight as a metal hatch clips over a corresponding metal bar.
Suet cake feeders needn't be or go too complicated, as this simply yet practical feeder shows.
Supa: Quality Suet Scrap Feeder with Tray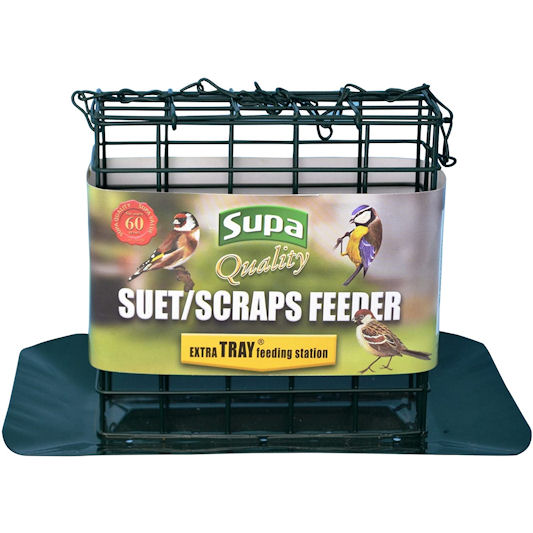 No need to pay for delivery if bought off Amazon, but is also rated high.
Only the second suet feeder with tray on my list but one that is highly attractive, but will serve your garden birds well.
Open up the side panel to insert a suet cake, but don't worry about crumbs as the tray is sure to catch most of it.
Wild birds will perch on the cage to feed but don't be surprised to see them using the rim of the tray while they eat.
While the tray is their to catch crumbs rather than allow suet bits to fall to the ground, know that wild birds will sure make a mess regardless.
Make use of the fixed chain to hang off any appreciate object where birds can feed in safety - but the chain will help keep the whole thing balanced.
If not using suet cakes of any kind, it is possible to replenish the suet cage with scraps you might find in the kitchen.
Share this article: