Best Blackbird proof bird feeders
While not promoted as Blackbird proof bird feeders, this selection is sure to keep them away, while only allowing small garden birds to access the feeders.
Blackbirds do prefer to feed off the lawn as ground feeding birds, but can once in a while make a nuisance off themselves on easy to access bird feeders. Its this then we must focus on, by only using feeders that hard to access for this less agile bird. All that's needed is lightweight feeders with or without a perches.
While a Blackbirds diet mostly consists of insects and worms, including berries and in-season fruits - its vital non of this food variety is hanging up in bird feeders.
And while non of this mix of food can be found in bird feeders, mealworms in specialty feeders can be bought but shouldn't as they can attract Blackbirds.
Similarly, berries or other fruits can be the main ingredient making up suet balls.
As a larger garden bird, Blackbirds do indeed find it hard to use hanging bird feeders, and especially those that are lightweight as the movement can kick them off with ease.
Likewise, seed bird feeders for small birds is a must, but while a perch is always fixed to it; so remember the bigger the perch, the Blackbird would have better footing.
With all that in mind, don't be tempted with open feeding platforms such as dishes or bowls mounted to bird feeding stations, or allow Blackbirds to feed off an easy to access bird tables.
In the end, your bird feeder options would be peanut or seed feeders, of which is not part of the Blackbird's diet - so will help deter Blackbirds just because its the wrong kind of food.
Best Blackbird proof bird feeders might not be a bird feeder at all; so as Blackbirds are ground feeding birds - why not set up their own feeding area on a ground bird feeder, thus keeping them far away from your hanging bird feeders.
Blackbird proof bird feeders data
| Product Name: | Feed Type: | Perches: |
| --- | --- | --- |
| Fallen Fruits: Acorn Nut Feeder | Peanuts | None |
| RSPB Small Seed Feeder | Seeds | 2 |
| Nature's Market: Seed Feeder | Seeds | 2 |
| RSPB: Premium Nut & Nibble | Peanuts | None |
| iBorn: Seed Mix Feeder | Seeds | 2 |
| Kingfisher: Premium Seed Feeder | Seeds | 2 |
| Oakdale: Filled Seed Feeder | Seeds | 2 |
Do not under estimate the need for lack of perches, because if the perch that is mounted just below the port hole - it could be all that's needed for a more agile Blackbird to feed.
I've therefore taken the liberty of listing which Blackbird proof feeders are made with a perch, and how many.
Similarly, its important to never offer food the Blackbird eats as part of their diet.
So I've been sure to not include mealworm bird feeders while recommending never to use suet in block, ball or the pellet kind with berries.
Its only bird feeders for peanuts or seed mixes on offer then as others could be risky.
Fallen Fruits: Acorn Peanut Feeder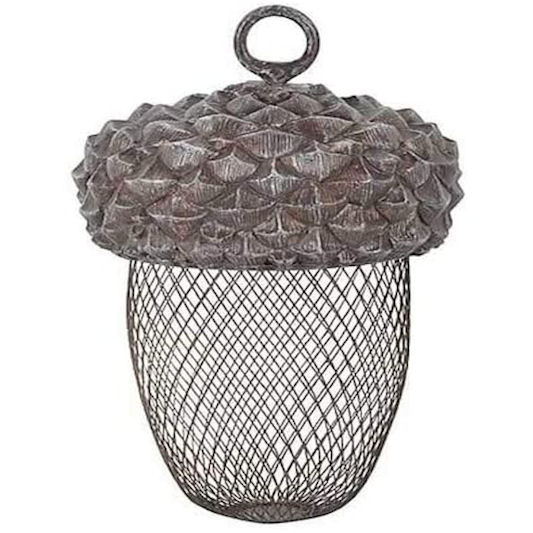 For around a tenner you'll get your hands on a feeder that would be tricky for Blackbirds to access, made available on Amazon.
What is essentially an acorn shaped peanut feeder, the bulk of the nuts are secured in the hanging mesh cage while the acorn shape is present on top.
Blackbirds don't hang like woodpeckers or smaller garden birds, so in that respect it would be hard for them to feed off this peanut feeder.
Very pleasing on the eye and one that would look its part hanging up on a tree branch.
To replenish with nuts you simply pop up the acorn top with the hook fixed for hanging off a bracket or branch.
For this partially bird feeder I have no doubt a bird feeder hanger would be needed or else you'll be limited to what it can be hung off.
RSPB: Small Premium Seed Feeder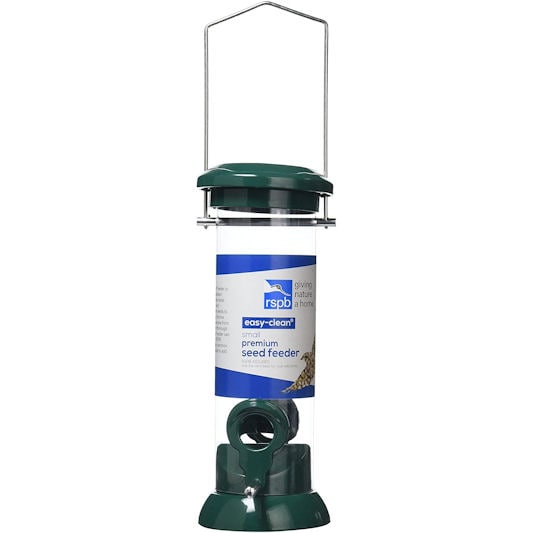 Most expensive feeder on my list of all Blackbird proof feeders, but to buy on Amazon you do get the benefit of easy returns if needed.
Expect the utmost quality with this RSPB branded small seed feeder, designed in steel to last well in the tough British weather, while maintaining its quality appearance.
Actually, its only the screw off perches that are made in steel while the rest of the body is made in UV stabilised polycarbonate.
Tits, chaffinches and sparrows can feed on regular seed mixes or sunflower hearts while making it harder for Blackbirds to do the same.
Easy to clean, simply unscrew the two perches to allow the base to drop off, thus offering you unrestricted access to the clear plastic tube interior.
To replenish with seeds you only need to lift up the lid while its still connected to the hook for hanging.
Nature's Market: Wild Bird Seed Feeder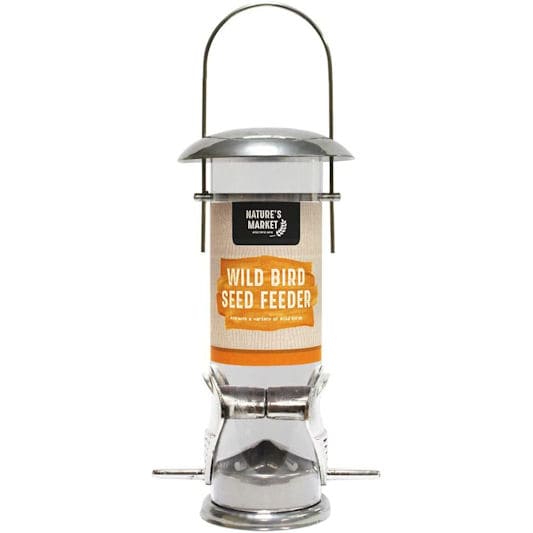 Two for the price of one if bought on Amazon so you can be sure you attract more birds with no one going without.
Seed feeder again so that alone should be enough to deter Blackbirds from ever using it, but it does have one thing that can make it hard if they do try.
Blackbirds would find it hard to land on the perches, and if they do it would be made harder for them to feed through either one of two feed port holes.
Removable base for cleaning the interior plastic tube and all its accessories.
No need to bother with this every time to re-fill with seeds as you only need to lift up the lid while its still connected to its hook for hanging - as it always is on regular small seed feeders.
Remember, this is a set of two feeders to get you up and running with seed feeders on the bird feeder station, or use them in two locations at once in the garden.
RSPB: Premium Nut & Nibble Feeder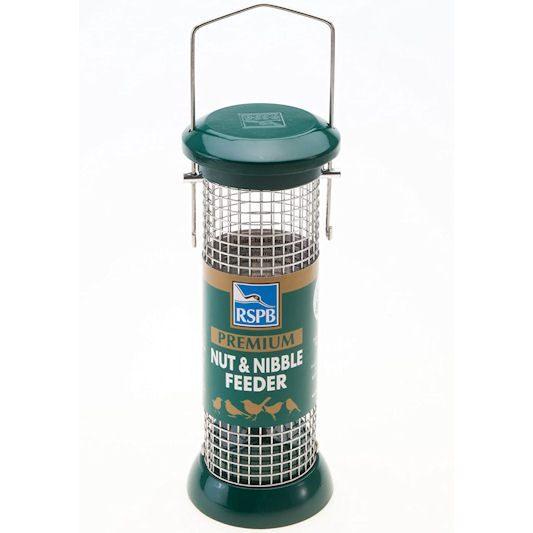 Can't have a the best Blackbird proof feeder without RSPB listed more than once, and to buy on Amazon the price would be within range.
Finally, I've listed what could be a Blackbird proof bird feeder made for peanuts, with this RSPB option being one of the best.
Solid stainless steel mesh cage has small square holes for small garden birds to feed on peanuts through.
And while the occasional cunning Blackbird could cling on too, its less likely unless there's a long perch to assist in doing so.
Open it up to replenish with a fresh batch of peanuts by lifting up the lid. The lid cannot be removed from its hanger for hanging, unless you want to disassemble it.
However, you can remove the lid and its hinge for holding it on for cleaning and maintenance.
Likewise, the base has a screw to be undone as to pull off the base for accessing the inside of the mesh cage.
iBorn: Seed Mix Feeder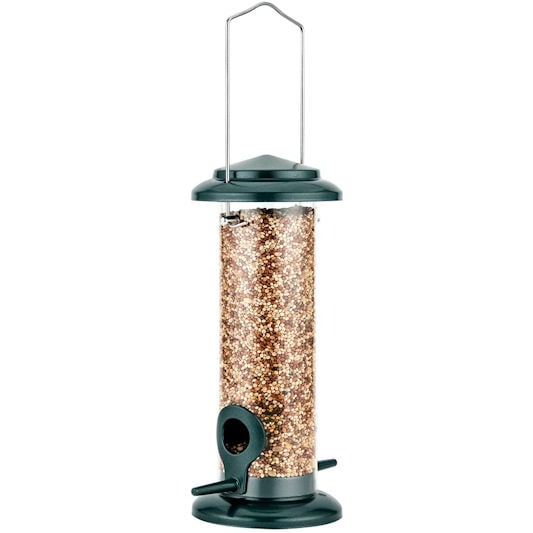 Second highest cost bird feeder on my list, but to buy on Amazon you'll be backed up with that all important after service, if needed.
Its a safe bet this one for keeping Blackbirds at bay, as the lightness, including the way it moves around while it hangs can make it hard for Blackbirds to use.
Classic seed bird feeder all the same made with a clear plastic tube for adding mixed bird seeds.
Two port holes come with a corresponding perch for smaller birds to feed with ease.
No real disassembly but the lid can be pulled up and over quite a way for you to not only replenish with seeds - but to give it a good wash every once in a while.
Lid can only be pull up and over but not off all the way. To do that the metal hanger its fixed too must be up straight.
Kingfisher: Premium Hammertone Seed Feeder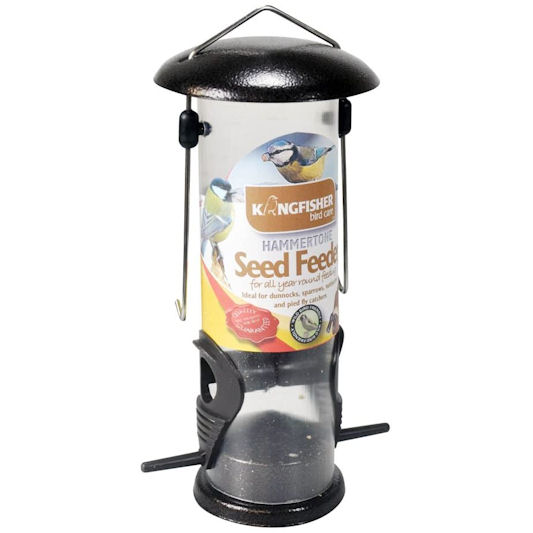 Not only is this bird feeder the cheapest on my list, and to buy on Amazon in the range, but its just as effective as all options outlined thus far.
Big selling point of this seed feeder is of course the hammertone finish, and you can see this on the black painted finish that offers a sort of ripple effect.
Solid metal lid and hanger, along with the base and its adjoining perches with port holes.
Clear plastic tube is where the bird seeds are stored, while a simple pull up of the lid on its metal hanger is where seeds are added.
Access can be made via the base for maintenance, but all that's really needed with little fuss is simply lifting up the lid to re-fill or clean.
Hooks on end of metal hanger bar is to stop hanger coming off all the way, while stopping at full length only when hung up.
Oakdale: Filled Seed Feeder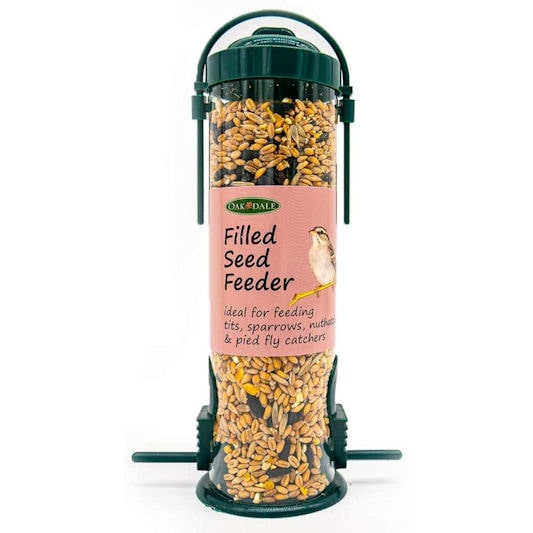 Second cheapest seed feeder on my list and one of the lowest, most affordable options on Amazon.
Last on my list but by no means it doesn't make it any worse or better than all my options I've outlined.
In fact, in terms of durability this one really is the business, made in durable plastic with a tough clear plastic tube where seed mixes can be seen at all times.
Supporting the small garden birds - so not the Blackbirds - is two perches opposite, that is connected to the port hole for accessing seeds.
Pull off the supporting hanger for hanging to remove the lid, or simply lift up the lid on the hanger for a quick and easy re-fill of seed mixes.
Sold as made for small or large birds, but in reality only small garden birds would use it, as its made hard for the larger species.
Share this article: