Ceramic Bird Bath with Stand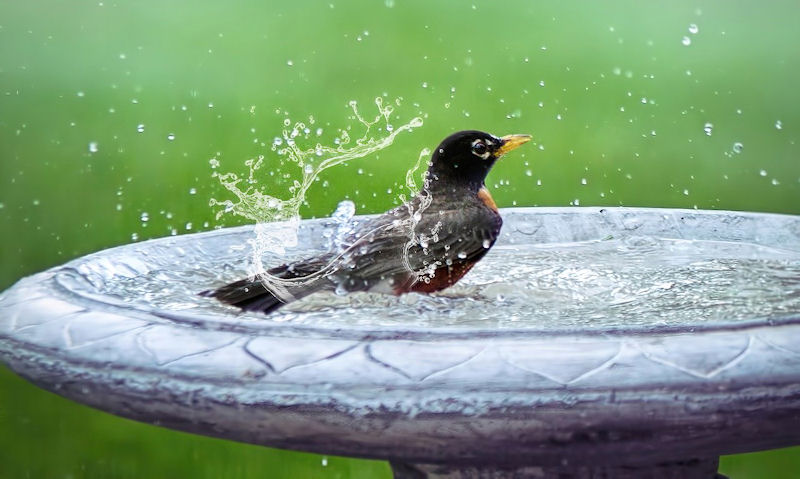 Ceramic Bird Bath with Stand
While you could go for a basic white ceramic bird bath for your garden, why not a make it a beautiful brightly painted, decorated bird bath on a stand or dish style.
Ceramic bird bath with stand is what a water bowl on a pedestal is, only its made in ceramic then glazed for a smooth finish. Resistant to all weather but will need to be location on a patio or patio slab. Bird baths made in ceramic don't offer much in terms of real footing, so line the basin with pebbles to assist birds.
Believe it or not, its now harder to shop for genuine ceramic bird baths with a stand then ever before - and boy weren't it hard for me to offer up a selection for you.
But in doing so, research as shown that ceramic bird baths are just as practical for wild birds to use than their stone, cast iron or plastic pedestal bird bath counterpart.
With one condition, ceramic is glazed to create a smooth, yet slippery all round surface.
Hazardous it becomes as wild birds find it hard to get a foot if in trouble while bathing, so I always recommend the use of pebbles to line the bird bath bowl.
While you are at it, why not sit a rock or two in the water to offer a better, more grip perch to guarantee more use of the bird bath rather than wild birds not using it at all.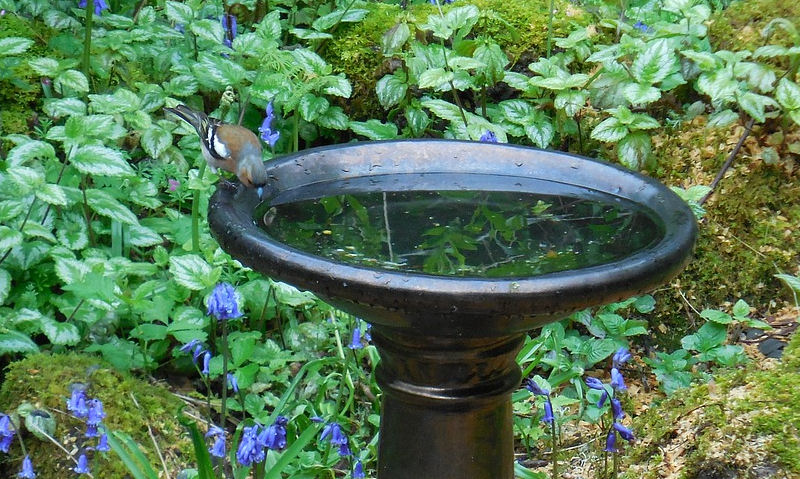 Ceramic bird baths with stand sit a wide bowl that is fixed or can be removed, but it is still a water bowl that has practical uses for filling up with water, or feed if you want.
More colour selection than any other type of bird baths with stand, so make it a bright one to match a more modern landscape, or to brighten up the bland garden decor.
Classic ceramic bird baths sit on a tallish stand but the bottom base can be quite small.
But due to the weight of compacted ceramic, this stands to help the bird bath stay standing in any wind.
Positioning of ceramic bird bath can be central to a patio or on a single slab, but to site it more into the garden natural surroundings, could see more success.
Ceramic Bird Bath data
| Product Name: | Height: | Stand: | Colour: |
| --- | --- | --- | --- |
| Alpine: Antique Ceramic Bird Bath | 60cm | Base | Off-White |
| Alpine: Antique Ceramic Bird Bath | 60cm | Base | Brown |
| Everything Wildlife: Coniston Bird Bath | 62cm | Base | Blue |
| Fallen Fruits: Ceramic Bird Bath on Pedestal | 46cm | Base | Blue |
| Fallen Fruits: Ceramic Bird Bath on Pedestal | 46cm | Base | Green |
| Echoes: Ceramic Bird Bath with Stand | 35cm | Base | Green |
| Wildlife World: Ceramic Petal Bird Feeder | 71cm | Stake | Red |
| Wildlife World: Ceramic Petal Bird Feeder | 71cm | Stake | Blue |
To know the height, what type of base is used and the colour, can assist you in buying a ceramic bird bath on stand that fits in with the decor of your garden landscape.
You might not of realised it yet but there's really only the five or so original bird bath listed, whereas more are added in a different colours only.
So while one can be a promising purchase, I different colour can be made available, so in turn be more appealing to you.
Height is top of water bowl to the base, but the two tallest applies to the bird baths you have to impale into the ground only.
Other than that, all ceramic bird baths use the traditional stand with a rounded base.
Alpine: Antique Ceramic Bird Bath, Off-White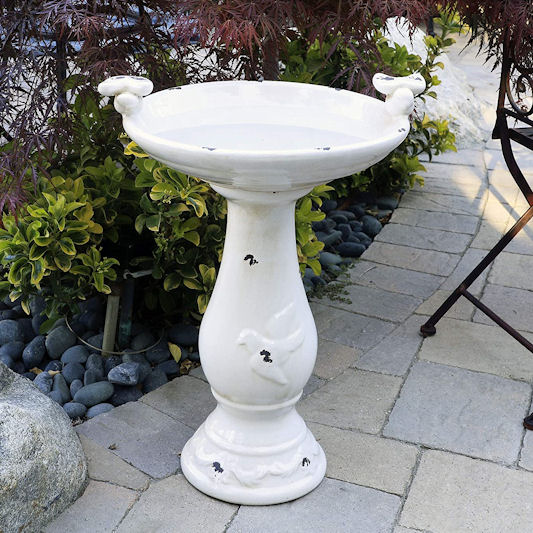 Not cheap but that is a bird bath made in ceramic, so buy with ease on Amazon.
Spruce up the garden with this off-white glazed ceramic bird bath made to be the focal point of any garden lawn or patio.
It needs a patio slab or paving stones to remain standing upright with its narrow base.
Blends in with an equally bright garden landscape but can otherwise brighten up a dull spot into a busy wild bird paradise.
Ornamental it is so will need to be taken care of, but when there's no water source needed, why not switch to a bird feeder with stand.
Subtly decorated with wild bird encrusted pedestal with bird ornaments sitting on the bowl rim.
Antique style only so the brown marks what appear to be scratched on this ceramic bird bath, are imitation only, so not real.
Shallow bowl can be added with pebbles as wild birds use the rim to perch.
Alpine: Antique Ceramic Bird Bath, Brown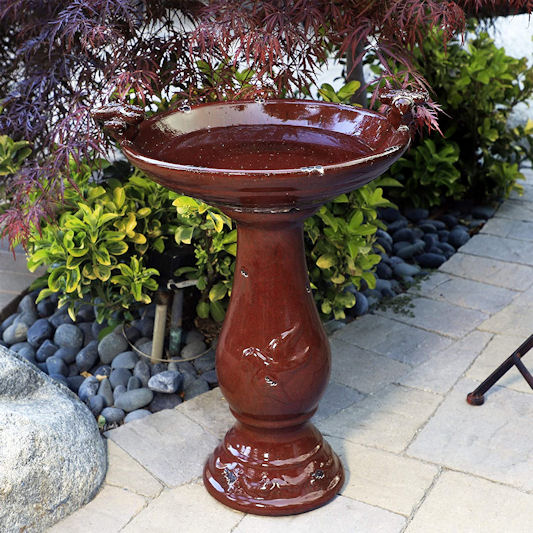 Costliest to buy on Amazon for well over a hundred quid.
Exact same ceramic bird bath as listed above, only this one while still made to appear antique, is glazed off in a brown finish.
Can be positioned on a patio or paving stones of equal or similar colour theme, but the colour scheme can blend in better with a more leafy landscape.
Standing out if isolated on its own, but I would say this bird bath is calling out to be close to a hedgerow or sitting in a soil patch - still on a patio slab of course.
Promoted as a shallow bird bath bowl but in comparison to many other bird baths on the market, this is what I would categorise as a deep bird bath.
Clean, smooth finish of the ceramic can be more a nuisance to wild birds attempting to use it for drinking or bathing.
So I therefore recommend the use of pebbles to line the basin while a rock or two can be centre positioned to act as a safer perching area.
Not the largest rounded base so make sure its leveled off on a patio slab or paving.
Everything Wildlife: Coniston Bird Bath with Tall Stem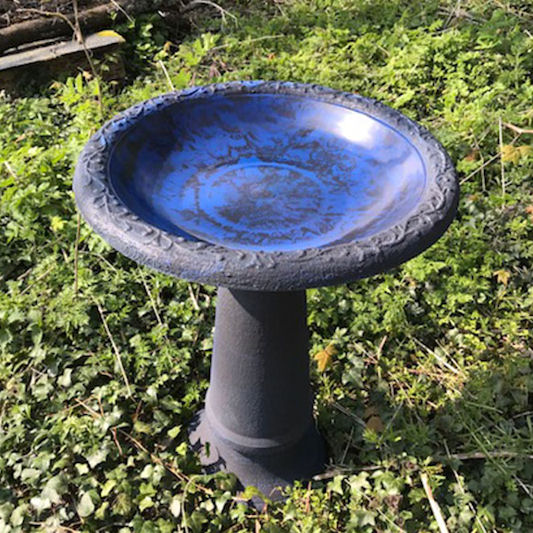 Well known brand but listed at a fair price if shopped for on Amazon.
If you've ever wanted a ceramic bird bath before you may of come to know the Coniston brand, exclusively made available by Everything Wildlife.
Coniston bird baths are not made in traditional ceramic, but instead is made in a more environmentally-friendly clayplas+
What that entails is recycled plastic content with more clay in composite form to give a light weight finish - then made to imitate an age stone bird bath.
Lightweight it is, but in the case of a bird bath that is a no-no in terms of stability in any wind - so there's a negative.
However, a removable tall stem can be filled with rocks or gravel to create artificial weight, but is not visible.
Highly practical bird bath nevertheless, with a big water bowl with a rim that is encrusted with intricate detail - and so too can it double up as a more safe perch.
Material offers better footing as wild birds enter the water but I would recommend pebbles or rocks, just for decoration purposes only this time.
Fallen Fruits: Ceramic Bird Bath on Pedestal, Blue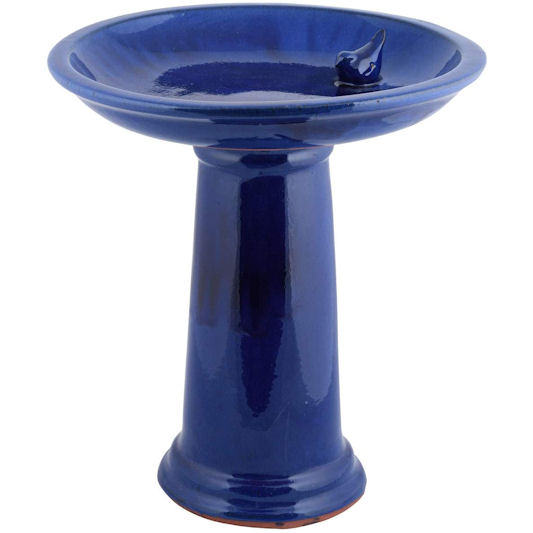 Costing a bit more but within reason, buy on Amazon despite low ratings.
Brighten up an otherwise bland landscape with this bright blue ceramic bird bath sitting on a matching pedestal.
Bird bath can be more conventional while fitting in with a more modern garden landscape.
To use this made in glazed ceramic bird bath as just that, it makes use of a practical but deep water bowl.
Glazed finish is smooth yet slippery in terms of use by perching birds, so I can't say it enough - use pebbles to line the basin with a rock as an alternative perch area to the rim.
Ornamental wild bird statue will offer some indication of water level but can double up as a landing perch.
Not the tallest ceramic bird bath with stand but that lower height can help stop it tipping over in wind so easy.
Talking of toppling over, the wider, rounded base that is designed to sit on a flat patio slab or paving - is nicely balanced to the bowl above, so it won't be easily toppled.
Fallen Fruits: Ceramic Bird Bath on Pedestal, Green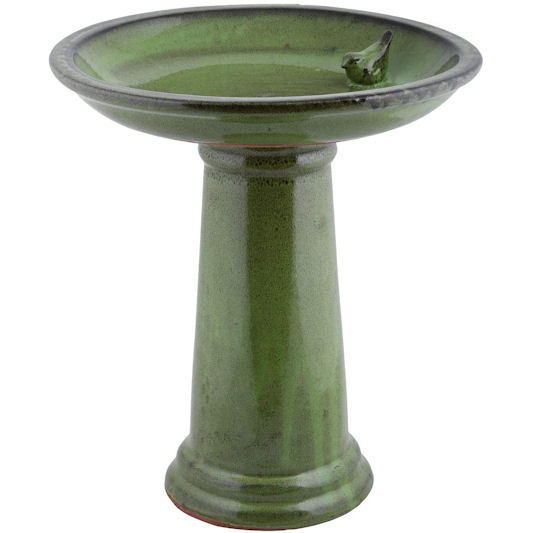 Same thing doesn't always add up price wise on Amazon, so can be double the price, if bought at the wrong time.
You might of gathered by now but with lack of ceramic bird bath options that sit on a stand, I've resorted to listed the same bird bath twice, with only the colour being different.
But once again I present to you this Fallen Fruits ceramic bird bath on a pedestal, only this one is finished in green.
Perfect if the blue colour scheme is not your thing, but even better if the decor of your garden requires a more complimentary colour scheme - and the colour green fits into any garden landscape for sure.
Sit it on a single patio slab or make it the centre piece of the patio.
But what you could do is position this camouflage bird bath near a hedgerow or plant pots to help it blend in more with the surroundings.
Make it so you can replenish the big yet deep water with ease while not isolating it so much its hard to access.
Unlike the blue finished bird bath, the green option is made to look more aged so is more attractive, I would say.
Echoes: Ceramic Bird Bath with Stand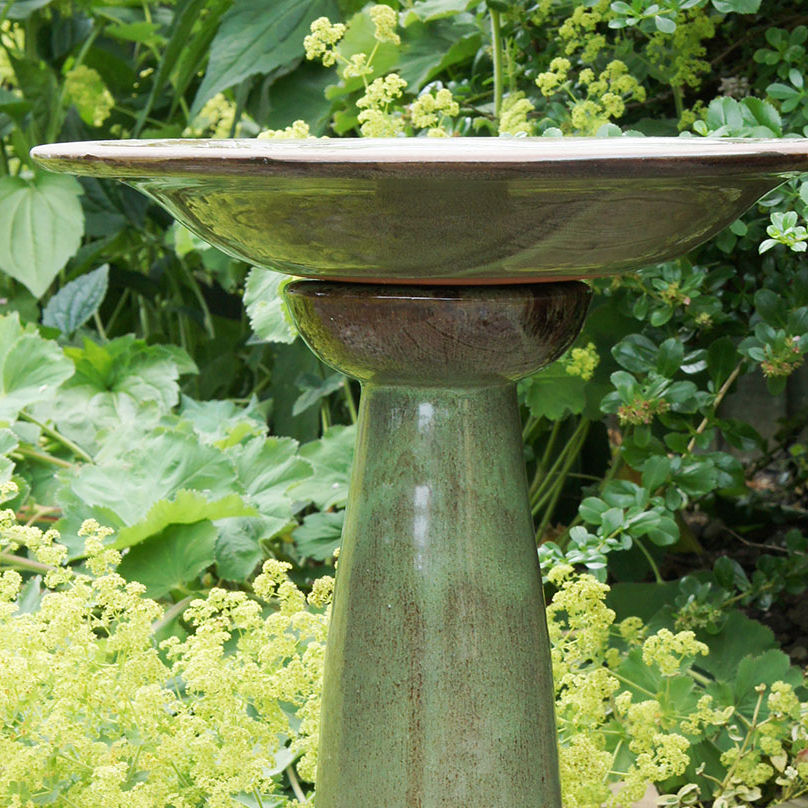 To buy it on the RSPB web site you can guarantee a great level of service.
Ceramic bird bath on stand that promotes itself as frost resistant, yet it not resistant to the water frosting over in cold conditions.
Frost resistant, much like all bird bath listed refers to the ceramic material being resistant to all weather conditions, so no cracking.
Glazed for a smooth finish, this unique but very beautiful bird bath sits on a stem that can be separated from the bowl.
Still, if using it as a bird bath on a pedestal or perhaps as a bird bath bowl only, its one that is practical for wild birds to drink or bathe in all year round.
But safety wise its not the best, the slippery rim leads into a deep bowl of water so it will need to be made more shallow by lining it with pebbles.
And while you are at it add an assortment of smooth rocks for an alternative perch or two.
While both bowl and stand could otherwise be bought separately, the offer is for the bowl and stand together.
Wildlife World: Ceramic Petal Bird Feeder, Red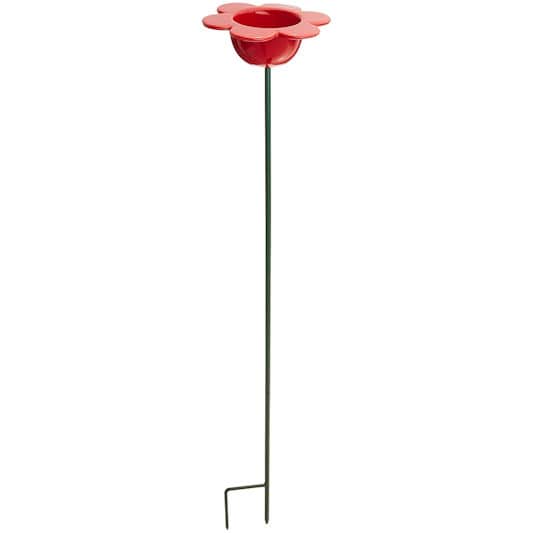 When a classic ceramic bird bath cost to much on Amazon, make it a petal feeder for under a tenner.
I will say Wildlife World ceramic petal feeder is just that, a wild bird feeder. So use it as just that but can be used as a water bowl.
Sitting on a stall ceramic pole is an imitation petal with a bowl for adding water or food.
So while it can be topped up with all types of wild bird feed, it will need to be made shallower if using it as a bird bath.
Be sure to pile in a handful of pebbles or polished stones to offer a safer bird bath but a practical one.
Impale this ceramic bird bath petal into the ground amongst the flower bed or insert near a hedgerow - that way you could see more birds use it as they remain undercover, so feel safer.
Designed to be a daisy flower, the ceramic petal is sure to brighten up the landscape.
Wildlife World: Ceramic Petal Bird Feeder, Blue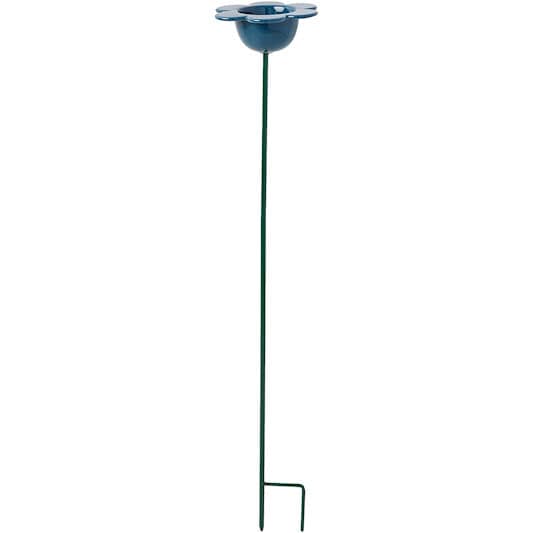 Cheapest of the lot when buying on Amazon for well under a tenner.
Must be impaled into the lawn or an area in the garden that is accessible to soil or a patch or dirt.
Stake base can be pushed into saturated turf, but if finding it hard to bury into the ground, it would be possible to use your foot.
Made to imitate a blue flower - and actually the same one as above - this bird bath is moreso a bird feeder, but can be used as both.
Simply screw on the tall stand to the base of the water bowl and feeder, but not before the pole is firmly impaled into the ground.
Rather than isolate what would be a too obvious ornamental bird feeder, plant it into a bed of flowers or position it near hedges.
Unlike traditional ceramic bird baths on a stand, to impale one into the ground would make it near impossible to topple over in light or the strongest of winds.
When birds are not using it as a bird bath, you can top it up with bird feed mixes to make sure the wild birds are always coming back to visit.
Share this article: