Fat Ball Feeder Rings
Feed wild birds fat balls with style, while using a more elegant ring or donut shaped fat ball feeder, designed to hang on a tree branch or bracket.
What I have for you is only the 5 fat ball feeder rings, all of which have a capacity of 8 to 14 suet fat balls. Designed to be hung, each one uses a chain with hook or a hanger to hang off a branch or bracket. Built in powder coated metal, easy to access for refilling - along with the ring bird feeder maintaining its shape.
What brought you to consider a donut shaped bird feeder, also known as a ring feeder for fat balls - must be the elegant style surely.
Well rest assured as I list all five of the best fat ball feeder rings, and a tough job it was too, as ring feeders are not easy to find in the UK.
Rather than the common fat ball feeder designed for up to six fat balls to be stacked, this option allows the fat balls to fit in a ring shape.
Advantage to that is more wild birds can feed at one go, while the shape offers birds who prefer to hang upside down - much like Woodpeckers - where similar fat ball feeders are limited for feeding.
Instead of the suet block bird feeder or the larger squirrel proof fat ball feeder; a fat ball ring donut is sure to be a lot more fun while in use.
Replenish with as many fat balls as needed but where its mentions capacity, more or less fat balls can be used, almost always.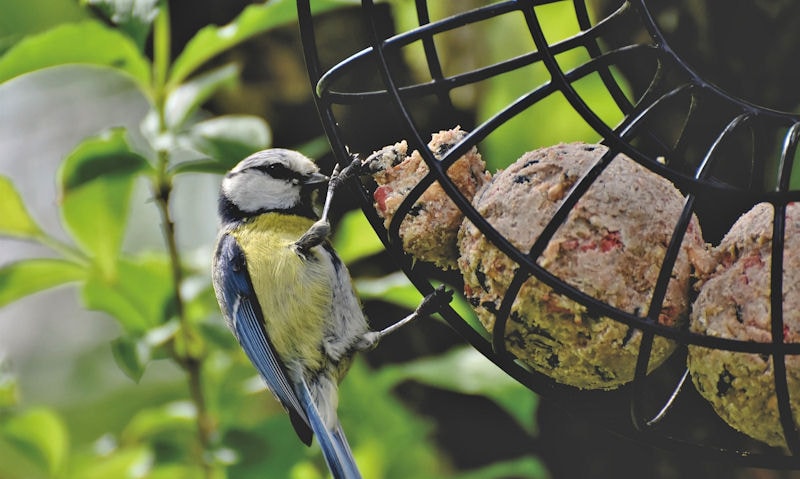 Your hanging up options are via a metal chain with a hook on the end or a hanger as a loop - where a tough tree branch or heavy duty wall bird feeder bracket can be used.
Personally I prefer the natural coverage of a tree or hedgerow if only I am able to view the wild bird feeding frenzy in my garden.
I can assure there's no trouble replenishing any of the featured fat ball feeding rings as it uses a simple lift up lid, or a basic opening which easily accessible to insert fat balls.
It can depend on where you are in the UK, but expect most common garden birds to feed on the high energy fat balls contained within the feeding ring - including the Tits, Robins, Finches and Sparrows.
You may also see Song Thrushes and Dunnock, plus larger, probably more nuisance wild birds - while ground feeding birds can mop up the spoils in the lawn or on the patio.
Fat Ball Feeding Ring Data
| Product Name: | No. of Balls: | Width: |
| --- | --- | --- |
| Kingfisher: Deluxe Donut Suet Fat Ball Feeder | 12 | 24cm |
| Gardman: Fat Snax Feeder Ring | 10 | 25cm |
| Unibos: Donut Suet Fat Ball Feeder | 9 | 25cm |
| Trixie: Fat Ball Feeder Ring | 8 | 22cm |
| Super Idea: Spiral Fat Ball Feeder Ring | 14 | 30cm |
Boy, wasn't it tough compiling a list of as many top quality fat ball feeder rings available for sale in the UK - but you'd be surprised just how few options there actually were.
Once I cut out all the generic, replica bird feeding donuts re-branded by up to twenty or more brands - I listed only the one option by a brand I am more familiar with.
On top of that, even the most reliable manufacturers in Kingfisher and Gardman only offered the one option each.
So in the end its only the five fat ball feeder rings to ponder cover.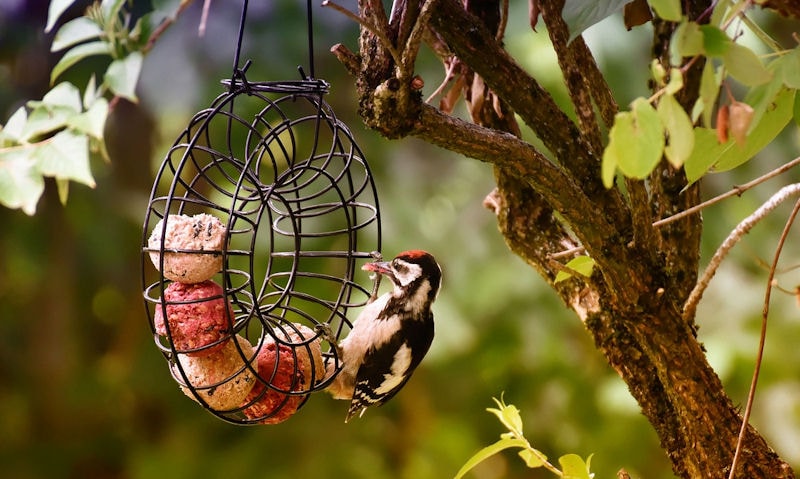 Feeding ring details are listed on my table above along with their fat ball capacity, plus how wide the fat ball feeding ring is.
While I've decided to list fat ball capacity, do remember it can be more or less fat balls that can be inserted, depending on the fat ball brand or size.
To refer to the width of the ring this can help you make a more informed decision as you know there's clearing on a wall bracket or room to hang on a tree branch.
Kingfisher: Deluxe Donut Suet Fat Ball Feeder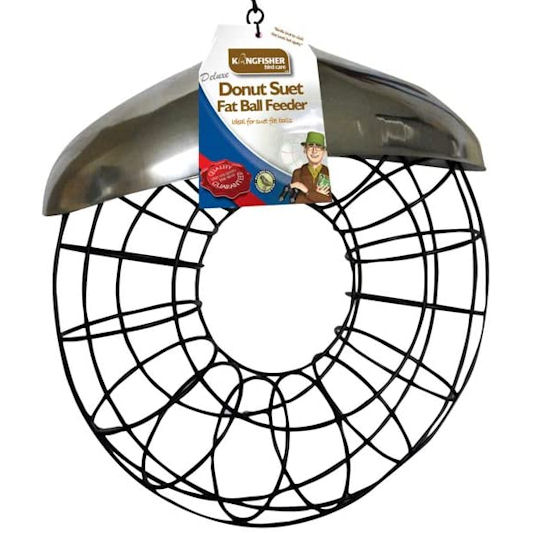 One of the cheapest to buy on Amazon so happens to be the most attractive.
With a capacity of up to 12 fairy large fat balls, there's no other reason than to make use of this donut feeder, designed with an easy fill top.
To replenish this ring feeder with twelve fat balls, you simply pull up the metal lid fixed to the top, to roll in as many balls it can take.
Metal top is more so a lid, so while it appears as a weather protective roof, it is in fact a lid, and a lid alone - with no fixing to keep it secure.
Donut shape powder coated wiring offers a little more space to hold different size fat balls, so its easy to replenish or remove old balls.
You might not necessary want to fill it up with all twelve fat balls as they will be under cover, so use less to avoid waste. But as the wild birds cannot reach any fat balls under cover, there's no point in stuffing the ring to the top.
To hang up it uses a lengthy chain with a hook on the end for attaching to branch.
Gardman: Fat Snax Feeder Ring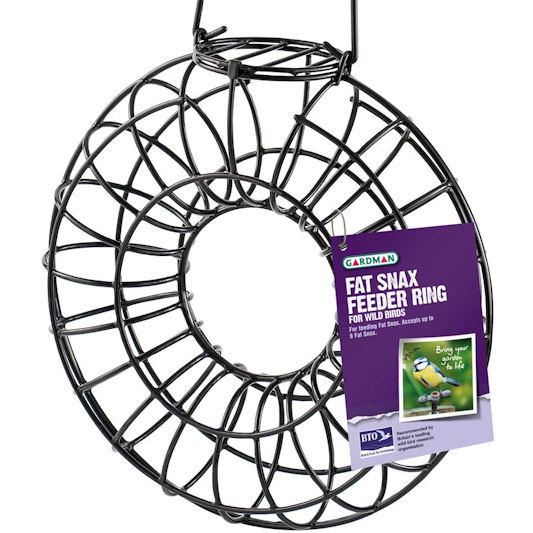 Reasonably priced on Amazon by a well known brand in the wild bird supply game.
Gardman's try at a fat ball feeder ring is not only as simple as they come, but the bare-bones build makes it light, and easy to use.
No cover on this feeder at all but there is an easy to access hinged lid where fat balls can be inserted.
Either side of the lid are the hinge holes for the hanger to hang up off a branch or bracket, it can also be removed if need be.
Solid, plastic coated wiring that offers a little flexibility, but the hanger is large enough for use on wider objects you intend to hang it off.
It has to be said its a hoop hanger only so you'd need access to the end of the intended object to hang it off - for example a bracket.
Compatible with up to ten fat balls but a little less won't hurt as you avoid waste.
Unibos: Donut Suet Fat Ball Feeder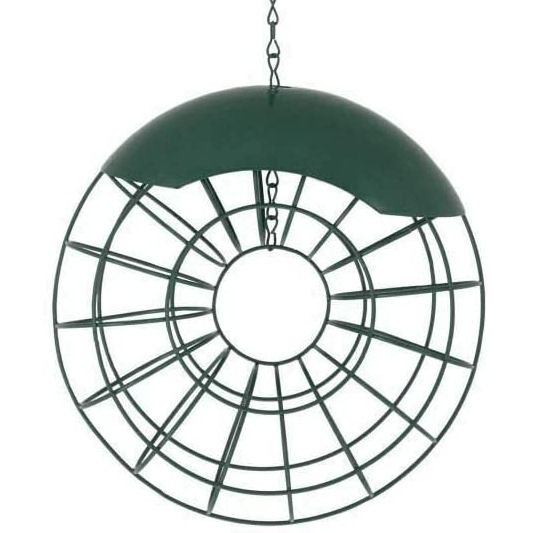 Listed just under a tenner with Amazon for a reliable, tough metal ring feeder.
Set in green so will blend in well with natural cover in the garden, but a fat ball capacity of nine or so balls won't do it no harm.
Its small, light, and therefore more compact, so it can be hung up in a tighter spot in the garden, or if the bracket has a short clearing to the wall or fence.
Matching the green plastic coated wiring is a metal plate fixed on top.
This plate acts as a lid only for simply lifting up to pour in fat balls beneath it, but it shouldn't be seen as a sort of roof to keep the fat balls dry.
Cutting through this lid is a metal chain for hanging, along with a small hook on the end to hang it up on a corresponding bracket or branch.
For the sake of balance, the fat ball feeding ring chain is fixed internally, as to prevent the ring from twirling - but I should think it still would.
Trixie: Fat Ball Feeder Ring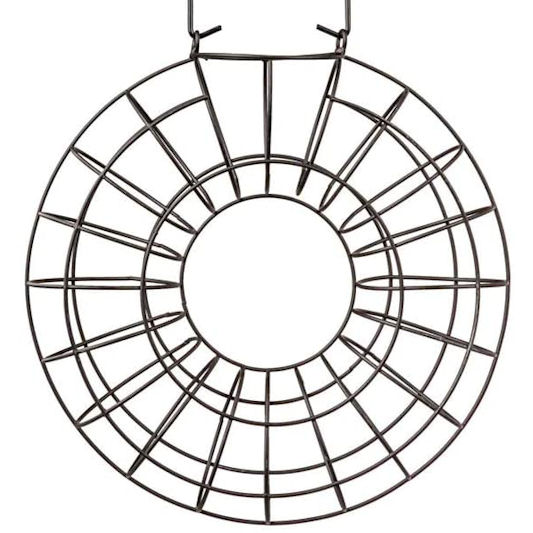 Cheapest option made available but expect FREE delivery with Amazon.
No nonsense fat ball feeder ring this one as its as bare bones as it comes, cutting out any functionality.
By that I mean take the hinged top roof for inserting fresh fat balls; while other bird feeder rings use a sort of lid for protection, this one doesn't use a lid at all.
So bare in mind the wild birds can come along and pinch a whole fat ball.
Smaller donut feeder than usual with only a capacity of eight fat balls, but that is perfectly fine as less fat balls can only mean less waste.
Hanging up options is as easy as they come as it uses a detachable large hanger for a hook.
Structurally sound for outdoor use as its made in a durable weather resistant powder coated metal frame.
Super Idea: Spiral Fat Ball Feeder Ring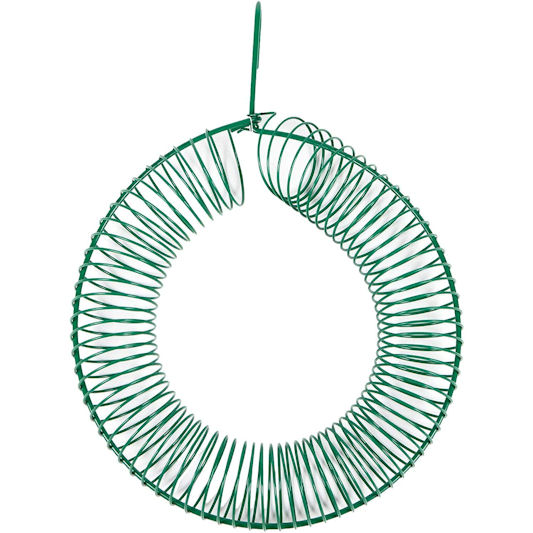 Most costly on my list, and probably the most expensive ring feeder to buy on Amazon.
Not only is this unique spiral-like fat ball feeder ring compatible with more fat balls than you could possibly need, but other bird types of bird feed can be inserted.
Made in powder coated metal, the tight fitted gaps not only allow wild birds to feed between the gaps to eat on the fat balls, but other food sources such as peanuts in their shell can be used.
Open ends on the spiral frame will allow you to insert the fat balls or other feed, but only once you've allowed the feed to drop down to add more.
To hang up the spiral fat ball feeder ring, its connected to quite a short hook, but that's nothing a bird feeder hanger cannot fix if lack of length causes any issues for hanging up.
Watch as common garden birds land on top inside the ring to feed, or cling on underneath to feed as they hang - much like the Great Spotted Woodpecker.
Share this article: