Large Peanut Bird Feeders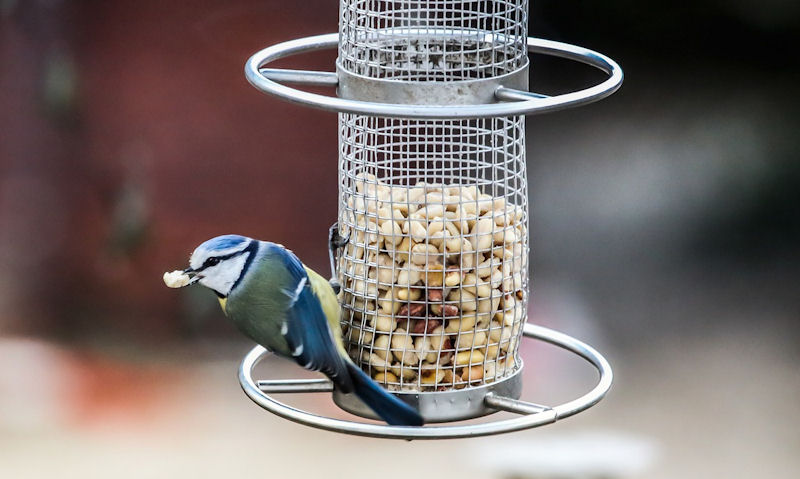 Large Peanut Bird Feeders
Begin with a simple peanut bird feeder or why use an extra long one for holding peanuts behind small steel square mesh gaps, where wild birds can cling on and feed.
Large peanut bird feeders are specially designed to hold as many peanuts as possible, but its has its drawbacks. To avoid waste your garden must be bustling with wildlife to eat them all up - or you risk nuts going to waste. Larger feeders have more length or width, but can by hung up only with a lid to open.
Don't be afraid to replenish your large peanut bird feeder with a tonne of wild bird nuts, but only if they are guaranteed to be gobbled up to avoid waste.
You see larger nut feeders, while useful for busy gardens, peanuts are sure to go to waste if you insist on filling them to the top, knowing they don't get eaten.
So do feed little peanuts as possible to make sure they are eaten before going rotten in the peanut feeder.
A large peanut bird feeder is sure going to be a favourite while hanging up in the garden, so in time you'd better understand how much nuts you should be using.
No nonsense access to replenish with peanut mixes which are always accessed through the lid - using an easy screw or pull up action.
Made in weather resistant metal so its guarantee to last for years to come, while finished in black with copper style, acorn or peanut wreath peanuts feeders available.
All options are made to be hung up on a tough metal bird feeding bracket, on the bird feeding station if there's a bracket spare - or why not hang up on a tree branch.
Observe Behaviour on the Peanut Feeder
Here's a little teaser of what can be expected when a common garden bird drops by to feed off your brand new nut feeding while hanging up in the garden.
If you pay close attention to this House Sparrow's feeding habit on the mesh feeder, you'd notice how the bird eats through the open metal gaps.
This applies to all wild birds when they feed but a change of position while they eat is absolutely a guarantee.
Common small birds mostly feed the right way up, while a Great Spotted Woodpecker would prefer to hang upside down - especially on a peanut ring or acorn feeder.
Large Peanut Feeders table
| Product Name: | Length: | Material: | Type: |
| --- | --- | --- | --- |
| Nature's Market: Large Bird Nut Feeder | 35cm | Steel | Hanger |
| Gardman: Large Heavy Duty Peanut Feeder | 33cm | Steel | Hanger |
| Selections: Copper Style Large Nut Feeder | 35cm | Steel | Hoop |
| Tom Chambers: Large Acorn Nut Feeder | 15cm | Metal | Hanger |
| Peckish: Large Peanut Bird Feeder | 30cm | Steel | Hanger |
| RSPB: Large Nut & Nibble Feeder | 39cm | Steel | Hanger |
| Kingfisher: Large Donut Nut Feeder | 24cm | Steel | Hook |
| Taimani: Acorn Bird Feeder | 24cm | Metal | Ring |
| Jacobi Jayne: Large Peanut Feeder | 43cm | Steel | Hanger |
| Wildtier Herz: Large Metal Nut Feeder | 38cm | Metal | Ring |
I have ten peanut bird feeders for you that can only be describe as large nut feeders, not only in appearance but in peanut feed capacity.
Made in nothing else than metal but largely steel as featured in the 'Material' column as listed on my table above.
Length is an important bit of detail to know as you'd better understand if you have enough clearing under the bird feeder bracket or tree branch you intend to hang it off.
But do pay very close attention to the 'Type' column as this lists what type of hanger for hanging the peanut feeder uses.
Mostly its made with a large hanger used to hang, but where any feeder uses a ring then a bird feeding hanger to extend its length may be needed.
Nature's Market: Large Wild Bird Nut Feeder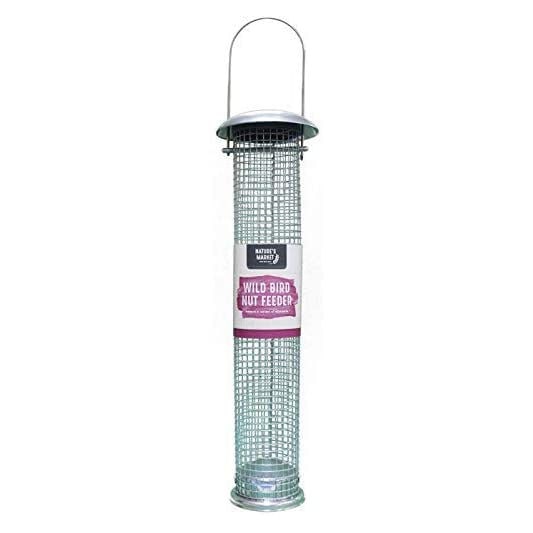 Cheapest nut feeder on my list so its a cheap option on Amazon.
To get you off the ground with little fuss, turn your attention to Nature's Market very own large peanut feeder feeder.
Its one made in all metal so is sure to withstand the outdoor elements, all while withstanding anything the wild birds can throw at it.
Huge peanut capacity so there's no replenishing too soon, but there's absolutely no reason to fill it to the top if you don't want to - this feeder will still work just as well with fewer nuts.
Method of opening this feeder to refill with peanuts is with use of a pull up lid - simply straighten out the metal hanger for a hook - and the lid will pull up and over.
Larger metal hoop which acts as the hanger for hanging can withstand the weight in nuts.
Gardman: Large Heavy-Duty Peanut Feeder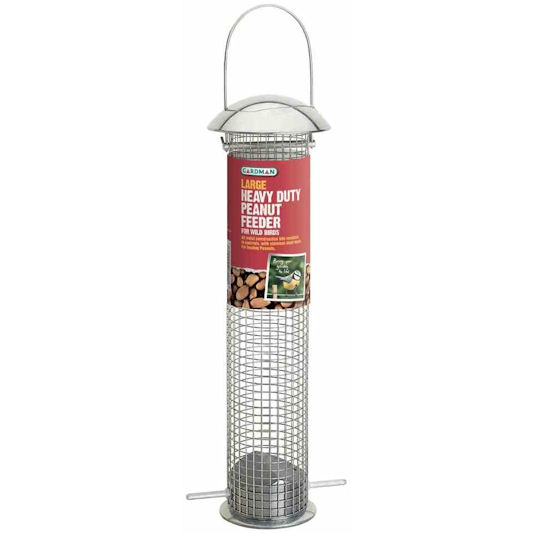 Number ONE Best Seller on Amazon so is a must have peanut feeder.
If there's one thing Gardman do very well is offering up a series of heavy duty bird feeders, designed to last without the need of replacing too early on.
And well it won't be replaced any time soon, you will need to keep it up to scratch by simply disassembling it - so you can keep it clean for wild birds to feed off a bacteria FREE feeder.
So while pulling apart the parts to keep it clean, it can only mean its an easy peanut feeder to open - so therefore you can top it up with nuts with no fuss.
Much like the Nature's Market option as featured above, simply pull up the hanger for a hook up straight - to then lift up the lid that attaches itself to the hanging hoop.
Good size metal hoop for hanging too but don't be afraid to double up the length with use of a bird feeder hanger - made to extend too short hooks on feeders.
Selections: Copper Style Large Nut Feeder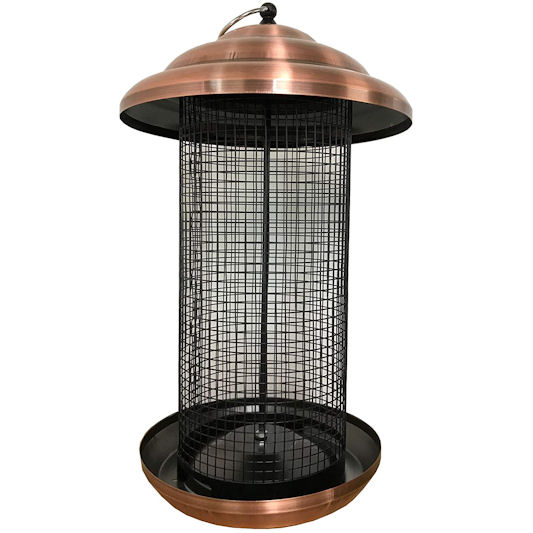 Double the price when compared to others on my list if buying on Amazon.
Now a large peanut feeder doesn't have to be the simple long mesh metal type; so instead you can go for a feeder for peanuts that holds a larger capacity in a bulkier build.
Perfect example of that is this 'copper style' large nut feeder that is wider than it is longer, so while it doesn't appear to hold nuts in the traditional sense, it has that all important width to hold more nuts than is needed.
When you take the mesh black finish with the contrast of the copper lid and base, it really will class up the wall bracket or bird feeding station with a lantern style bird feeder.
No trouble to replenish with fresh nuts as the knob on top which is part of the ring for hanging - simply needs to be unscrewed so the lid can be pulled off.
Supporting this knob along with the ring as a hoop for hanging, is a long bar that its fixed to the length of the feeder internally for stability
Tom Chambers: Large Acorn Nut Feeder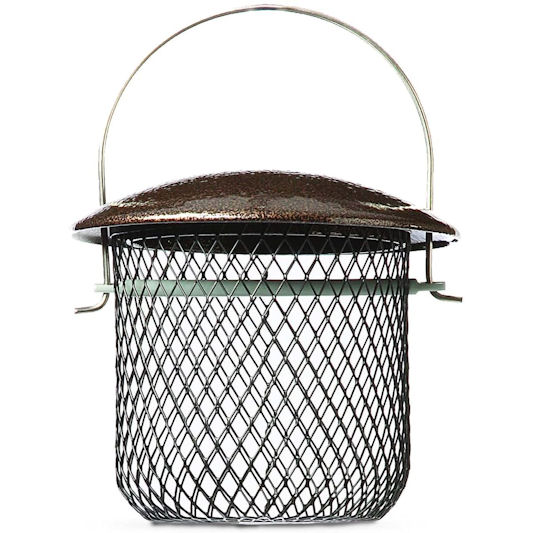 Feed birds in style with this fairly priced acorn shape bird feeder.
Not the largest peanut bird feeder on my best of list for sure, but it is one that can carry plenty of peanuts without the need to replenish too soon.
Shaped like a acorn peanut feeder, the open mesh cage is where the nuts are topped up, with access through the stylish lid above it all.
To replenish you do just this: pull up the lid as the hanger is facing upwards; then pull the hanger with lid to one side to access the open top.
Hanger for hanging is connected to a bar that is fixed across the inside of the acorn feeder, but its simply a hinge for the lid and hanger to be used in tandem.
Copper lid is a stylish one but that is in contrast to the black mesh peanut cage.
Peckish: All Weather Large Peanut Bird Feeder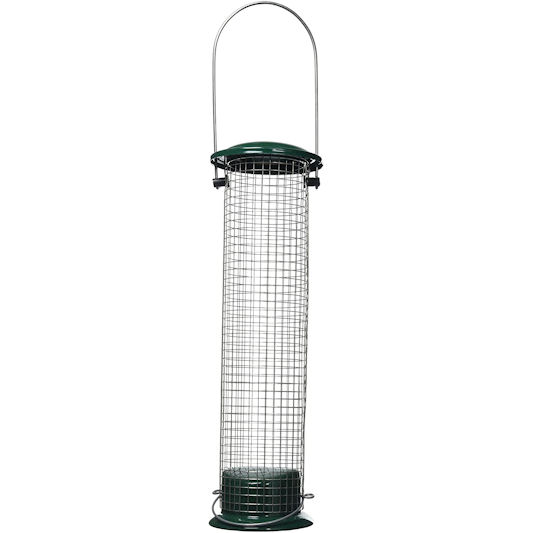 Under a tenner when bought off Amazon for a practical nut feeder.
With a classic peanut feeder much like this one, they are usually built in an all metal, silver finish, yet promoted as heavy duty.
Same goes for this Peckish peanut feeder only its finished with attractive green lid, plus the base where the nuts finally end up with few left.
As usual, the hanger for a hook to hang must be pulled up straight to allow you to lift up the lid to top up with peanuts - where you should have little trouble as the hanger offers a decent length to hang.
So when the peanuts get a little short you should notice the nuts pulling over to the mesh side - that is due to a slope on the base to make sure peanuts come within reach of feeding birds.
Extended hanger is used to realise the base so this feeder can be giving a good clean and maintenance every once in a while.
RSPB: Premium Large Nut & Nibble Feeder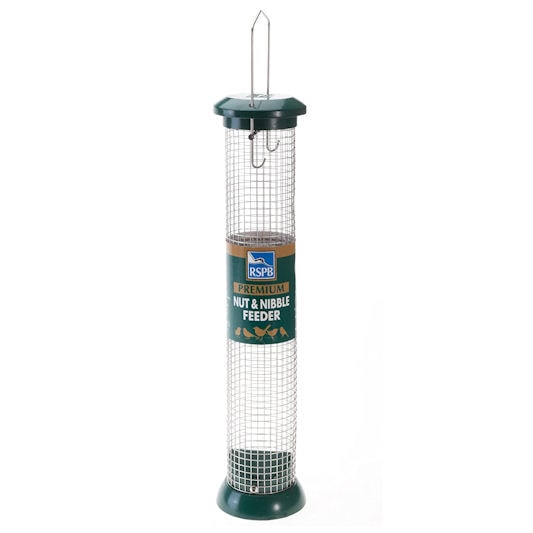 Amazon's Choice badge of honour with a rating from over 400+ customers.
Surely in buying a RSPB certified or made by peanut feeder, you can be assured you are in good hangs right... well that's actually what you get.
Not only is this large peanut bird feeder highly practical, but the charity has made sure its desirable to the user, so not just the wild birds.
Lengthy one too so top up with many nuts as it can take, or use less to avoid waste - and I think the RSPB will agree with that.
Once the metal hanger is up straight - and it will always be when the lid is firmly on - then the lid can be lifted up and pull to one side to replenish with peanuts.
On the base is a useful slope that pulls the peanuts to the sides rather than them being stuck in the middle - out of reach of birds who will be desperate to reach them if not.
But cleaning is a priority to the RSPB so they've made it easy to; simply undo the screw to realise the base - so cleaning out the feeder is easier than ever.
Kingfisher: Deluxe Large Donut Nut Feeder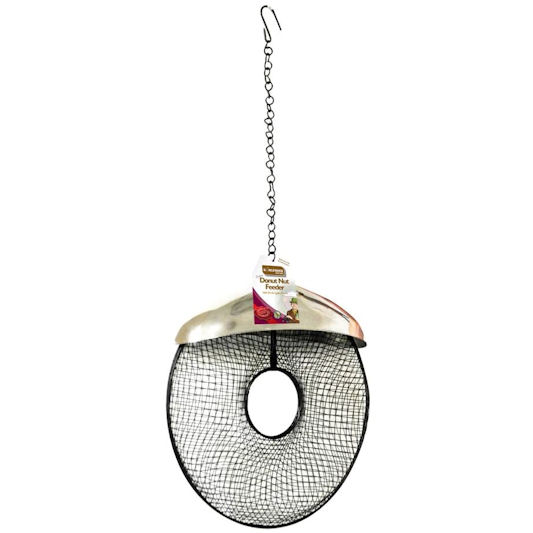 Not a bad price to pay on Amazon for a stylish ring shaped feeder.
Think of a classic long peanut feeder and imagine it curved around into a ring shaped mesh peanut feeder - and this is what you end up with.
Still a large peanut bird feeder I promise you, only this peanut wreath bird feeder holds a large capacity in this unique design.
To use this feeder over all options thus far, you can offer nuts to Woodpeckers who do prefer to hang, which this feeder can deliver on.
Top up with peanuts by pulling up what appears to be a roof, but in fact is a lid to stop birds accessing the nuts through the open access on top.
This lid is always connected to a chain that acts as the length needed for hanging.
I will say a peanut ring feeder tends to look best while hanging up in natural cover, much like a tree branch - but do find an area to hang for that small ring to hang without trouble.
Taimani: Acorn Bird Feeder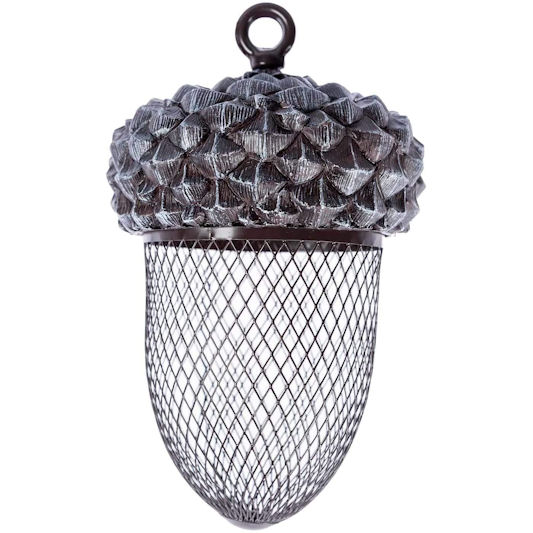 Highly rated on Amazon along with the Amazon's Choice badge.
Last but not least of the acorn bird feeder series is this smaller option, but one that can still hold a large peanut capacity.
Not any bird feeder for sure, so make the most of its design by hanging it up amongst natural coverage - such as a tree branch or within a hedgerow if available.
Made in all metal with a unique acorn mould on top that acts as a lid.
On top of this lid is a small ring that is used for hanging. However, in this size it can be difficult to hang up on most objects - so do consider a bird feeder hanger to offer up more clearing.
To access the interior to replenish with peanuts you would simply unscrew this ring to pull off the acorn lid all together.
See the benefits of an acorn bird feeder with a wider range of wild birds using it in a way that will see them hang.
Jacobi Jayne: Large Ring-Pull PRO Peanut Feeder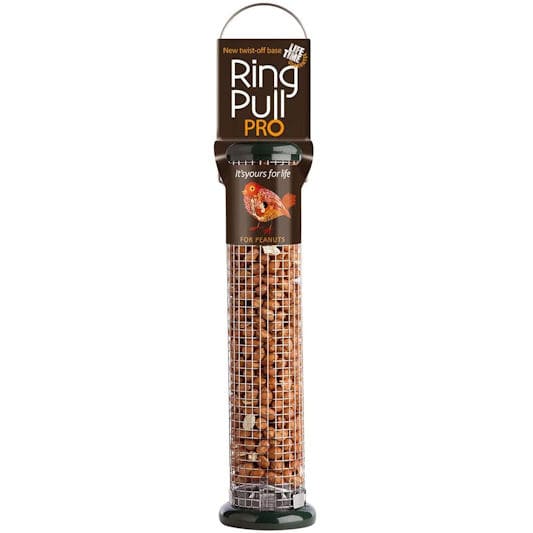 Lengthiest option on my list but at the higher end on Amazon.
I would categorise this Jacobi Jayne large peanut bird feeder similar to that of the RSPB's offering, with only a little difference.
What is the big selling point on this one is of course the what is promoted as the 'Ring-Pull Pro' feature.
What that entails is that this large metal hanger is used to hang off a branch or bracket.
But what else it offers is it must be up straight to allow the user - that's you - to pull up the lid with no fuss to replenish with peanuts every once in a while.
So its promoted as such but in fact most peanut feeders of this kind use the same practical method for opening up the lid.
Wildtier Herz: Large Metal Nut Feeder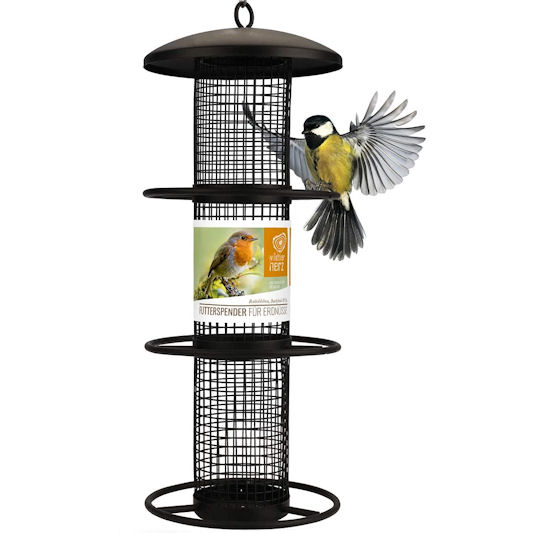 Available to buy on Amazon for what is the most costly option on my list.
Don't be fooled with the multiple perches because you see, while its still a large peanut feeder, its one that is within a standard length, if not a little bit bigger only.
What you get out of this German-made peanut feeder is the classic mesh surround along with the impressive three perch rings.
Not only will the usual small common garden birds be able to use them, but those rings for birds to perch on might come in useful for larger garden birds, such as blackbirds.
Of course wild birds can only use these perches if the peanuts inside the feeder reach the perch in the centre or the one on the very top - bottom perch will be used most.
To refill with more peanuts or a whole new batch, you simply twist the lid to pull it off completely.
Fixed to lid is a stainless steel wire for hanging off a branch or bracket of some kind.
Share this article: