Hanging Bird Feeder Trays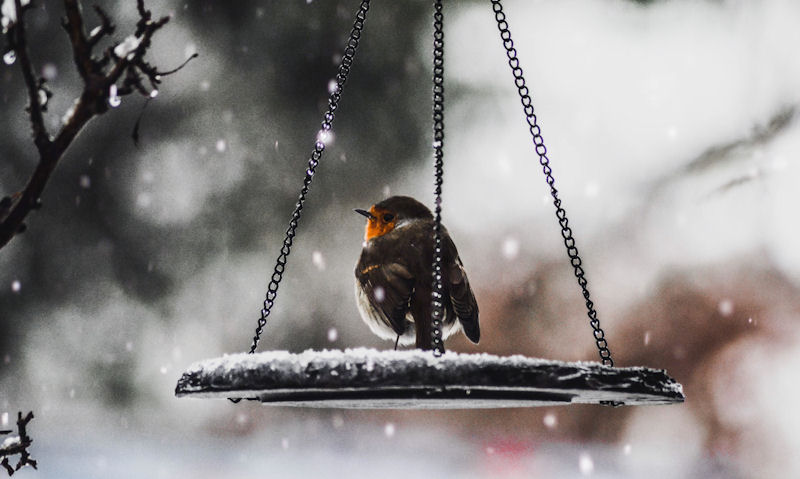 Hanging Bird Feeder Trays
To suspend an open bird feeder tray out in the elements can not only offer wild bird feed in an unrestricted way, but allow larger birds to feed with little trouble.
Hanging bird feeding trays are made primarily with a metal micro mesh dish - suspended off three chain links for hanging off a bracket. Use the tray to offer seeds, nuts or mealworms; there's no limit to the possibility of the more common to the more rarer garden birds who can make use of it.
Don't make do with any hanging wild bird feeding tray without knowing what makes it a quality built one - but what is a well designed mesh tray.
That is a hanging feeding tray is that made using a micro mesh tray; designed to hold the finest of bird seeds or crumbs left over from peanuts or other types of bird feed.
Suspend the hanging feeding tray off a corresponding heavy-duty wall bracket, or use a spare bracket on the bird feeding station - but of course that's entirely up to you.
To hang up on a bracket of any kind, the mesh tray will offer up to three chain links that connect to a hook or hoop/ring - its this that then fixes to the bracket.
No need to limit the wild birds in your garden to seed mixes or peanuts.
Simply use the metal mesh dish for wild bird suet balls, scraps out of the kitchen, or why not try fruits or vegetables - you could even have a go with live or dried mealworms.
Hanging bird feeder trays offer unrestricted access for a multitude of wild bird species.
Offering seed mixes in tube feeders can be difficult for some, while offering up seeds or peanuts out in the open can be quite an experience for you, and the wild birds using it.
Hanging Bird Feeder Tray data
| Product Name: | Width: | Base: | Build: |
| --- | --- | --- | --- |
| Gardman: Hanging Bird Feeder Tray | 22cm | Micro Mesh | Steel |
| Tom Chambers: Hanging Feeder Seed Tray | 24cm | Micro Mesh | Steel |
| Oakdale: Hanging Feeder Tray | 19cm | Micro Mesh | Steel |
| Ruddings Wood: Bird Feeding Station Tray | 27cm | Micro Mesh | Steel, Plastic |
| Ruddings Wood: Micro Mesh Feeder Tray | 23cm | Micro Mesh | Steel |
| Ruddings Wood: Wooden Feeder Mesh Tray | 26cm | Mesh | Steel, Wood |
| Tom Chambers: Snackery Hanging Tray Feeder | 30cm | Micro Mesh | Steel, Wood |
| Nature's Market: Mealworm Hanging Feeder Tray | 17cm | Micro Mesh | Steel, Plastic |
In listing my eight hanging bird feeder trays for you, pay very close attention to its basic, yet practical features you may wish to know about before committing to buying it.
How much feed you add to the mesh tray is up to you, but to know how wide the tray is can help determine how much space is made available to you, and therefore your wild birds who stop by to use it.
I must admit I do prefer those hanging bird feeder dishes that are built using what is known as a micro mesh tray.
Rather than using larger square holes to hold finer wild bird feed, the micro holes won't allow much feed to filter through the open gaps, while only rain or moisture build up can.
I must say I do have only the one featured tray without the micro mesh feature, because I like the wooden surround only - to which there are two trays using real wood.
And don't worry, to withstand all weather conditions all year round; steel or protected metal makes up the bulk of the build.
Gardman: Hanging Bird Feeder Tray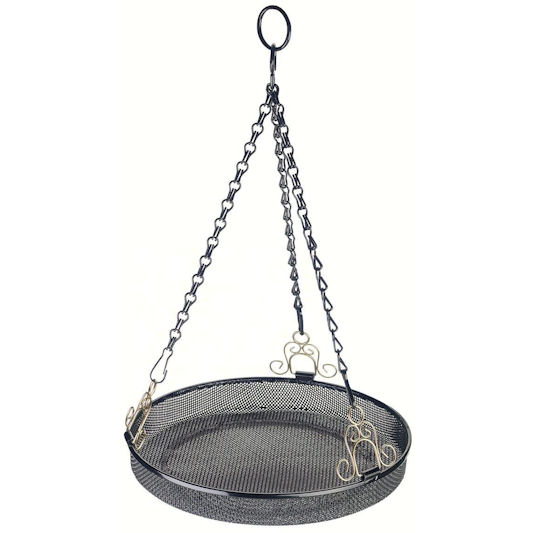 To be listed top of my list, it comes at a higher price to buy it on Amazon.
What is the most practical hanging feeder tray happens to be one that offers the most intricate detailing, courtesy of Gardman.
To hang up a basic but hard wearing hanging bird feeding tray would be this one, made in all steel constructions, so is sure to last the test of time.
Gardman have built this tray using what is known as a micro mesh; gaps so small that all types of seeds mixes can be used, without losing too much feed on the ground.
Rounded mesh tray is supported with a fairly high surround which in turn, is suspending off three chain connections.
Notice the chain links are fixed to a highly decorative bronze colour attachment.
All chain links connect to a simple ring that can be used to hook over a bracket of any kind, while a bird feeder hanger will be needed to suspend it off something a little larger, such as a wide tree branch.
Tom Chambers: Hanging Feeder Seed Tray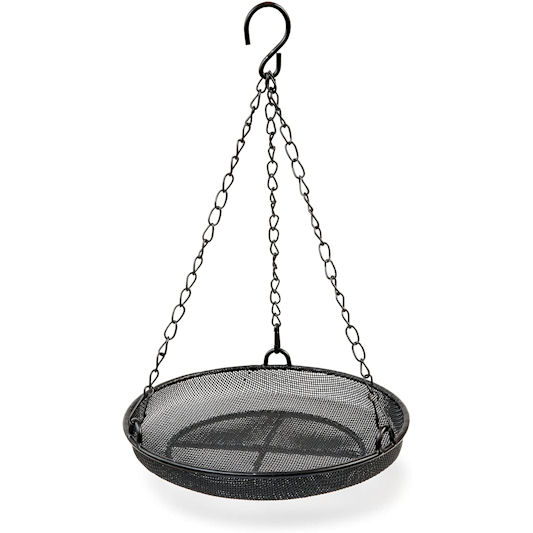 Recommended tray but is listed on Amazon at a fair price to pay.
Inline with Gardman's offering as featured above, this Tom Chambers hanging bird seed tray is more basic, but still practical as they come.
This time you get a rounded all metal micro mesh tray that is supported on three link chains, only its connected to a larger hook for hanging this time, but does appear to be more practical.
Construction of the rounded metal tray is made in an weather resistant coating, with all moisture allowed to drain away.
Once in a while a little maintenance is required to keep it looking ship shape; so you can disassemble this tray from its chain link connections, and to do so with ease.
No need to stick to the hook that comes with it - as additional accessories - such as a bigger hook can be added, but probably won't be needed.
Oakdale: Hanging Feeder Tray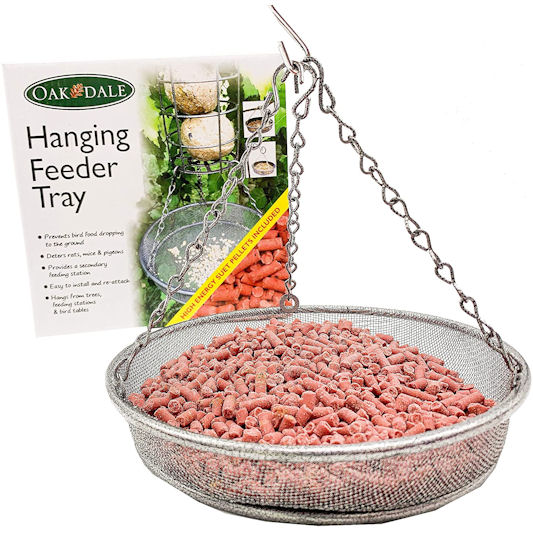 Price wise its inline with similar trays that are listed on Amazon.
To use this Oakdale unique micro mesh steel hanging bird feeder dish, one would need to make alterations to it to offer it more length to hang.
That is because the chain link length is short because the uniqueness of the dish can be used to suspend under assorted hanging bird feeders to prevent access bird feed dropping to the ground.
How you would hang it under any bird feeder that would fit it, is by using its own three independent chain links to hook over any secure attachment above it.
However, to use this hanging feeder tray to offer up wild bird feed on its own, you'd need to add an additional bird feeder hanger to offer more length, or use the shorter length if you want, but it can be limited.
Simply use a long bird feeder hanging to connect all three chain links to it, while the hanger can be hooked over a corresponding bracket of some kind.
Ruddings Wood: Hanging Bird Feeding Station Tray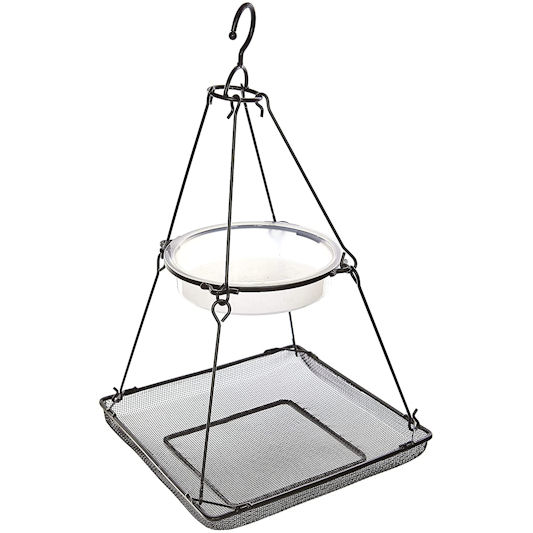 No surprise two in one feeding station cost a little more on Amazon.
Where to begin on what is a hanging platform feeder, constructed with an all metal large mesh food tray, along with a smaller water dish sitting above it.
Its therefore a bird feeding station that offers up wild bird feed mixes of any kind in the mesh tray, while the plastic dish can hold water for drinking or bathing.
No chain links connecting it at all this time as it uses straight cut metal bars with a hook on the end of each one to construct it all.
Its only then the metal bars reach the mesh tray above it to join up on a bracket for hanging.
Dish for holding water will be used less but its their if its needed.
But the highlight of the feeding station is of course the massive mesh tray for holding all kinds of wild bird feed.
Disassembly is required for cleaning but a little help may be needed to put it together.
Ruddings Wood: Hanging Micro Mesh Feeder Tray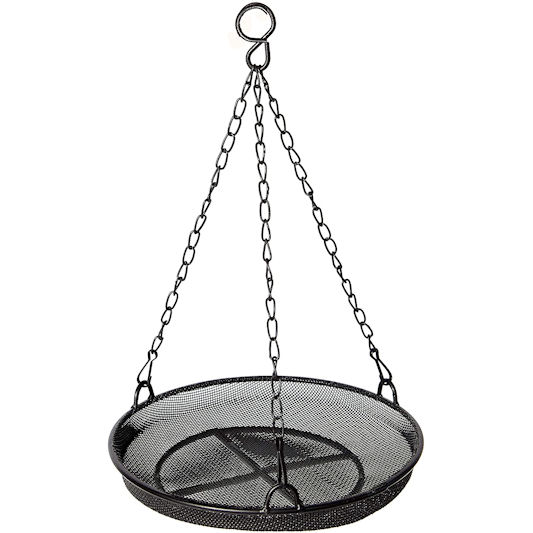 Similar to two other options on my list, but one that is more expensive on Amazon.
No harm in offering you up what is the third near identical hanging micro mesh feeder tray on my list thus far, but the practicality of this type of feeding tray is essential, yet easy to use.
Once again its an all metal dish using a micro mesh tray base to not only hold the finest bird seed, but to allow all rain water to run off.
Connected to the rim of the mesh tray is a connection for all three chain links to fix too; along with plenty of length on the chains to be able to hang off a wall bracket with no restrictions getting in your way.
All chains connect to what is a rounded closed off hook for hanging, so it can only hang off a bracket where this ring can be threaded through, rather than simply hooked on with ease.
In all, you'll end up with a fairly small mesh feeding tray to suspend off a bracket for offering seeds, nuts or any bird feed imaginable.
Ruddings Wood: Hanging Wooden Feeder Mesh Tray
Cheaper feeder tray to buy on Amazon, despite real timber in use.
First up on my list other than the usual all metal tray, is this hanging wooden feeding tray designed with a timber rim.
More importantly, you still get the all metal mesh tray that is not only weather resistant, but can withstand rot or wear and tear by wild birds, while timber or other material in use on this area would not be so practical.
But where Ruddings Wood have created a wooden surround is perfectly acceptable, as it doesn't effect the usefulness of the hanging feeder tray.
In fact larger wild birds might appreciate more leg room to land as they feed.
What I might add that is not so practical is this option doesn't use the micro mash, so larger open gaps allow feed to drop through with no effort.
On top of that, no metal bar with chain links are used to suspend this wooden tray, but what can only be described as a lace from a shoe.
No hook or ring on the end for hanging either, so you'd have to make do, or invest in an hanger to hang off a bracket or branch.
Tom Chambers: Snackery Hanging Tray Feeder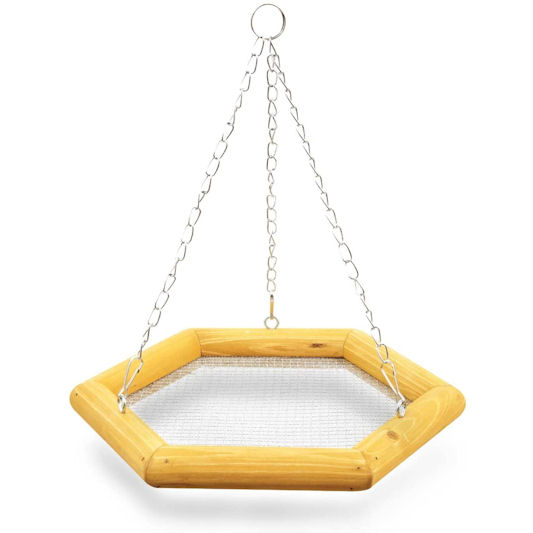 More practical made in wood feeder tray, but cost a little more on Amazon.
Last time a wooden hanging tray feeder is featured, only this second option on my list is what I would call more practical, with no additional accessories required.
What you get this time is a rounded off wooden surround, used as a rim where wild birds are likely to perch as they feed.
Centre of the hexagon shaped wooden surround is the vital metal mesh tray, only its the micro mesh design this time, so no trouble holding finer feed is scraps in use.
Once more, the hanging tray feeder is suspending uses a metal chain link, as oppose to the lace option featured above.
Connected to the end of all three chain links is a ring this time, so can be threaded on a bracket, but less so a tree branch.
No preserve or paint is needed to protect the wooden frame as its already be coated in preserve for you - along with a rust proof mesh tray.
Nature's Market: Mealworm Hanging Feeder Tray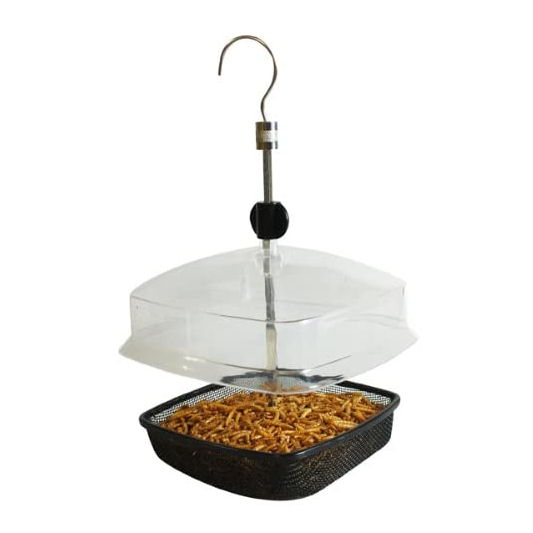 Protect bird feed using a feeder tray with dome you can buy on Amazon.
Not quite the traditional basic metal mesh hanging bird tray I grant you, but I couldn't resist listing a hanging bird feeder tray, usually reserved for use with mealworms.
Hanging bird feeding tray so good, it would be a bit cruel of me to not at least show you the better options, while this dried mealworm bird feeder ticks all the boxes.
First of all, promoted as a dried mealworm feeder tray it might be, but what feed you use on the metal mesh tray makes no difference at all.
Its still built using that basic metal mesh tray for holding all kinds of wild bird feed, only that dome to keep off rain is going to be a huge help.
Not only will lowering it as far as it would go will help keep the bird feed nice and dry, but it can help to deter larger, more nuisance birds in the garden.
It doesn't use a chain link to suspend off a bracket this time, but moreso a large metal hook that is supported up the middle.
Share this article: