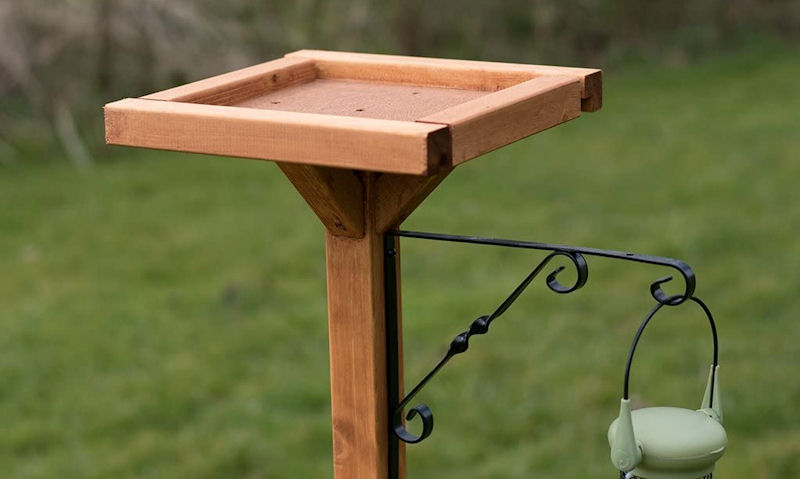 Open Bird Tables
Allow wild birds to feed without the restrictions of a roof, well open bird tables allow bigger birds to feed, so it means the bird food is out in the elements to anyone.
Only the six open top bird tables for you to ponder over, but it shouldn't be too difficult as they're all well built in a chunky, solid timber construction. Large feeding platform with a wooden panel surround to allow birds to perch, along with drainage. Supported on a tall or short stand with cross-section legs.
Covered wooden bird tables do have there restrictions in terms of being accessible to lay feed or to clean out later after a whole week or so of use.
Not so with an open bird table as they are open to anyone, allow you the bird feeder, or the wild birds to feed without restraints.
Downside is you can only feed wild birds in nice weather but if feeding them in wet or cold conditions - the bird feed will not last as long out in the elements.
Open bird tables have four-dimensional views, meaning wherever you decide to position the bird table, you can see visiting wild birds from all angles.
While regular bird tables are safer as they stand much taller, open top bird tables can be too - similar to how wild birds don't mind landing on short bird baths.
No restrictions to wild birds when using an open bird table so do understand more nuisance wild birds can use it - such as pigeons or crows.
And while they can be welcoming by you, this can keep the more common small garden birds away.
Open bird tables are far easier to maintain than bird tables on a stand - but with roof - so there's no excuse to not do a proper job of cleaning up the leftover gunk.
Listed are very few open top bird tables available to buy, but all are well built in a solid construction - pre-treated in a safe finish so the table last longer but self-assembly is required.
Save setting up an open bird table for better times so you can enjoy wild birds when the weather allows wild bird feed to be better preserved on dry, cool conditions.
Open Bird Tables data
| Product Name: | Top Size: | Height: | Base: |
| --- | --- | --- | --- |
| Riverside Woodcraft: Open Bird Table | 34cm x 34cm | 120cm | Flat |
| Riverside Woodcraft: Large Open Bird Table | 38.5cm x 38.5cm | 100cm | Flat |
| Riverside Woodcraft: Eco Open Bird Table | 38cm x 38cm | 130cm | Flat |
| RSPB: Open Bird Table | 34cm x 34cm | 120cm | Legs |
| The Range: Tabletop Bird Table | 55cm x 55cm | 114cm | Flat |
| Richmond Garden Centre: Open Bird Table | 38cm x 38cm | 91cm | Flat |
Can you believe it there's only the six open bird tables I can find for sale in the UK, so I've listed them all here - all while favouring Riverside Woodcraft bird tables.
Top size is the measurement of the square flat table top where you put the assorted bird feed on - be it seeds, nuts or fat balls.
Too small or to large table top, it doesn't matter, avoid wasting bird feed by not leaving out too much.
Height of bird table is listed as I feel you need to know this to allow a child or wheelchair bound participant to join in - or simply use a lower table so you have better views.
Base simply lists what style the base of the open top bird table is on the leg joint.
It could be supported with a flat cross section leg spread - which all options mostly are - along with one bird table using cross legs only, so it doesn't depend on a flat base.
Riverside Woodcraft: Open Bird Table Feeding Station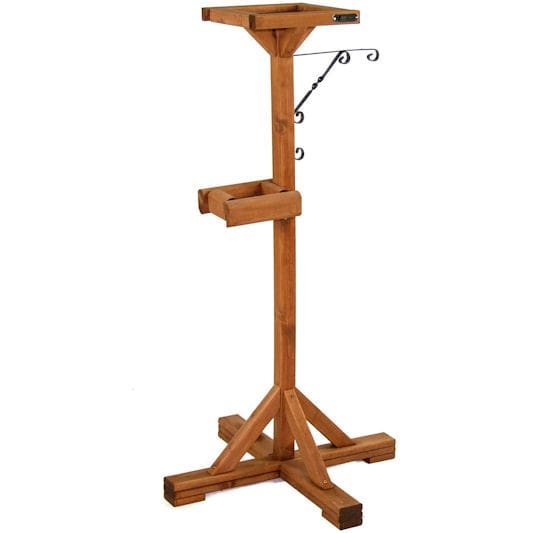 Not badly priced at all when buying on Amazon so its a price inline with other options.
What I believe to be the UK's number one open top bird table for sale; hand crafted by professional carpenters as a bare-bones bird table.
Riverside Woodcraft make only quality bird tables so this is one of their standard size open bird tables, but with an additional yet interesting feature.
While the open top feeding area is of a decent size for all types of wild birds to feed; gaps on the corners represent drainage holes.
The flat top is surrounded in chunky wooden panels that offer a perching area for feeding birds, all while preventing bird feed spilling over the edge so easy.
This Riverside Woodcraft open table feeding station is 120cm tall in all; therefore there's an opportunity for an additional bird feeder to hang.
Once assembled by you, you can fix the metal bird feeding bracket to the wooden stand to hang any type of bird feeder, within reason.
Mid way up the open bird table stand is a second open table bird feeding platform.
To keep this fairly tall bird table standing, its supported with a four-cross section base with additional wooden brackets for a solid yet practical construction.
Riverside Woodcraft: Large Open Bird Table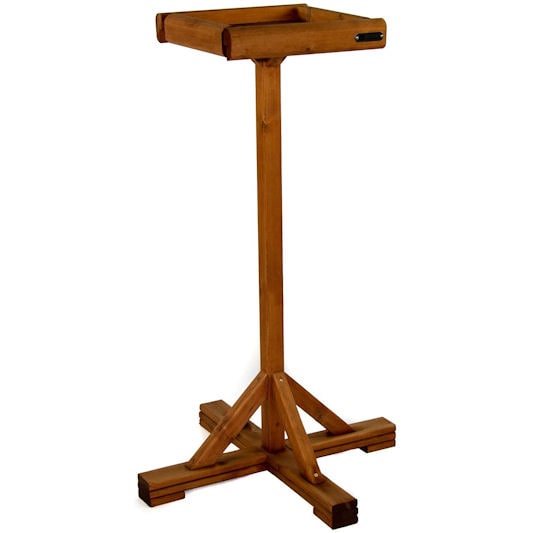 Cost a little more than the option above but to purchase on Amazon the delivery cost is low.
Over to the best of Riverside Woodcrafts bird tables again with this more simplified version of the option featured above.
Only this wooden open top bird table is fixed with a wider open feeding area.
Difference being the wooden panel surround is more rounded this time, offering a comfortable landing perch for wild birds while they feed.
The important drainage gaps are visible on all corners to not only allow water to spill out, but access moisture build up can run off.
Metal plate screwed to the outside wooden perch surround is encrusted with Riverside Woodcraft's name.
Its a 100cm tall open bird table this one with no room to add a bracket or additional feeding table top.
So its a straight shot from the top table to the cross-section base that is designed to prevent the table toppling over in the littlest of wind.
Flat base legs have additional support pads while the main legs have brackets for a safe, secure build - same goes for the brackets under the open table top platform.
Riverside Woodcraft: Eco Open Bird Table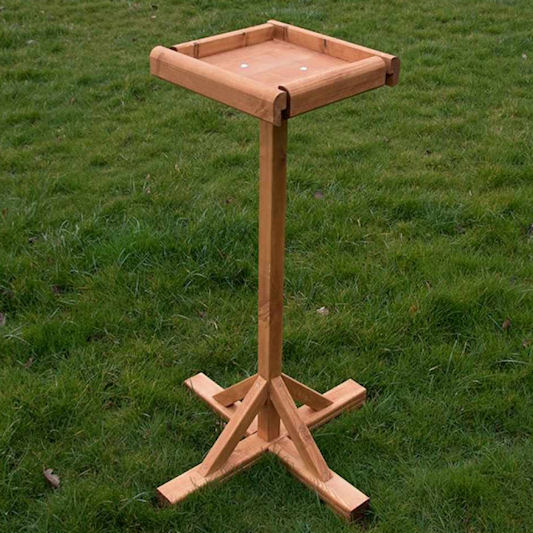 Costliest open bird table by Riverside Woodcraft when bought on Amazon, but only be a few quid.
You might of realised by now I really do love the Riverside Woodcraft open bird tables, so this eco-open bird table draws their selection to a close.
So what you get out of this open bird table compared to their other options is something a little bit difference.
That is the unique recycled eco-sheet table base that is fixed to the feeding platform.
Purpose of this shiny surface sheet is an easy to clean and maintain hygienic and waterproof platform.
Bare wood is fine if maintaining it regularly to prevent build up of grit and muck; whereas the hygienic platform is easier to clean than naked timber.
Of all three Riverside open bird tables, this one is the tallest at 130cm, while that is matched with a 38cm wide square feeding platform.
Nice rounded off wooden perch panels with the usual gaps for drainage; or use it as a sort of cliff edge for scraping off feed from the hard to access corners.
This open bird table stands on a square wooden post that is fixed to a cross section base with a corresponding wooden bracket support.
RSPB: Open Bird Table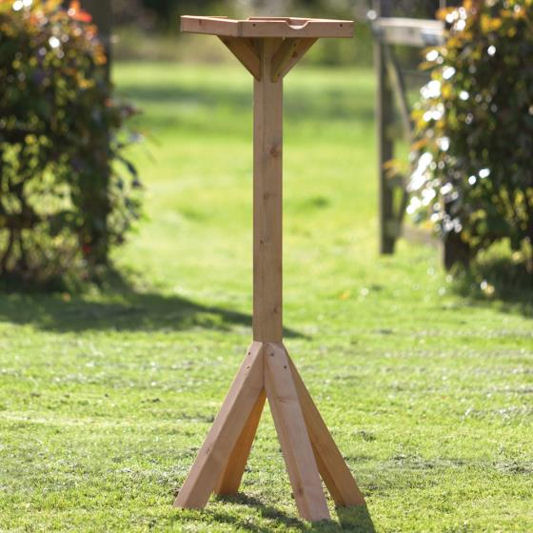 As it happens RSPB are the most expensive when bought on the RSPB web site, but is short of the FREE delivery offer.
While it goes without saying, RSPB have built their only open top bird table by hand in the UK, using certified timber.
But what it really has to offer, is a well built, authentic wooden open bird table that has a chunky, solid construction that doesn't appear mass produced at all.
Instead it uses a nice bare in appearance timber that is pre-treated, but can be stained or painted by you, to match the decor of your garden exterior.
Standard size square open top feeding platform that is surrounded with shallow perch panels.
Difference with this RSPB open bird table is they don't leave gaps in the corners for water or moisture to run off, but do away with something a little more fancy.
So on two sides of the wooden surround, you'll get a nicely cut out curve that is level with the flat plastic tray - to allow easy cleaning and drainage.
This recycled plastic tray that sits on top of the bare open top table platform can be removed for cleaning while returned to its spot with ease.
Good height table at 120cm but that is mostly made up of the four individual legs that help keep this table toppling over in the wind - or why not sink it into the ground a little for extra support if needed.
The Range: Tabletop Bird Table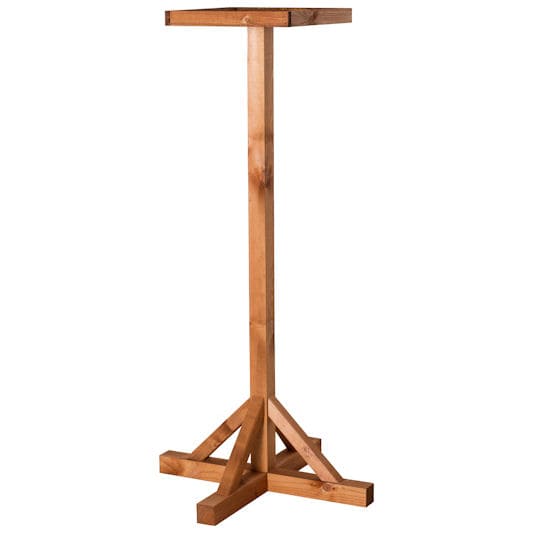 Cheapest, yet the only open bird table to buy at The Range, but that is reflective of the cheaper timber in use.
Visit the range in-store but you'll have more luck finding this well built open top bird table on their web site - at a very reasonable price.
I do note that this table is a far inferior product to those above, but is an in-expensive bird table investment, yet a wooden table that will last
Noticeable flaw with The Range tabletop bird table is there's no gaps in the corners or any sort of drainage holes - so moisture or rain must filter through the wooden surround or tipped out by you once in a while.
What this table does offer for your visiting wild birds is a large open platform that can not only be used for the usual seeds, nuts or mealworms - but there's an option to be more inventive.
For example you can use a squirrel proof cage surround to allow only small garden birds to enter the table top to feed - while discouraging pigeons or crows.
But the rather thin wooden panel perch surround does provide you the option to hang a bird feeder off the edge for additional feeding opportunities.
Standing at 114cm tall so does offer a safe feeding height, but it is secured with a cross-section base, further supported with wooden brackets.
Now the brackets are not fixed under the table top platform above so instead the fixings are visible where you add the bird feed on top.
Richmond Garden Centre: Handmade Open Bird Table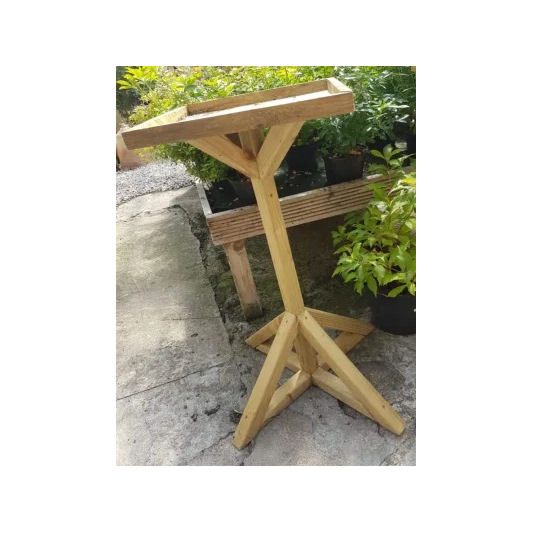 Reasonably priced bird table when bought at the Richmond Garden Centre online only
Last but no least brings me to this handcrafted, pre-treated timber open bird table to withstand the elements for longer.
No limits to the number of wild bird species that can land to feed as the large open top is very accessible, helped with a low lip on the perch surround.
No drainage holes this time but water can seep through any gaps in the joints, but its likely you'd have to top the table over to drain access moisture or rain water build up.
Don't let that discourage you as its still a nice, well built bird table made with a chunky construction, and a solid build.
Supporting this shorter 91cm open bird table is four wooden brackets that are then connected to the stand.
The open top wooden bird table reliably stands up level with its four legs supported using a cross section construction.
Littlest of the wooden open bird tables on my list but that is a good thing for a couple of reasons.
To begin with, the short bird table allows small, young children to participate in feeding birds, while a wheelchair bound person have better access.
Share this article: