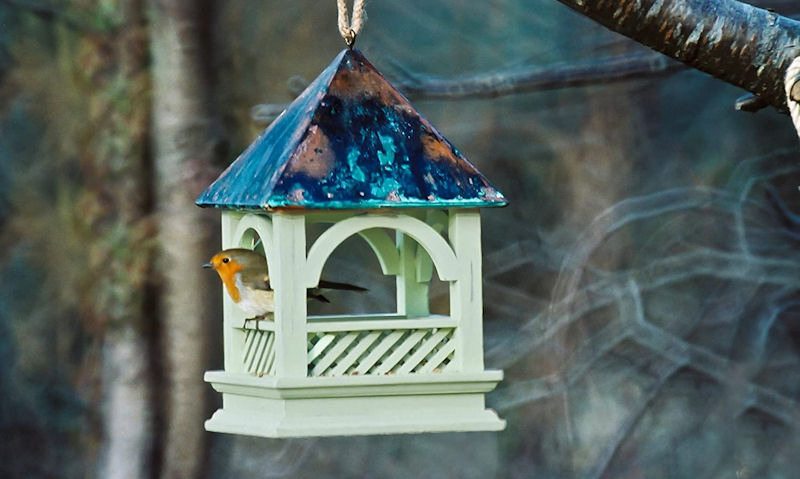 Hanging Bird Tables
Hang a wooden bird table off a tree branch or bracket, wooden hanging bird tables have a platform for holding food, with an angled roof to keep the rain away.
My take on a quality hanging bird table would be made in timber, be finished in stain or wood preserve, have a decorative design along with a slate roof. I'm happy to say those bird tables do exists and are featured. But know more traditional tables are listed but so too are more unique all wooden bird tables.
Rest assured there's no assembly required with all hanging bird tables listed, so you can remove it out of the box to hang up with little fuss.
Hanging up options vary but expect the bird table to be fixed with a rope, chain link or a screw eye and hook to hang off of metal wall bracket or a tree branch.
Complications when hanging up a bird table can arise when there's not enough length in the rope or chain fixed to the bird table.
To fix that can you would use what is a bird feeder hanger to provide length when the original rope or chain is too short.
In addition to that, a half-hook can be used when a hanger cannot be inserted through a permanently tied chain or rope that is secured to the bird table.
Where to site a hanging bird table can depend, primarily on where you have space.
But if you can, hanging up a heavy wooden bird table off a metal wall bracket would be the safest, most stable option.
To hang off bracket fixed to fence can be within reach of squirrels or predators like cats, so may need to be avoided at all costs. And while it doesn't apply to all, hanging a bird table off a mature tree branch is recommended.
Hanging bird tables listed here are open to all types of wild bird species, large or small.
So while that is very welcoming, the larger birds can be a nuisance to smaller, more pleasant visitors - so a bird table that only allows small garden birds to enter is possible.
Design is important so a low-baring roof over a high eave is best, but a wide overhang is vital to prevent rain water resting on the feeding platform, where you pile on the food.
Hanging Bird Table Data
| Product Name: | Roof: | Fixing: |
| --- | --- | --- |
| Riverside Woodcraft: Hanging Bird Table | Slate | Screw Eye, Snap Hook |
| Wildlife World: Bempton Bird Table | Copper | Screw Eye, Rope |
| Tom Chambers: Slate Roof Bird Table | Slate | Stapled, Rope |
| MyGarden: Hanging Bird Table | Timber | Knot, Rope |
| Ruddings Wood: Hanging Bird Table | Timber | Knot, Rope |
| Creativ: Hexagonal Bird Table | Zinc | Knot, Rope |
| Fordwich: Hanging Bird Table | Timber | Chain, Thread |
| Trixie Living Bird Feeder Table | Timber | Knot, Rope |
| Trixie: Natura Hanging Bird Table | Timber | Screw Eye, Hook |
| Skojig: Hanging Wooden Bird Table | Felt | Knot, Rope |
| Ruddings Wood: Hanging Bird Table | Slate | Knot, Rope |
If I could I would list all Riverside Woodcraft hanging bird tables if they existed, but I happy to say, similar, quality wooden bird table are available to buy.
Its safe to say all hanging bird tables are made in timber, and while they're primarily built using softwood, its not unusual to see plywood in use.
Quality bird tables that hang are built in thick, decorative panels of wood that is painted or at least preserved for lasting longer out in the elements.
All listed bird tables are roofed rather than being open to the element so can be used all year round - with roofs built in timber but can be layered using real slate or felt.
To hang a bird table it uses a series of fixings, including the screw eye/snap hook, chain and thread or rope knot.
Riverside Woodcraft: Hanging Bird Table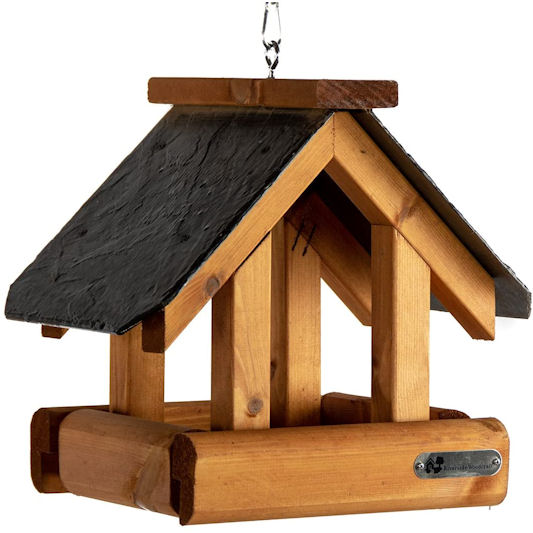 In no way can you get a better priced hanging bird table if bought on Amazon than this beautifully crafted one.
The most well built wooden hanging bird table for sale in the UK; I believe it to be the most structurally sound while open too as many wild bird species.
I would say small to medium size garden birds only well making it harder for larger, more nuisance birds to enter.
Rivercraft Woodcraft do not disappoint with their bird table range, while this hanging table is a prime example of that.
So what do you get for your money, well, a beautifully crafted hanging bird table for one thing that is sure to fit in with the decor of any garden.
Its built in thick, rounded off timber with a bulky feel to it, it has four pillars holding up the roof above it with a higher eave on opposite sides.
What stands out the most on this table is its made with a slate roof, designed to not only keep the rain off the feeding platform, but to really bring this hanging bird table to life.
Surrounding the platform where wild birds feed is four panels of thick wood, used to perch or to keep the feed within the table.
Panel of wood covering the length of the pointed roof section not only helps to prevent rain entering the gap, but acts as a place to fix the screw eye, snap hook for hanging.
Wildlife World: Bempton Hanging Bird Table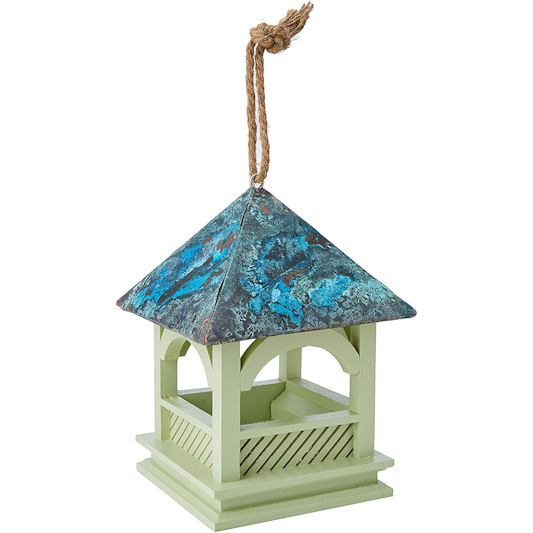 Well priced on Amazon for what is a decorative yet practical hanging bird table.
What is most known within the Wildlife World series of bird products is their Bempton wild bird range - including this hanging bird table.
Moreso to appear as a gazebo but a miniature version to accommodate wild birds.
Made up of many interesting features including the construction being the more vital; its built in a compact, small size with intricate woodcraft.
So small is this Bempton hanging bird table that its going to primarily attract small common garden birds only - while deterring larger birds.
Perfect as its only the kinder birds you want to feed as the bigger, scrappier birds can be a nuisance to smaller species, as they stop them feeding.
Four sided entry points allow for birds to perch on the post setting where the wild bird feed is placed on the platform, deep below it.
While it would otherwise be a difficult hanging bird table to clean and maintain, Wildlife World have constructed it using a slide out tray.
Protecting the feeding tray is a four-sided roof that is actually made in real copper, fixed with a thick rustic rope for hanging.
Tom Chambers: Slate Roof Hanging Bird Table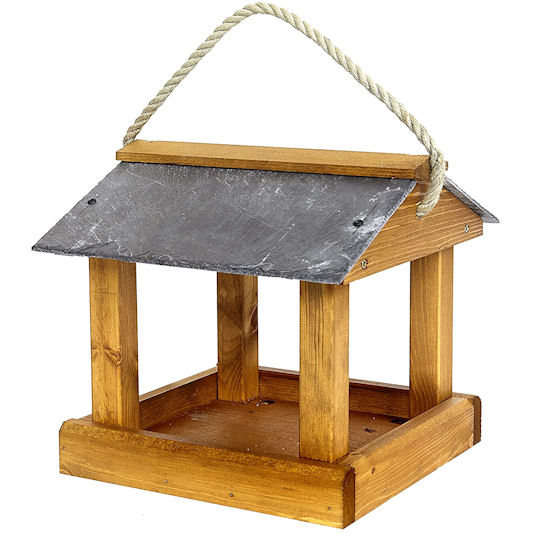 Traditional hanging bird table that is fairly priced on Amazon but other perks are expected.
When you think of a traditional bird table on a post this type of bird table top may come to mind - well nice on a stand, it really is an attractive hanging bird table on its own.
Simplified to only timber needed to create a standing tall eave with corner positioned posts to support the roof.
So high are these posts this wooden hanging bird table is sure to allow as many feeding birds in as possible.
Rustic in appearance but the wood is treated in preserve, while the real slate roof is really a nice contrasting feature.
Fixed to the pointed area in-between the two slate panels is a plank of wood that not only acts as a way to stop water entering beneath it, but its where the thick rope is attached.
No nonsense feeding platform that is surrounding in taller than normal perches, but will be sufficient enough to keep the wild bird food contained within.
Built with a couple of drainage holes to allow water or moisture build up to drain away, but don't worry too much about feed falling through it.
Classic wooden bird table that can be hung on a wall bracket, but would appear more at home if given the opportunity to hang on tree branch.
MyGarden Garden Products: Hanging Bird Table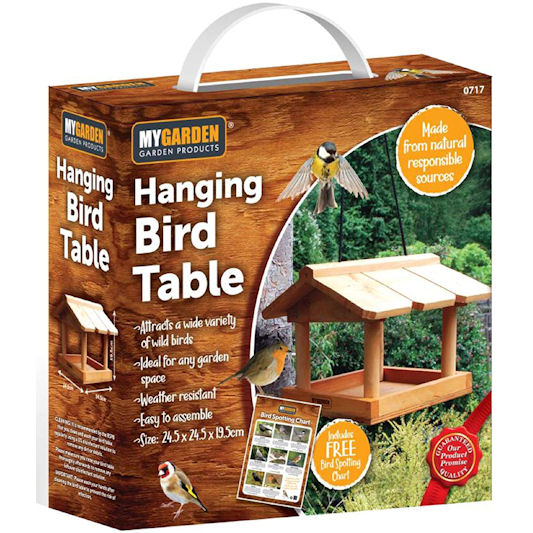 Quite possibly the cheapest hanging bird table you can buy on Amazon, no thanks to a more affordable build.
To setup a hanging bird table as cheap as possible, make it this generic wooden bird table that has all the features needed.
Now I say generic because well its quite a practical one in terms of having little issues feeding wild birds - it is a bird table that is re packed, re-branded multiple times.
However, to own this cheap hanging bird table will serve its purpose well of offering a safe environment to feeding birds, along with a structurally sound build.
Designed to appeal to as many common garden birds as possible, while the high eave is sure to see pigeons, crows or other larger birds give it a go.
While the four rounded pillar posts that hold up the roof are made in a nice style, only the feeding platform surround panels are made in a softwood.
Its therefore a cheaper hanging bird table to buy because the roof section and the base of the table is made in less quality plywood.
Not a problem mind but it may need treating in preserve more often as softwood and ply doesn't live up so well in an outdoor environment.
Overhang on roof is sure to keep most rain off the feeding area, which is important on this bird table more than ever, as there's no drainage holes.
Ruddings Wood: Hanging Wooden Wild Bird Table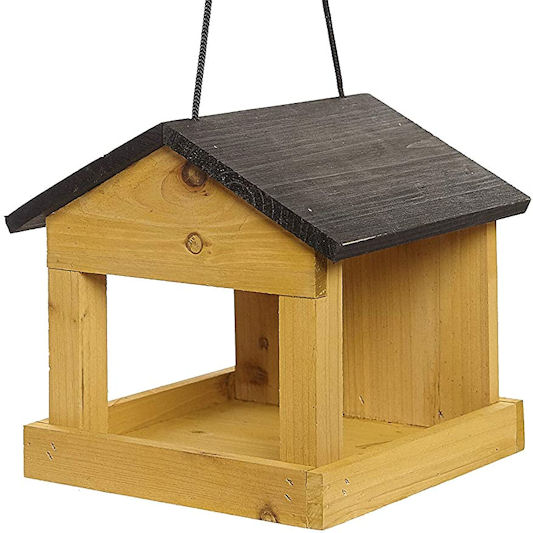 No-nonsense, cheap to buy on Amazon bird table that is ready to go.
Not the most attractive hanging wooden bird table, but what is still a very practical one - intended to attract small to medium size garden birds.
Stained in a light treatment of preserve with a noticeable black painted angled roof for extra protection against the elements.
Made in thick timber throughout so has a solid construction, but stapled together rather than using screws or nails - but doubled up with a non-toxic wood glue.
While it can be confused for a wall mounted bird table due to the full panel on the rear, it is a hanging bird table with a ready-to-hang feature.
With the three-sided entry points, wild birds can enjoy unrestricted access to the flat platform for feeding with a high eave to assist you viewing feeding birds.
Largely built in softwood, the thinner panels surrounding the compartment underneath the roof can be used as a perch or a place to land.
Unfortunately, no drainage holes which can be a problem, so intervention by you will be needed in wet weather more often than not.
Simple lace/rope hanging feature that is tied in through holes in the roof right on the angled roof point.
Creativ: Hexagonal Hanging Bird Table with Zinc Roof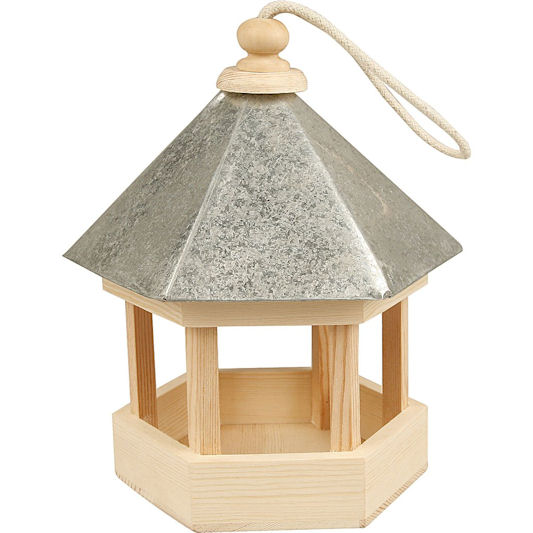 Highly rated on Amazon but the low cost is associated with a much smaller bird table than you realise.
Now let's get this straight, not only is this a bare-wooden hanging bird table, but it is one that is extremely small and light.
Its therefore possible to hang outdoors but would need a treatment of wood preserve or stain. Apply paint of any colour as this decorative bird table won't appear out of place if you do brighten it up.
However, it is a rather small bird table so know only Tits or other smaller birds can make use of it.
And while its quite a light hanging bird table, its not going to be very stable. Trouble will occur in the littlest of wind as its going to be bit of a balancing act if wild birds manage to use it.
Hexagonal hanging bird table while not very practical, can be used once in a while.
Its already built so only needs to be treated or painted, but to hang it will be a nice little attraction in the garden, if anything else.
Six small square entry holes for feeding birds to enter but the feeding platform is tiny.
Roof is actually made in zinc so the glistening roof is sure to attract wild birds interest. It as a knob on the top with a tied knot rope insert that can withstand most weight.
Fordwich: Hanging Bird Table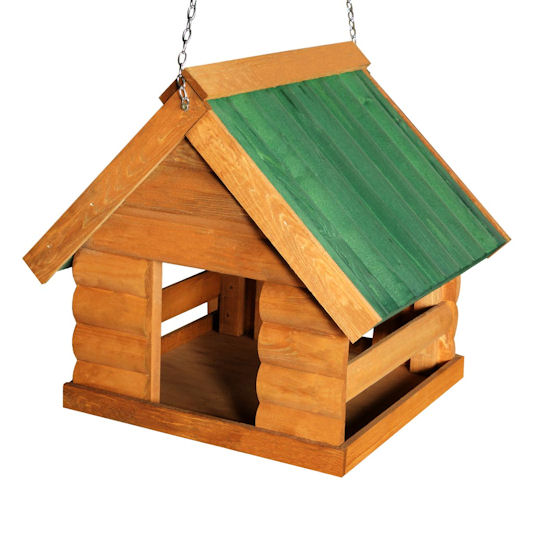 Pricing brings this bird table bag inline with similar ones sold on Amazon which in tern is rated well.
Big, bulky build hanging wooden bird table that is sure to only bring small garden birds to feed, as its branded as anti cat, anti pigeon proof.
Now because its made the way it is, as seen on the opening front or rear it can be difficult to bird watch in the garden.
I therefore recommend you hang the bird table in a way that is sideways, to offer you a better bird watching experience - or should I say bird feeding frenzy experience.
To deter larger wild birds especially, the bird table as two small doorways while the large openings on either side, are fixed with a panel of wood running through the gap.
Reasoning behind this is to narrow the entrance gap to keep larger, nuisance birds at bay, while just being wide enough to allow Tits, Sparrows or Robins to enter - among many other small garden bird species.
Feeding platform is accessed by you to replenish with feed or to clean through all four angles, though you'd need to find a way that better suites you.
Treated timber makes up the primary build of the bird table along with a painted bright green roof for extra protection against rot.
Panels running along the length of the angled roof is to prevent water entering the gap, while the bird table is hung using a strong metal chain.
Trixie: Living Bird Feeder Table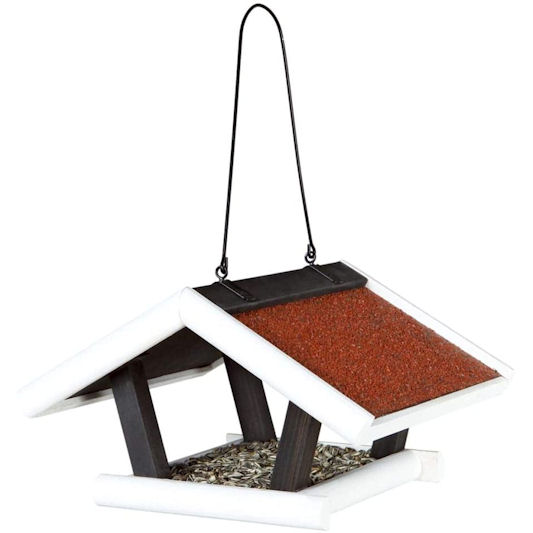 Small size bird table combined with inferior materials to construct it, this is a low price bird table to buy on Amazon.
Not a hanging bird table you'd come to recognise as classic or traditional in the UK, but does have a more Scandinavian feel to it.
That being said, its a very attractive hanging bird table that is sure to brighten up the garden, despite it being quite small in size.
Practical too, as the low baring, wide overhanging roof is sure to keep larger wild birds away, while being more inviting to kinder species.
How its constructed is using painted timber in contrasting white and black, along with a red felt roof.
Four pillar posts that hold up the roof are angled for a decorated finish, while the angle of the roof is far lower than traditional hanging bird tables.
No rain or moisture is going to land on the feeding platform so easy as the roof is made to prevent that ever happening.
Bird food is contained within the flat feeding area while its surrounded in a shallow tray for wild birds to perch.
Fixed to the angled roof is a metal hinge that is used to secure a screw eye and hook fixing - which is then hung up on a metal hanger.
Trixie: Natura Hanging Bird Table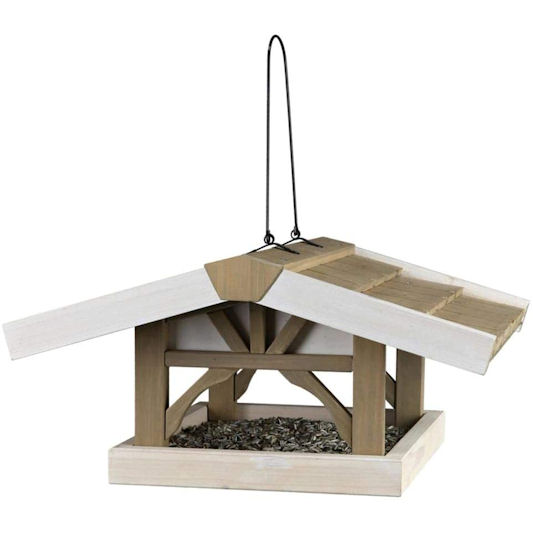 Right on price point if you buy on Amazon where it seams to be rated well.
Trixie's take on a classic bird table as listed above is beaten by this Natura bird table that brings the intricate detailing to a whole new level.
Where to start, really so much craftsmanship has gone into the build its more decorative than practical.
So the bird table is built in a multitude of cladding often found on victorian homes.
This cladding makes up the build of the bird table while serving to put an extra wide roof above the feeding section.
Low eave, low baring roof which is designed to only allow smaller wild birds to feed, thus rejecting the troublemakers.
Watching your favourite birds feed is made easy with four feeding sides, helped with a shallow feeding tray secured behind a complete wooden perch surround.
To keep the wet weather off the feeding area, and to preserve its lifespan; the roof uses overlapping wood panels, to allow rain to drop down it much like tiles on a house roof.
To hang up this magnificent hanging bird table, Trixie have applied their unique metal fixings along with a big metal hanger.
Skojig: Hanging Wooden Bird Table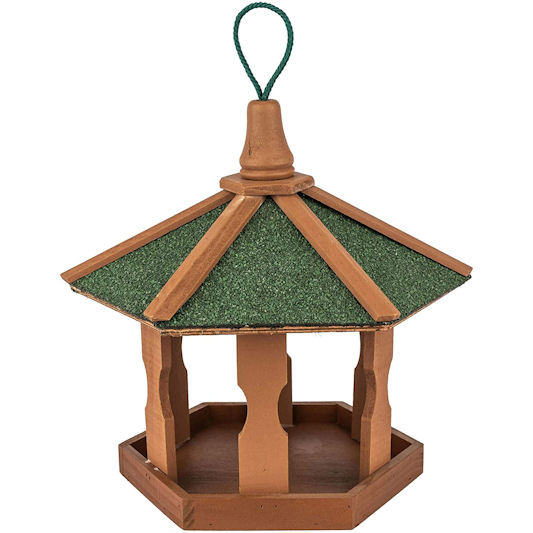 Moreso a classic wooden hanging bird table design, so to buy on Amazon will have a fair price for its size.
German manufacturer who have built a very appealing hanging bird table made in wood, yet is very effective for feeding wild birds.
Clean, easy to use with no trouble hanging off a bracket or branch; it has six sides for birds to enter with six pillars to support the hexagon shaped roof.
Constructed in softwood with a preserve, stain finish along with a plywood base.
The base is also the feeding platform where its easy for birds to perch around the rim or enter through any gap.
Little overhang on the roof to stop rain reaching the grub, while a complex design makes up the roof architect.
Hexagon shaped roof is protected in a waterproof felt for longer lasting, while six strips of wood panels decorate all six angled points.
Fixed to the top of the roof is a decorative knob. Threaded through this wood piece is the rope used to hang off a tree branch or bracket.
No drainage holes apply so you'd need to make sure there's no build up of water.
Ruddings Wood: Slate Roof Hanging Bird Table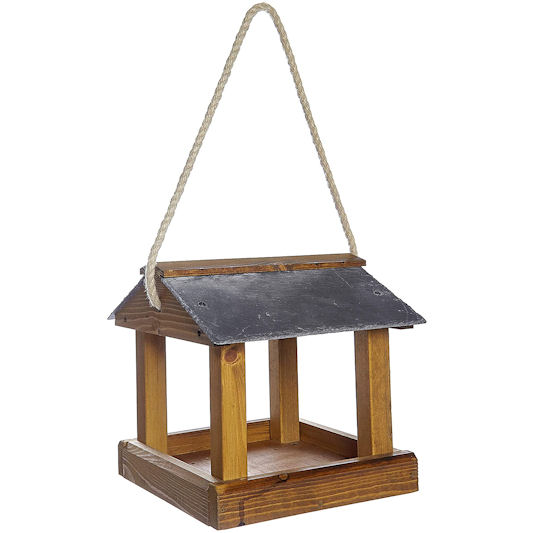 To buy on Amazon would be inline with pricing of all wooden hanging bird tables.
I think you'd agree its moreso a traditional hanging bird table listed last, but its certainly not a reflection of a poor table - in fact its one of the better options.
What I would call a traditional hanging bird table long with a dark preserve finish with a real slate roof tile.
Built in all softwood construction using thicker cuts of timber for a more bulky design.
Tough, heavy but very welcoming to a series of wild bird species that occupy your garden, so birds small or large can feed.
High eaves with wide opening for wild birds to enter to eat off the flat platform, but note there's no drainage holes.
Supporting the feeding area is a surround where birds can perch or land.
To keep the roof above its head the roof section is rested on four solid pillar posts; its connected to a angled panel to create a angled roof for rain to roll off.
Two real slate panels are fixed to either side but a length of wood is needed to plug the gap where they join on top.
Lovely thick, rustic old rope is used to hang this bird table while using a simple knot to secure it within the bird table.
Share this article: