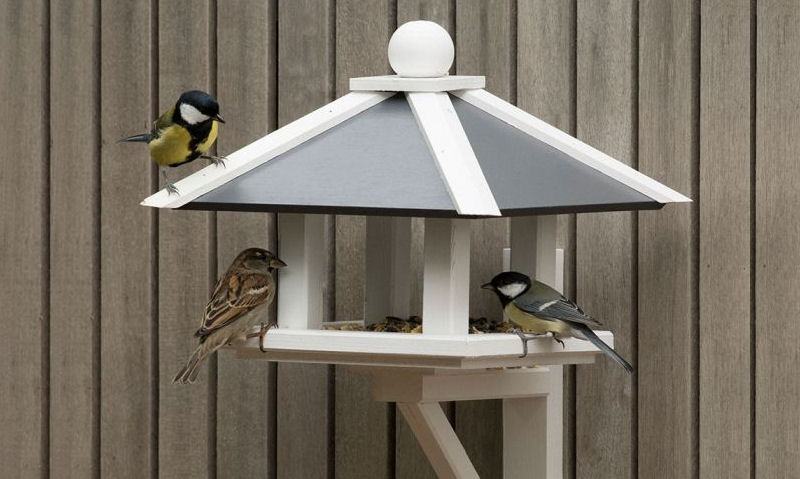 Wall Mounted Bird Tables
When going for a wall mounted bird table think about positioning the bird table high off the ground away from predators, and avoid gushing water or debris from above.
While wall mounted bird tables are not built so grand as their bird table on stand counterparts; mounted bird tables allow you to fix a decorated but practical feeder off the ground to avoid predators. Fixing a wooden mounted bird table is not so hard but you may need to supply the screws if not included.
Unfortunately you don't have the luxury of a traditional centre piece for your garden wilds bird when its a wall mounted bird table, but they do bring feeding birds.
Practical as they're stunning pieces of craftsmanship, a wall mounted bird table can be situated anywhere in the garden.
It may be promoted as a wall mounted bird table but as long as the area its being fixed to is solid yet flat, it can be mounted on to it.
That can include the post of a wooden fence, an individual wooden post, a mature tree trunk or even the side of a shed.
In mounting a bird table for a wall or fence it must be located as to not compromise wild birds as they feed - so do mount it 6ft. off the ground.
While a mounted bird table will need to be fixed onto a wall by you, it may also mean you need to supply the screws - well the producer as pre-drilled the pilot holes for you.
Its recommended you site the mounted bird table in a sheltered area to provide extra protection to the bird food that is placed on the feeding area of the bird table platform.
Wall Mounted Bird Tables data
| Product Name: | Roof: | Feed Area: |
| --- | --- | --- |
| Home and Roost: Hove Mounted Bird Table | Felt | 26cm x 25.5cm |
| Wildlife World: Large Bempton Bird Table | Copper | 26cm x 26cm |
| Selections: Wall Mounted Bird Table | Steel | 41cm x 41cm |
| FAL: Wall Mounted Bird Table | Timber | 23cm x 22cm |
| Blackdown: Rustic Mounted Bird Table | Slate | 32cm x 27cm |
| CJ Wildlife: Greenwich Mounted Bird Table | Timber | 26cm x 26cm |
| Garden Nature: The Kirby Mounted Bird Table | Timber | 41cm x 24cm |
| Huttons: Richmond Wall Mounted Bird Table | Slate | 36cm x 31cm |
Much harder to find a wall mounted bird table to those that sit on a stand or are hanging bird feeders - but here they all are.
Its a mix of traditional, to simplicity, to a complex construction each bird table listed in made in, but most are made in preserve, but sometimes pressure treated timber.
Mounted bird tables cost much less than their counterparts in the on stand or hanging bird table option, so don't expect to pay too much.
I feel that to know the quality of a wall mounted bird table is not just in the type of timber used, plus its overall craftsmanship - but how the roof is made is important.
I've therefore let you know what material the producer has chosen to offer shelter to the feeder beneath the roof, while felt, slate or treated timber is an option.
Home and Roost: Hove Fence or Wall Mounted Bird Table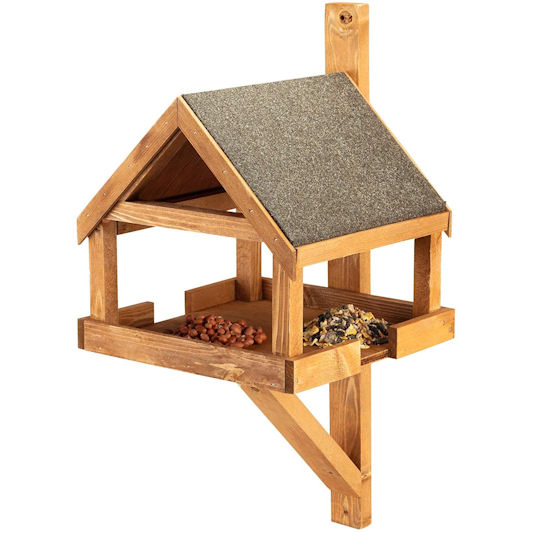 Get setup at little cost when buying a mounted bird table on Amazon, for a well respected, highly rated table.
Safe, reliable wooden mounted bird table that has large three-side openings with an high eave to allow larger birds to feed.
When I think of a traditional wall mounted bird table, this one comes to mind for sure.
I also like how this mounted bird table replicates a classic bird table on a stand, but without the stand - so only the ready-assembled roofed section on top.
Supported on four wooden pillar posts fixed to each corner with a shallow feeding platform, where wild birds can perch around the rim or enter beneath the table.
On either side of the bird table are two openings, now I understand the fear of all types of wild bird feed spilling out - but its needed to allow drainage.
High pointed felted roof will prevent most rain water dropping over the bird table but at least that felt is sure to see the roof needing little to no maintenance.
No fixings to attach this wall or fence mounted bird table, but a great deal of balance is offered with a long, support panel of wood where you drill in the screws at multiple points.
Wildlife World: Large Bempton Bird Table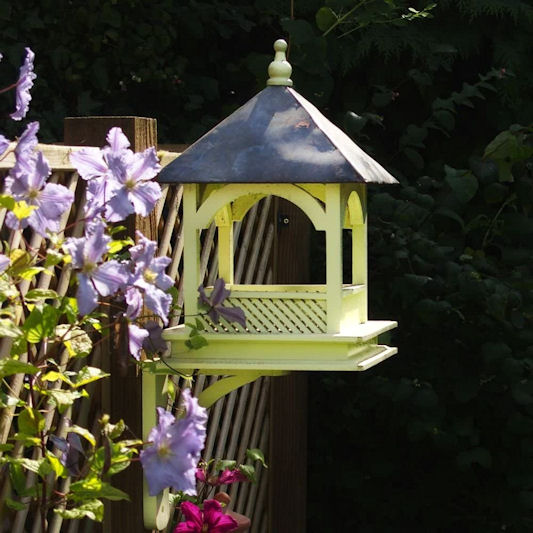 So much time and effort constructing this bird table its any wonder its one of the highest price to buy on Amazon, but it will be worth it.
Elegantly crafted large wooden Bempton bird table that is both beautiful yet practical for feeding a varied range of wild bird species.
Not too friendly to larger nuisance wild birds but is most welcoming to the common Tits, Robins, Sparrows and other visitors.
Craftsmanship on this mounted bird table is second-to-none; notice the intricate woodwork on the surround and arches - joined up to four pillar posts.
While the whole bird table is finished in a pleasant green finish; the pointed, four-sided roof is actually a real verdigris copper roof.
Its quite possible then to see little to no maintenance work here but the feeding platform will need cleaning once in a while - but it is a little difficult but accessible to an extent.
Overhang of the roof on all four sides will allow running rain water to flow away while the wall or fence mounted post connected to the bird table has some distance to allow the roof feature to hang over on all sides.
Supporting the weight of this mounted bird table is a curved wooden bracket panel beneath the table but is still a nice piece of intricate woodworking.
Selections: Wall Mounted Bird Table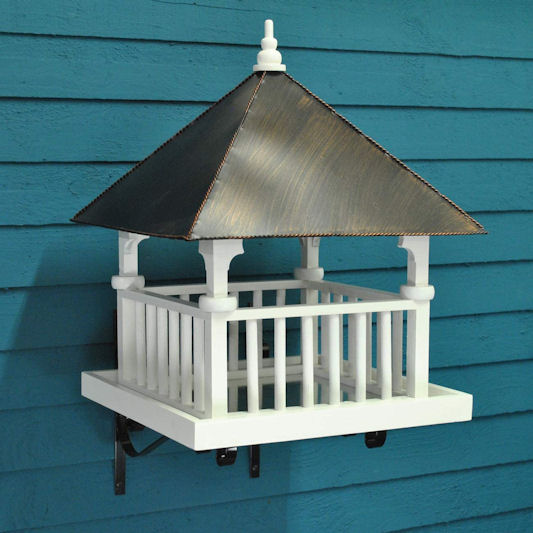 Luxury mounted bird table is expected to cost more to buy on Amazon but I feel you'd appreciate the craftsmanship gone into it.
Large, heavy-duty wall mounted bird table made in wood with an authentic metal roof, with a little decorated knob on top.
Effort put into the design of this mounted bird table is there to see; it has intricate detailing on the individual posts on all sides, curved pillar posts on all corners and the roof style finishing off a fancy table.
While the bare wood is painted in a bright white, so too is the roof painted in a darker finish - so contrasting colours that go together well.
Unlike most wooden bird tables that need to be mounted, they don't often supply the mountain equipment, which is bazaar.
Not so with this Selections Wall Mounted Bird Table as its complete with two heavy-duty metal brackets complete with screws to fix to wall.
Recommend to be a wall mounted bird table only as a fence post or a panel type may not be able to hold the hefty weight.
FAL: Wall Mounted Bird Table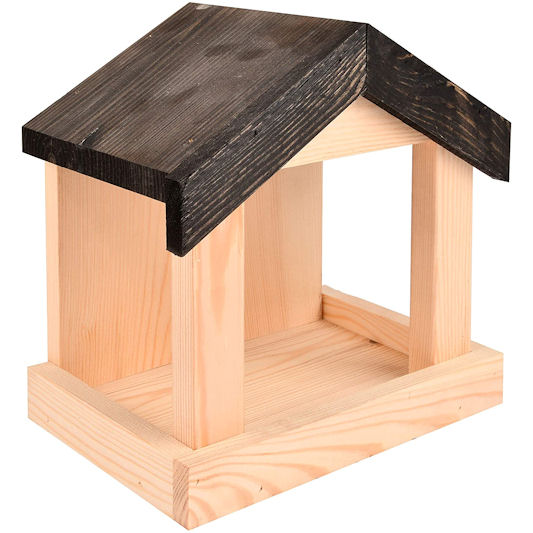 Simple wooden bird table to mount will cost you little to buy on Amazon.
Get off to a quick start by using the cheaper but well built wall mounted wooden bird table that is simplified as can be.
Made in pinewood so can be prone to cracking or warping in due course, so will need a coating of preserve with a finish of wood stain or paint once a year.
Not so on the angled roof though as this has been finished in a black coat that can offer some weather proofing from the get go.
Built in thick strips of pinewood which is noticeable throughout; it has thick wooden pillar posts on the front for easy access with a complete wooden backing.
Wild birds can perch on up to three sides while the access points makes it easy to you.
Notice how there's no drainage gaps or holes so when rain water or moisture collects inside, you'd need to de-mount or find a genius way of draining out the water.
To mount this bird table to a wall the keyhole is already drilled in the back, so you just need to drill a hole in wall - while using a wall plug - to hook onto this hole in the back.
Blackdown Woodcrafts: Slate Roof Mounted Bird Table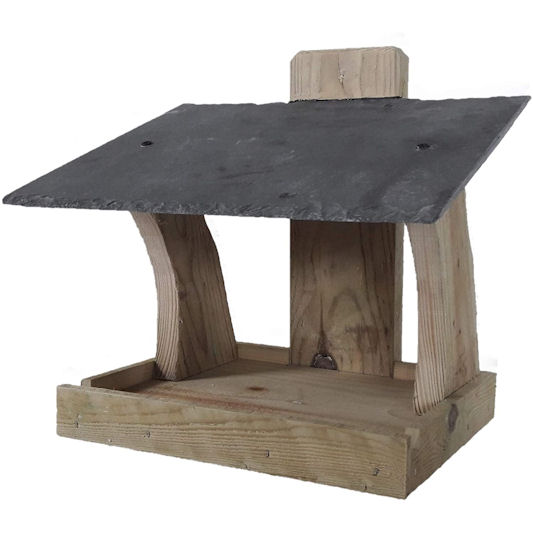 Mid range pricing of approximately £27.00 if buying on Amazon for what is a simple but effective bird table.
In terms of accessibility for you to replenish the mounted bird table with all types of bird food mixes, plus allowing wild birds to easily land, there's no trouble on this one.
More so wide as it is in depth so it brings the feeding platform to the forefront, meaning its easy to throw on feed or clean up leftovers.
No pillar posts on each corner so instead the roof is supported on a pair of nicely crafted pillars with curve but rustic feel to it.
Sheltering the feeding area beneath the roof is one that offers lots of shelter, as the front overhang is a plenty.
But you may not of noticed its actually a wall mounted bird table with a natural slate roof, which is a rarity on mounted tables.
Made in a pressured treated timber while finished in a dark stain on all wooden sections which really brings this bird table to life.
Wild birds can perch around the edge while a set of gaps on both sides will allow any moisture build up to run off.
Large wooden panel on the back is used to fix the bird table flush against a brick wall, or a safe area on a fence.
CJ Wildlife: Greenwich Mounted Bird Table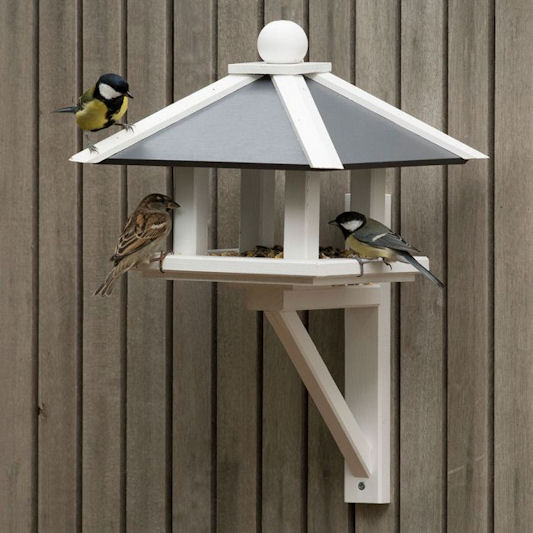 Only £34.00 this beautiful bird table will set you back if you buy on CJ Wildlife, which is highly rated.
This is no quick sawn timber, screwed together feeder to make something assembling a mounted bird table, this is a bird table made with care.
You should be able to see that in how all the wooden panels that are used to assemble this bird table are all indeed routed.
That means all square edges are no more so there's no scraping sharp corners on your arms or hands as you replenish the feeding platform.
Nice size feeding area too with three main access points for wild birds to perch to eat, but the opening on the rear is not going to be used.
Let's talk about the construction of the roof, while its built in all high quality timber; its multi-layered as to avoid rain or moisture entering through any roof cracks.
So each piece of timber serves to cover an additional timber piece to allow water to run off, rather than seep through joints.
Supporting wooden bracket connects to a straight panel of wood which is used to fix to fence or wall - no screws are included - but the pilot holes are pre-drilled.
Garden Nature: The Kirby Wall Mounted Bird Table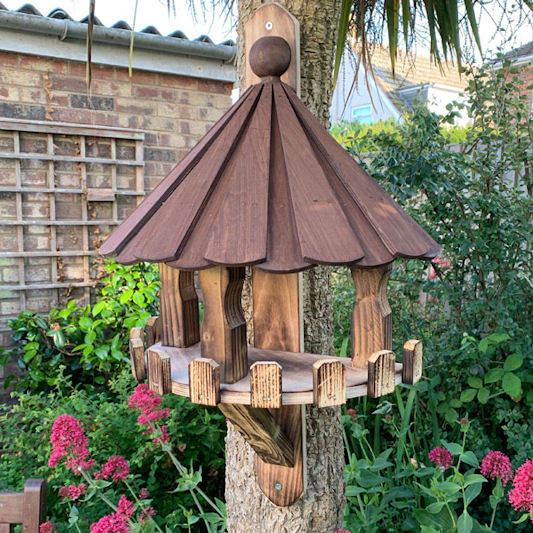 Cheaper than first thought if bought on Garden Nature but that's only because a mix of cheaper timber is used.
What is not to like about this genuine craftsmanship 'The Kirby' wall bird table, though it capable of being mounted on a tree, wooden post and of course a fence.
Handmade in the UK from a mixture of treated birch-face plywood and pressure treated softwood - all of which is finished in a burnt rustic coat of stain.
Multi-layered carousel roof as an overlapping feature that is not only has a beautiful finish - but it serves to allow rain to not enter on the gaps under the panels.
Beneath this fascinating roof section is of course the flat feeding platform.
Only a half-circle feeding area but its surrounding in a individual panels of wood, while the spacing allows moisture to fall.
Roof is connected using three thick panels of wood acting as support pillars, with a unique centre positioned piece.
You'll find arriving wild birds of all sizes and species should have no trouble landing to feed, while the large open front is made easy for you too access.
Huttons: Richmond Wall Mounted Bird Table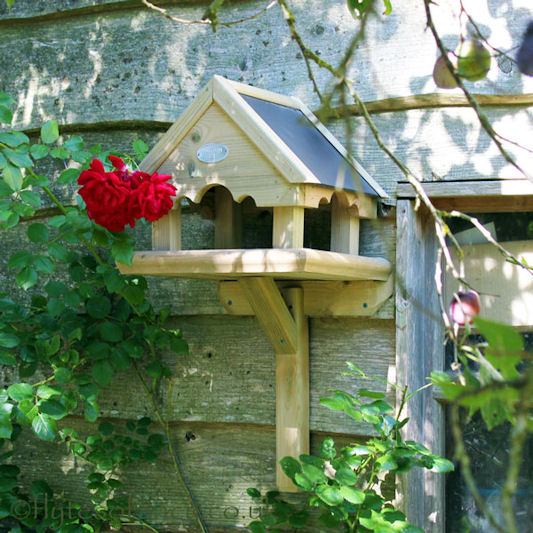 Higher end of the market when bought on Flyte So Fancy but I think you'd agree the craftsmanship is worthy of that.
That finally brings me to the last wall mounted bird table in the list but know because its listed at the end, its not to say its the worst - it cannot be further from the truth.
Instead, you get one of the better, high quality wooden bird tables for mounting on a wall or fence.
First thought is remarkable woodwork has gone into the intricate detail of this bird table with edges routed for a smoother feel, plus a curved, low baring above panel.
I say low-baring because this wall bird table restricts access to only small to medium size garden birds - rejecting larger, nuisance birds who scare what are the kinder species.
Built in multiple layers of pressure treated softwood for it to last many years to come.
What is most unique about this bird table is it uses slate roof panels, or should I say slate 'effect' roof but with all the benefits.
Complicated structure makes up the roof to shelter the feeding area beneath it but the wooden panels fixed to the edging really make up the design.
No wall or fence fixings are included with this table but the pilot holes are pre-drilled into the long panels of wood fixed to the rear - its this that is used to firmly fix on a flat surface.
Share this article: