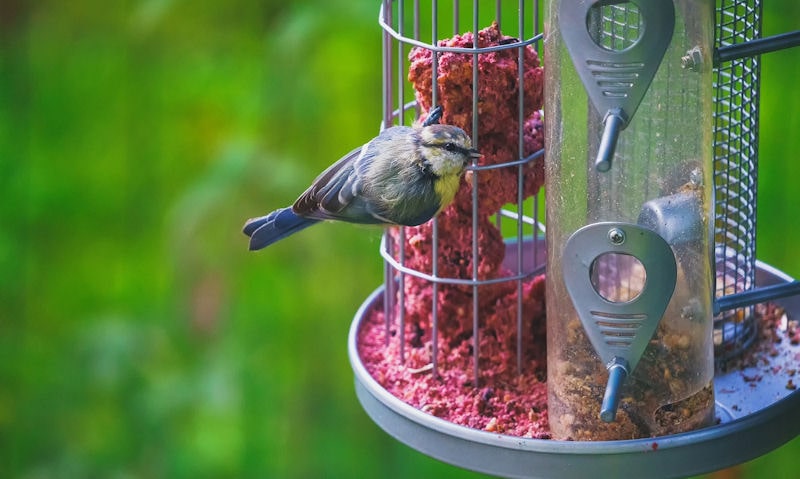 3 in 1 Bird Feeders
Life can be made easy on the bird feeding station when observing a triple bird feeder that not only saves room, but all three feeders are a sure favourite.
Setup a no-nonsense three in one bird feeder that offers up a classic seed, nut and fat ball feeder, only they are all positioned side by side. Supporting this is a tray to hold spill while the single roof can be lifted up to replenish. Hang up on a wall bracket or feeding station using the included hoop or hanger.
What better way to save room on the wild bird feeding station or up high on the all metal bird feeder bracket than using a triple bird feeder.
Its a standardised feeding type station, that is guaranteed to offer a classic clear plastic tube for seed mixes; an all metal mesh feeder for peanuts - plus a cage feeder for suet balls.
No nonsense disassembly too, so a thorough cleaning can be had to prevent the build up of bacteria inside the feeders.
And where you can access all three bird feeders is via the roof, which can be lifted up to access all compartments to add more feed.
Featured triple bird feeders are hanging up options only, so rest assured a hook or hoop is including, which can be hung up on a wall bracket or feeding station.
But with use of a bird feeder hanger or why not make do with a smaller twig, you can hang them up in a tree.
3 in 1 Bird Feeders table
| Product Name: | Feeders: | Hang-Type: |
| --- | --- | --- |
| Kingfisher: Deluxe 3 in 1 Bird Feeder | Seed, Nut, Suet | Hoop |
| Selections: Deluxe 3 in 1 Bird Feeder | Seed, Nut, Suet | Hoop |
| Dehner: Natura 3 in 1 Wild Bird Feeder | Seed, Nut, Suet | Hoop |
| Gardman: Flip Top Triple Bird Feeder | Seed, Nut, Suet | Hanger |
| Garden Mile: Deluxe Lantern 3 in 1 Feeder | Seed, Nut, Suet | Hoop |
| Homescapes: 3 in 1 Hanging Bird Feeder | Seed, Nut, Suet | Hoop |
No going overboard price wise with three in one bird feeders, because while you get three feeders, the price is similar to the one feeder only option.
Its therefore expected you save money when buying a 3-in-1 bird feeder for hanging, which is just as well as you can stock up on more feed.
Notice in my second column on the table above, how all six bird feeders include one seed, peanut and suet feeder.
Expect the roof to offer a little protection against the elements while most 3 in 1 feeders listed offer a spill tray.
All bird feeder options include a hoop made in metal or a steel wire for hanging, with only the one with a hanger in use.
Kingfisher: Deluxe 3 in 1 Suet, Seed & Nut Feeder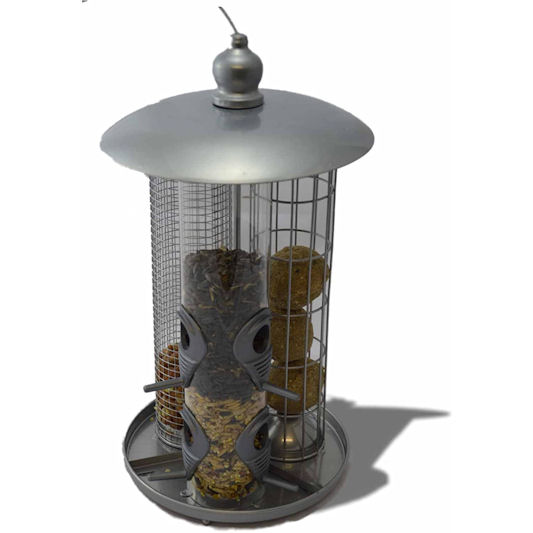 Kingfisher got your covered with a fair price if bought on Amazon.
To begin with, I've listed this Kingfisher deluxe all in one bird feeder that is complete with the standard peanut, seed and suet feeder.
Quite a large, or should I say long bird feeder in all; so the clear plastic tube feeder for use with seed mixes has four port holes for feeding birds.
Although its specially adapted to be re-positioning as there's no access on the opposite side of the feeder.
No trouble for wild birds to access the nutritional, high energy peanuts either as the mesh feeder allows unrestricted access.
On top of that, there's the always popular suet fat ball feeder, which is a mesh cage, only it offers larger open gaps.
Fixed to the bottom is a tray to catch access waste, while the knob fixed on top can be unscrewed, to allow the lid to be lifted up to replenish with all three bird feed types.
Selections: Deluxe 3 in 1 Bird Feeder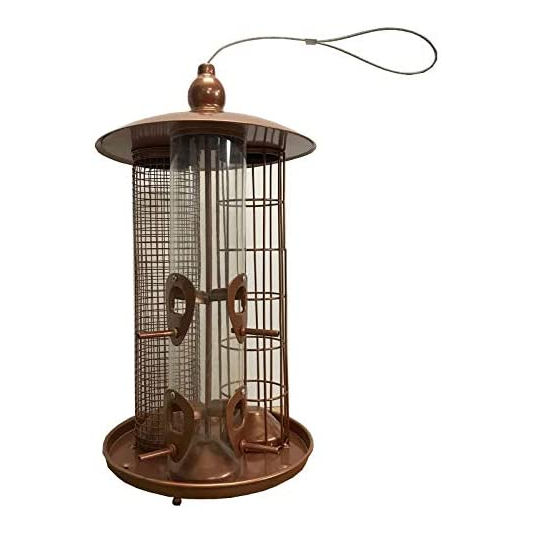 Beauty comes at a price to buy on Amazon for a luxury design.
While made in all metal, this three in one 'copper effect' feeder is a real standout point in the garden, thanks to the bronze paint finish.
However, beautiful as it is practical with all three bird feeders included; it can hold nuts, seeds or suet fat balls for wild birds with no trouble.
Up to four port holes for wild birds to feed, along with a corresponding perch located on the seed feeder.
Top to bottom birds can cling onto the small mesh feeder to pull out peanuts.
But the bird feeder next to it which is similar in terms of mesh holes, has larger gaps to allow for even more birds to feed on suet balls at one time.
Attached to the bottom of all three feeders is a tray for birds to perch or hold spilt feed, while any holes will allow access rain water to filter through.
Unscrew the knob on the roof to access three holes where you can pour in three wild bird feed types - making sure to refill the correct feeders.
Dehner: Natura 3 in 1 Wild Bird Feeder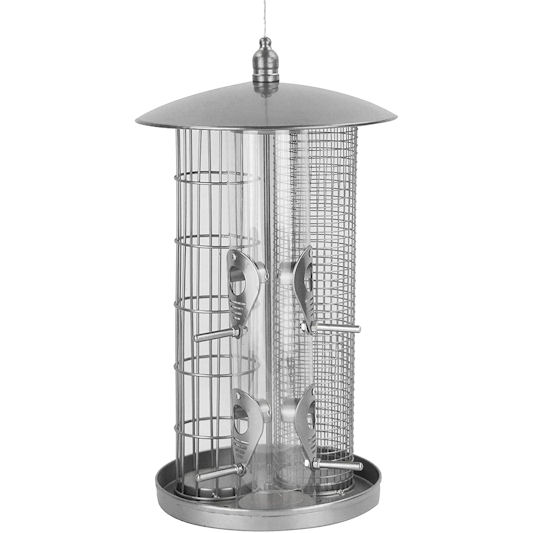 Quite costly to buy on Amazon but FREE delivery is included.
You'd need to maintain this feeder quite often in terms of keeping it clean, or else you risk losing the shiny finish which can be used to attract feeding birds, believe it or not.
The all silver finish 3 in 1 bird feeder is made in metal with only the seed feeder made in a clear plastic tube.
The tube can hold all types of wild bird seed mixes, but the four port holes with a perch is where birds land to feed.
All metal, small mesh cage will hold the peanut while the large cage is for use with all types of suet, including the much used fat balls.
Fixed above all three feeders is the roof which happens to be a lid for replenishing; all you need to access the three feeders is undo the knob and lift up the lid - while this will bring you access to the feeders via the top.
Be sure to get to know this well, as maintenance will be welcoming so it is possible to disassemble the feeder with little trouble.
Bonus tray fixed to bottom can be used as a perch but will help catch any food spill over.
Gardman: Flip Top Triple Bird Feeder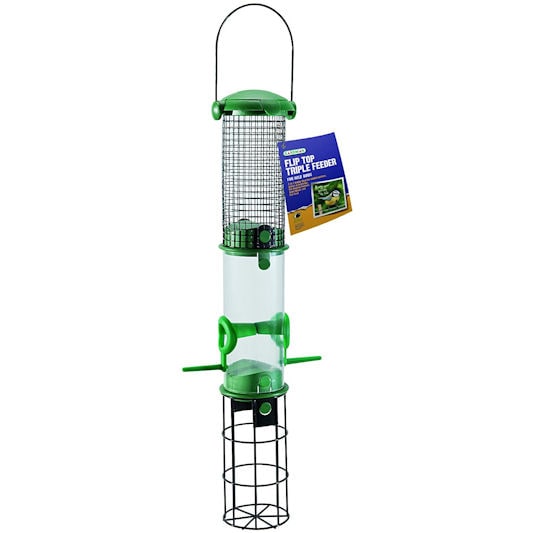 Non nonsense feeder with a price that is within reason on Amazon.
Allow me to deviate from the usual 3 in 1 bird feeders on offer, to offer you up this more unique hanging feeding station.
Its still a three in one feeder, only the three feeding compartments are stacked, rather than positioned side by side.
Gardman like to be different in setting standards, so its no surprise to see the company offer up a feeder that does well to save room on the wild bird feeding station, or if a wall bracket doesn't allow a wide load.
All three feeders include the nut feeder on top, clear plastic tube seed feeder in the middle, along with the suet feeder on the bottom.
The feeder is a long one but all three feeders are short of length as design does restrict it somewhat.
Simply push in a button on either side of each feeder to realise it from the feeder on top or bottom, respectively.
Then they all clip back together after a good cleaning and of course, not before you've topped them up with fresh feed.
No disassembly required for the top mesh nut feeder as it has access to a flip top lid, together with a metal hanger for hanging.
Garden Mile: Deluxe Lantern 3 in 1 Feeder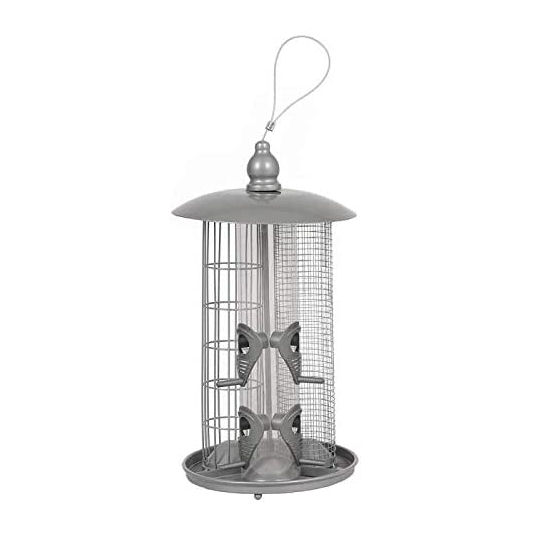 Cost much less, yet similar designs cost far more on Amazon.
I must say to list this Garden Mile triple bird feeder was picked out of a wider option of what I would call a generic range.
Meaning this very same feeder is available to buy, only the seller re-brands it with their own name - so I've taken the courtesy of giving Garden Mile's feeder a go.
Absolutely nothing separates this all metal bird feeder from the others thus far, but it is constructed in a way that can last well out in the elements.
Little weather proofing is in use as it does come with a wide metal roof, which can be lifted up to access all three feeders below it.
On the bottom is the feeding tray to catch most spill, but it does have holes to allow moisture to run off.
Hang it up on a wall bracket or on an spare bracket on the feeding station with use of a stainless steel hoop for hanging.
All together, it includes a seed feeder with four port holes, mesh peanut feeder and the popular suet cage feeder.
Homescapes: 3 in 1 Hanging Bird Feeder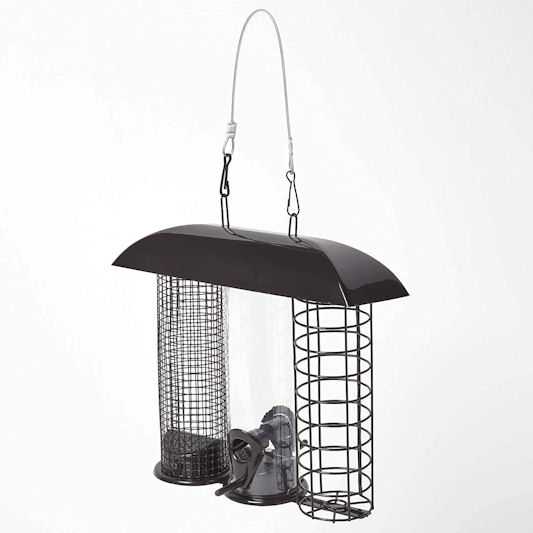 Well built, middle of the road pricing when you buy on Amazon.
And that finally brings me to this less so compact hanging three in one bird feeder, but moreso a fun take on the current options on offer.
So while the usual 3 in 1 bird feeder would be tightly positioned together, this version instead allows all three feeders to sit side be side.
Result is the mesh peanut feeder sits on the left, the clear plastic seed feeder is located in the centre, while the suet feeder is on the right.
That is if you only go by the image alone, as obviously it will all be in reverse if its hanging up the opposite way in your garden.
So while this wider feeder shouldn't have much trouble hanging off a wall bracket or the bird feeding station, it can limit your bird watching experience.
For example if wild birds decide to feed off on the opposite side to where you can view them - but as a whole it won't cause too much trouble, hopefully.
No twirling in the wind either as this triple bird feeder is sure to not spin on the bracket as the design of the hard wearing wire for hanging won't allow it to.
Share this article: